Update: check the end of the article to see who's the winner!
You know the drill, don't you?
I've been attending the affiliate world conferences at least once per year since the first meetup in London back in 2015.
While they have had some other meetups before, that was the second official meetup before creating Affiliate World Conferences and it was a good one for me.
Every year, the guys from STM organize 2 big meetups. One in Asia and one in Europe and so far my favorite was always Bangkok for several reasons, but this time I'll go to the European version which is going to be hosted in Barcelona for a change.
Do you want go to the conference and talk with hundreds or (actually) thousands of affiliates, CPA networks, traffic networks, etc? Keep reading…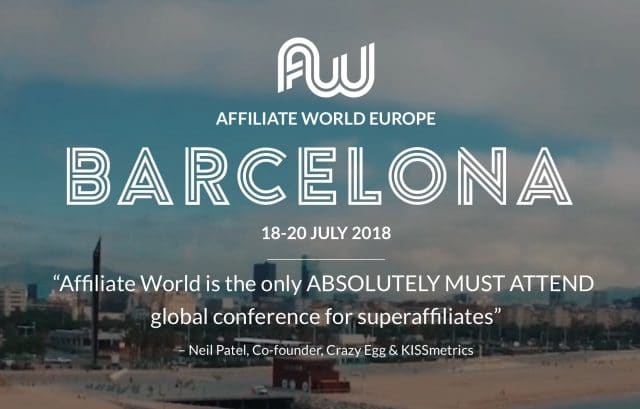 The first 2 conferences in Europe were hosted in Berlin but this time the crew has moved the conference to Barcelona, and with many hipster places, great weather and right after the Fifa World Cup, I'm sure the general vibe will be super cool unless Spain makes it to the final and lose 7-1 (fingers crossed it doesn't happen).
The conference will be hosted for 3 days in the Centre de Convencions Internacional de Barcelona right near the beach and this is a conference where I've seen Drew Eric Whitman, Neil Patel, the Tan brothers and many other successful internet entrepreneurs talk. If you're running any kind of traffic (social, mobile, PPV, Search, etc) this is the place to be. No doubt!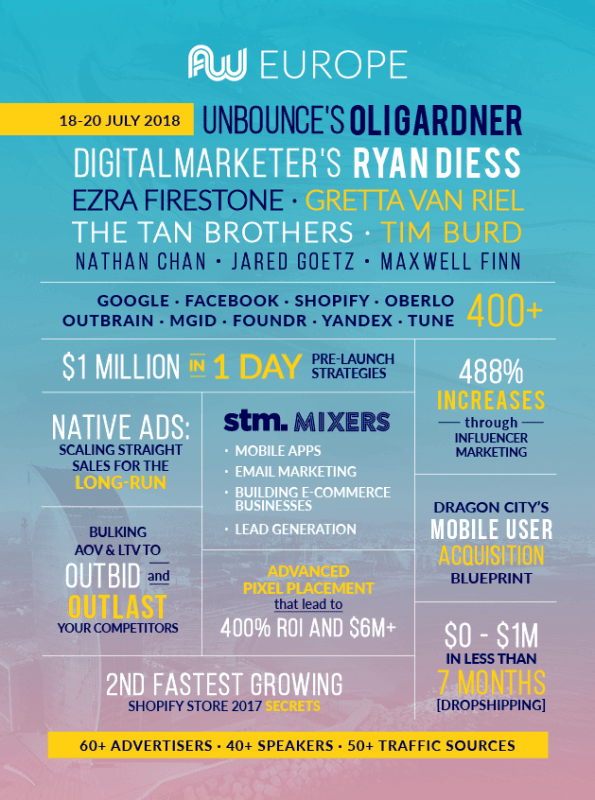 Here's some extra info about the event:
Keynote Speakers: Ryan Deiss (CEO/Founder, Digital Marketer), Oli Gardner (Founder, Unbounce) and Ezra Firestone (CEO/Founder of Smart Marketer and Zipify Apps)
Note worthy speakers otherwise include:

Gretta Rose Van Reil: $1 Million in 1 day: Pre-launch Strategies to set your Product up for Success
The Tan Brothers: [Exclusive] Inside the Tan Brothers Product Research Strategy
Social Point's User Acquisition Manager: Dragon City's Mobile User Acquisition Blueprint
Maxwell Finn: Bulking AOV & LTV to Outbid and Outlast your Competitors

Dates: July 18-20
Location: Barcelona, Spain
You can acquire your tickets here: CLICK TO BUY TICKETS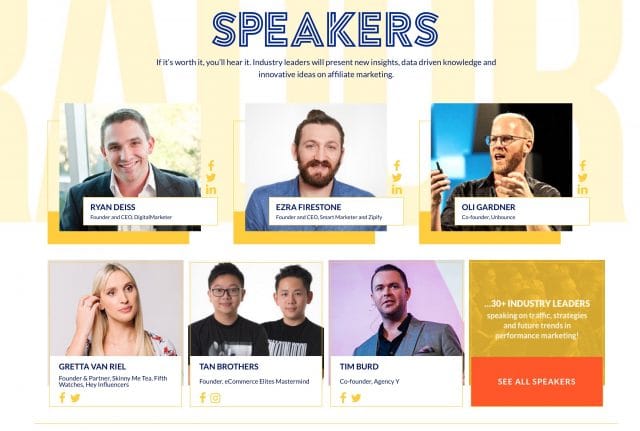 What's working in 2018?
One thing I'd like to mention is how this conferences are evolving into what I think is the right direction with every iteration. I'm not talking about organization here, but mostly about what's working and what affiliates and any digital marketers are doing with their traffic.
We can see a clear path to more white hat stuff, mostly eComm, and overall we have speakers that are building businesses and long term brands without being super aggressive and playing the algorithms of behemoths like Google and Facebook.
This doesn't mean people are not running nutra, sweeps, tech support anymore. Of course they're and people are still banking from it, however the clear trend we can see in the last couple years is "you don't need to cloak or do black hat to be successful". And that's something I love personally as that's what got me into the affiliate marketing atmosphere in 2011.
Will there be a lot of talk about crypto markets like in AWA2017? Who knows… The market isn't helping at the moment but we'll see.
You can read and learn a lot of what people are doing and what's happening in 2018 by downloading this FREE GUIDE.
It's a 135 pages PDF, but it's well worth a read if you want to know or confirm what's working for many of the top affiliates in the industry.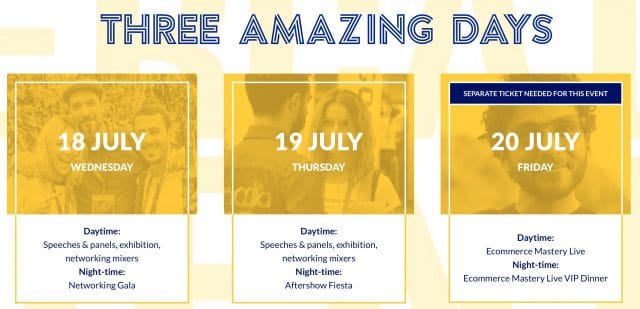 The conference lasts for 2 days and every day has a party in the afternoon, and of course there are dozens of other unofficial parties hosted by networks as well. Third day os for people who pay extra for the eCommerce Mastery Live Event (worth 1,400 Euros).
Who said free ticket?
OK so finally, as I've done a couple times before, I'm going to give away a free ticket for somebody who participates in a very simple giveaway here in the blog.
The only thing I ask is you to do is to make sure you can attend the conference if you win. Tickets are worth $750 euros at the moment so that could easily be worth your hotel stay or plane if you're traveling from far away like me.
If you live in Europe even better because you can take a $100-200 airplane and be there in a few hours or maybe take a $100 train and be there in no time.
So here's how to participate:
Share this post in your FB or Twitter profile.
Answer in a comment below 3 simple questions: a) Where are you from (country)? b) For how long have you been in this industry? c) What kind of traffic are you running and what do you expect to learn or see in the conference?
Make sure you're in my email list in case you're not as I'll announce the winner and have more posts like this soon
That's it!
In 1 week I'll announce the winner so you still have 1 month to book your trip. Or you can always buy your ticket here.
Update: I've selected randomly a winner this time. The winner of the AWE ticket is José Rodrigo!
Please contact me ASAP by answer my email so we can set you up with your ticket 🙂 See you in Barcelona!
Special Thanks to Chad Wilton for giving me the opportunity to give away this ticket to my readers 🙂
See ya in Barcelona!