There are a lot of Affiliate events in this industry. Some of them are focused on traffic sources/advertisers and some of them have a bit from everything (Affiliate Summit), but none of them is like Stack That Money.
Stack That Money is one of the biggest forums in the Affiliate Industry and is filled with tons of Affiliates running paid traffic to CPA offers.
While ASW and ASE are probably a lot bigger, you won't find many bloggers, SEOs and social media gurus at STM because most people are just focused in CPA offers and paid traffic sources, and that's what makes the difference here. I'm not saying that a work from house mom earning $1k extra per month is a bad thing. It's just another different level.
If you're running CPA or your own offers on traffic sources like Facebook Ads, POF, Mobile traffic sources, PPV and media buys, STM is the best show you can attend. They organized everything in London (last year was Bangkok) and it was packed with 500-600 affiliates coming from all parts of the world.
This is the first time I attend an affiliate meet-up and I'm glad I chose STM instead of ASW in vegas 2 months ago. Here's my recap:
Day 1 – Registration, Speeches and AppFlood's party
The event was held in Trafalgar Square from March 9-11th. I arrived Sunday 8th in the afternoon but many affiliates were there since Friday-Saturday and doing tons of small meet-ups already.
I had planned to arrive around 6 o clock to my AirBNB but due to a super large line in the migration area and then a long trip on the tube I arrived at 8pm. I talked to my bro Taiwo A.K.A. the Cash Money Affiliate so we could have some dinner but we ended up in different restaurants (same name, different location) and we decided to move it to another day. I felt like a retarded LOL. Then I decided to had a 90 minutes walk from trafalgar to the Big Ben to Buckingham's Palace and then went back to my AirBNB to rest and be ready for Monday. I didn't want to experience jet lag so I had to sleep more.
On Monday I  woke up to a bunch of Skype Messages in the STM group arranged by IamAttila. Some people had jet lag and were heading for breakfast early. I agreed and took a quick shower before going to Garfunkels. I meet up everyone at the Hotel and said Hi to Attila. He's a nice guy and his blog helped me a lot when I started testing mobile paid traffic a year ago. Then we moved to the restaurant and almost everyone ordered English breakfast.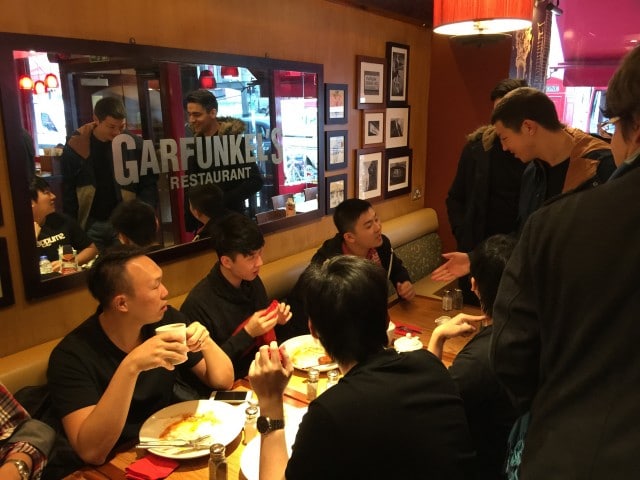 I also got to meet a friend I recently started speaking via FB/Twitter called Erik Gyepes. He lives in Thailand and he did a 30 hours trip to London. Since we're running similar traffic sources it was good to finally speak with him and have a little chat. After a few minutes Taiwo (A.K.A. Cash money affiliate) arrived and looks like he was in the wrong place, hence arriving 15 minutes late. Looks like going to the wrong places is becoming a tradition for us now.
Anyways, we had breakfast and talked about many things in the industry then I head back to my AirBNB to pick up my things and move to another place. We took a quick picture before leaving the restaurant: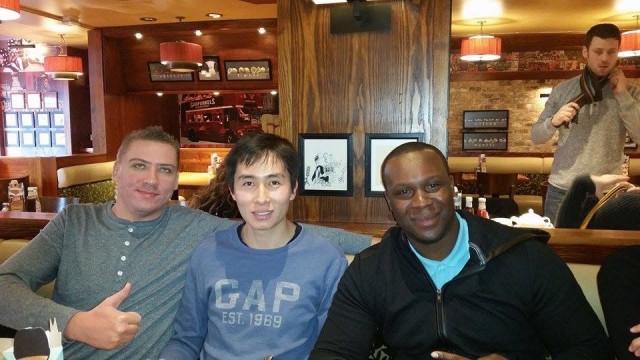 We booked a super big and nice house in Camden between 7 people to stay for the next 3 nights. It was a 4 floors house with like 5-6 rooms and 4 bathrooms. I knew Oliver (AffiliateFix owner) and Andy from the Landing Page Guys were staying there, along with Luke Greg from Affiiliatefix and the widely known Ian Fernando. What I didn't know was that one of the STM speakers (Rohail Rizvi A.K.A. the Suitecase Marketer) was staying with us too along with a big media buyer called Gabriel Cano (low profile but very smart guy). It was nice to have the opportunity to meet them all. Sometimes it's amazing how you get to put some faces to nicknames and realize that some people earning thousands of dollars per day are just like you and me. All of them were very nice guys and if you saw them everywhere else you wouldn't think they're earning so much money from the internet.
The point is that you don't need to arrive in a Ferrari and be a douchebag with everyone earning less money than you just because you're a super guru. You can be a simple, honest guy that enjoys life while working hard to achieve your dreams.
The registration was from 12pm to 4pm. We arrived at 1pm and there was a big line already, so we waited for like 30 minutes and got our passes. At that point, almost nobody knew that 2 events were being registered around 6pm and there was limited space for members. So after we got our passes we went for lunch and walked around London until 6:30pm.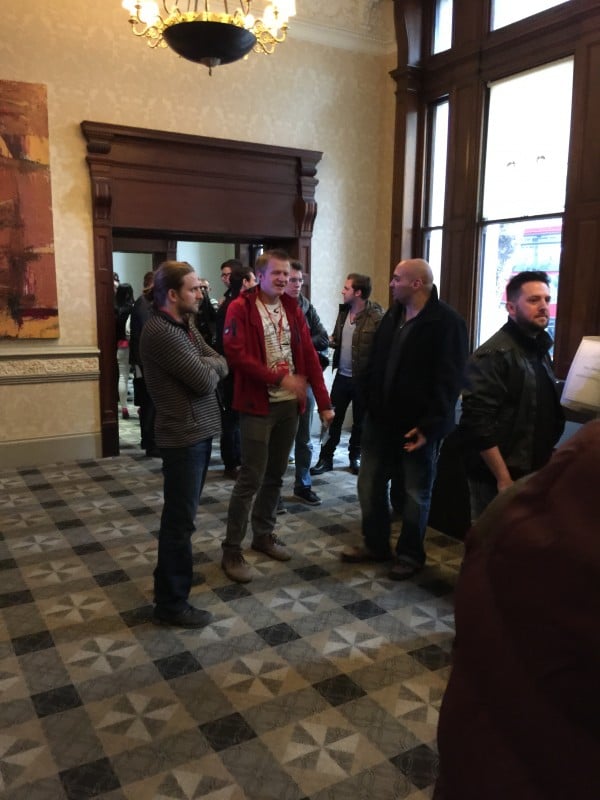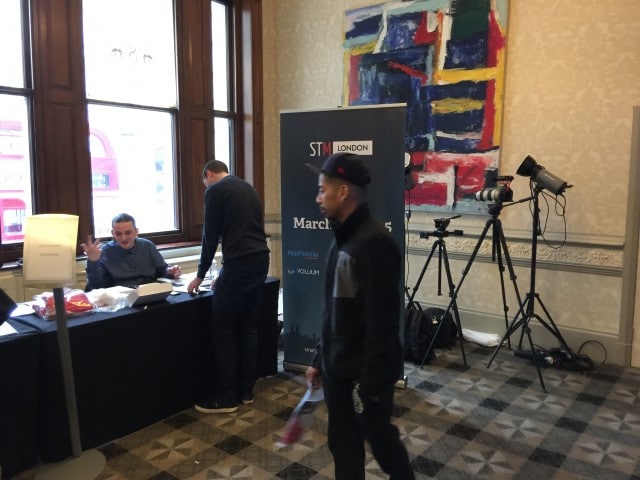 We also had the pleasure to meet Eden from Revenue Hits face to face and have a quick chat with him. He's a great guy and their platform has been growing a lot lately. Thanks Oliver for introducing us. I had talked with Eden a few times via Skype but never met him live before.
When we arrived to the pre-drinks party almost at 7pm, the registration for the other events was full already, so we missed the Brunch at the Zoo with Zeropark/Voluum and we also missed the Paintball game hosted by Avazu (not that we really wanted to go there haha).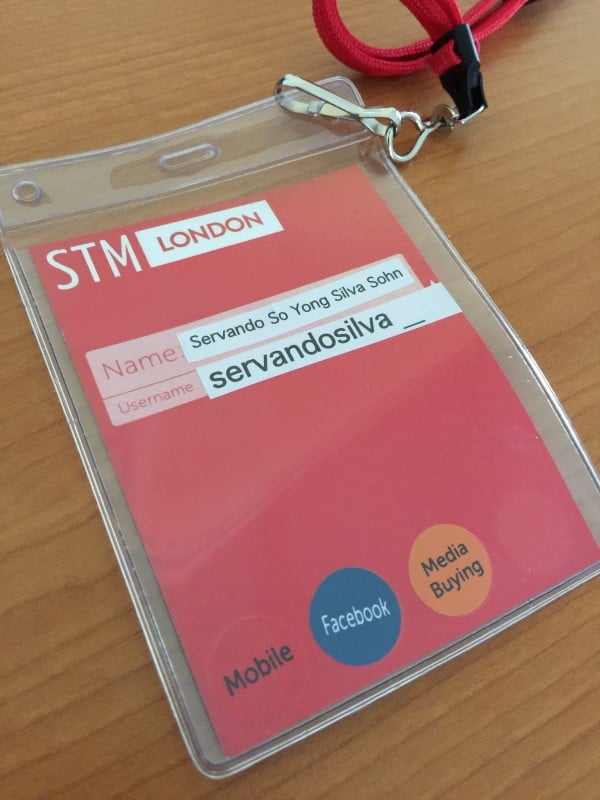 We had some drinks and then everyone went to the main hall where the event was going to happen. I was impressed at how many people were in the room. I made some math and counted around 550 affiliates in the room, plus a few ones were still outside. STM had full house.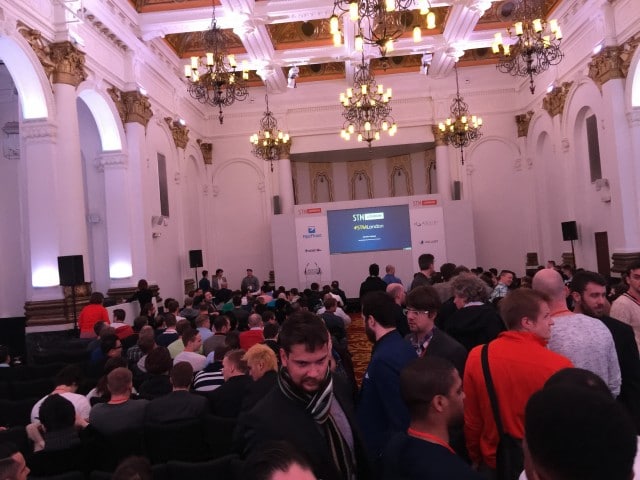 First day speeches were more about being an entrepreneur and having the right mindset. I can clearly see there was a big audience for this cause I think at least 30% of the members were completely new in this industry.
However, 3 speeches that I really liked were the one from Charles NGO (How to make 5k per day while paying $5 per hour to your employees), Robert Gryn's (Zeropark/Voluum) speech on how to move from being an affiliate to have your own enterprise and Tim Tetra's speech on how to make anyone suspend on belief before buying your stuff. I won't publish images from their presentation to avoid problems but IMO those were the best from the first day.
After that, AppFlood, the big Chinese App Install network invited the drinks at the Forge Bar. They prepared some AppFlood beverages and it was nice. But before that, we were really hungry so we had pizza at Prezzo and went back to change our clothes before going to the party.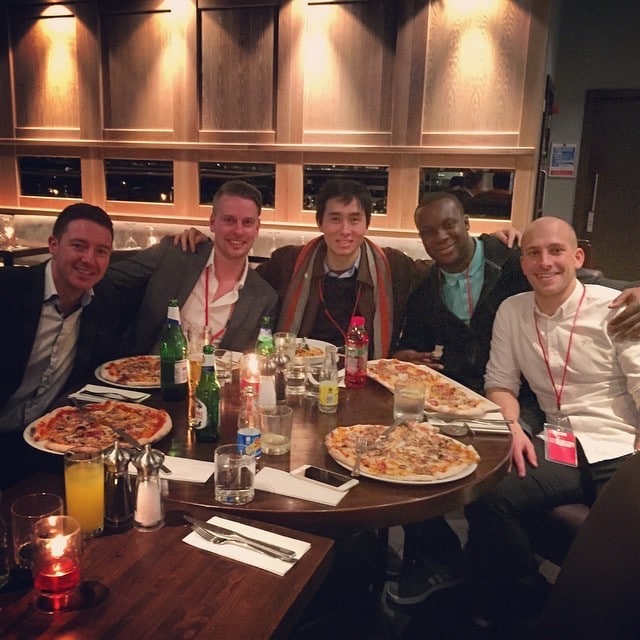 The Forge Bar was really nice, and it was packed with at least 200 affiliates. I had the time talk a little bit more with Erik Gyepes and we also had the pleasure to meet Finch from Finch Sells who was there. I didn't get to see him anymore at the event as he was pretty busy moving from London to Thailand for the second time. AppFlood paid for the drinks that night.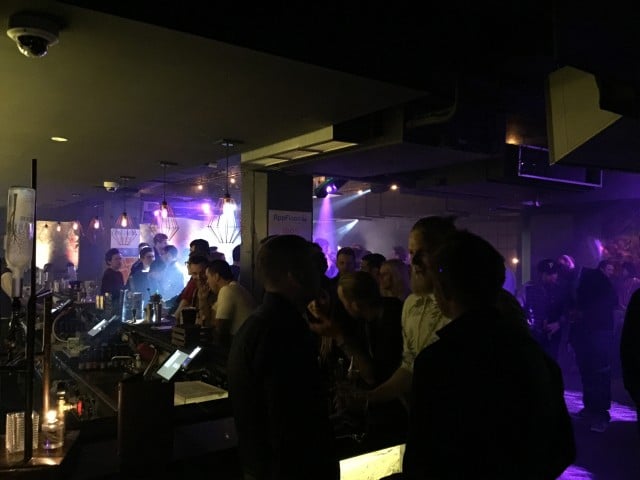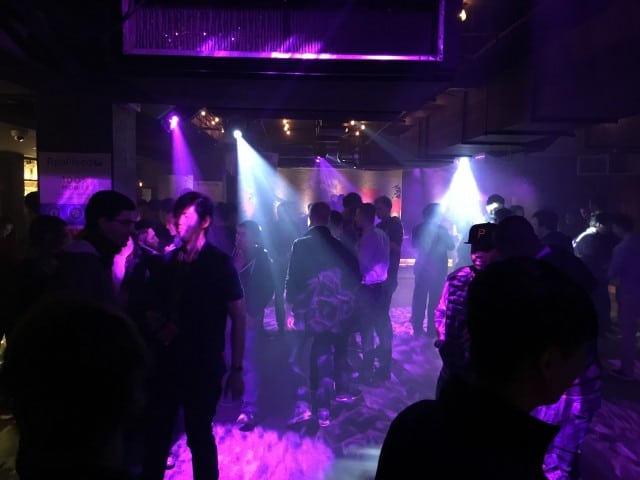 We went back to our home at 1am. Day 1 was over.
Day 2 – STM Awards, Speeches and Adsimilis Games Night
Day 2 was pretty lazy for us. We couldn't make it to the brunch at the Zoo because it was limited to a few members and the speeches and STM awards started at 5pm, so we went for breakfast to a small pub and then got back to the house to do some work, catchup with emails, stats and all that stuff.
We worked until 3 o clock and then we went for lunch before heading to the speeches.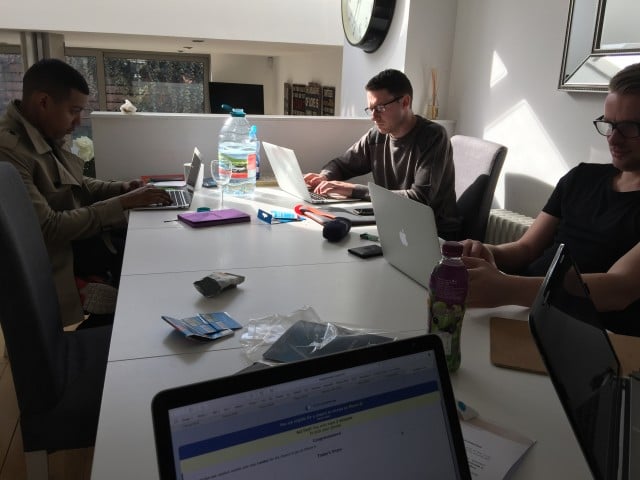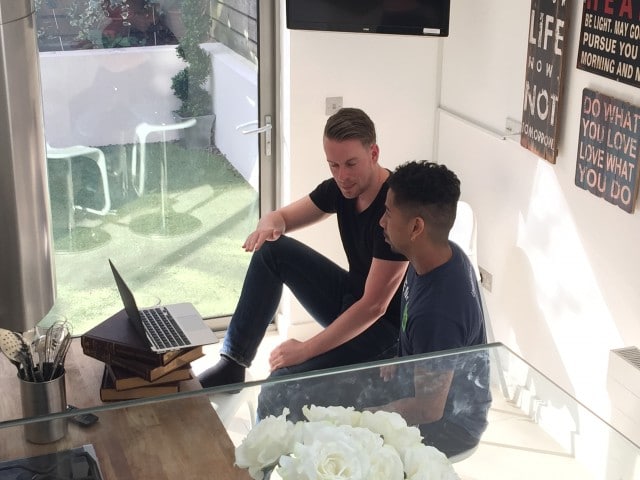 Second day speeches were more targeted to people running traffic and not just being entrepreneurs. Each speaker had 10 minutes for their presentation, so the things were kinda rushed. Still I loved some presentations like the one from Caurmen on Automation, Rohail's speech on how to optimize your mobile campaigns to get great ROI's and Stackman's (Jordon) talk about how he launched a very nice app called alto's Adventure in the Apple Store and how it went from 0 to the top of the charts in 6 hours.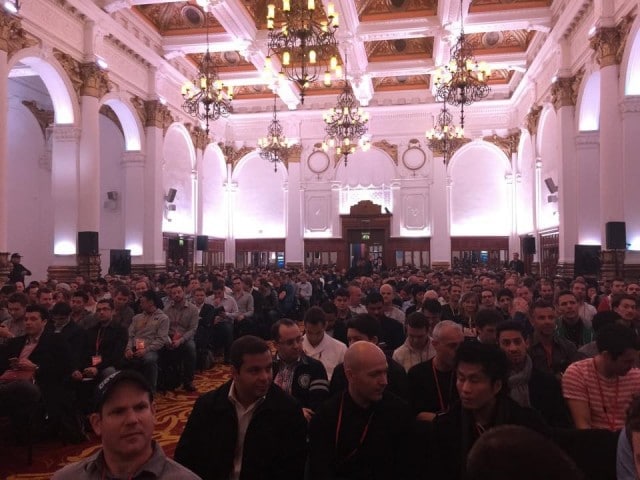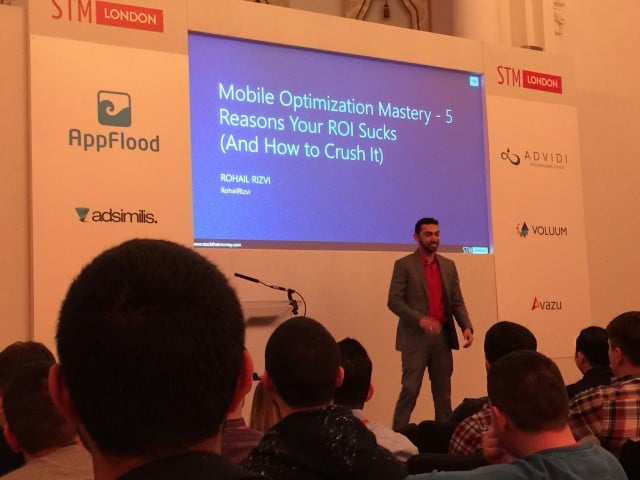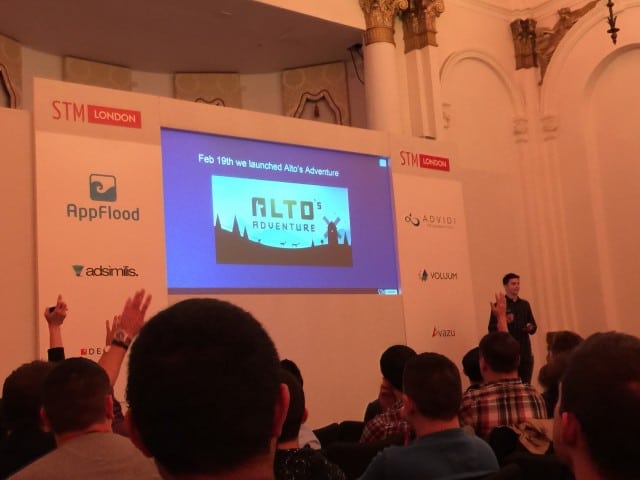 After that, the STM awards were given and it was games night! Adsimilis (a great dating/adult/mobile network) sponsored a nice place were you could fit like 300-400 affiliates and play X box, foosball or bowling and we didn't have to pay for any drinks or food.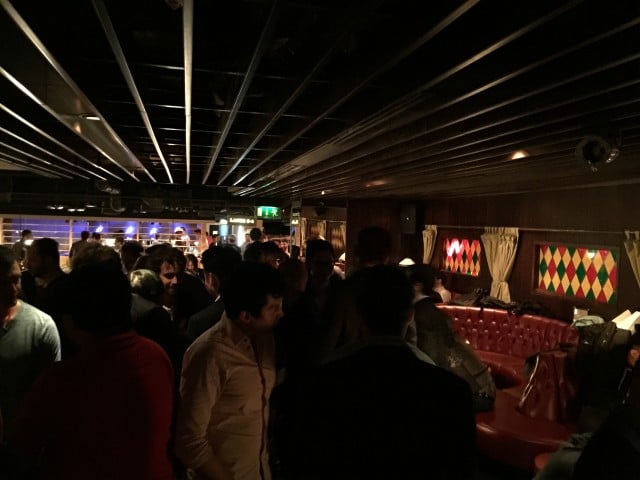 I got to talk and say hello to some people like Lorenzo Green (A.K.A. Mr. Green A.K.A. the image of STM) and a few people from AffiliateFix approached to me as they recognized my face from the Avatar I use in the forums.
I also had the pleasure to finally meet and talk with 3 guys who speak Spanish. I had talked to 2 of them before via FB/Skype and there was another one from Spain too. So we were the only 4 persons in the whole event that spoke Spanish and it was awesome to see I wasn't the only one. One of them is called Santiago and he's from Spain. I meet him 6 months ago when I was doing a Churn & Burn experiment with SEO. The other guy is named Eduardo and he comes from Paraguay. I just feel dumb that I never asked them to take a picture together, but we got to talk a little and bowl before the party ended.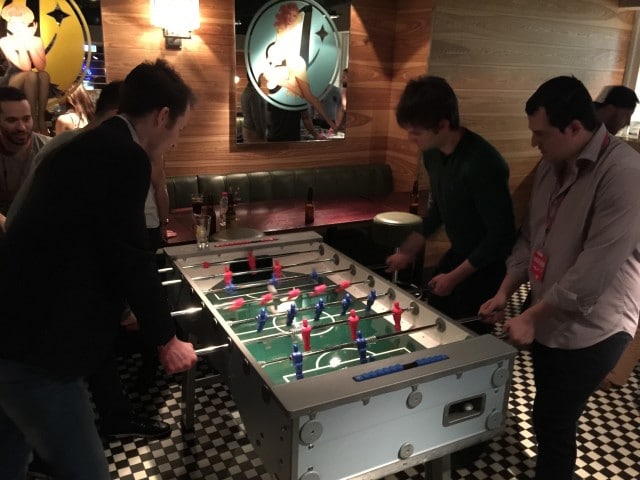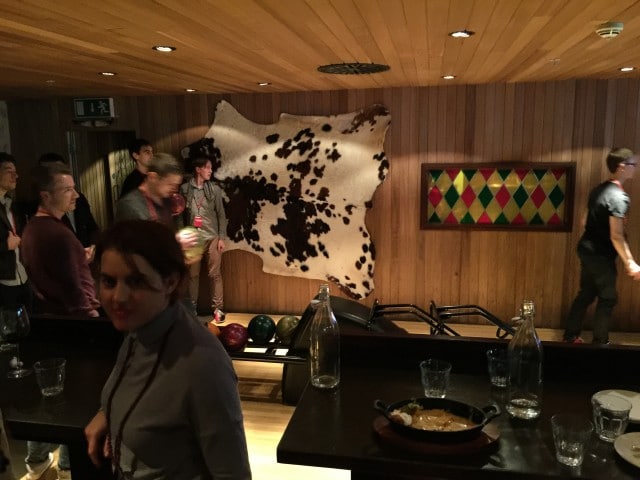 We went to another bar after that for a drink and then back home to get some rest. That was day 2.
Day 3 – Advidi's party
Day 3 wan't busy either. Since we missed the paintball thing from Avazu at 10am, we had nothing to do until 8pm for Advidi's party.
I heard the paintball had an unexpected outcome (something about Zombies)and that many affiliates failed to arrive at time cause they were tired (hangover) from last night. Anyway, we just went for breakfast in the morning and then got back to work a bit more. Taiwo reached us at the house to do some work and I went for a walk with Oliver and Andy to Green Park and a nice place near SOHO.
Andy loves cars and I saw one that I really liked 🙂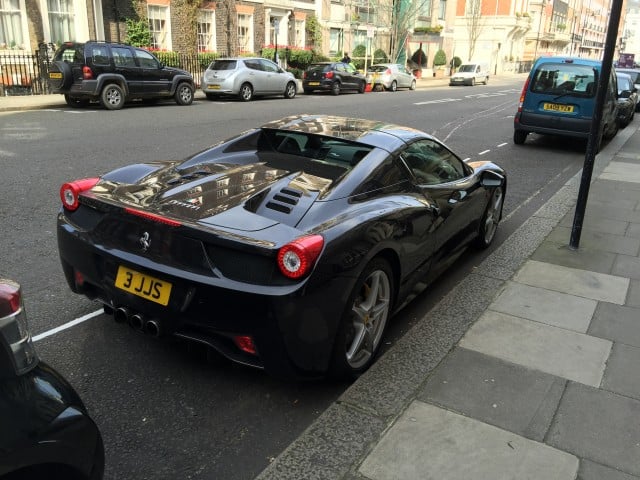 After that we had some lunch and got a few beers before going to the party. This party was held at the Core Bar and hosted by Advidi. I haven't worked with them, but they seem to have nice offers in different niches including dating, skin and more. There's 1 point where you can't really work with more than 3-5 networks or you'll lose focus.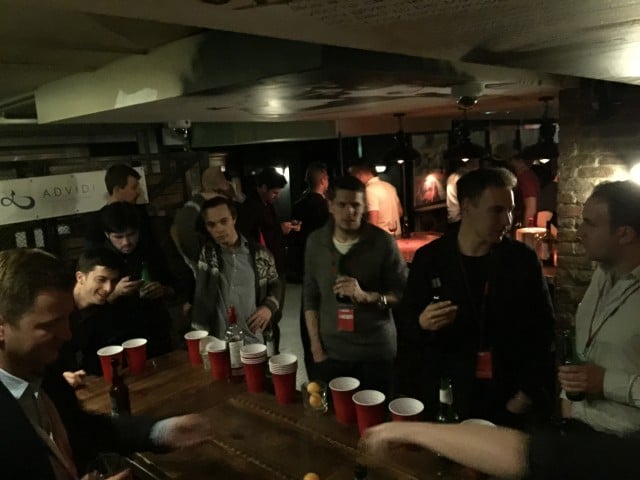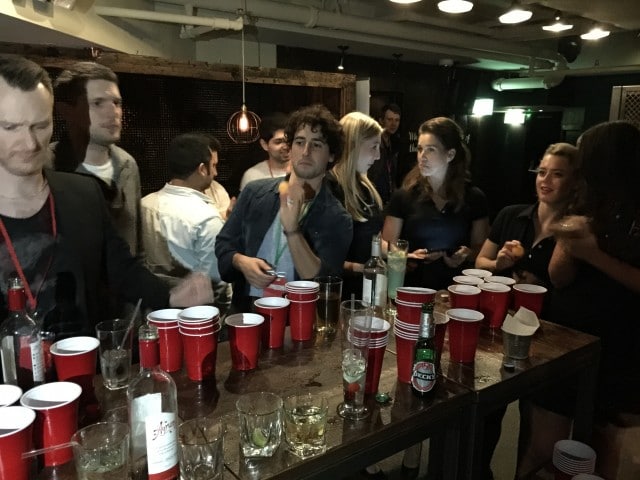 That night was good. I got to talk a bit more with some guys from the forum. Also talked with Rohail about mobile and I even talked to a few managers. I didn't get to talk with Jaimmie (my F5 Media manager) cause god she's always surrounded with tons of guys trying to speak with her! Maybe next time…
At 2 am we wanted to go to another bar but it was closed, so we went back home and ordered some pizza (sponsored by cashmoneyaffiliate LOL) and we just talked about several things all together until 4am.
That was the end of the event.
Recommendations
If you're taking a trip for an event like this, I'd recommend a few things to carry on in case you need them.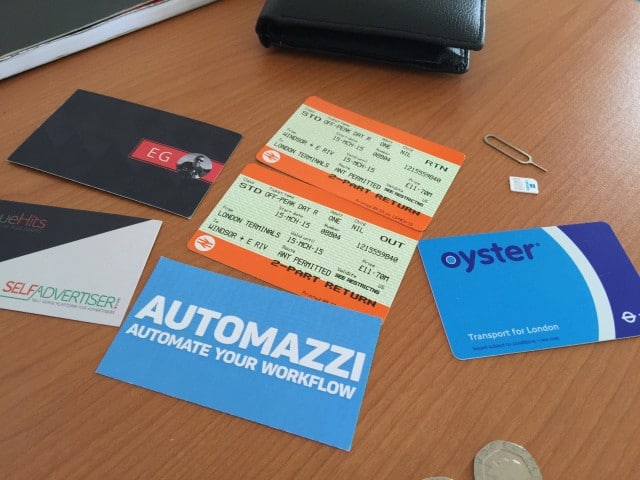 An AC adapter: I brought mine but turns out it was broken. Luckily I didn't have to buy another one cause everybody had a Macbook and I could use their chargers for my laptop and iPhone.
Buy a SIM card: First day I was using my 3G data roaming just to send some Whatsapp messages and move around in the tube. I probably used like 15MB of data but I ended up paying like $30 for that. Next day I bought a Lebara SIM and for 10 pounds I got 1GB of data, 500 minutes and unlimited SMS. That lasted me for the following 6 days without problems. Make sure your phone is carrier unlocked and have a pin to eject the SIM card in your wallet.
Presentation cards: I'm not a fan of them, and I think of you're interested in keeping in touch with someone you just share your email/fb/skype ID. However, I received a few ones and if you're looking for something specific, you should have one.
Oyster card: Each tube ticket costs like 6-9 pounds. but if you get an Oyster card you only pay 2 pounds per trip and there's a cap of 6-7 pounds per day no matter how many times you take the tube/bus.
Clothes and shoes: When you work from home you're used to be on your underwear all day/night. But when you attend events like this, at least make sure you get some decent clothes. Specially if you plan to attend bars at night. Some jeans, a nice shirt and decent shoes are enough. Don't try to go with pants and sneakers.
Of course, if you plan to stay a little longer as a tourist make sure you plan your days to make the most out of them and download an app with the map and tube/bus stations of the city you're visiting.
Talk to you next week!