Last year I hosted a small promo/coupon with Zeropark (Thanks to Neill and Mateusz) and over 70 people signed up and got a great bonus that matched their initial deposit.
But many people kept asking me if the coupon could go back again and again. So it's been 1 year already but we're again launching this coupon with my great manager (Neill Burton) and I'll be providing you guys with a complete review and live case study on how to make the most out of Zeropark's traffic and new features being introduced in 2016. This coupon is time sensitive so hurry up if you really want to take advantage of it.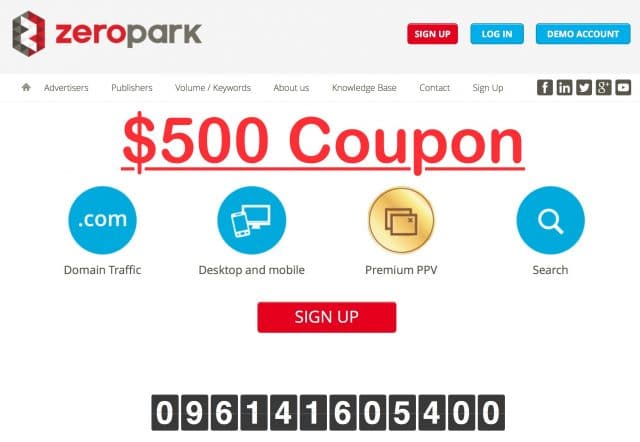 Zeropark is still one of my go-to traffic sources when I want to test a campaign with pop traffic because their interface and drill down optimization options are better than most networks with self-serve platforms. I've spent over $200,000 there and while I work with dozens of traffic sources at the moment I always test my campaigns in Zeropark at an initial stage or even when scaling.
Anyways, this is how the PROMO is going to work this time:
Your account MUST be new. If you're already working with Zeropark and spending money this coupon isn't for you.
Your CAN USE the coupon if you had already signed up but never deposited funds in your account.
The promo will match up your initial funds up to $500. Minimum deposit is $200.
You need to leave a comment in this article with your name and email so I can validate (manually) your coupon.
The promo WILL EXPIRE in August 7th 2016 (30 days duration).
That's pretty much it.
Since the minimum deposit at Zeropark is $200, this means you can get:
Deposit $200, get $400
Deposit $250, get $500
Deposit $300, get $600
Deposit $400, get $800
Deposit $500, get $1,000
They will match up your initial deposit and double it up to a quantity of $500. If you want to deposit more than $500 they will still give you another $500 but no more (e.g. deposit $1,000 and get $1,500 total).
USING THE COUPON
If you're completely new to Zeropark you can use the coupon SRVNDZP2016 and put it in the promo field in the sign up form like this: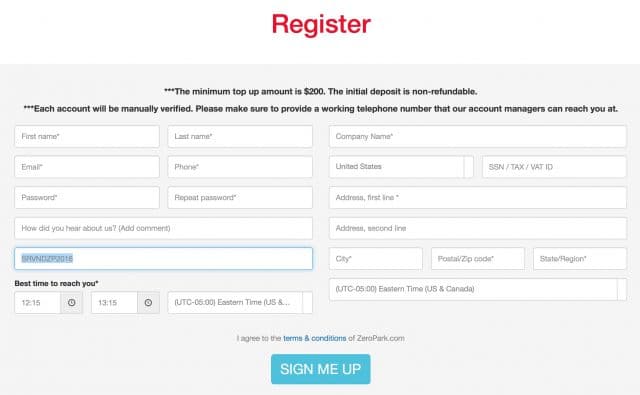 After that please just leave a comment below so I can manually add you to a list and validate it. The Zeropark team might take a couple days to match your funds but you'll eventually get it. Don't be impatient.
Also, if you've already signed up before but you're going to deposit your first funds just leave a comment here in the post with your name and email so I can manually add you to the coupon list.
Finally, if you've already applied in the past months but were rejected by any reason and could never sign up with Zeropark, this is your time! Again, just leave a comment below with your name/email so your account can be reviewed again and approved to get your coupon.
P.S. Being rejected while applying is NOT THE SAME as being banned. If you had an account that was banned because you broke the rules I can't do anything for you. Sorry.
Launching your first campaign in Zeropark
Dashboard and payment methods
A lot of people here are still learning how to launch their first campaign and optimize it. I'll create a follow along with the optimization process at the AffiliateFix forum so you can follow my journey, but if you have no idea how to launch your first campaign here's a small walkthrough step by step.
If you've already launched campaigns you can completely skip this part and wait for the updates and live case study in the next post. Otherwise, if you have no idea how to setup your tracker or how to create a campaign keep reading.
This is your Zeropark's dashboard. Here you can check your stats, your funds and create/duplicate/delete campaigns. The dashboard shows the traffic spent and conversions (if you use Voluum or setup your postback) and the user interface is quite easy to understand.

If you click the "Top up" button at the top -right corner you will be able to add funds to your account which will be later doubled thanks to the promo. I'd definitely consider adding $400-500 to take advantage of the coupon.
Zeropark accepts payments via Pay Pal, wire transfer and Credit Card, however this last option requires you to be a recurring member. I still recommend you get the credit card option after a few deposits by talking with your manager because the transaction fees are lower with credit card than Pay Pal.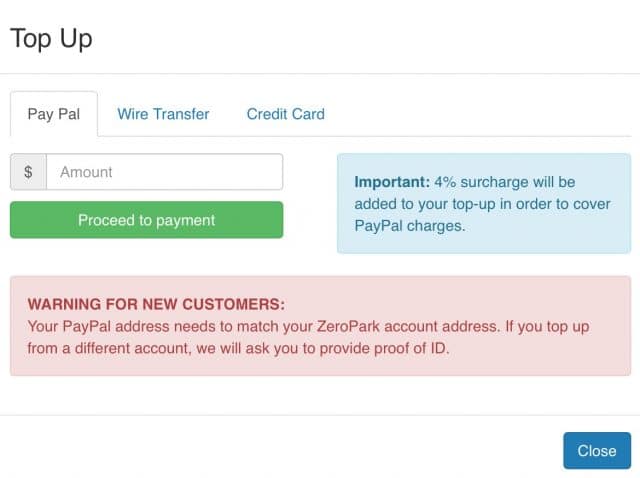 Tracking system
Once you've added funds to your account you are ready to launch your first campaign. You will need a tracker to track all the stats and tokens with Zeropark. If you already know how to use a tracker then this will be no problem for you, but if you're new or haven't decided in which tracker to use, the one I recommend (and many super affiliates use) is Voluum. You can sign up for a Voluum's account here.
Zeropark is already integrated within Voluum's traffic sources, however, Zeropark recently added new tokens to track and if you have an old Voluum account you want to make sure you're tracking everything. Open your traffic sources and edit the Zeropark traffic Source while adding the following custom tokens.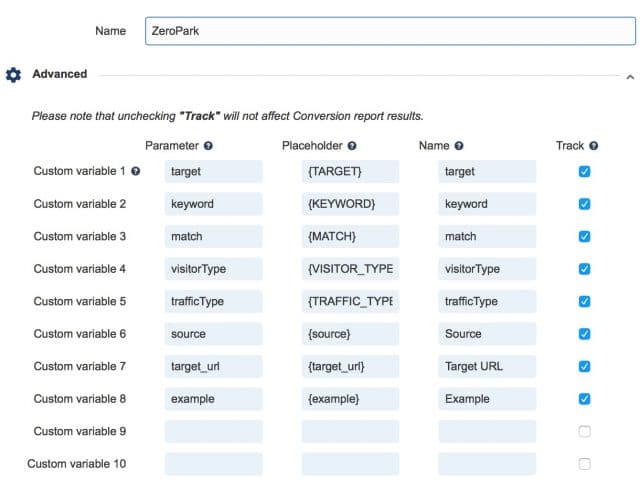 I pretty much added the custom variables 6, 7 and 8 because those were launched recently and my Voluum account is more than 2 years old. If you've got a new account with Voluum at the moment of reading this article the tokens should be in place already, but you might want to check it just in case 😉
Creating your first campaign
Now that you have your tracker ready and your account funded you just need an offer to promote (you can find great networks to sign up for offers here) you can proceed and create a campaign in Zeropark.
Click the "new campaign" menu and select one traffic type.
Domain traffic is redirect traffic from misspelled domains (e.g. people type gogle.com instead of google.com).
Premium PPV traffic is Pop and PPV traffic (e.g. when someone types google.com/smartphone and you wanted your landing page to be shown to people who have the keyword "smartphone" in their URL bar)
Search traffic is similar to Bing and Adwords.
I normally use Domain and PPV traffic with Zeropark, but you can give Search traffic a try.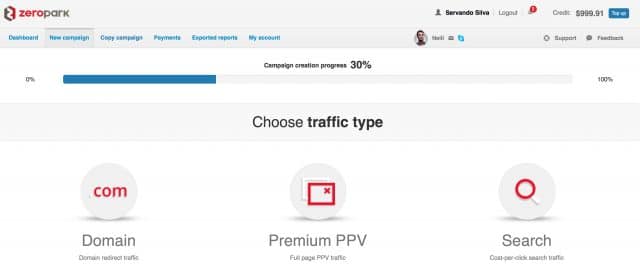 Next you need to define your campaign targeting options.
RON traffic means you'll buy all the traffic available for that country/os and you can optimize by deleting the websites that don't perform well. This campaigns have super high volume and can spend hundreds or thousands of dollars in just an hour.
Keyword traffic means you'll only receive traffic from the keywords you add and nothing else. This can helo you create very targeted campaigns but at the expense of having less volume available.
Target/source campaigns allow you receive traffic from specific websites or group of websites (source). I like using this campaigns after running a RON campaign and finding which websites perform well for my offers.
Multi-Geo has less targeting options and the main difference is that it allows you to target multiple countries at the same time. I wouldn't recommend this option if you're a new publisher, but it can be handy when you want to quickly test an offer that's available for multiple countries.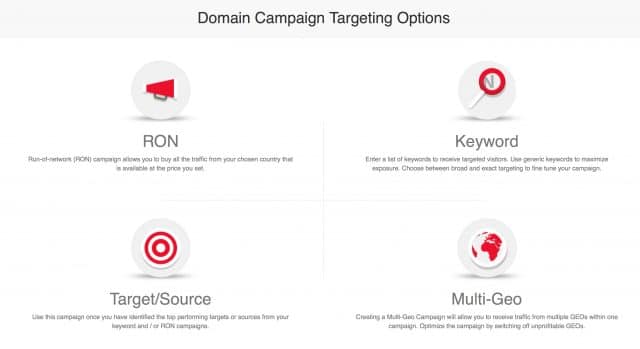 After clicking next you need to fill up your campaign name, country, bid, etc.
Before that, go to the traffic planner and check the traffic available for the country/offer you want to promote. The stats shown are based on monthly data, so for example, in the screenshot below I selected mobile traffic from redirects available on Android phones.
If I wanted to buy traffic from Mexico now I know that there are around 22 million visits per month available and the average bid is 0.0012.
You can select PPV traffic, change the OS if you want or maybe select desktop traffic if that's what you're looking for. Also there's a filter for adult and mainstream traffic in case you want to promote adult offers. Please understand that you can't promote adult offers on mainstream traffic for obvious reasons but you can promote mainstream offers in adult traffic if the offer allows it.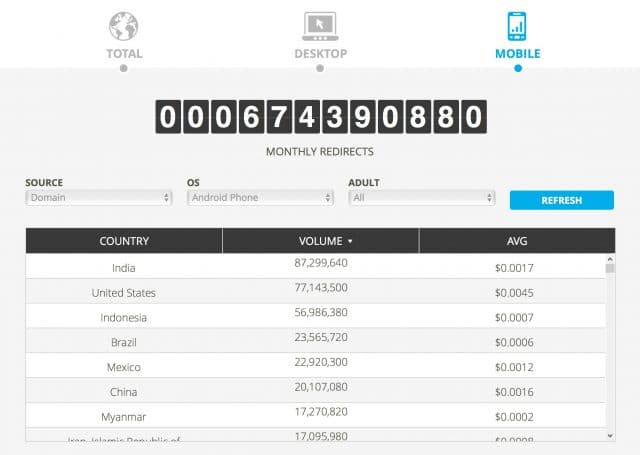 Going back to your campaign now it's time to give it a name (e.g. China Mobile Domain Android) and fill the rest of the data.
Select the country you want to target and in the bid field write down a bid around the average bid so you can get enough traffic. For example, if the average bid for Mexico/Mobile/Domain/Android was 0.0012, I'd bid something between 0.0010 and 0.0015 to get started.
Also don't forget to set your daily budget because some people have forgotten to write a number there and Zeropark spends all the money from their account in a matter of minutes if the volume is available. Finally, you can put a campaign budget (I leave that unlimited) if you want.
Now you just need to select if you want desktop or mobile traffic and if you want to target specific browsers or OSes you can do that too.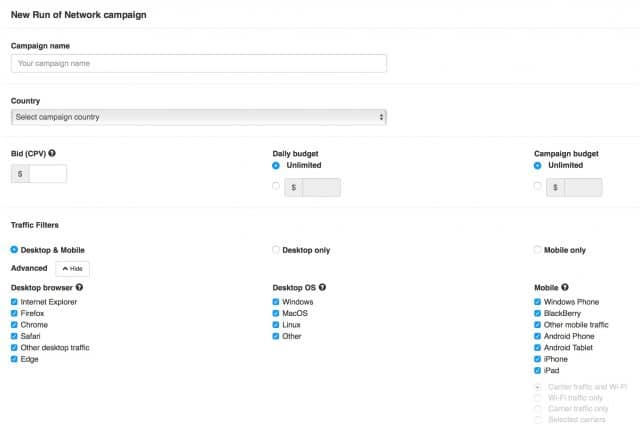 Scrolling down a bit you can select a frequency filter (how many times per day is your ad shown to the same user) and I normally leave that at 12 or 24 hours.
Add the adult filtering if you want and day parting but I wouldn't do day parting before gathering some data.
Finally put your destination URL (Campaign URL from Voluum) and click the save button.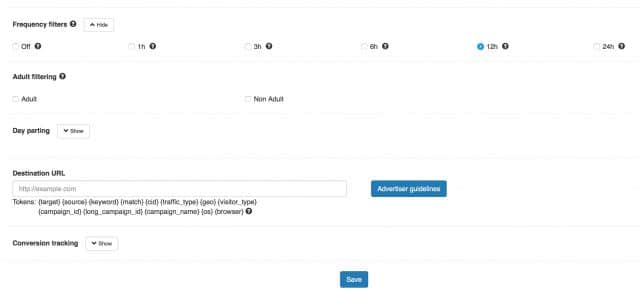 You're good to go!
The Zeropark team will review your campaign and you'll see traffic after approval. Keep in mind many traffic sources have office hours and if you submit a campaign Friday's night there's a chance it won't be approved until Monday's morning.
Live case study
I'll create a few campaigns and post them in a follow along in the AffiliteFix forum next Monday, so stay tuned and sign up meanwhile to take advantage of the promo before August 7th 2016.
I'll write small updates every week here but most of the live campaign action will happen in the forum. I'll send you the link and info when it's ready.
Talk to you later!