2023 Update: SelfAdvertiser will be closing its platform on September 30th, 2023. Discounts, platforms, and links will be offline after that date.
There are some traffic sources you hear about all the time no matter what type of traffic you're running (Facebook, Go2Mobi, PopAds, Taboola) and there are a lot of traffic sources that work but for obvious reasons (people making money in silence) you don't hear much about them yet.
If you've been into any of the latest Affiliate World or Affiliate Summit conferences you might have seen the guys from SelfAdvertiser/Revenuehits. I started working with them back in 2013 from the publisher's side (Revenuehits) but when I started buying pop traffic I immediately thought of them.
SelfAdvertiser has PPV and PPC traffic. PPV comes mostly in pops (set up a landing page and you're good to go) while PPC traffic looks like banner ads from Adwords (you write a title, description, and a URL). I mostly buy pop traffic from them as that's where they have more volume.
Back then they didn't have a self-serve platform but they launched it in 2015 (if my memory works correctly) and the UI and platform works great. Today I want to show you how to set up a new campaign with SelfAdvertiser and if you're new in this traffic network you'll also receive a match up for your first deposit up to $500 USD (a.k.a. more money to test your campaigns).
Hurry up because the promotion will be TIME-LIMITED.
Let's get started!
Signing up with SelfAdvertiser
The process to sign up with every network is as simple as filling a form and confirming your email. This time is no different, but if you want to grab that $500 match up you'll need to sign up with my link. Sorry guys, there are no bonuses for old accounts.
Homepage link: Click here.
Sign up link: Click here.
IMPORTANT: Just make sure you sign up through any of those links and my manager will be able to approve you faster and give you the bonus after you make your first deposit.
The first time after logging in you'll see a dashboard like this but without graphs and campaigns of course.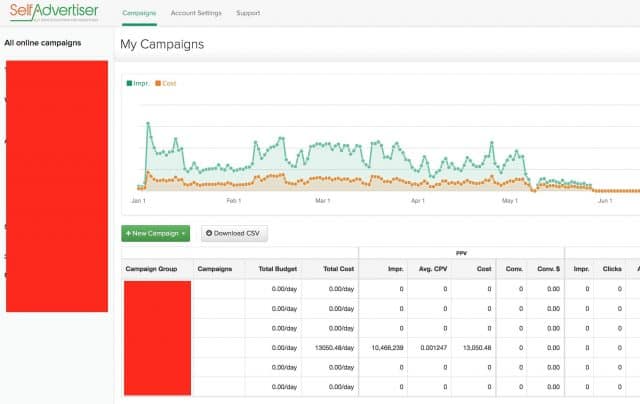 The first thing you'll want to do is to go to your "Account Settings" and then to the "Billing Panel" to make your first deposit. SelfAdvertiser accepts Paypal and your first deposit needs to be $100 or more. After that, you can deposit $10 as a minimum.
To grab your match up bonus write SRVNDSELF in the promotion code field and deposit anything from $100 to $500 like in the image below.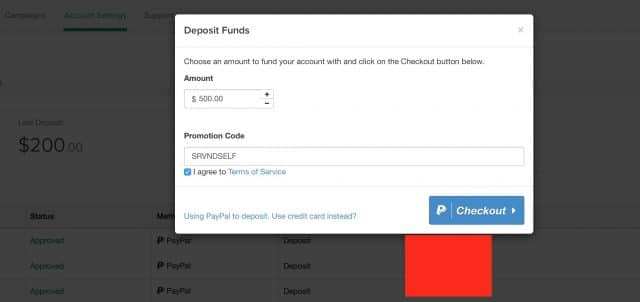 Remember this is a match up bonus, so it works like this:
Deposit $100, gets $100 more = $200 total
Deposit $300, gets $300 more = $600 total
Deposit $500, gets $500 more = $1,000 total
Deposit $250, gets $250 more = $500 total
Deposit $127.5, gets $127.5 more = $255 total
Deposit $700, gets $500 more = $1,200 total
So no matter how much you deposit, you'll get double up to $500 but no more.
Setting up your first campaign
Now that you've got your account and funds the next step is to prepare your first campaign. Assuming you've got an offer to promote with a network you need to set up your tracker to track SelfAdvertiser's tokens.
You've got 3 dynamic tokens to track:
@@SOURCE@@ – For the source (site) ID which presented your ad.
@@CAMPAIGN-KEYWORD@@ – For the keyword matched by your campaign targeting.
@@CLICK-ID@@- For conversion tracking.
If you're using Voluum here's what your setup looks like: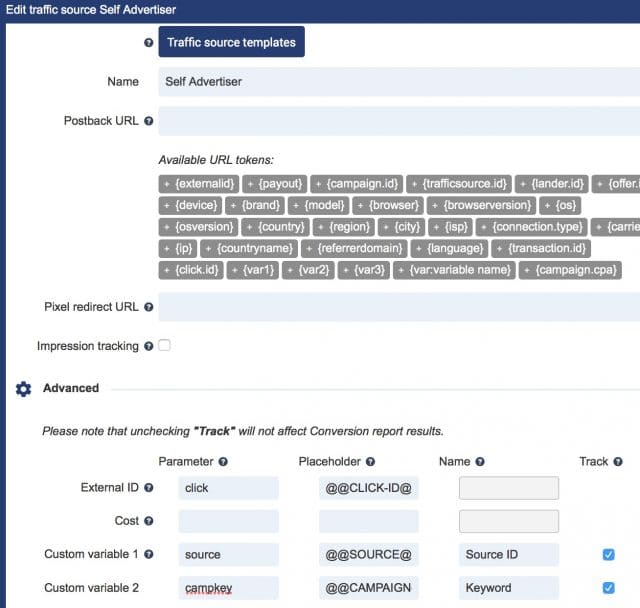 If you're using other trackers just make sure your placeholder (e.g. @@SOURCE@@) is set up correctly and you'll be good to go.
Now it's time to create your campaign in SelfAdvertiser. Login to your account and click the "New Campaign" green button in the main dashboard.
You'll see the following menu where you can set up your first campaign: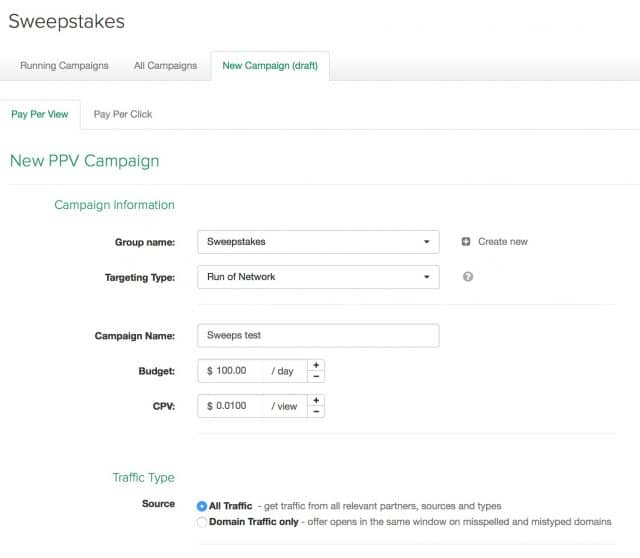 Create a Group for your campaign (this is for organizational purposes) and give it a name. I selected the "Sweepstakes" group which I had created before while running this kind of offers. After that, select if you want to target the campaign by Run Of Network (RON, a.k.a. receiving traffic from all websites) or keyword if you want to write down keywords to fire up your landing pages.
The difference between SelfAdvertiser and many other pop networks is they allow you to fire your pops based on keywords in the domains or URLs. So if you are bidding for the keyword "buyiPhone.com" your ad will be shown in websites having the URL or domain name like "buyiphone.com". The way their system fires up your links is by exact match keywords, so keep that in mind.
You can do a similar targeting in networks like 50onred, Zeropark and LeadImpact but not in networks like Popcash or PopAds.
Finally, select your bid and daily budget and scroll down to the next image: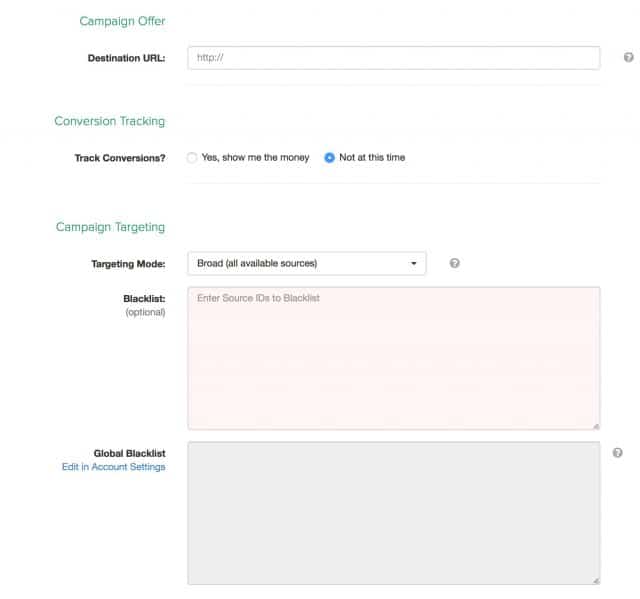 Here you'll add the destination URL (campaign URL from Voluum, Adsbridge, Thrive, etc.) and leave the rest alone. After running your campaign and gathering data you'll be able to come back here and decide if you want to whitelist or blacklist websites/keywords from your campaign but initially, I just leave it empty.
Now scroll down to the Audience targeting: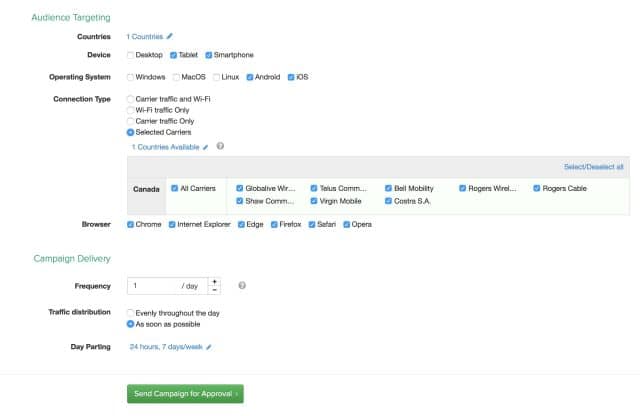 Here you can select the geo/country you're going to run your campaign and all the advanced stuff like OS, browser, device, mobile carriers (for mobile campaigns) and more.
In this example, I selected tablet and Smartphone with Android and iOS to target mobile traffic. In case you want to select carriers the menu will change according to the country you're targeting. I selected Canada in the screenshot above but your menu will be different if you select other geos.
Setup your targeting based on the offer you're going to run and start with an ad frequency of 1/day. Select "As soon as possible" for your traffic distribution to gather data as fast as you can and send the campaign to approval.
Campaign optimization
Once you launch your first campaign it will take around 12 hours to get approved. Sometimes it could be faster but it depends on your timezone.
Wait to gather some data with your tracker and now you'll be able to click your campaign from the SelfAdvertiser's dashboard and see the websites that are sending you traffic and the graph showing the number of visits per day and costs.
This was a small campaign I ran last year and the reason I show you this is because you can see I had several websites blocked (red dot) and several websites I was running at the moment (green dot).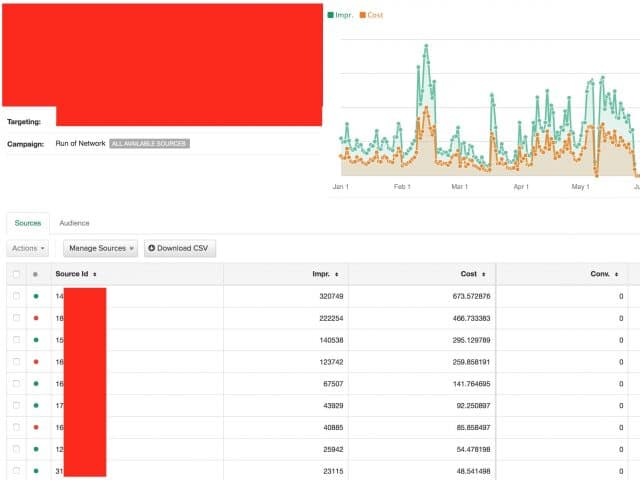 You can either blacklist the websites that are not performing well for your campaign in this menu by clicking the green dots or go back to your campaign menu and write them in the blacklist/whitelist fields. Both methods work fine.
From my experience, I have found SelfAdvertiser has some good quality traffic although you always have to blacklist a few websites with bots (pretty much every pop network suffers this). Some traffic while running keywords campaigns is definitely more expensive but worth it if you know how to target your audience.
You can also create a global blacklist so every campaign you start has those websites blocked already but I don't recommend doing it until you get enough data from several campaigns.
Sometimes what works pretty well on one website for 1 country for Android traffic works a lot worse for another country and Mac traffic, just to mention an example. So blocking a website ID just because it doesn't work in 1 geo could mean you're going to lose profits in another geo/campaign.
And of course, don't forget to read your tracker's data to optimize by OS, browser, and devices which you can also enable/disable with SelfAdvertiser.
TL;DR
SelfAdvertiser is a PPV traffic network with both mobile and desktop traffic. You can use their self-serve to launch and optimize campaigns (step by step explained above) and if you sign up through this link AND use the promo code SRVNDSELF while doing your first deposit you'll receive a match up to $500 bucks.
For more info read the whole article 😉
FAQ
Can we buy PPV and Redirect traffic at SelfAdvertiser?
Yes, SelfAdvertiser also offers push notifications traffic since 2019.
Is there a coupon available to test their traffic?
We have coupons from time to time. Make sure you check if it's still available at the moment you read this.
What verticals work with SelfAdvertiser's traffic?
General verticals including coupons, sweepstakes, dating, app installs, and add-ons tend to work well with this type of traffic.
Do you need a tracker to buy traffic SelfAdvertiser?
A tracker is definitely recommended. We use Voluum for our campaigns.