2019 Update:  While this promo has expired a lot of people have asked me for a new one, so here it is:
Sign up to Zeropark
Make the initial deposit
Email support@zeropark.com with "Servando 2019 promo" in the subject line
Zeropark will add 5% of your initial top-up value as extra credits to your account
You will also get a 2-week mentorship from a dedicated Onboarding Manager, including a live, 1-on-1 onboarding session.
The offer is only valid for new customers. The bonus credits are non-refundable and non-transferable.
——————————-
Hey guys, what's up? This is going to be a short post since I just want to let you know that I've got a special coupon for my readers.
One of the best traffic sources I started with 18 months ago was Zeropark (read my review). They have improved a lot over time and added tons of traffic too.
If you're still thinking if you should try PPV or Redirect traffic, Zeropark is a great platform to get started. Their minimum required deposit is $200 nowadays, but I was able to speak with my awesome manager (Neil, thanks for your help) and get a discount for my readers in case you want to get started and test their traffic.
And if you want to learn and master a traffic source, $1,000 is great to start as you'll be able to launch 50-100 campaigns with it and test a ton of things before spending all of your money.
In case you're not familiar with Zeropark, they are a PPV traffic source with Redirect and Pop traffic. They have traffic available in several countries and so far I've spent thousands of dollars there. It's still one of my first networks to go when testing a new offer.
There's a keyword/volume planner to get you started before launching some campaigns: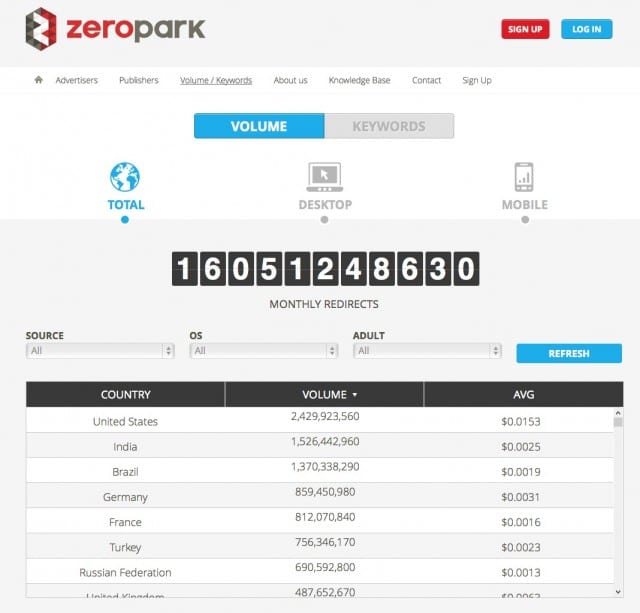 Additionally, their dashboard is one of the best I've seen. This comes at no surprise because Zeropark was created by the Codewise team that also develops Voluum (another great tool with a nice user interface). So when you open your Dashboard you'll find something like this:

Overall, their platform has been great and while there's some competition inside, there's good money to be made with their traffic. They have mobile and Desktop traffic and you can filter your campaigns by OS and browsers too, along with a few other things like dayparting and adult traffic.
If anything happens, write a comment below and I'll personally look with my manager so that your coupon can be redeemed manually.
Talk to you on the next one!