This year has been full of surprises. I wouldn't imagine myself locked at home without traveling running mobile content offers, yet here we are.
Trust is, the mobile content market has had its ups and downs, just as every other vertical (or conversion flow) does, however, it always comes back.
The market is volatile because it's tied to carriers and regulations, and if you've been an affiliate for a while you'll know there are some geos that completely suck for mobile content while other geos are super hot with great converting offers.
Today, I want to talk about the Golden Goose Agency. They're an affiliate network that has been in the market for more than a decade but opened their doors to affiliates a couple of years ago and as you can imagine from the first paragraphs, they specialize in mobile content offers, or mVAS (mobile Value added services) as they call them lately.
Golden Goose has offices in Moscow, Russia, and Miami. I noticed a text in the email template is still in Russian but my manager explained everything I needed to get started.
Besides talking to your manager, you can also find the Golden Goose team at conferences (after COVID) such as:
The European Summit
Moscow Affiliate Conference
Affiliate Summit West
Affiliate Summit East.
Inside Golden Goose's platform, you'll find (mostly) mVAS with different conversion flows such as 1 click flow, pin submits, 2 click flows and click2SMS.
Click2SMS is a different type of flow with variable payouts depending on the number of messages requested by a user and this type of conversion flow has been growing slowly as more networks offer it in the last couple of years.

I like the website design and the way they represent theirselves with the following rules: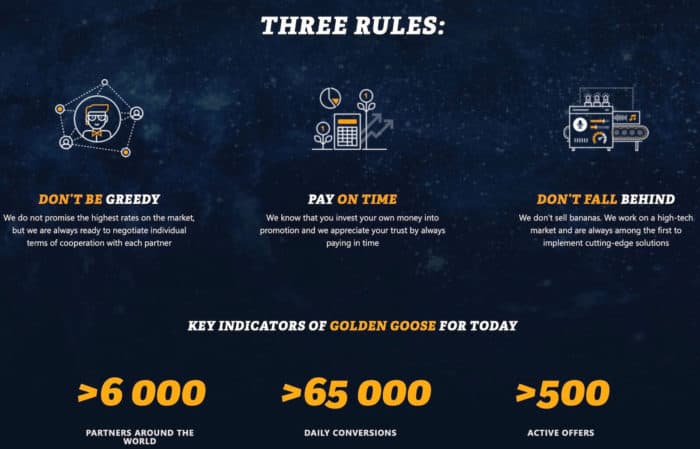 With over 65,000 daily conversions and more than 500 active offers, there are a ton of opportunities for you to test. I personally prefer to work with networks that have 300 or 500 good offers than those networks with 10,000 offers but only 200 of them are decent enough.
Many of the offers are in-house, by the way, and are available for more than 300 mobile carriers around the world.
Golden Goose Platform
As you could imagine, not only the homepage is custom made, but also their dashboard where their host all you need to start monetizing your traffic. Once you sign up you'll see the top offers report along with the payouts and other menus: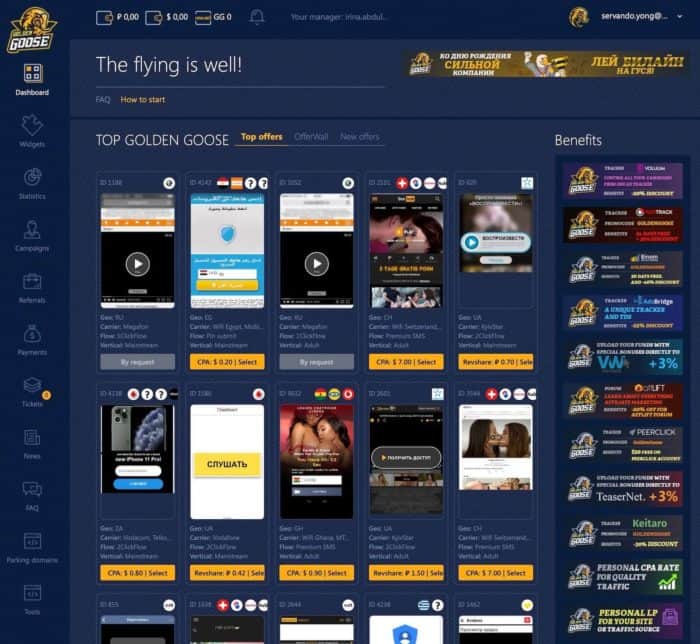 The tracking platform offers a lot of data and they have developed a way to detect fraudulent traffic with tons of data to analyze. Needless to say, you'll need to talk with your manager to know more about this 😉
You might not be familiar with mobile content, but the reality is that mVAS can cover many different verticals including utilities, sweepstakes, lottery, adult, streaming video and music, games, and more.
Once you select an offer, you'll find the typical filtering details and the restrictions. Make sure you follow them to avoid getting kicked out of an offer or worse, not getting paid.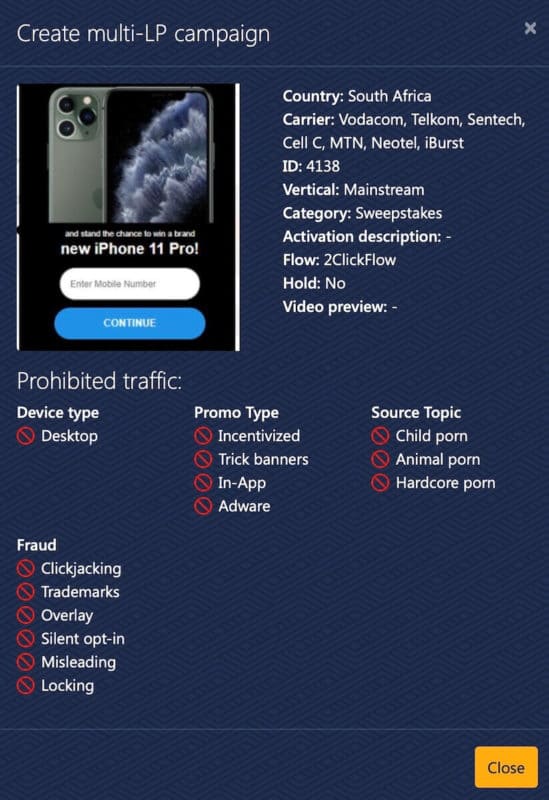 I recommend you to talk with your manager in case you're looking for specific offers from certain geo or vertical. Once you've decided which offer to promote, you'll get to the following page where you can select the domain you're going to use (more about that in a second) the offer URL, and the option to enable the SmartLink for traffic that doesn't follow the desired targeting rules.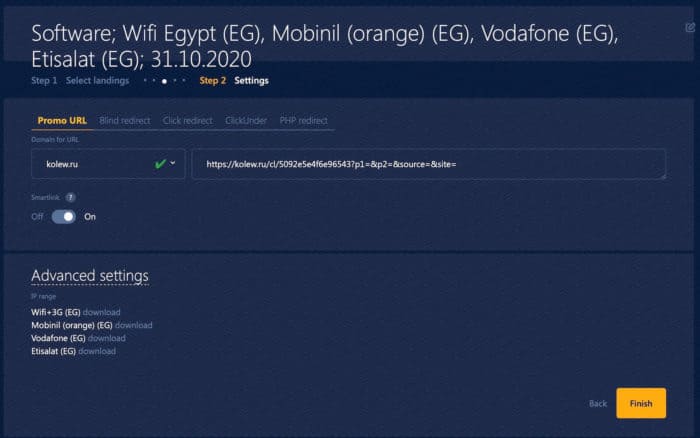 You can also use a typical promo URL, or get the code for a Click-Under, Blind redirect, or PHP redirect, but I assume you'll only use those options if you know what they mean.
I mentioned the option to choose your offer domains above. This is a very helpful feature for affiliates as you can use your own domains to track your offers by CNAMING them to Golden Goose's domains.

This is super helpful for affiliates who sometimes deal with flagged domains or when you're running offers in strict traffic sources where they have already blacklisted the domains or an affiliate network.
Payment limits and methods
If you're getting started with paid traffic you'll love Golden Goose's payout limits. We're all used to get paid on a bi-weekly or monthly basis as new people tend to generate less than $500-1,000 per month, however, with Golden Goose, you can receive payments as fast as daily if you reach the threshold which can go as low as $10 with some payment methods.
Not only that but also the number of payment methods available is just underwhelming! Have a look at this: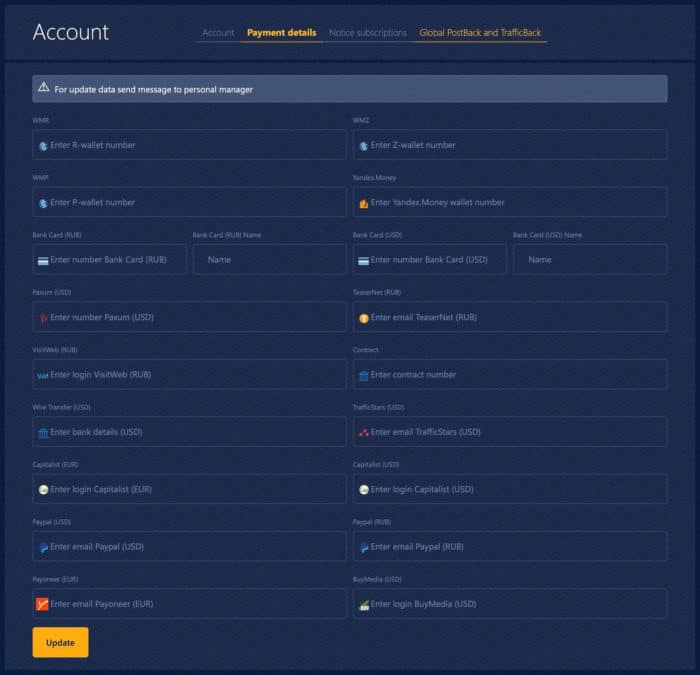 From Wire transfers to Payoneer to PayPal to Webmoney, etc. No matter in which part of the world you're located, you can get paid!
That's it. You've got everything you need to start testing mobile offers from this network now. We have gotten some very interesting results so far and it's one of the top 3 networks where we run mobile content offers.
If you're interested in running high converting offers, have a look at Golden Goose's network and sign up here to get approved faster. You'll also get assigned a manager to share stats with you and give you recommendations for different types of traffic and geos.
Talk to you in the next one!