Remember when web push notifications were new in 2017-2018? Or do you remember when everybody was running mobile apps on pop traffic? What about the days where you could run dating SOI campaigns on Facebook?
Every time there's a new trend, it's important to be part of the first wave as you can make more money by entering early. Competition is lower, market saturation hasn't happened and regulations are lower as well.
Every few years there are new trends, sometimes after a 2 years period, sometimes after 5-10 years. Could calendar push notifications be a great trend for 2021 and more? We'll eventually find out.
What are calendar push notifications? Great question!
Let me explain them to you below, but first, let me introduce you to Vimmy, one of the first traffic sources to offer this ad format.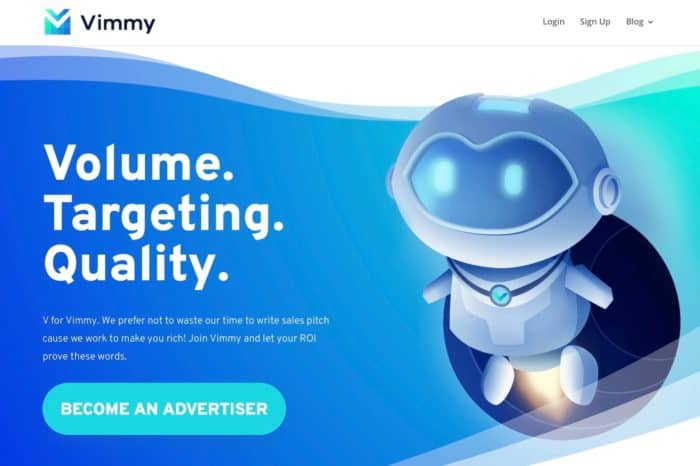 Vimmy is a self-server platform (SSP) where you can buy different types of traffic, including popunders, push notifications, InPage push and lately Calendar push notifications.
This network manages 650M impressions per day and offers a fast, yet easy-to-use interface to create campaigns. They have a blog in English and Russian (notice a trend lately?) and have offices based in Europe.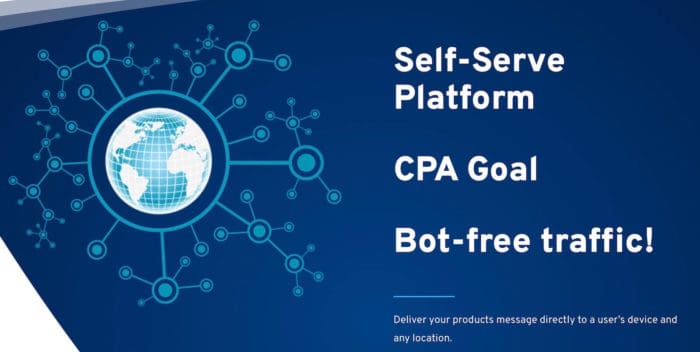 Sign up here and create an account. The review process is fast and straightforward and as I said before, the dashboard is simple and easy to navigate. You'll find your today's stats and a menu at the left to navigate through different options including campaign creating, tracking, and adding funds.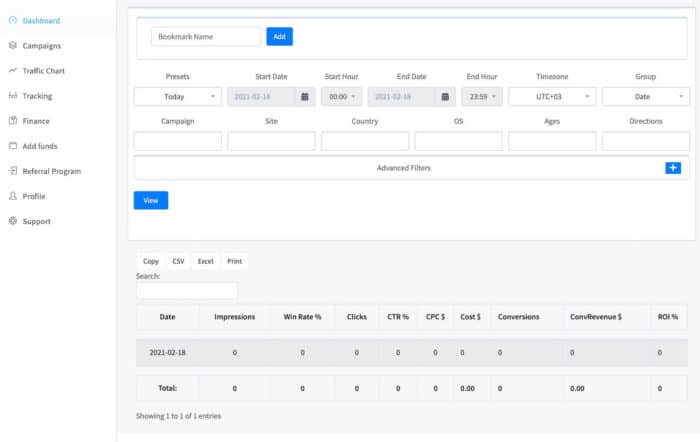 Vimmy – Adding funds + Promo
As for adding funds, Vimmy offers 4 different type of options at the moment:
VISA/Mastercard
Webmoney
Paxum
Wire Transfer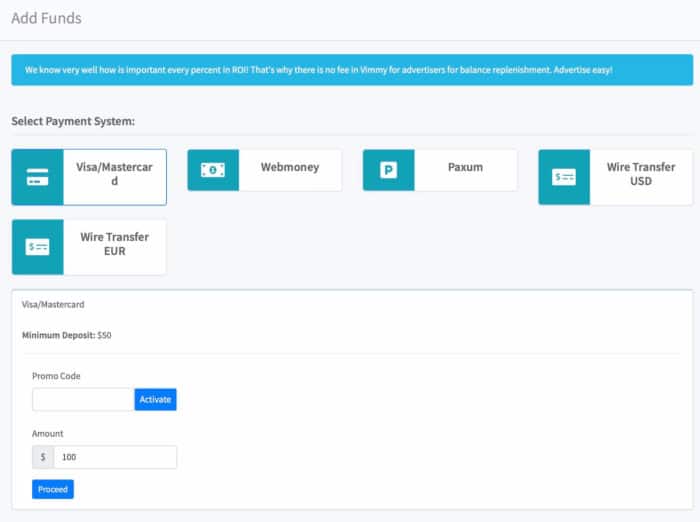 I wish they offered other payment options such as PayPal or Paxum, but that's what's available for now. Hopefully, later we can get more options for people living in countries where PayPal is more common.
Also, there's a promo code available for my readers as usual. If you add the code SERVANDO100 and activate it, you'll get an extra $25 in your first $100 deposit. Keep in mind the minimum deposit amount is $50 though.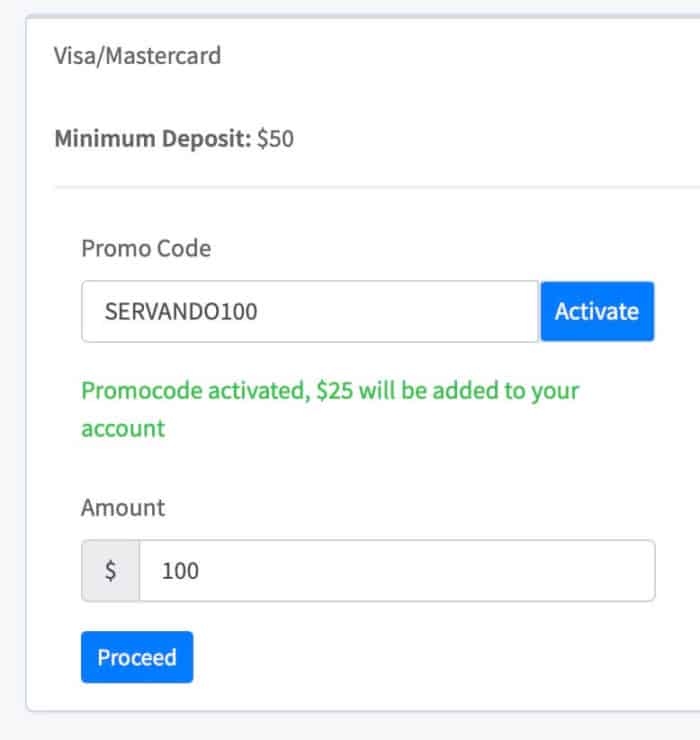 After you've added your first deposit, it's time to plan your first campaign. Before creating a campaign I suggest you visit the "Traffic Chart" menu to get an idea of the average weekly volume available and the recommended CPCs/CPMs.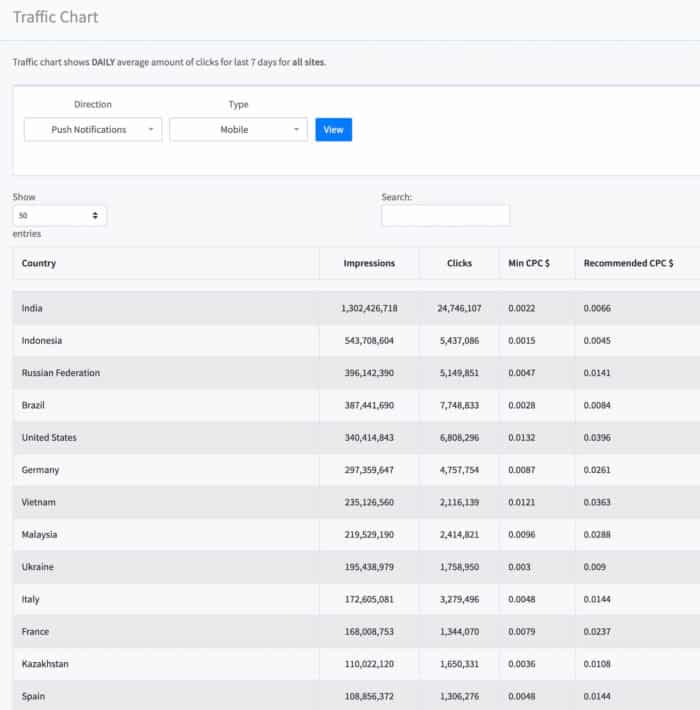 Make sure you select the desired ad format and device to get a more accurate representation and try to work with the top 20 or maybe top 30 geos to find enough volume if you want to scale up your campaigns.
Vimmy – Campaign creation
Once you've got an idea of the geo and ad format you want to work with and you've got a nice offer, it's time to create a campaign. Go to the "Campaign" menu and select "create campaign" at the top right corner. A menu will appear: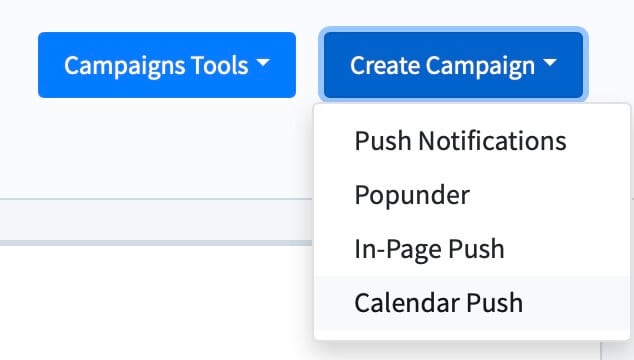 Now you need to select the desired ad format. You've got:
Web Push notifications
PopUnder
In-Page push
Calendar push
I've explained pops, web push, and InPage push several times before, but this is the first time I go over Calendar push notifications. This is the new kid on the street and it might be worth a look as it might explode over this year (2021). Here's an illustration from Vimmy's blog as to how it works: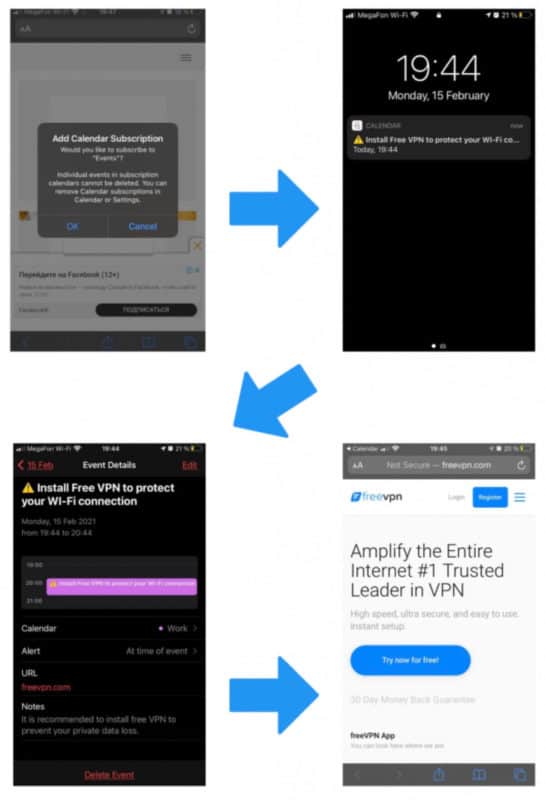 Basically, people get a calendar subscription and they receive notifications every now and then. Once people open a calendar notification on iOS, the calendar app is launched and you get the subject (the title of the notification), along with a URL and notes at the end (notification description).
Considering how this works, the CTR is going to be way lower than regular web push notifications, as people need to open the notification and then click on the URL, but this traffic should be more qualified if your title and description are good enough.
From my tests, the CTR (impression to click) can be as low as 0.01%, but can also go above 0.1%. With push notifications, this number would be super low as you can sometimes push it over 1% CTRs, but with Calendar notifications, you can expect higher-quality traffic from iOS devices (higher income).
Let's create a campaign quickly to show you how it's done. I'm going to create a popunder campaign but the process is very similar in other formats, except for when you need to add a banner/icon or a notification title.
Here, you'll need to input the campaign name, URL (from your tracker), countries, CPM, budget, and capping.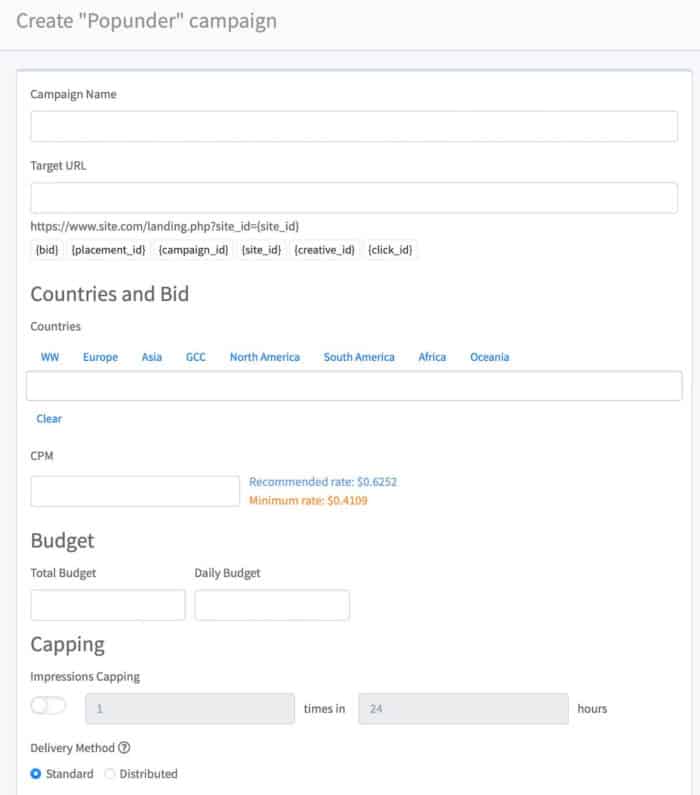 As a recommendation, only run 1 country per campaign and start with 1/24 hours and an average or higher than average CPM based on the stats you saw in the "traffic chart" menu.
In your campaign URL, you need to make sure you're adding the respective tokens to track as much as you can according to each ad format. The tokens displayed below the URL form are going to change depending on your desired ad format. Go to your tracker and create 1 traffic source for each format to leverage all the different tokens available.
Here's how it looks in my tracker:
The traffic source postback URL can be generated in your account by going to the "tracking" menu in the left sidebar.
Now you need to provide the targeting options for your campaign. This includes:
OS
Browser
Connection type and ISP
IP
Placements
Sites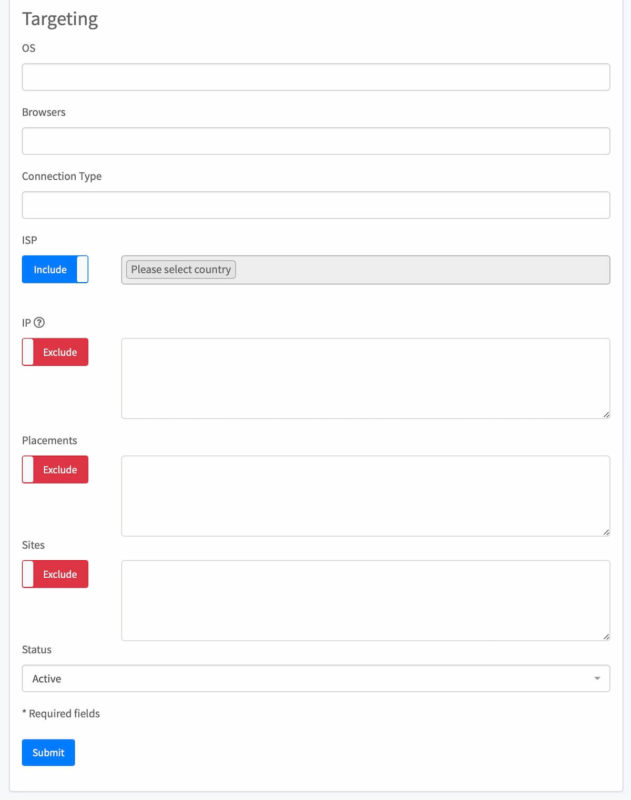 And that's pretty much it. As I said, the interface is quite simple but it works.
Once you send your campaign for approval it will take a few minutes to a couple of hours to start running. the approval process is almost instant, and if for any reason you need help there's a support team 24/7.
You won't have any data to exclude or include sites and placements initially, but that's fine. Placements are individual websites sending you traffic, while sites are feeds (groups) of websites with many placements. Confusing, I know, but each network has different names. It's easier to see in this real-time campaign:

As you can see in the screenshot above, I'm sorting my traffic via placements and I have hundreds of them sending traffic to my affiliate offers. I'll block any of those without conversions after 1x my offer's payout.
The site's list is way shorter as it only includes a few feeds where I'm traffic from (direct from Vimmy or brokered from other networks).
If you're running other ad formats such as or web push notifications, there are other tokens available such as "age" where you can see the age of the subscriber, also known as how many days have they been subscribed to that feed. New subscribers (3-7 days max.) tend to perform better than older subscribers.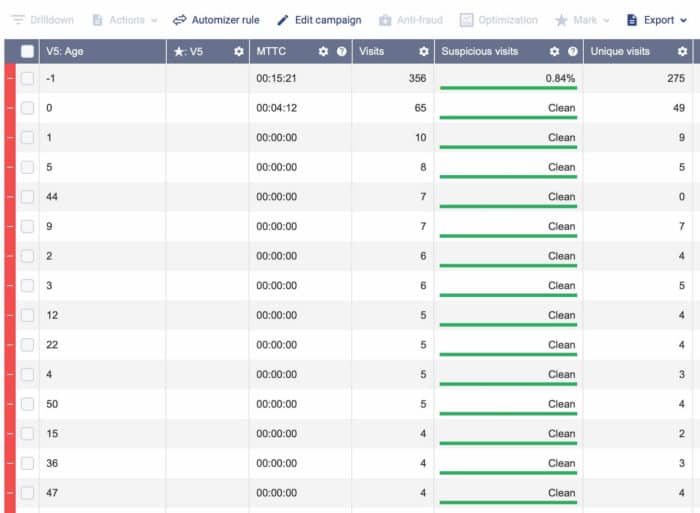 If you're interested in testing calendar push notifications definitely give Vimmy a try and let me know how they perform for you. As with every new ad format, there's less competition, lower bids, and the market is less saturated = higher conversion rates.
Here's a sneak peak of an offer running with this new ad format 😉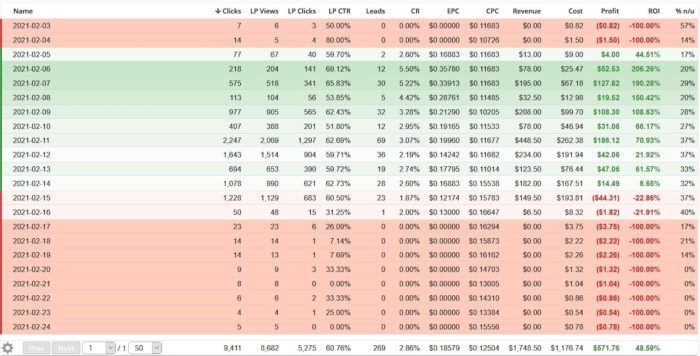 For how long will it last? who knows. Web push notifications were supposed to be dead a year ago yet they still work although with lower engagement and CR. Take advantage of calendar notifications this year and milk them as much as you can!
Don't forget to use the code SERVANDO100 in your first deposit to get an extra $25 in your first $100 deposit.
If you have any questions please leave a comment below. Talk to you in the next article!