I've been testing a new feature launched by Voluum in the last few weeks and just wanted to share my quick thoughts about it.
Whenever you launch a CPA marketing campaign you'll have to optimize it at some point unless you hit gold in your first try (very rare lately). Even if somehow your campaign is profitable from the beginning, it doesn't mean you can't keep milking it by optimizing some parameters to get better ROIs or traffic quality.
You know the drill…
Blocking a few websites here and there, checking if any browser converts like crap, keeping an eye on the operating systems or devices, or perhaps having a look at the best-converting carriers/ISP.
This is the daily life of an affiliate who buys traffic and you know you need to do this every day or at least every few days if you want to squeeze your profits as much as you can according to the volume you're sending.
Voluum recently announced a new feature called Automizer. This allows you to integrate and control your campaigns right from your tracker's dashboard by pulling data from an API.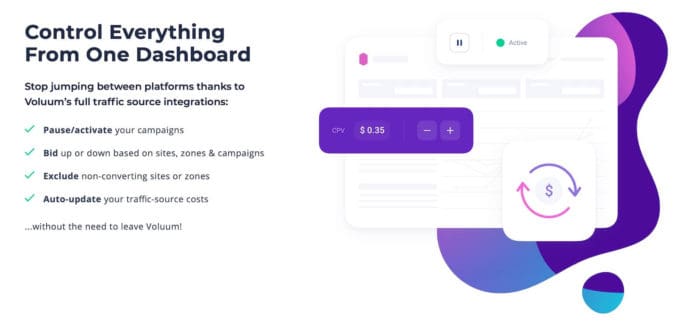 In general, that's how it works, but once you have the power to integrate your data with other platforms you can also automate your campaign's optimization process and create a system that requires less attention from a human.
I've seen or tested similar tools before, however, having it integrated into the tracker I regularly use normally helps a lot to avoid dealing with a mediator and extra costs.
You can find a the new Automizer feature in your Voluum's dashboard at the top:

As of now, Voluum is integrated with 7 traffic sources and they're adding new networks every month. Zeropark and Outbrain are the next ones in the list it seems.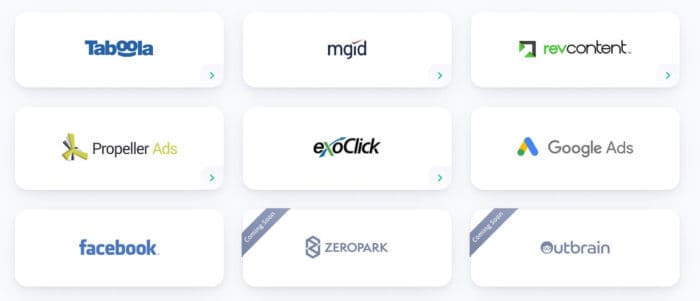 You can see there's a bit of everything there. You've got Facebook, Google, RevContent, Propeller, etc.
July 2020 Update: After a couple of months, Voluum has added more traffic sources to the Automizer feature and we've got 10 sources now, including Outbrain, Zeropark, Adsterra and Google Ads!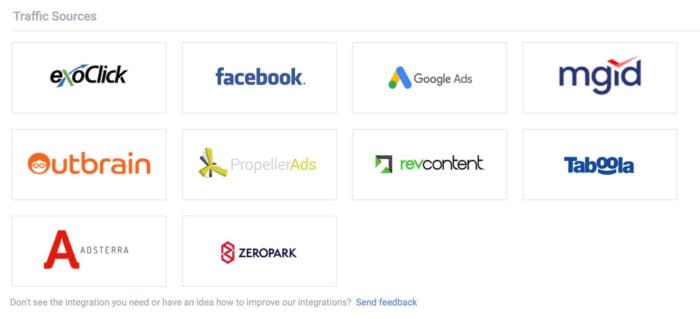 Running an Automizer with FB or Google can become really handy in terms of cost tracking, for example. Other platforms like Exoclick, Propeller, or RevContent also benefit from this type of integrations because you can program the optimization process and also better cost tracking no matter how much click loss you're having (if any) as well.
I decided to test the integration with PropellerAds (check out my review) and it's pretty simple. Just select Propeller and you'll be asked for your API token: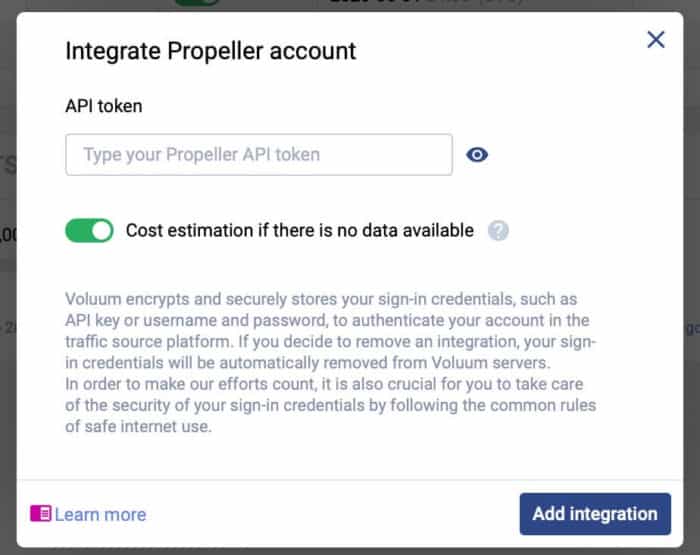 Now go to your PropellerAds dashboard and inside your profile settings you'll find your API token. Paste it in your Voluum's panel and you're good to go.

I noticed the integration makes calls to the API every few hours at first. When you create a new campaign I've noticed it can take an hour or 2 to be integrated. Costs are also updated a few times per day although the optimization process is run every 15 minutes as obviously it's much more important to run things fast in that area.
Keep in mind this works differently in each of the traffic sources though.
Once your campaigns are integrated you'll see an icon next to your campaign's name and you'll be able to see the status of your campaign as well as pause it right from your tracker's dashboard:

Now the interesting part. Once you go to your campaign reports you'll be able to pause and optimize different factors like Zones (websites) or Banners, if you're running push notifications on PropellerAds. Every network will have different filters to optimize according to their targeting options.
In my case, I've paused 4 zones straight from my Dashboard which weren't profitable.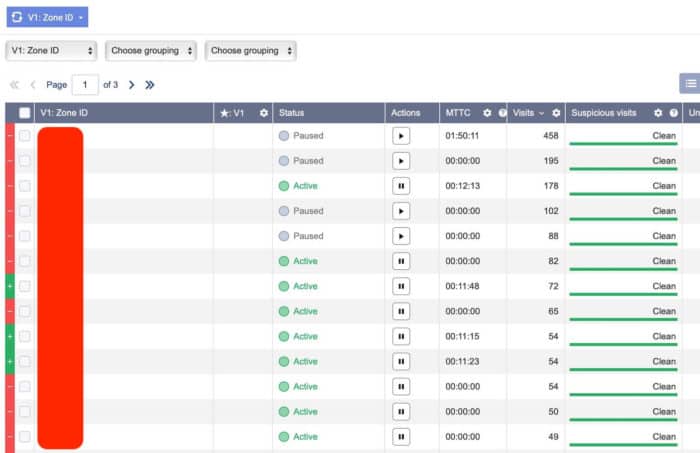 Doing things manually in your dashboard saves a lot of time as you don't have to export data or have 2 screens with different dashboard open trying to figure out what's going on. However, the real utility of the Automizer integration is the rules and auto-optimization, of course.
Just go to any of your reports inside a campaign and create a new rule: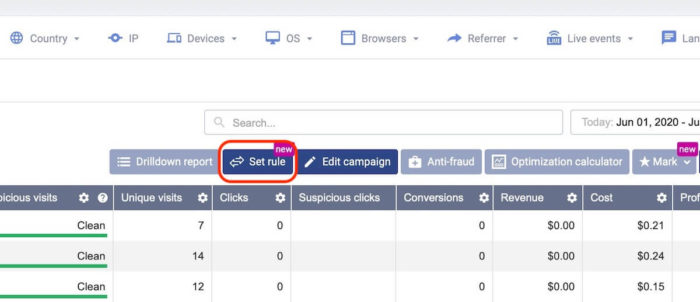 You'll see a pop up with your Campaign and dimension (currently selected variable) already filled. Give your new rule a name and select your actions and conditions to trigger the automation.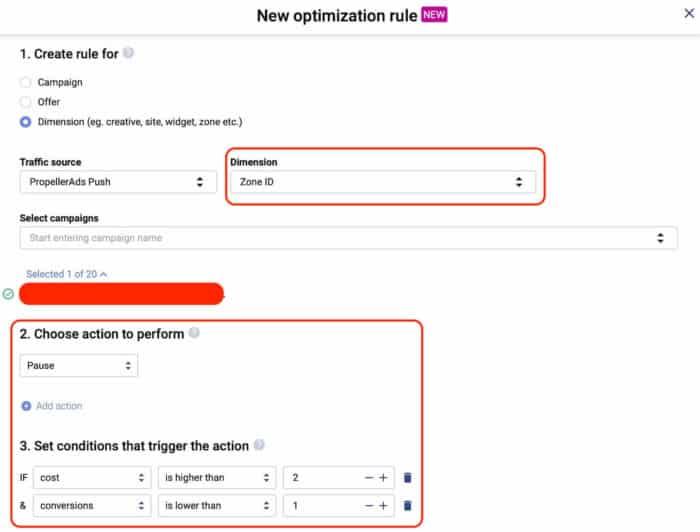 In the picture above, I created a rule for a campaign on PropellerAds we're testing. The offer's payout is $2 USD, so I decided to set a rule that pauses every Zone ID that spends more than $2 and gets 0 conversions.
Easy, right?
Here's another rule you could use: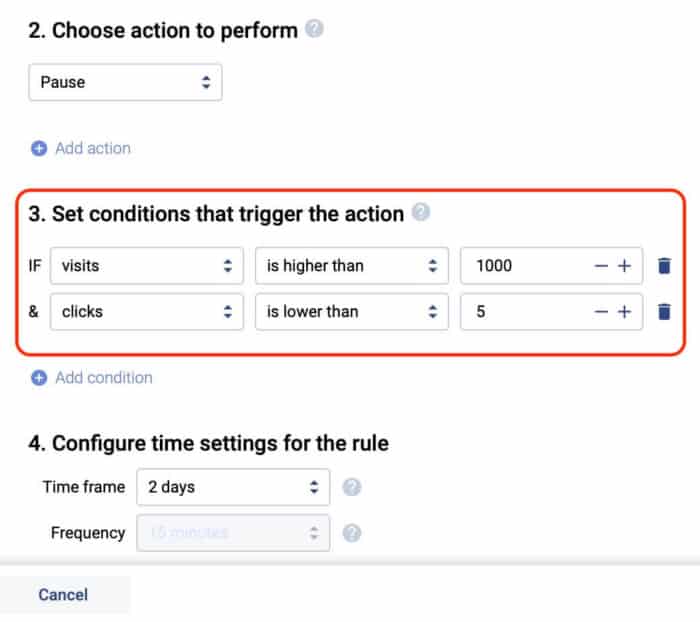 In this case, I decided to filter any Zone that has a very low CTR. For this particular campaign and considering we're running push traffic, I know our average CTR was well above 10%. However, I noticed some websites were having nearly 0 clicks, which means the traffic was not interested at all in our offer.
I decided to create a rule that blocks any website that has more than 1000 visits but less than 5 clicks (less than 1% CTR). Obviously you need to assign the rules according to what you're promoting and your stats. But you get the idea.
Here's another thing you can do: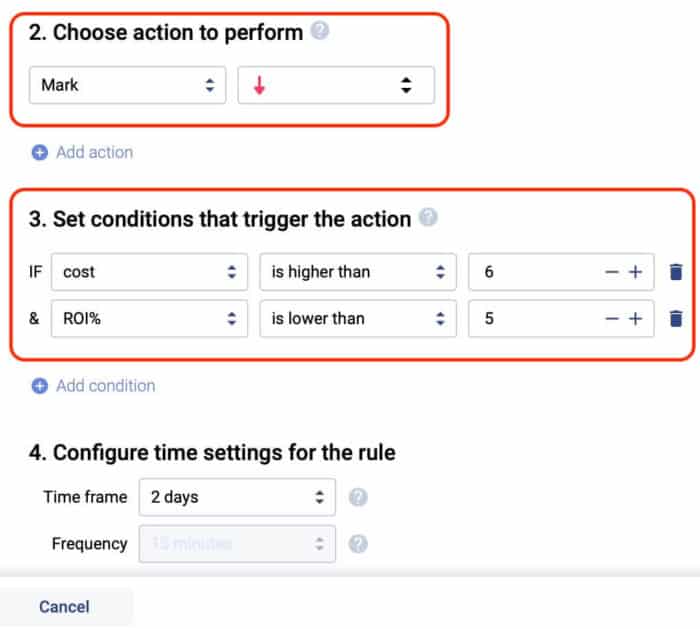 Let's say you've got a few Zones/Websites getting a conversion here and there, but they're not profitable. I set up a new rule that ads a marker to each zone that has spent 3x my offer payout (2×3=6) but the ROI is lower than 5%.
I just wanted to mark some zones that are barely profitable or perhaps unprofitable but still got conversions. This is an opportunity to later check them and see if I can do anything to optimize them into profits. This could be anything like testing more landing pages, optimizing other stats like OS or browsers, or simply by tweaking my bids if the network allows to do that granularly per zone.
Every network has different integration options, which means your mileage will vary but I wanted to show you how easy was to fire up some rules and integrate them with a network into your tracker.
One thing I noticed after testing the automizer though was that the maximum time frame you could set to check your campaigns and apply rules was 2 days. I and a few other affiliates gave this feedback back to Voluum's team and now you can select up to 96 days!
However, I prefer using 7 days and apply my filters every 4 hours in general.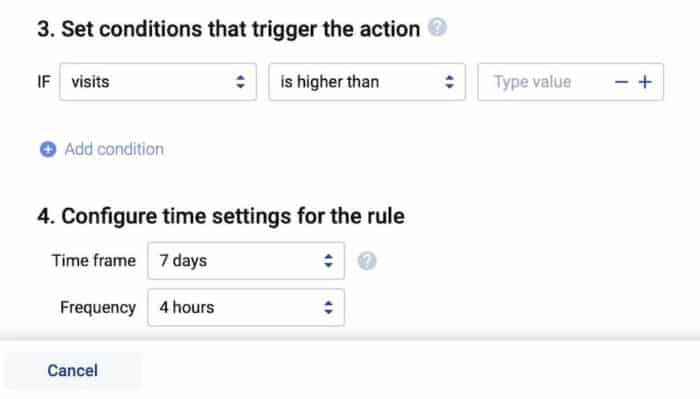 I'm really liking this feature and will test more networks in the future. You can also suggest new networks to be added here, which is nice as they're getting feedback to grow this as fast as possible but in a manner that makes sense for their customers.
At the moment I tested this feature was in BETA mode, however, it seems like any plan at Voluum can access the Automizer feature and it's free for up to $1,000 in tracked costs. It scaled with you after that.
If you have any comments or questions about how this works let me know and I'll do my best to answer back. If not, I'll just png my manager to get some help 😉