If you're new in this industry or you're just launching your first campaigns please read this post as it might be able to help you save a lot of time and money.
What I'm going to write is a lot of quotes and questions that newbies think when they're starting. I'm not trying to make fun of anybody here, don't worry. We were all newbies at one point and probably did a lot of this mistakes a few years or months ago.
The faster you learn which things happen and why, the better. I'll try explain a few ones here and keep it simple but if you've got questions make sure you leave a comment below. Let's get started.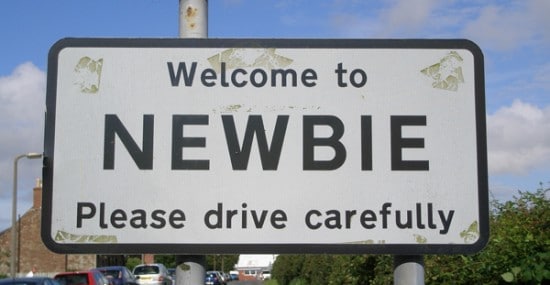 Follow my online journey from zero to hero in 3 months A.K.A. From rags to riches
Yup. This is something I've seen many times, especially in forums and follow alongs. It's not impossible, but these posts get featured to lure more new affiliates into the game while thinking they can learn and go from 0 to $10,000 per day in just a few months by launching a few direct linked campaigns in a small traffic source.
I know some people that have learned super fast and have big 4-5 figures campaigns running after 6 months, but normally they have some especial edges that help them achieve this easier.
Which advantages? Well, they either have a mentor, or a ton of money from other internet ventures, or past experience in affiliate marketing or a complete team ready to launch tons of campaigns, etc.
Also, keep in mind not everything you touch becomes gold. Some of your campaigns will fail like crazy, especially at the beginning and there's not much you can do about it except learn from them and read your data.
I have $300 saved to learn CPA marketing, what's the best traffic source that gives you more conversions?
Well, first of all, $300 ain't nothing in this business. You could spend a lot more than that in 1 day just by testing a couple offers in just 1 campaign. Always remember to test low payout offers if you're on a limited budget.
Also keep in mind you need money to get a few tools like a hosting service a tracker and maybe an spy tool. You could spend those $300 in 1 day after buying the basic tools to get started. I normally recommend having $2,000 PER MONTH and assume you don't have that money so it can be well spent while you learn in the following months during your journey.
About the traffic source… Well, it depends on a lot of things like your offers, your systems, the verticals you want to tackle, etc.
Want to know which traffic sources can give you more conversions per click? Google and Facebook come at the top of my mind. But this doesn't mean I would recommend them to a newbie.
Whaaaaat? But I'm an old (not so successful) SEO and want to move to paid traffic because that's where the money is and nobody got time for pandas and penguins! Do I have to deal now with Adwords bans and other stuff under the big Google?  Yup. But that's why I wouldn't recommend this traffic sources for beginners anyway.
I'll try this pin submit offer that pays $26 per conversion or this dating offer on Facebook. For sure it will convert and I'll make $500 back from my $300 I have to spend. Sincerely: every newbie before being banned on Facebook.
Exactly. If you want to get banned fast on Facebook and spend 3-4 weeks appealing to their reviewers team just to realise your account isn't getting back then this is the best way to do so.
If you have no idea of how Facebook works and the multiple reasons why they will ban you (AND THEY WILL NO MATTER WHAT), or you don't know about cloaking, account farming, etc. Please make yourself a favor and don¡t launch that CPA campaign.
Trust me, you'll be better in a different traffic source and you won't get your hopes down for weeks.
In some cases you'll get banned before launching your first campaign just because you want to direct link an offer and it's got a geo redirect which is a NO NO for Facebook reviewers.
Let me launch this antivirus lander I found in Adplexity and see how it goes. Sincerely: every new affiliate that doesn't know most of the pop campaigns are cloaked or breaking a few rules.
And then your campaign gets rejected and you wonder how everybody else's and their mama are running it but you can't get it through the reviewal team.
I received 2,000 clicks and no conversions so I paused the campaign. Is that normal?
Yes. It happens a lot. But depends on traffic source and your offer. 2,000 clicks could be nothing if you're doing pop on a tier 3 country, but could be a lot of data if you're running on Facebook.
I started promoting this offer because the landing page looks very cool. I mean, how could it not convert if it's so beautifully designed?
If you're new you don't have money to test the 20,000 offers each network has in their systems. Get your manager and a top list to get started with offers that are proven to convert. Leave the discovery process for the future when you can launch dozens of campaigns per day without drying your wallet. Don't choose an offer because of the design, CR or EPC. Choose offers by the number of conversions!
Here's my totally non-compliant landing page for my CPA network manager to review and approve. Sincerely: You before getting kicked out on an offer that you haven't even tested yet.
Dedicated for those people sending super aggressive landing pages to their managers and wondering why the offer wan't approved to run with them.
I'm going to direct link to the offer because the lander looks great and I have no coding skills.
Most affiliates at the beginning want to direct link everything or even do arbitrage so they don't have to do any efforts to make money. After several failed campaigns they realize they need to build landing pages because it helps with conversions, loading times, etc. Here are a few advantages of using a landing page.
I'm only going to promote offers I can be proud of.
Until you realize every offer making money out there is about dating and cheating, fake sweepstakes, viruses, tech support calls, nutra, weight loss, etc.
You wanted to promote something you can tell your granny about but end up running adult traffic or fake blogs with viral news around the world.
I've been following you for a while and want to know if you give private coaching. I promise if you tell me your secrets I'll pay you 10% of my first profitable campaign.
Come on… I have received this one at least a hundred times. Coaching is quite difficult and very time consuming. If you really want to be coached by someone expect to pay some good money. Otherwise it's not worth the time of the teacher and there's no guarantee that you will earn money even if you know the system because it also depends a lot on yourself.
Do you expect to learn how to make $30,000 per month by paying somebody just $100? This isn't the Warrior Forum…
Sir, please help me cause I have no money and 2 boys to feed. I just want to know how to make $10 per day and I'll be happy.
Definitely not the best approach. And sometimes they wonder why you're not giving away your secrets for free and get mad at you. This also includes the people that add you on FB/Skype/twitter/etc. and start asking questions like:
What offers do you run?
How much do you earn per month?
Which is your best traffic source?
etc.
They didn't even present themselves and you're already being interviewed. This isn't strictly a newbie thing, but because many people think making money online is an easy business that can be just taken as a hobby they think you can openly talk about your numbers because it's all good. Take this as a business and not as a quick hobby and respect it.
That's all for this edition
Talk to you on the next one 🙂 And again, don't feel bad if you've done some of this mistakes. We were all noobs once. The faster you learn, the better! Time to work!