2023 Update: SelfAdvertiser will be closing its platform on September 30th, 2023. Discounts, platforms, and links will be offline after that date.
A lot of people ask me about PPV traffic and most networks have millions of pops per day. While pops are a great way to get started one traffic source that I also recommend a lot to learn or simply to make money fast is domain/redirect traffic.
Why?
In my opinion domain redirect traffic is the closest thing you can find to search traffic, and that means the quality is quite good and you get to understand easily why your campaigns work and how to scale them.
Here are some of the advantages of domain traffic vs. pop traffic: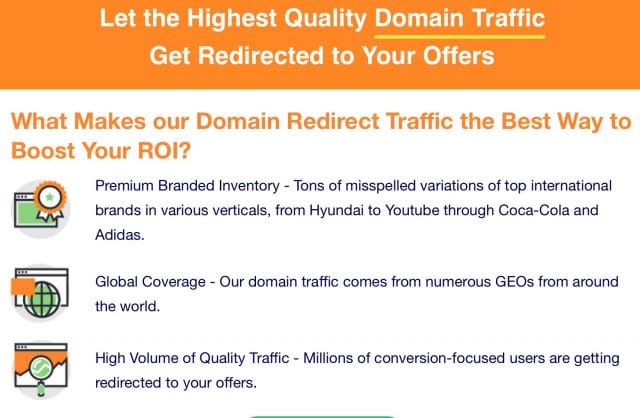 Basically, the main advantage is the quality of the traffic and the easy ability to input keywords completely related to an offer and see the conversions pour in. While you normally buy traffic from all sites (RON) on pop networks and you need to use mass-appeal offers to monetize them, domain redirect traffic is warm traffic, meaning the user is already looking for something and it's up to you to show them the right offers and get the conversion.
A lot of domain traffic comes from typos and mistakes (typing facebok.com instead of facebook.com) and some others just because people go to domain.org instead of domain.net.
The key here is to find good keywords to monetize and deploy a ton of campaigns to make massive volumes.
The cons of domain redirect traffic are:
The bids are higher (but this means the quality is better than pop)
The volume is lower
However, let me tell you that volume here isn't as important as regular pop traffic because with high bids and very high conversion rates you can make a lot of money from just a couple thousand visits.
If you received 3,000 visits per day with any regular pop traffic network you probably wouldn't make more than a couple of bucks. However, I have had several campaigns with domain traffic receiving just 1,000-2,000 visits per day making $300 per day. And that was outside of the USA.
It all depends on the keyword and your ability to monetize the traffic. Also, I've found domain traffic quite good to build your own email lists (cheaper than Facebook/Adwords in many cases) or your own subscription websites, so try to think a bit outside of the box and make it rain.
Domain traffic with SelfAdvertiser
A couple of months ago I launched an exclusive promo with the SelfAdvertiser crew where you can get a 100% match of your initial deposit up to $500. You can read the whole review from February here.
We've extended the promo so you can take advantage of it and start testing domain redirect traffic too. SelfAdvertiser recently got a lot of new publishers with domain traffic so there's good volume available to play and monetize.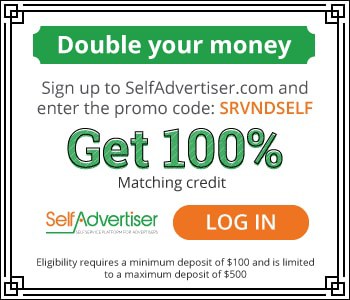 You can sign up by clicking up the banner above this line or simply go to the registration page RIGHT HERE.
This will help you to get approved fast by my manager and after that, all you need to do is use the promo code SRVNDSELF when making the payment as explained in the SelfAdvertiser review.
Running Domain Redirect campaigns
The way you create campaigns with SelfAdvertiser for domain traffic is pretty much the same as I explained a couple of months ago.
You just need to make sure that you select the "Targeting Type" to be Keyword Targeted and also the "Traffic Type" to be Domain Redirect (also known as Zero Click). Here's a screenshot: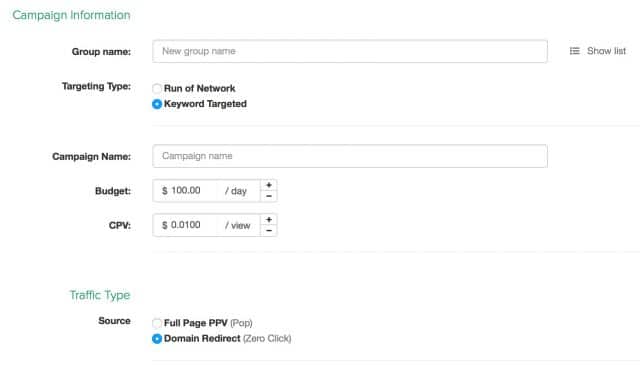 After that, just keep filling the regular settings like geo, devices, browsers, etc. and in the Keywords field add the keywords you want to target. For example, if you're promoting a sweepstake offer you might want to select "iPhone" and similar keywords. If you're promoting a streaming service "streaming" has a lot of volume, or "loans" if you're doing CPL loan offers.
You get the idea.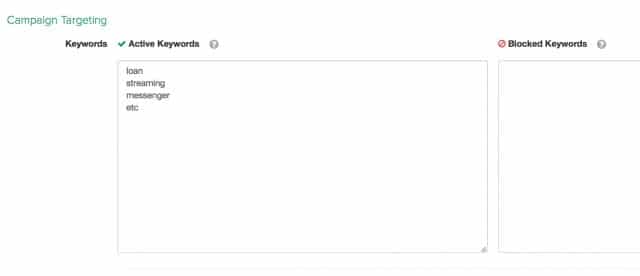 While no network has more domain redirect traffic than what's available on pop traffic, there's still a lot of volumes to play with. SelfAdvertiser has a lot of domain traffic in the USA, but you can find also good volume in tier2 geos and some big tier 3 geos. Check the table below for more information.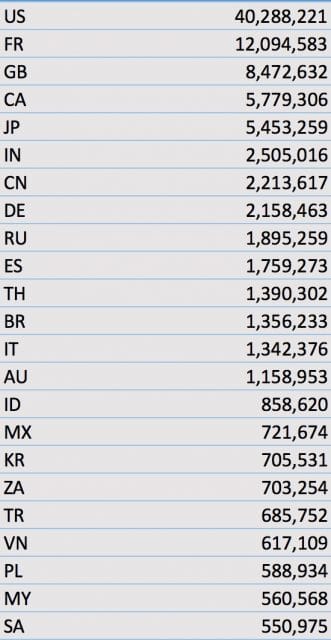 Additionally, if you're subscribed to my email list you'll receive in a few hours a detailed excel with many countries and all the volume available BY KEYWORD both in mobile and desktop traffic. Consider that a small gift for being a loyal subscriber.
If you're not a subscriber but you want to receive the excel file just sign up through the form at the end of this post (or at the sidebar) and answer my first email. I'll reply back with the excel file in 24-48 hours.
One problem a lot of people have is they use the wrong keywords in the wrong geos and they get no traffic, so having this list will help you focus where the volume is and you'll just have to test landers/offers instead of worrying about not receiving traffic.
Anyways. If you're having trouble monetizing pop traffic or just want to add more revenue to your campaigns, domain traffic is a great option as well. Don't forget to SIGN UP HERE to get the $500 bonus match with SelfAdvertiser.
P.S. Having a great relationship with your traffic managers will help you get insider information like this in many networks.