November 2020 Update:
It looks like Magicadz couldn't survive the election period and it got smacked down… I just received this email a few minutes ago. Don't pay for MagicAdz and cancel your accounts ASAP!
Thank you for using MagicAdz and being part of our journey.

MagicAdz has shut down and will no longer be providing our marketing intelligence services.

If you're an existing customer and have questions about your existing subscription please reply to this email.

Thanks,
– The MagicAdz Team
Facebook is a difficult beast to tame and spying on it has been a difficult task for years as it's got a ton of users and advertisers running ads at the same time. Even worse, I have worked with at least 4 or 5 different spy tools for Facebook in my affiliate career and most of them ended up closing as FB changed policies or simply because it was hard to organize data according to the user needs. MagicAdz is a Facebook Ad spy Tool focused on affiliates and eCommerce that I've been testing recently as I've read about them for almost a year now.
I have talked about spy tools for different traffic sources before including push notifications, PPV traffic, native and even eCommerce focused tools. However, in the field of FB, it's difficult to recommend a tool when they keep popping up and closing at the same time.
Keep in mind we focus on white hat campaign offers on Facebook, although there are a lot of affiliates who like darker things. No matter what type of affiliate or media buyer you are, MagicAdz could be a powerful tool in your arsenal.
Meet MagidAdz
MagicAdz has thousands of ads scanned every day with a ton of data archived from 50+ countries.
You can search by keywords, landing pages, comments, domains and simple Facebook filters like country, age, gender and more.
If you grab your 1 day free trial at MagicAdz you'll find this dashboard: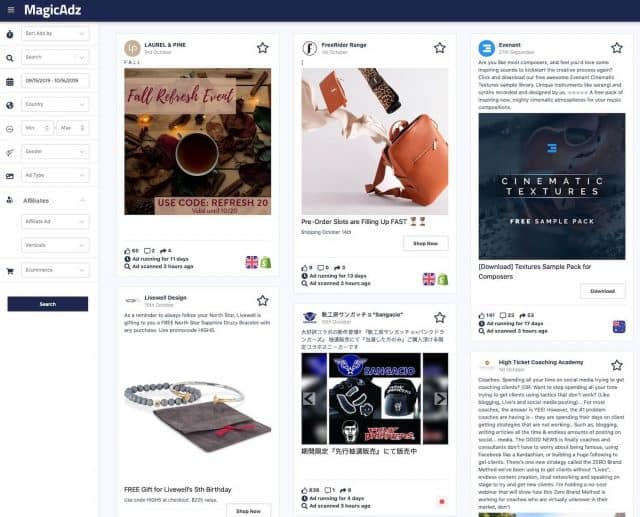 The thing here is you can segment your research by filtering down ads or offers and you can also search video ads as well as the traditional image ads.
For example, here's a quick view of the top, most liked video ads in France: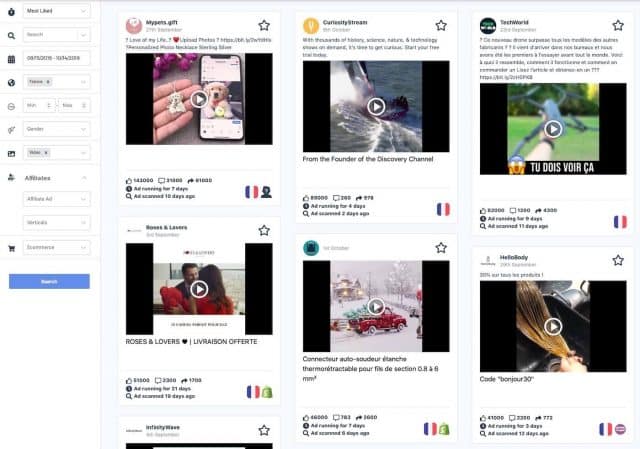 As you can see, you'll find ads with hundreds of thousands of likes, thousands of shares and comments and more. Many of those video ads are promoting eCommerce products.
Here's another example now if the top, most liked image ads in Thailand: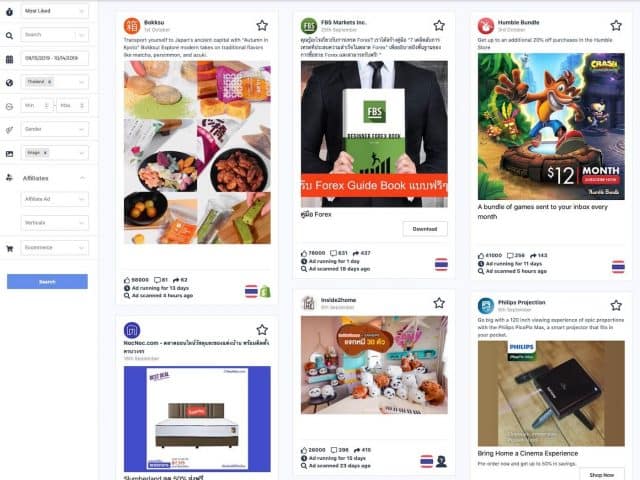 Now, of course, other Facebook spy tools gather data like this and present it so we can do research and learn what works, however, the problem here is we don't really care about many brands being shown there.
For example, there's a restaurant and a video game and also a mattress and who knows what else we're seeing in those ads.
Affiliates don't care about the ads of Coca Cola, Play Station or Sony. Those are interesting for marketing agencies. But affiliates want to know what other ads are being used to promote affiliate offers they can promote as well, either running with networks or direct with advertisers with direct response marketing platforms to make money per action (CPA).
MagicAdz solves this in a very simple but effective way. We'll see how in a minute.
MagicAdz has a pricing scheme with different plans for every eComm or affiliate ranging from $99 per month and up to $749 per month. Remember you can always use the coupon SERVANDO to get a 15% discount for as long as you're subscribed (lifetime) in the $199 and above plans.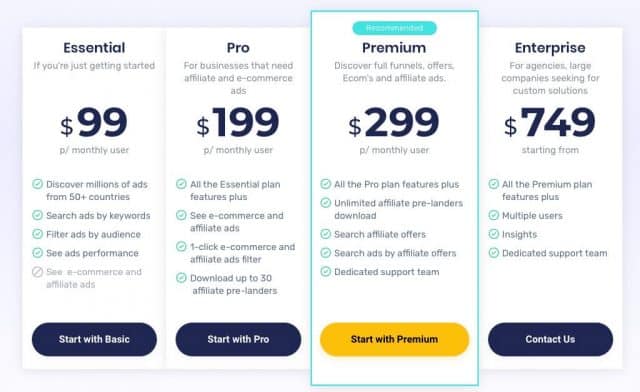 Spying Biz-Op/COD/Crypto ads with MagidAdz
Here's where MagicAdz does its magic and shows it's a tool made for affiliates. You can go to the affiliates segmentation in the menu and enable these 3 options: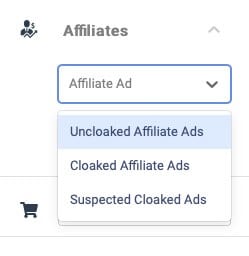 Voila!
Now you will see affiliate ads, whether they are protected or not. And when you hit the "Search" button with the affiliate filters enabled the results can be quite different, as you'll see in the image below (spoiler alert: ads can be NSFW):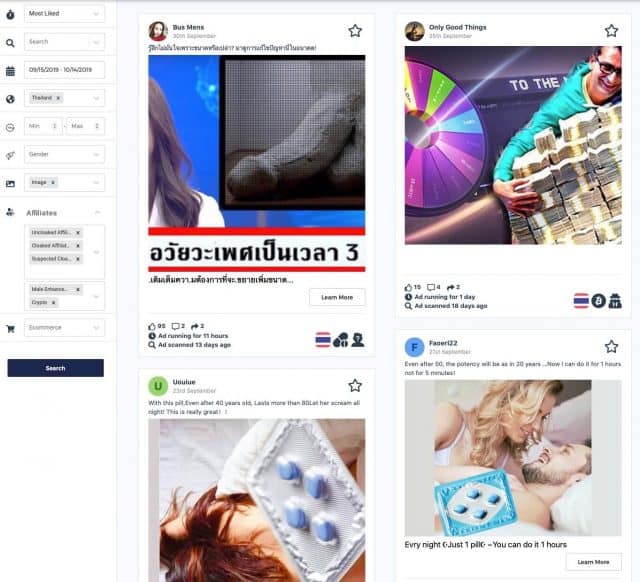 Now instead of having video games and food in the most liked ads, we have pills. crypto ads and enlargement products…
Once you click one of those ads, MagidAdz will show you more info like the geo, click URL, Facebook page, lander, user segmentation, etc.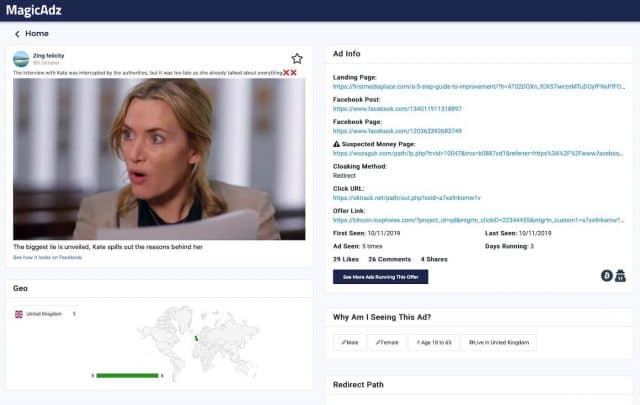 Even more interesting, MagicAdz will show you a safe page and a money page in case the tool suspects an affiliate is hiding their real money pages.
When I click that URL to check the lander I can see a completely safe website, with menu, categories, email newsletter, etc.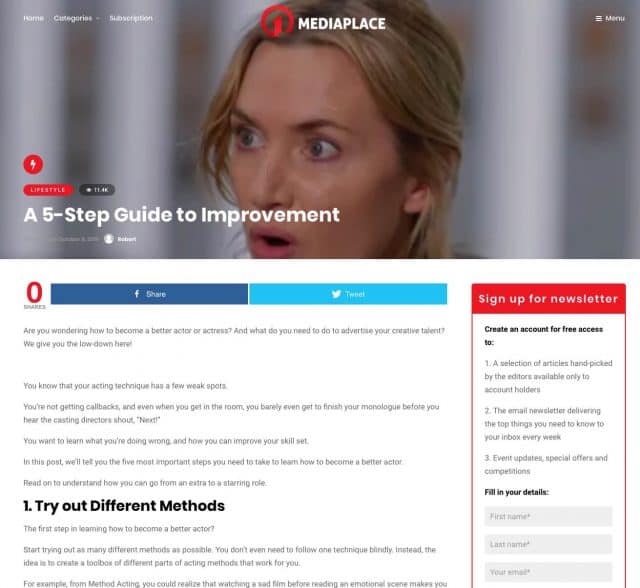 But when we see the money page, we realize they're promoting a Crypto offer…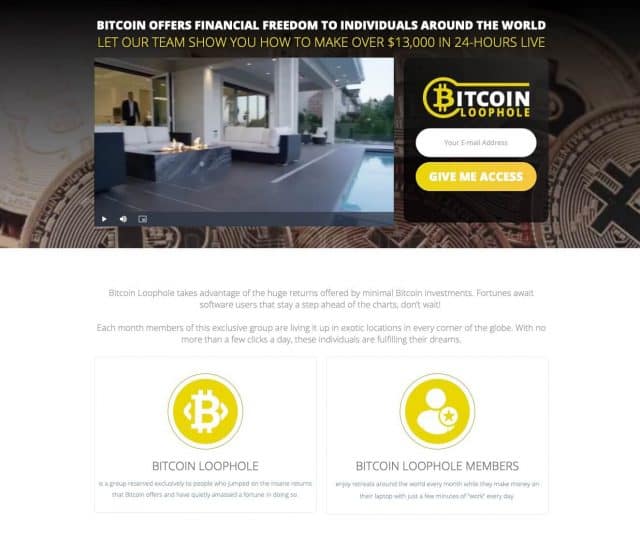 Isn't that nice to see?
Overall, it's easy to see why MagidAdz is a tool made for affiliates. Navigating through all of the ads in a tool where you can't filter branded ads can become a nightmare even if you filter the ads by keywords.
Spying Shopify Stores with MagicAdz
Another thing that has been trending on FB for affiliates in the last 3 years or so are eCommerce stores. Dropshipping or simply flipping products for a living has proven to be highly scalable on FB although at "lower" ROIs that you can typically see with the traditional CPA offers.
The key here is you can scale up your accounts unless FB is in a banning spree without having to play the cat & mouse game with your accounts.
So how do you surf between a sea of branded and affiliate ads on FB to find ads that go to dropshipping Shopify stores?
Well, if you're familiar with the game it would be easy to check for some keywords in the ads and also the URLs, however, with MagicAdz it's easier as you only need to enable the "Shopify" filter and preferably search for video ads.
Here's a quick result of the top, most liked ads in Brazil a (huge market for eComm) including products for hair, watches and who knows what else as I don't speak Portuguese: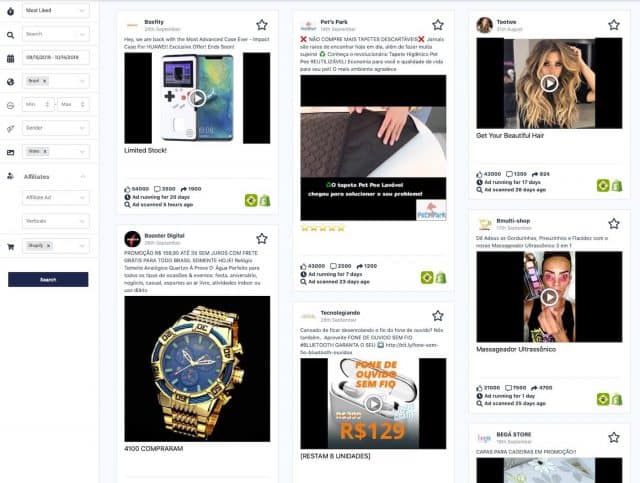 Similarly, we can do a search with the "Shopify" filter in Mexico, another beast country with tons of volume for dropshipping and we'll find tons of low-quality products people don't need until they see them on a FB ad: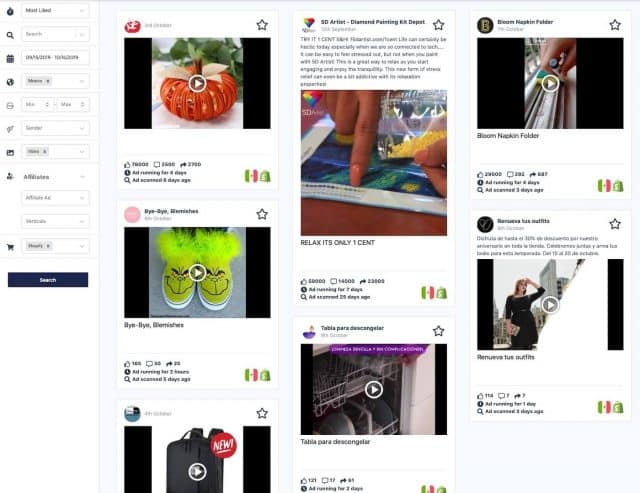 There you have it.
MagicAdz is probably the best Facebook tool nowadays to spy ads if you're an affiliate or eComm marketeer.
MagicAdz has a pricing scheme with different plans for every eComm or affiliate ranging from $99 per month and up to $749 per month. Remember you can always use the coupon SERVANDO to get a 15% discount for as long as you're subscribed (lifetime) in the $199 and above plans.
Time to dig into some ads and start testing new offers 😉