Today I would like to talk about Leadbit. Leadbit is an international CPA agency I've known since 2017, but they were founded in 2014 (the same year I started promoting CPA offers!). This network is different to the networks I have written about in the last few months because it focuses on high-paying verticals that have been growing a lot in the industry for some types of traffic.
I first heard about it from people promoting Nutra offers on FB, but I have since learned Leadbit covers other verticals as we'll see below.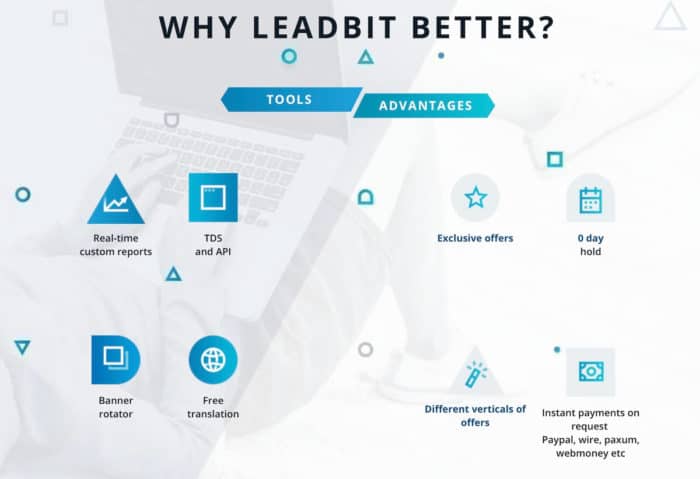 The top verticals Leadbit covers are:
While they might have a few offers from different verticals too, those 3 are the bread and butter and the ones making more $$$ for them. The offers you'll find at Leadbit have been tested and have a high potential to perform well for your traffic. Let's check out how to promote some offers.
First of all, you need to sign up and get your account approved. You will get a manager assigned after the approval process and you will be able to sign in to the dashboard to check all the features available: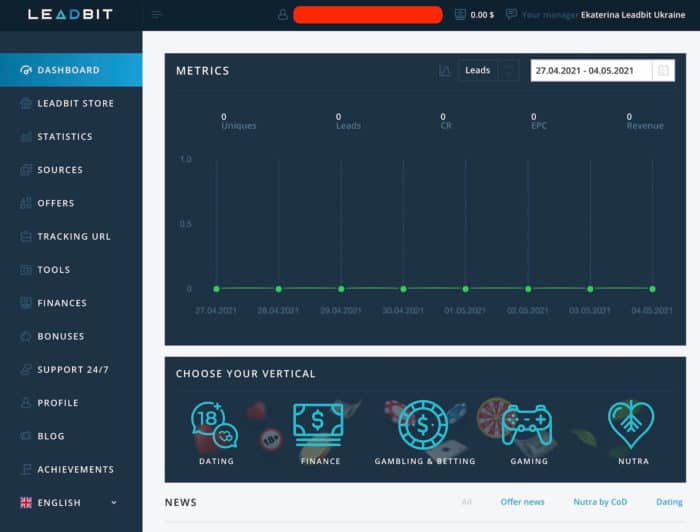 There are a few menus I want to cover first as you'll need to set them up before launching any campaigns.
First of all, if you go to the "tools" menu you'll find a ton of different things to customize your campaigns, including a traffic delivery system, domain parking, global postback, and even a translation service!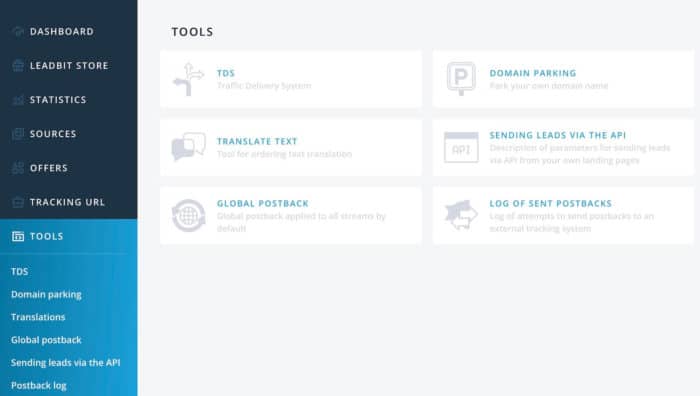 Isn't that nice? Many affiliates struggle with creatives and landing pages because they only speak 1 language and have no idea where to get translations for their assets. This is probably the first time I've seen this in an affiliate network.
Besides that, you should set up your global postback according to your tracker's settings or you will need to do it individually on each offer later.
Now if you go to the "sources" menu in the left side, you will find this: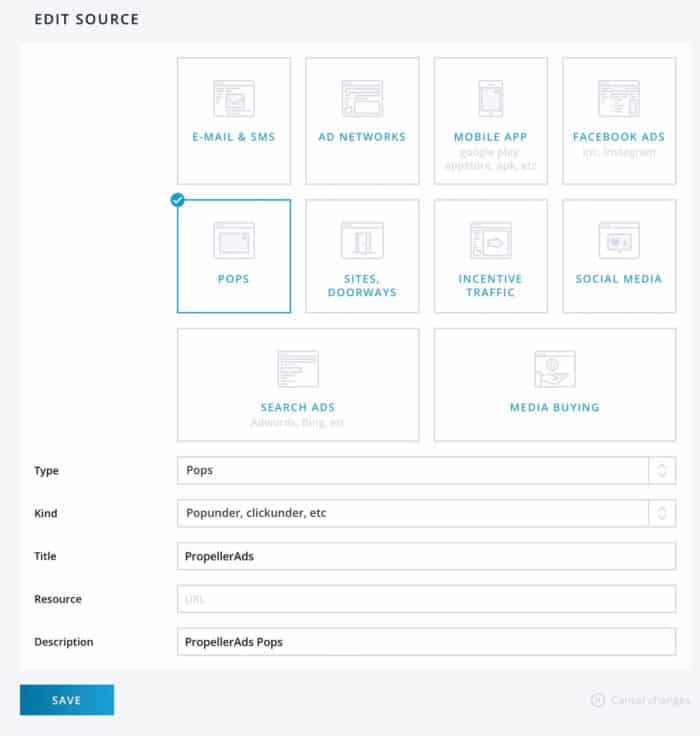 Here, you need to create a few traffic sources to create your offer links. Select the ad format that's more similar to the one you're running and after that, you can even add a title if you want to as I did in the example above.
You don't need to be specific and mention the traffic source name, but you want to separate them into different categories so that later when you're sending traffic you can get a quality check and optimize via traffic source instead of just getting paused from an offer because the traffic isn't backing out.
After you've set up your postback URL and created a source now you can go to the offers page and search for an offer to promote.
It's good practice to ask your affiliate manager for a list of top converting offers when you're getting started. Make sure you tell them which type of offers you run, the types of traffic and favorite geos if possible to get the best recommendations for you.
Nutra offers
Nutra is the core of Leadbit and the vertical they're well-known for. Leadbit collaborates with many world-leading Nutra product manufacturers, getting high approval rates, the best payouts, and good caps to scale up your campaigns.
If you're looking for special nutra deals, Leadbit is your best option.
You can search Nutra offers in the system from 2 categories. The first one is Nutra offers by COD (cash on delivery). These types of offers are available worldwide, but they're most popular in tier 2 and tier 3 geos. Here's an example of the offers and payouts available: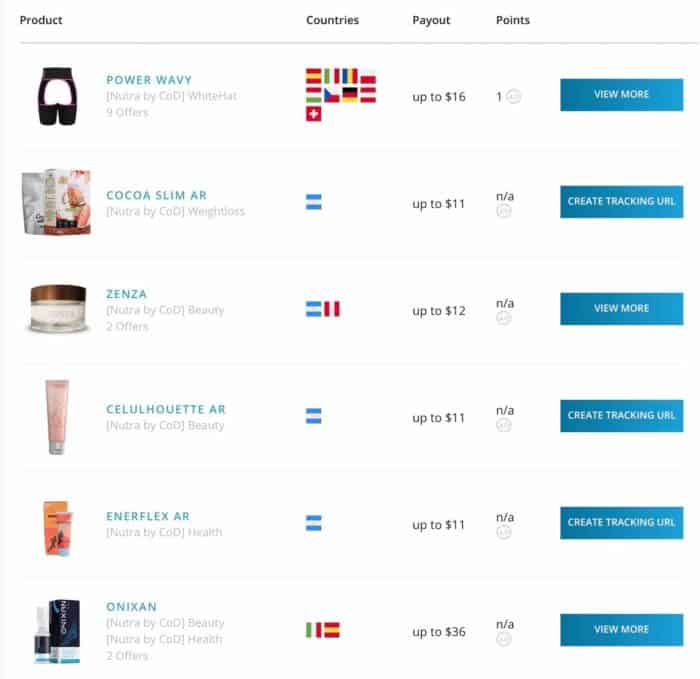 Leadbit also has Nutra trials. These offers are more common in tier 1 and tier 2 countries where people are used to paying via credit card and subscribe to trials and rebills. Here's an example as well: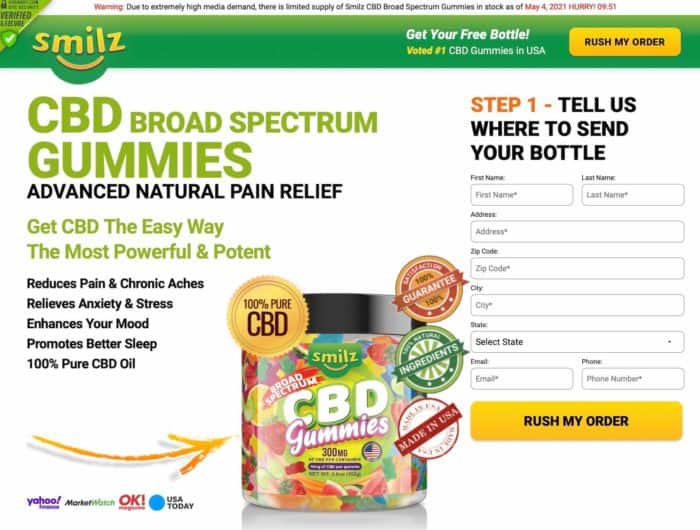 Overall, if you're looking for exclusive nutra deals, you'll find a ton of great offers here.
Gambling offers
Another very strong vertical for Leadit has been gambling and betting. Leadbit has exclusive deals with many of the top advertisers directly, with exclusive rates and conditions for all affiliates worldwide.
Here a quick look at some of the offers available in this vertical, most of which are CPA/CPL based with high payouts: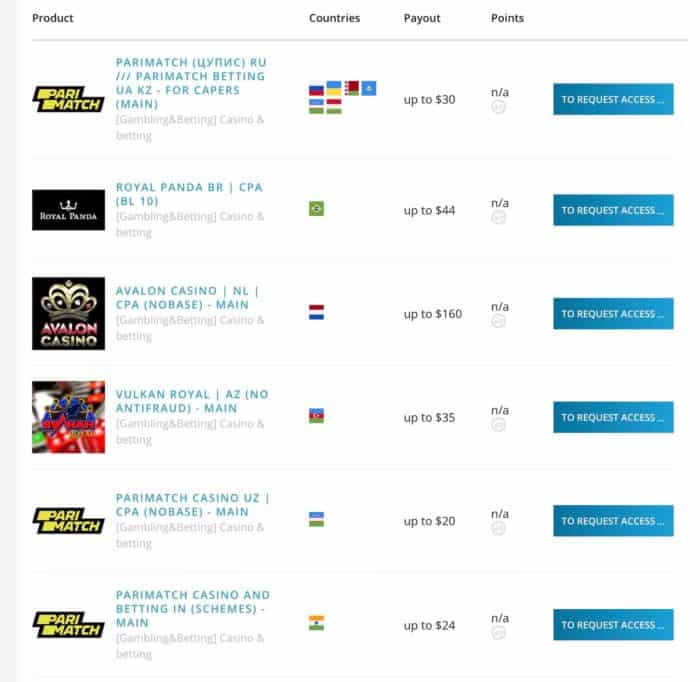 With around 150 strong gambling offers available (CPL/CPA) and a few apps, you've got a lot to choose from if this is your main focus.
Dating offers
Dating is a more common vertical available in many affiliate networks (just a few doing it correctly though) and Leadbit is actively developing it with many advertisers worldwide. Leadbit has got a ton of managers with experience in the dating niche and so far you can find over 200 dating offers (both adult and mainstream) to promote.
Here are a few examples: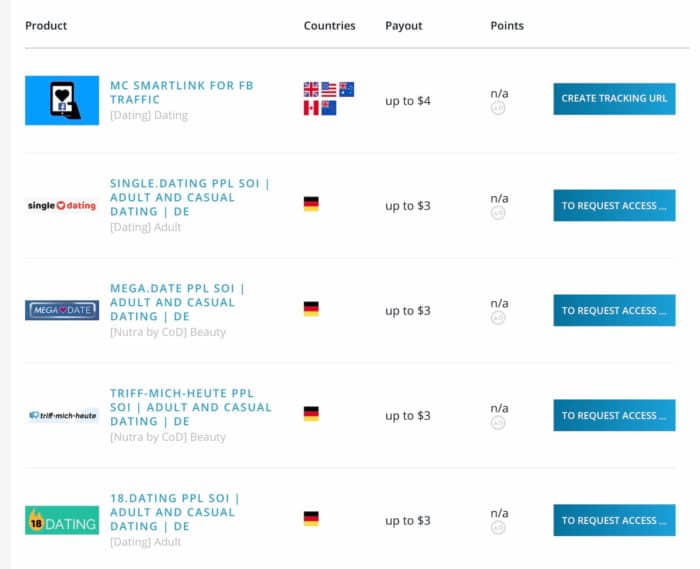 Once you have selected an offer to promote, make sure you either request access and select a traffic source, or if the offer is open already, you can select it and create a flow like this: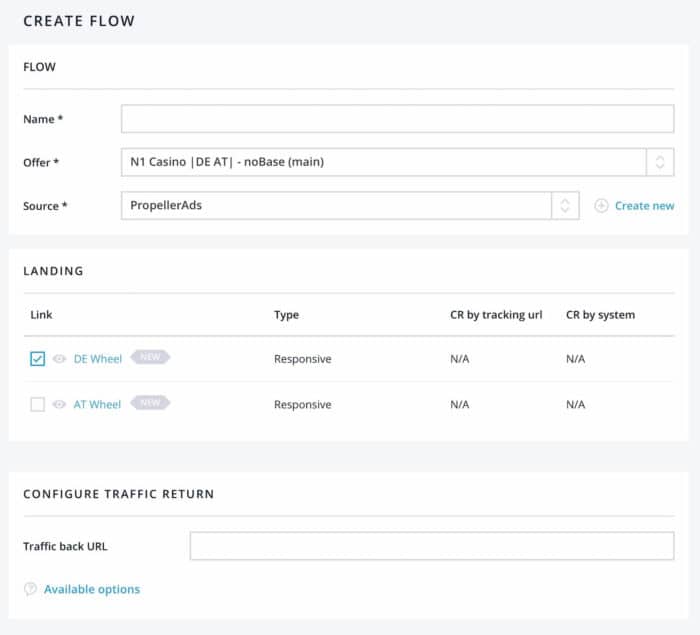 This setup page helps you create a link for your offer and set up things like the postback URL (in case you don't have a global postback) and a traffic back URL (in case your traffic isn't meeting the targeting requirements). Besides that, you can select different offer pages and sources to create different links that later will be added to your favorite tracker.
Now you're ready to start promoting Leadbit's offers and make money. And talking about money, here are the payment methods available: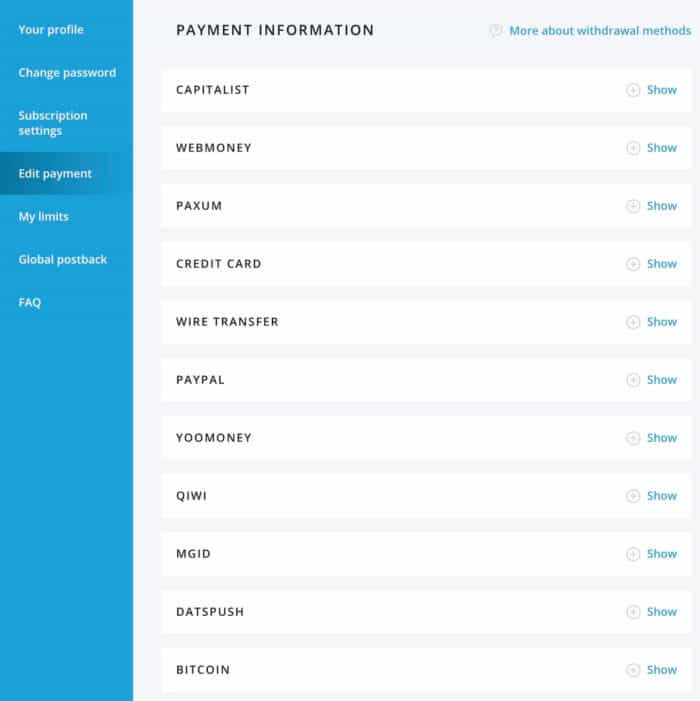 As you can see, there are a ton of options available to get paid. The only option I would like to see added is Payoneer, but other than that we're good!
You can even receive payments via Bitcoin or simply transfer your balance to Datspush (push traffic source owned by Leadbit) or MGID (native and push ads), in case you're buying traffic from those.
The minimum payout is $50 for most of the payment methods, which is great for beginners struggling to manage their cash flow and you can get weekly payments on top of that.
Conclusions
This pretty much covers what you're getting with Leadbit. In conclusion, I'd wrap up with the following points:
Comprehensive tracking and analytics platform (includes traffic back URLs, multiple offer pages, etc.)
Fast, low threshold payments
Hundreds of offers, including high payouts and exclusive gambling/Nutra/dating advertisers
Dedicated account managers to help you
24/7 support
Assets to run successful campaigns
Reports containing market overviews and trends
Multiple tools within Leadbit including banner rotators, API, translations, etc.
As always, you can sign up here to get your account approved faster.
LeadBit has a really great team as they hunt down only the real professionals in the field. Recent events prove this. LeadBit has established a new office in Ukraine, and it has a new head of office, a well-known person in the sphere, founder of AdsBridge, former CMO of AdPlexity, a person with over ten years of experience; Alex Omelianovych. Many of you probably met him at some offline events and know what a great guy he is.
Besides all LeadBit managers are top-notch professionals who know all the ins and outs of affiliate marketing. They're here 24/7 and ready to help you with any issue you're having. Their main goal is to bring you fast profits.
Increase your profits with Leadbit!
Leadbit is also running a special offer for my readers. Meet these simple requirements by May 30th and get rewarded.
Get your account approved and text your manager the secret phrase "SERVANDO25" to get a $25 sign-up bonus.
Want more? Run any offers with Leadbit and generate at least $2,000 in commissions to receive and additional 10% from your earnings.
Sounds good? Sign up here and get started with Leadbit today.