Hello, dear readers. I'm back with another interview, and today we're asking some interesting questions about one of my favorite monetization tools. This time is different because we're not interviewing an ad network where you can buy traffic directly to your affiliate campaigns. Instead, it's an extra-monetization solution that allows you to monetize your current traffic and add a 30% ROI to your earnings.
Whether you're running paid traffic campaigns or a webmaster with social or organic traffic, this interview will help you earn more money. Today we have Matt Shmidt from ProPush.me.
Let's get started!
Hello Matt, and welcome! Thank you for joining this interview today!
Thanks, glad to be here!
1. Please introduce yourself and ProPush to my readers.
Hello everyone! My name is Matt Shmidt. I'm ProPush's head of the commercial department and am glad to present our project.
ProPush is a monetization solution developed for publishers, affiliates, and advertisers with landing pages. To put it shortly, ProPush may be interesting for anyone with a website willing to monetize your visitors, whether they subscribe or not.
As you can guess from the name of our project, ProPush is about Push notifications. It is also about extra profit from your main CPA offers.
ProPush is user-friendly – it is easy to set up, start working and monitor statistics. As for payment models, users can choose either CPS (Cost Per Subscription) or Revshare.
2. Great to know! Now that we're talking about it, which pricing model would you choose for your campaigns? CPS or RevShare? What's the main difference?
Oh, that's a simple question. CPS rate is for immediate income, while RevShare is for the long run.
In CPS, you get instant payouts for each subscribed user. For example, if you bring 1000 subscriptions, 5 cents each — you get $50 right away. And that's the end of the flow. You've got your one-time payout similar to a regular CPA offer.
This payment model is a solution for traffic owners who want to check how Push works for their vertical and return their traffic investments fast.
With the RevShare model, you won't earn immediately. Each subscriber you get, a unique one or not, will continue receiving notifications from PropellerAds advertisers. Your profit depends on the performance of your subscriber base. With this model, you're working for the future. Every day your subscriber base grows, and so does your income.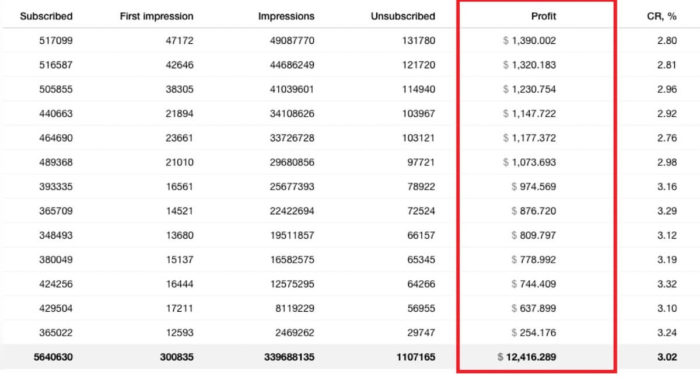 Which one do I choose? Well, it depends on the expectations – fast income or long-term one.
3. Okay. Thanks for clarifying. So, ProPush has high payouts and profitable payment models. What about the payment terms? How do users get their money at ProPush? And how often?
Everything is relatively easy here. We have weekly payments; the minimum payout for all payment methods is $100. We work with Skrill, WebMoney, PayPal, Payoneer, and Wire Transfer.
It's worth mentioning that payment methods depend on the country indicated/stated in your account information. So they vary depending on your location, and it's something we cannot control (we can do a lot of cool things but can't influence your government laws, sorry).
Since this is a written interview, we have the privilege to share links here. So if you want to know more about our payment details, just check the link.
4. Weekly payments with a low payment limit are great for cashflow. It's good to know they're available at ProPush. Now that we have discussed the most important topic – money, I have a question about your connections! I'm sure anyone familiar with your project is interested to know: How is ProPush connected with PropellerAds?
You might have heard rumors that ProPush is a PropellerAds child. Well, it's true!
PropellerAds was a real pioneer in Push technologies and the first advertising network which introduced this ad format in 2018. It was and still is a great success, proved by millions of users. So, PropellerAds had no reason to stop creating new valuable products, and ProPush was developed as one of them – an extra-monetization tool to cover even more needs of advertisers and publishers.
And you can be sure that we are not a day-fly startup. We established our project three years ago and continue growing with our partners! So we have serious intentions (laughs).
5. Thank you for the transparency, Matt. Now that we have discussed some general stuff let's get straight back to ProPush. Give us some instructions – how does ProPush work in the backend?
To begin with, I will remind you that ProPush is for extra-monetization. Thus, we help to get additional income for the main campaign.
Here is how it works:
You add the ProPush subscription tag to the main offer's landing page
And continue working with traffic as usual
Your user opens a landing page and subscribes to Push Notifications
You get extra profit from these subscriptions
As you can see, it's a very easy and even a lazy way to get additional income – literally, you just add the subscription tag and reap the money. In addition, you can use ProPush Tag as the main offer by itself – just create a landing page, set up the Tag, and start gathering subscribers to receive income.
Also, we offer Traffic Back – a solution to monetize your exit traffic. Users that are avoiding subscriptions or closing the opt-in window bring profit now. Here are all five scenarios for Traffic Back:
A user subscribes or blocks the opt-in request;
The user is already a subscriber;
The user swipes away or closes the opt-in window;
The user presses the Back button in a browser and leaves;
User comes from the irrelevant browser, OS, or platform;
It works this way: when clicking on the Allow, Deny, or Close buttons, a user appears on the advertising landing page (a user sees relevant ads provided by PropellerAds).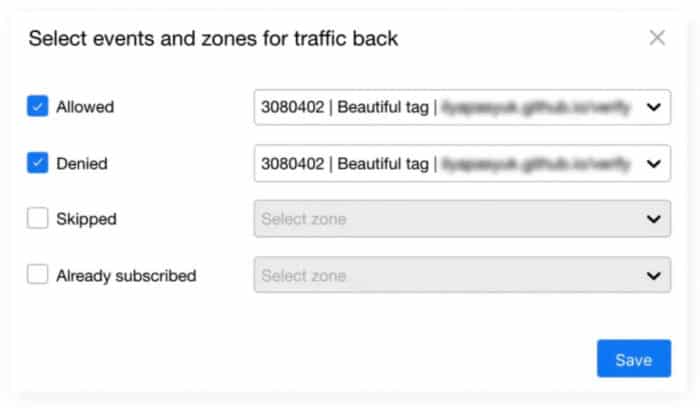 So you can use both TrafficBack links provided by ProPush as well as your own links.
6. Imagine you are an affiliate or a website owner. What would be the main advantage of implementing ProPush?
Easy! If I am an affiliate or publisher with ProPush, my income can grow by up to 35% without effort. Why would I ignore such an opportunity?
I would call it passive income because you do almost nothing. And in case you want to earn even more, you can optimize your marketing funnel. Try different landings and make sure you test various scenarios with Traffic Back.
What is more, pay attention to ProPush if you work with low-payout offers (like Sweepstakes, Surveys, or Single-Opt-In offers) and have a lower ROI/margin with the said offer. With Push monetization, you can get additional income which can improve overall ROI for the source, allowing you to further up the rates and scale the main campaign.
By the way, if you are not an affiliate marketer but own a website and get traffic from any source, you can monetize this traffic with Push notifications – this will put some money in your pocket.
7. Well, I agree – no reason to ignore additional monetization. I can confirm I've seen around 30% extra ROI in my pop traffic campaigns with ProPush and approximately 20% extra revenue in my organic traffic websites.
Some website publishers have told me they see anywhere between an additional 10% to 60%, depending on their current monetization method! But you know, I and many other affiliates have tried multiple ad networks to monetize traffic by building push subscribers databases. Yet, ProPush is one of the highest paying, if not the best, at the moment. What's your secret?!
Let's take a look at the facts. You, Servando, are an active Afflift forum user. I bet you've seen many ProPush customers there. And the results they share are incredible. Some users claim to boost their income up to 80%! So, first – it brings you money. And we have the highest rates in the market.
Second – Traffic Back and numerous monetization scenarios. It seemed impossible to earn on users who closed the subscription form or users who left your landing page. However, we made it come true. We developed a highly-technological rotation algorithm that picks relevant offers regarding user characteristics. This way, users appear on the alternative offer page while you get a second monetization chance: more variants – more opportunities to earn.
Third, since we cooperate with PropellerAds, you can be sure of our tools' efficiency. Not to mention the quality of ads – we stand for it. PropellerAds has 11 years of experience and a bunch of high-tech developments to choose the most relevant offer for every user. That is why our rates are that beneficial – we know we will monetize your audience in the best possible way.
Last but not least, extra-monetization with ProPush is super-easy. Literally, you don't have to make any effort – just set the Tag and see your income grow.
So there is no secret. We just care about what we do and how it influences the industry.
8. Alright. That sounds reasonable. I bet our readers want some practical advice before they rush installing the ProPush tag. Are there any hot GEOs, verticals, and operating systems/browsers people should target to maximize their monetization with you?
I will gladly share some of our insights – we get them right from the freshest statistics. Our recent data shows Indonesia, Malaysia, the Philippines, and New Zealand are the hottest GEOs. Chrome is the best choice for the browser, and Android is the operating system we recommend working with.
Our best converting verticals for extra-monetization are sweepstakes, dating, utilities, eCommerce, and gaming. However, you can work with almost all of them (except adult content, as it's forbidden in ProPush) because the subscription collection doesn't depend on the main offer funnel.
I hope it helps! And if you want more tips, case studies, and other materials – visit our blog.
9. Well, I didn't expect to see New Zealand in the HOT geo list as it's a smaller country (in terms of population)! Thanks for the insights. I'm sure my readers will launch a few campaigns after reading your recommendations. Finally, do you have any extra advice to share? Limitations? Productivity recipes?
I have one! Guys, we don't recommend choosing push traffic when you use ProPush. The thing is that users who already interact with push notifications show low performance.
It happens because users already interact with push notifications, so getting, even more could be pretty bothersome for them. Instead, you can try Popunder. There will be new users who are likely not subscribed to push notifications.
And if you see that you are stuck and your performance is getting low, you can always ask for help at support@propush.me. Our support team takes a personalized approach. They go deep into all use cases and know the industry and product. So they can give an appropriate recommendation for your particular case.
Thanks, Matt, for the info! I noticed the best results when running pop campaigns. Organic SEO traffic also works well in my tests. The conversion rate and payouts change significantly depending on your geo and vertical.
I believe this interview was helpful for my readers! There are a lot of tips that I will use in my next campaign!
It's been a pleasure to have you and the ProPush team on my blog to answer some questions. You and the PropellerAds team continuously develop exciting technologies and features to profit from our traffic. Keep rocking! If you're interested in a step-by-step guide, check out my full ProPush review here.