Are you an affiliate currently running paid traffic campaigns? What if there was a way to increase your ROI by 20-35% without disrupting your conversion flow?
If you like that idea, let me introduce you to ProPush.me.
Push notifications have been hot for a few years already, and everybody in the industry knows they can buy traffic from push notification databases in many traffic sources to monetize with CPA offers.
And of course, there are a lot of webmasters that are monetizing their traffic with push notification ads. However, as an affiliate, you can also monetize your traffic with push monetizations and increase your ROI.
Over the last couple of years, I have tested multiple ways to do this with different networks. The best one to monetize your push subscribers in the previous year is ProPush.
Why?
It pays way more than the rest. Simple as that. It's not even a competition at this point.
ProPush.me is a network created for affiliates by PropellerAds. PropellerAds is one of the most popular networks for pop-under and push notifications traffic, so it makes sense that they're the best network around to offer a solution solely for building push notification databases and monetizing them.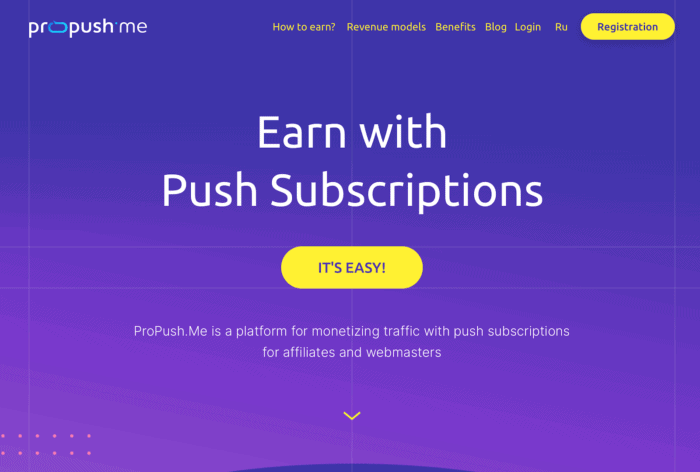 With ProPush, you can monetize your traffic via CPS or Rev. Share, and it's pretty easy to set up. It took me 10 minutes to get started and add the script on my landing pages.
To give you an idea, here's how much they pay right now for every 1,000 subscribers in their top countries and platforms: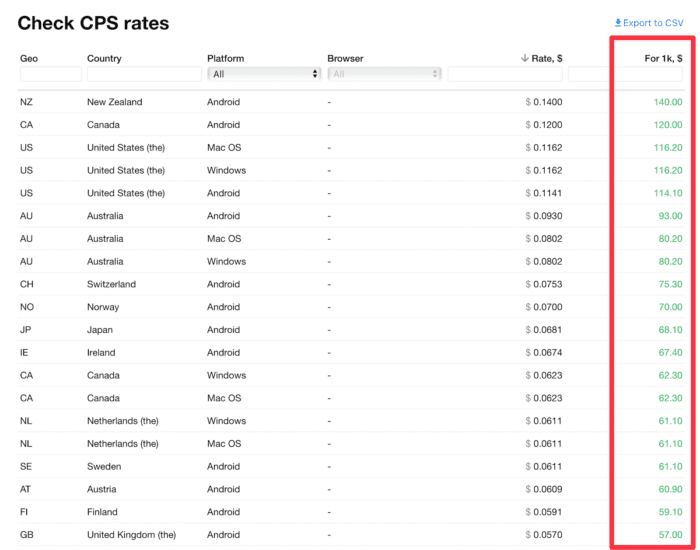 As you can see, you could make an extra $100+ for every 1,000 subscribers you get from tier 1 countries such as Canada, the USA, Australia, and New Zealand.
This rate changes depending on your device, OS, and GEO, and you can check the rates every month in real-time from your dashboard to see what's hot.
And remember, push notifications can only be triggered on Android, Windows, and Mac OS. Most of the volume and the highest conversion rates happen on Android, but sometimes Windows pays excellent rates too.
The most popular sources where I've seen affiliates using ProPush are Pop-under ads, social traffic, remnant traffic, and other types of paid traffic in general. It makes sense because the traffic is cheap (pop-under, for example), and you get thousands of views per day, which means you can build a massive database in a few days and make money from it for several weeks.
With ProPush, there are three different methods to make money:
Extra monetization on your affiliate campaigns and landing pages (tutorial below).
Monetizing your own website. Great for organic or social traffic.
TrafficBack. Set up a link to monetize 100% of your traffic.
We will go over how to set up your Propush tag in your landing pages in a minute, and assuming you're buying traffic but don't own websites with organic traffic, the third option can be helpful for affiliates too.
With the traffic back option, you can monetize 100% of your traffic no matter what happens in your funnel. A few examples are:
After a user subscribes or blocks a push notification from method 1.
If a user swipes a window on mobile or closes the subscription window
If a user is an active subscriber already
If a user comes from an unsupported targeting such as OS, browser, or device
All the methods from above could make you some additional revenue.
Set up your ProPush.me tag on your landing pages
Let's check out how to set up your ProPush tag and add it to your affiliate landing pages.
First, create an account and verify it as you'd do with any other network.
Then go to your dashboard and click "sites" in the left menu:
There, you will find an empty list (I have multiple sites already) where you can start adding your domains. Click the "add source" button, and then you'll see two options: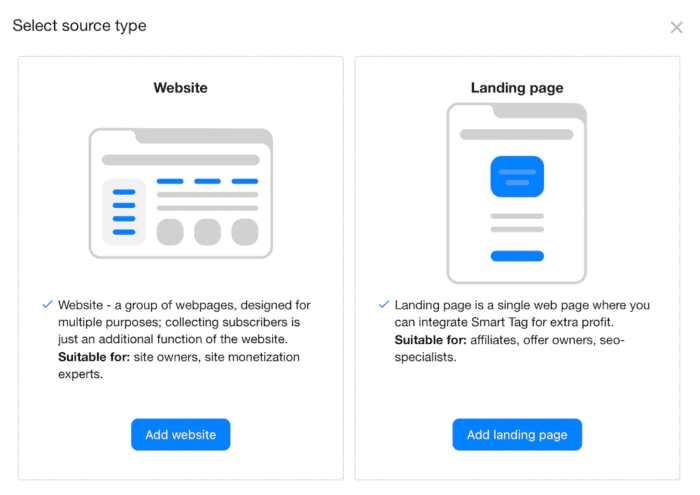 If you're a webmaster and have tons of traffic to monetize, select "website" and continue with this tutorial.
If you're an affiliate and you're buying traffic and sending it to your landing page, select "landing page" and move on.
Now you will need to input your domain name and wait until ProPush approves it: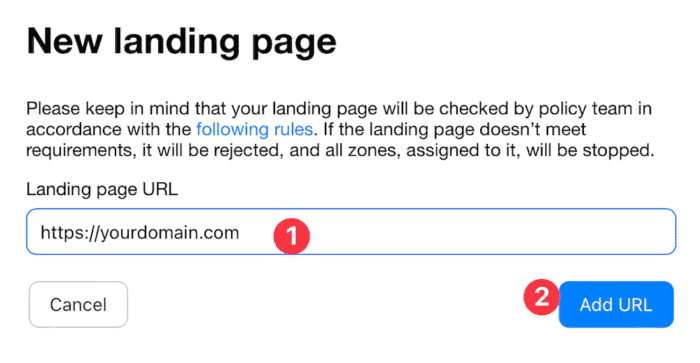 Usually, it only takes a few minutes to a few hours to get your domain approved. If you have multiple landing pages under one domain, send the domain root URL (set up a landing page there), so you don't have to send a new request for every landing page you use.
Just make sure your landing pages follow their rules. Propush.me doesn't allow any landing pages that show:
Adult content (same as PropellerAds)
Aggressive tactics
Tech support
Violence
Copyrighted brands
etc.
Once your domain has been approved, you will receive an email, and then you can proceed to install your ProPush tag.
To install your tag, you need to follow two steps.
First, you need to verify that the domain you sent before for approval is actually under your possession. You will be asked to download a file and add it to the root of your site (you can do it via FTP/SSH).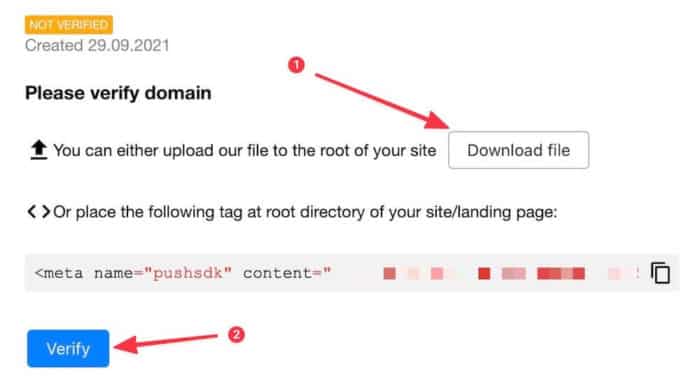 Once you have done that, click the "verify" button. Sometimes you need to wait a few minutes (or clear your cache if it's a whole website) before ProPush can verify it.
Now it's time to install your push subscription tag.
You will be required to download a second file and upload it (again) to the root directory. This is the file that will trigger the push collection box in your landing pages, and it will work for any landing page inside that domain as long as it's located in the root folder.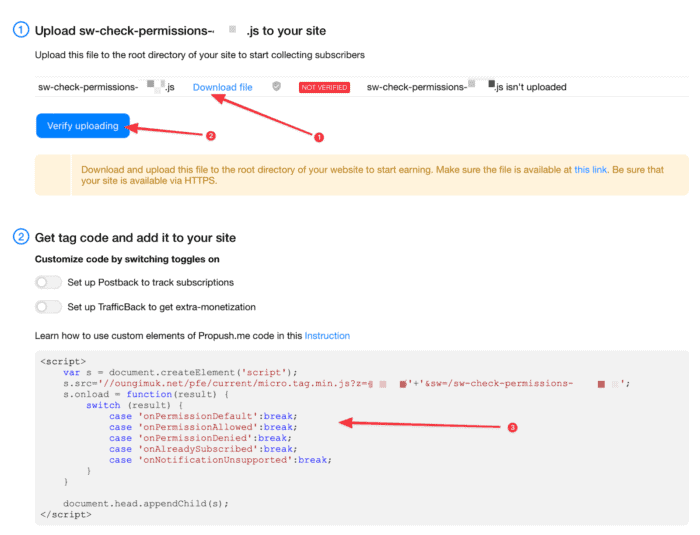 After uploading it, click the "verify uploading" button and scroll down to the script. Please copy and paste that script in your landing page code, right in the <head>, so it triggers the javascript file you uploaded to the root folder.
And that's it!
Your landing page will start prompting every visitor to become push subscribers, and you will be able to check your stats and dashboard to see how much you are earning per day, including your conversion rate, impressions, CPMs, and more.
Propush.me also allows you to drill down the stats and filter by countries, OS, sites, and zones (you can have multiple zones per domain).
ProPush-me earnings and payments
How much can you earn per day?
Well, that depends on how much volume of traffic you're buying every day, right?
And your conversion rate as well as geo, device, etc.
To help you with a concrete example, I usually see around 20 to 30% extra revenue with ProPush, and it rarely affects my landing page conversion rate (flow).
So if you're running a $2,000 per day campaign, you could be making an extra $500 per day with ProPush, as shown in their latest case study:

Some countries have very high conversion rates between 5 to 10%. Other countries have low conversion rates at around 1-2%. Your traffic source and other parameters will also matter, so your mileage might vary. Do your tests and see how much you can add to your ROI.
By default, you earn on a rev. share basis, but if you're running good volumes, talk to your manager and see if you can test being paid on a CPA basis.
The best thing about earning money on Revenue share is that your subscribers base will keep growing, and you will make money from them for weeks to come. Overall, I've noticed each subscriber makes money for around four weeks, so even if you stop your traffic, your earnings won't go back to $0 the next day. It will take several weeks or even months to decrease to $0 slowly.
As for payments, Propush pays via PayPal, Payoneer, Skrill, and WebMoney. They pay every time you reach $100, and they can make monthly or weekly payments if you are making more than $100 per week. Here are a few of my latest payments:

Weekly payments are outstanding for cash flow.
I usually consider the money from push subscriptions as extra ROI, and I don't measure it on my tracker. There are too many events to track, but if you want, you can set up a postback with ProPush. They also have an API if you need it.
Sometimes this added 20-30% could be the difference between having a profitable campaign and being in the red zone. If you're close to breaking even, ProPush will give you the boost to profits.
ProPush-me conclusions
And that's it!
Now you know how to increase your affiliate campaign's ROI by 30% with push notifications. Assuming you have a ton of Android traffic, you might see some great results here!
Sign up here and let me know how it works for you. As I mentioned before, adding push notifications barely affects the conversion flow of your CPA campaigns, so it's worth a shot 🙂
Talk to you in the following article!