Getting started with affiliate marketing can be a daunting experience. There's so much to learn, and too little time. It's not surprising to see people reading blogs, forums, and other types of content about affiliate marketing for weeks or months before finally launching their first campaign.
Deciding a vertical and a traffic source to get started is important yet it's also another difficult choice to make. For people getting started with paid traffic, I (and many others) recommend testing traffic sources were there's good volume available but with relaxed rules to run your affiliate campaigns.
Nobody likes getting started and receiving the ban hammer after 7 days for breaking a policy you didn't know existed.
Because of this, the traffic sources I recommend are push notifications and PPV traffic. Both can work and make you stable money if you learn the ropes and stick to them while learning the ins and outs.
However, those 2 traffic sources share something in common: the user intent is low and the traffic is widespread between thousands of websites from all verticals.
Push notifications are clicked traffic, but the users receive them for weeks or months after visiting a website, so the intent is different. PPV traffic, on the other hand, is triggered during a website visit, but because pop windows are not triggered by clicked banners the intent is also low.
What do you do in this case?
You need to work with offers that have mass appeal and a fairly easy conversion flow (downloads, installs, email submits, etc.).
By understanding this you'll be able to choose a proper vertical to get started. Instead of going to a very segmented/focused niche (e.g. window repair or car insurance), you'll select a vertical with mass appeal to the audiences.
A few examples of verticals that do well with wide targeting are:
Dating
Sweepstakes
Gaming
Downloads
Let's talk about dating for a moment 😉
Why dating is a good vertical to get started
Dating is one of those evergreen niches that never stop working and giving. It's tied to human nature. People will always want to date as we are social creatures looking to build a family and reproduce (mostly). Every day, thousands of new persons in each country decide they want to date someone and try their chances.
It just never stops. It's been a hot vertical for years and even the creatives and offers you see don't change much because there isn't a ton of innovation in that area, as it would happen perhaps with downloads, mobile apps, eCommerce, etc.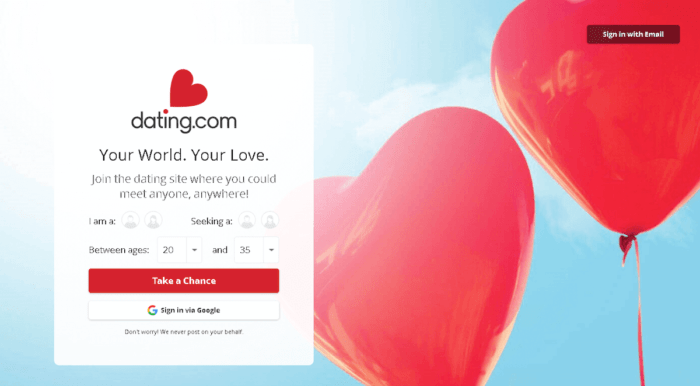 Dating offers come in both adult and mainstream formats, which means you can use most of the traffic available (adult also represents 30-60% of the volume of many PPV and push networks), and creating good landers or offers for campaign isn't that hard.
On top of that, you can find dating offers with different conversion flows such as:
Email submit SOI
Email submit DOI
CC submit
Membership payments
Cam sites
etc.
Most people have dated someone already and know how it is, so it's not super difficult to come with angles to test. You don't have to reinvent the wheel!
Plus, spying dating offers isn't that hard with the correct tools 😉
Dating in 2020
The elephant in the room here is quite obvious. 2020 hasn't been very kind to a lot of industries due to COVID and what it has generated in terms of economic crisis. Many businesses closed and tons of people lost their jobs, although we're at a point where it keeps looking better than before, yet the movement is slow in many countries.
Dating during a COVID crisis was hard at the beginning, as people were staying at home and nobody knew how much this would last. How can you date a person without even hanging around with them?
Well, a ton of people had to adapt and Zoom got an advantage for that (to the point it's already a common verb for many). Online dates have been a thing for years, but with COVID they reached new heights.
Now that many countries are relaxing their rules and people are starting to go out more with some conditions (wearing a mask, washing hands constantly, etc.), people are trying to catch up and date after being locked down for months!
Some people have been waiting for this moment for 6 months or more!
Can you imagine that?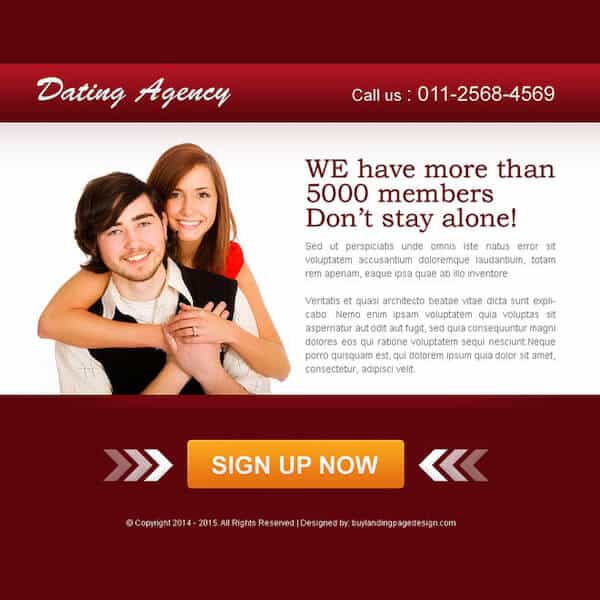 The inevitable is going to happen and that's where you can help them connect again with the right dating offers.
That's why sweepstakes offers such as the iPhone and Galaxy ones always have a good run at some point of the year. New iPhones and Galaxy phones are announced every year, and with that, the opportunity to make people sign up for your offers. People will always want to win something in a raffle. It's an evergreen niche…
To make money on dating you need strong offers
Since the dating vertical is accessible to everybody and we all know where the traffic is coming from (biggest adult sites, push, native, PPV, social organic, etc.) and the payouts allow people to get into the market easily while running SOI/DOI offers, you need strong offers with high conversion ratios and a solid network to get your payments on time.
Also, as I said, the creatives and landers are available everywhere and you don't need to reinvent the wheel (perhaps test some new angles here and there constantly, but nothing revolutionary).
Besides a good CR, you need decent payouts or you won't be able to compete with other affiliates. That's why I recommend running traffic to some of the most solid networks around who specialize in this vertical.
ClickDealer is my favorite network to run dating offers. They have plenty of options for each geo and with different payouts and multiple pre-landers available: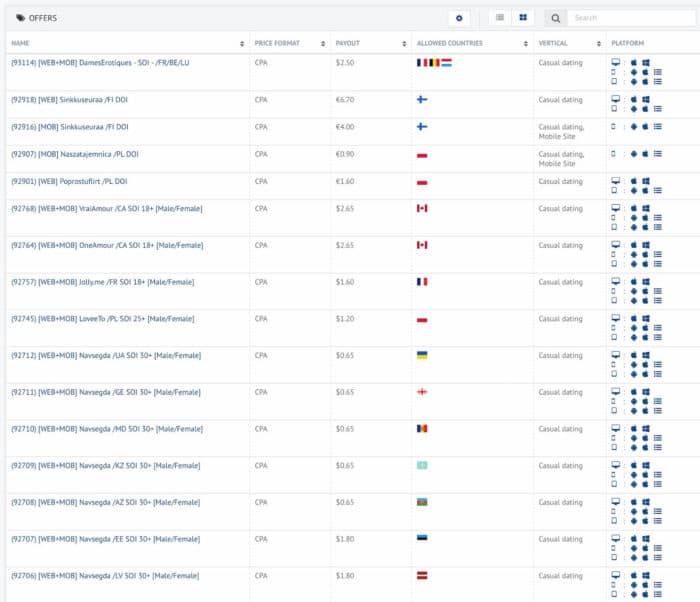 Plus you also have smartlinks with a very strong performance to monetize your worldwide remnant or organic traffic as well.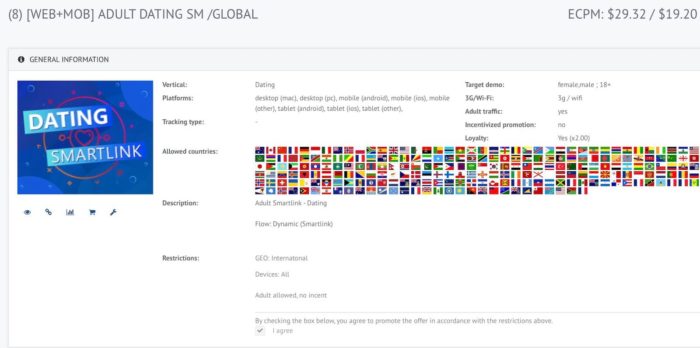 Many people ask around looking for the best network to run their affiliate campaigns. Trust is, there's no best network for everything. I'd rather work with a network that focuses on 1-3 verticals with strong advertisers and payouts, than work with a network that has 20 verticals available but nothing special in any of them.
ClickDealer is a great network to test for dating and sweepstakes, so give them a try and start running your dating offers with them before anybody else. I've been running traffic to their links for 6 years and I've got my payments every single time.
If there's a problem or a capped offer, my manager is always ready to help, which is important due to the nature of dating offers and the quality requirements. Sign up HERE and start making money with them.
Or… you know… leave a question in the comments below so I can point you in the right direction 😉