It's been 1 year since I checked and reviewed any spy tool. And what a year has it been! At the end of 2019, I wrote an article after testing this tool and now it doesn't even exist anymore.
Fortunately today I'm going to show you a super affordable tool that covers all of your needs in terms of social media marketing. The tool isn't focused on 1 traffic source (e.g. Facebook). Instead, it covers more than 5 different sources with very appealing pricing plans.
The name of this spy tool is BigSpy. Check it out here.
If you've heard about it before I wouldn't be surprised as I know it's been mentioned in some of the biggest websites online already, but it's not as popular in the affiliate world (yet).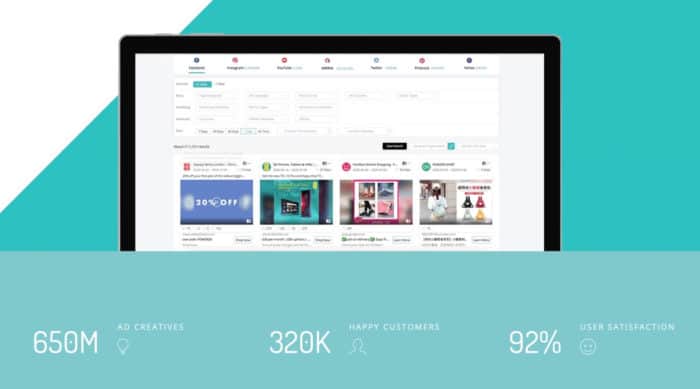 BigSpy has a database with more than 650 million creatives covering multiple platforms such as Facebook, Instagram, Twiter, YouTube, Pinterest, Admob, and Yahoo.
Besides, you can track certain ads or check the featured ads (trending ads picked automatically by AI) and filter them by day or month.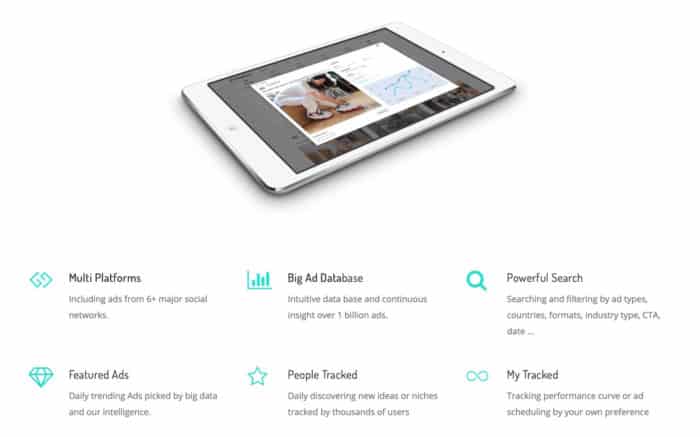 BigSpy – Pricing
As affiliates, we're used to paying $100-300 per month with many of the spy tools for affiliates available out there, however, BigSpy is a really interesting alternative since you can get started with a free account and then level up to $9 per month or $99 per month for a pro plan.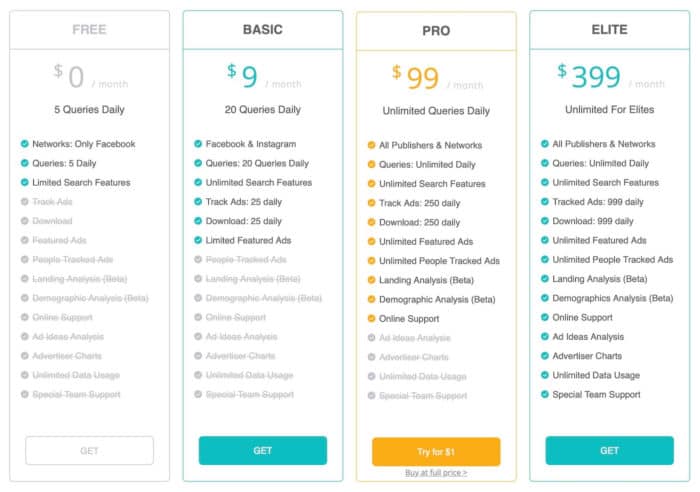 If you want to get your feet wet, the free trial allows you to do 5 queries per day on Facebook ads. However, the real free trial in my opinion is the $9 per month plan, as you get 20 queries per day and you can spy on Facebook and Instagram.
This should be good enough for a ton of people unless you really want to check a ton of ads per day or if you are focused on other social networks such as Twitter, YouTube, or Pinterest.
You'll also find a coupon at the end of this article, in case you're interested in the higher plans.
Testing BigSpy
Once you log in, you can either do manual research with keywords or go to the tracked tab to see the featured ads from today.
Here are a few examples from Facebook: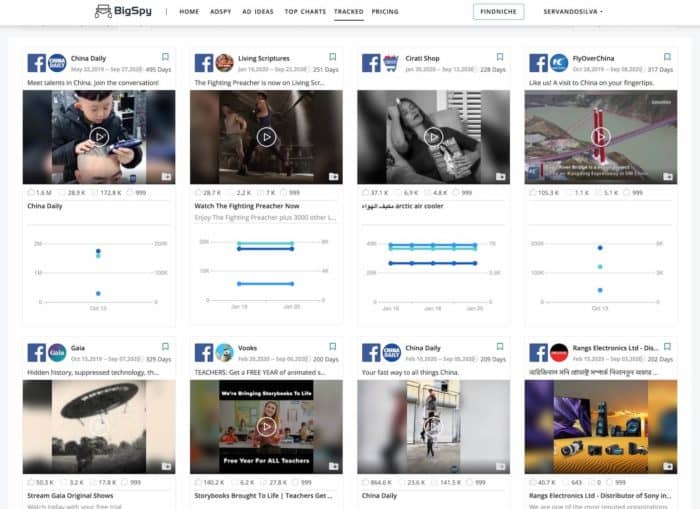 If checking top trending ads isn't for you, then you need to do manual research by keywords, advertisers, landing pages, or fan page names. There's a search box available with many filters where you can target ads by:
Industry (eCom, Game, Apps or just leave them all)
Social Network
Country
Devices
Affiliate networks
CTA
Date
As you can see, the filters are good enough to drill down some good ads based on your needs

Also, while BigSpy allows you to focus on certain types of ads, such as eCommerce, you can also filter by the affiliate network or some type of verticals that are mainly run by affiliates, as you'll see in the following images.
Here are a few top ads running from eComm stores and Print on Demand on Facebook: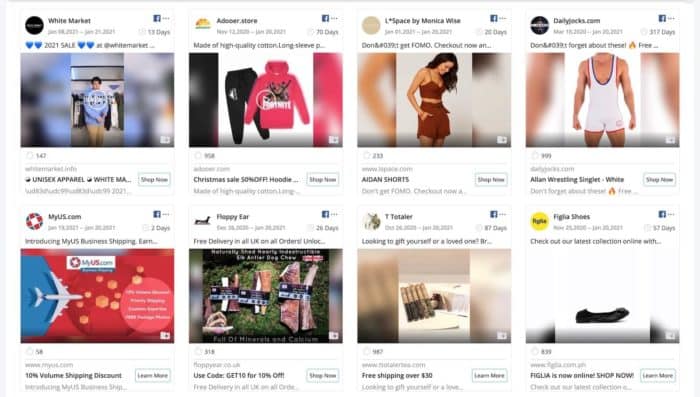 If you find an interesting ad just click the image and you'll find all of the details, such as the Page ID, complete text, landing page, performance, and you can also download or save the creatives.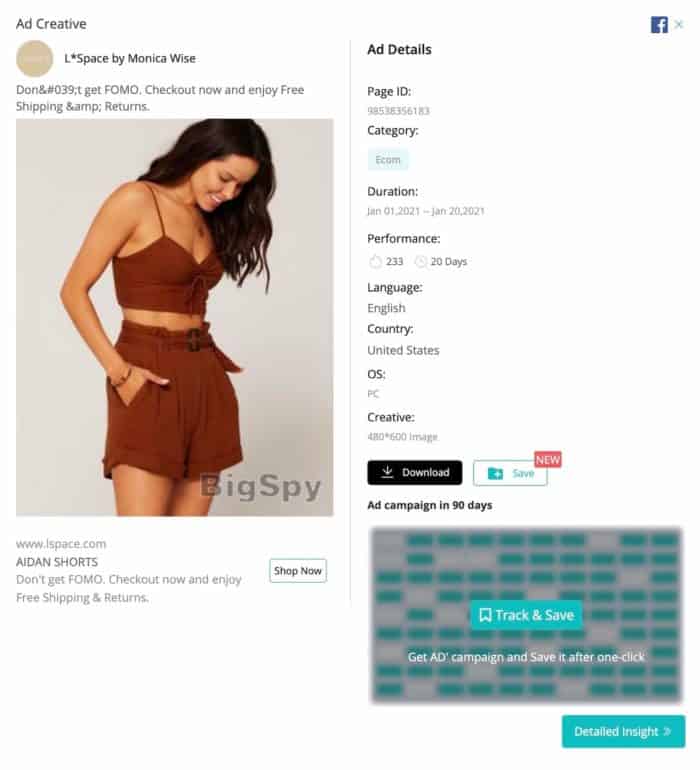 You can also access the original post of the ad in many cases as long as you see engagement (likes and comments) in the ad to get the full picture: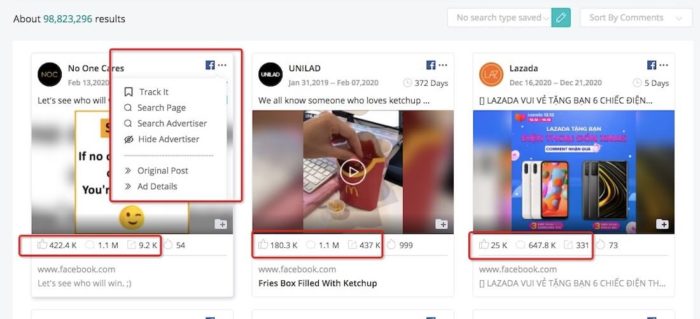 By adding some filters I was able to find some of the common affiliate ads. It's easy to find them if you know the type of creatives or angles affiliates use, along with the landing pages. This is certainly an eComm product but more like in the Nutra space: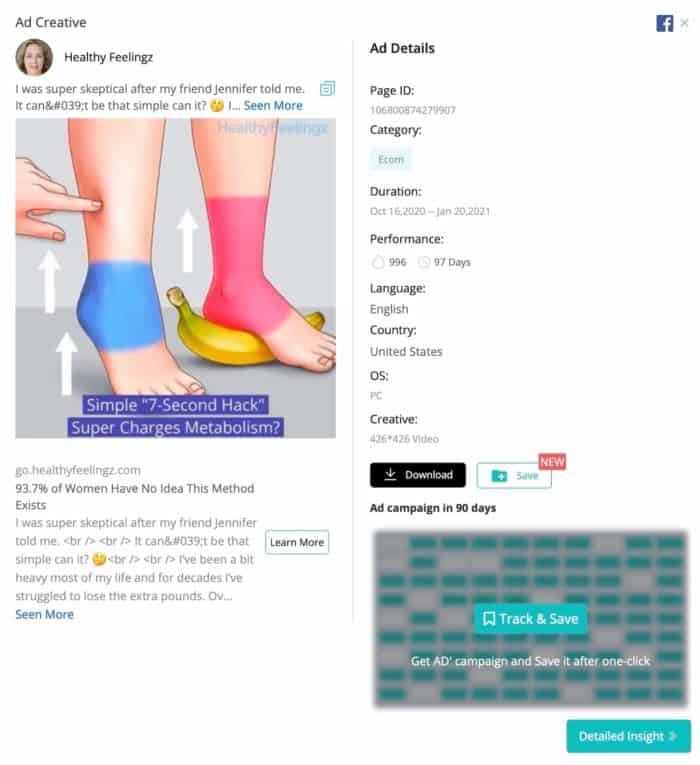 I made another search using the keyword "win iPhone" to find a lot of the affiliate ads running sweepstakes too. Granted, not all of these ads are from affiliates. Some are actual raffles from companies giving discounts or whatever, but if search deeply you'll find something for your needs: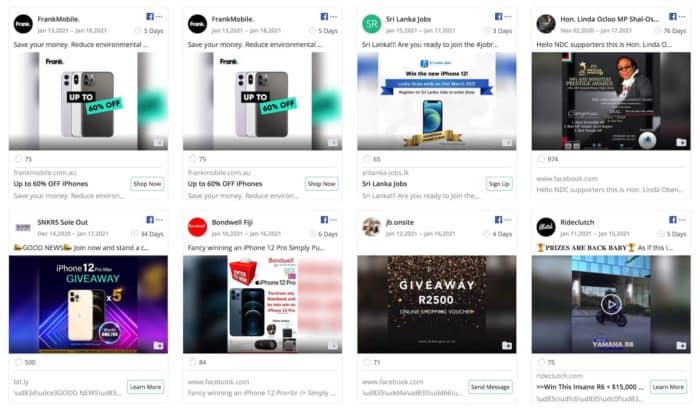 For example, these ad looks a bit suspicious to me but I'm not sure if it's an affiliate ad or not.
The Fan page has less than 100 likes and a ton of posts promoting eComm products, yet somehow they're running ads about an iPhone giveaway…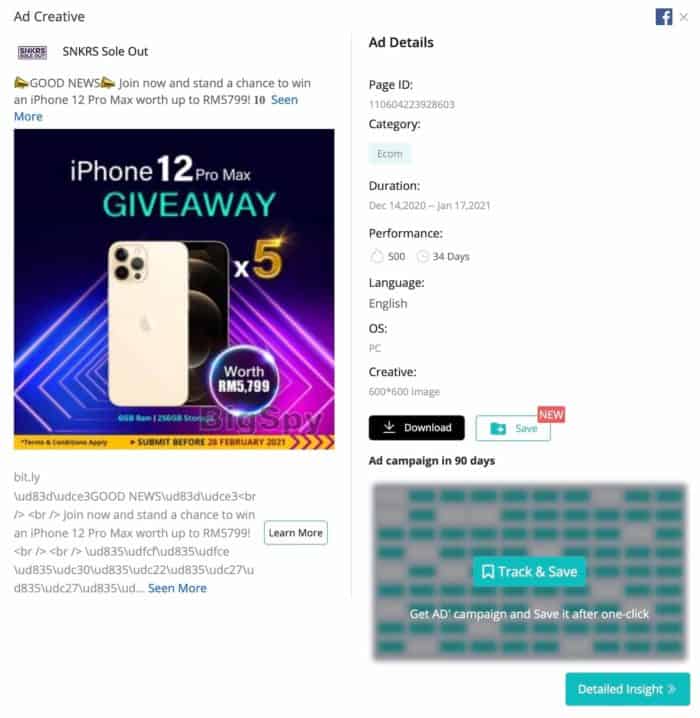 And here's the landing page I see for Malaysia. It looks like lead generation is the first step of this funnel as running offers direct is a no-no on Facebook.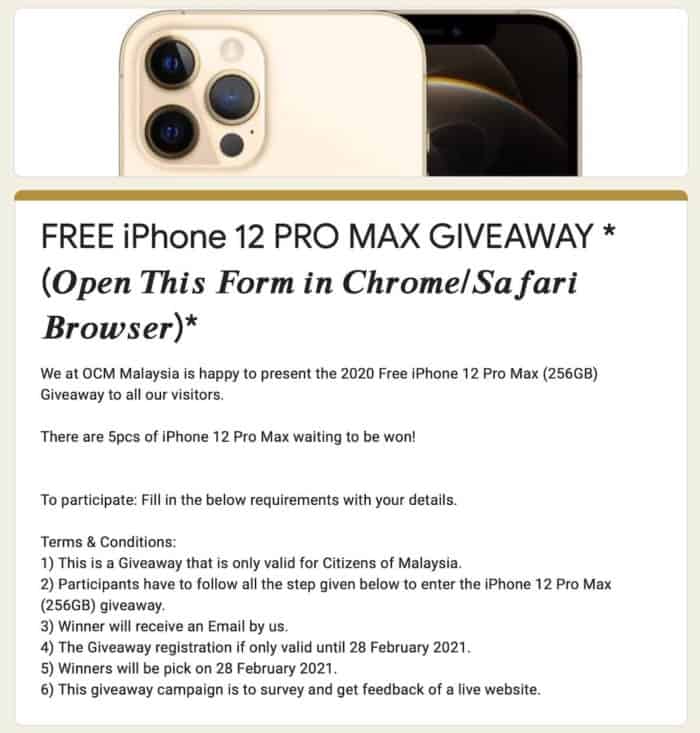 Anyway, those are just a couple of examples of what you can actually do with BigSpy. You can research anything from any vertical as long as it's been running for a few days. I tested it with some eComm stores and also some B2B companies and found a ton of ads from Twitter, YouTube, and Pinterest, which aren't as easily available as searching in the Facebook's free ad library.
The only thing I'd improve is the way you can look at the details of the creatives. Right now the dashboard shows a ton of info but the UI is still super simple and a bit hard to understand. Sometimes the creatives are repeated (similar to what happens inside the Facebook ad library) and if you click through a creative and then go back sometimes the system resets the search fields and you have to start over from page 1.
What else would I love to see in the future? Snapchat and Tik Tok 😉
BigSpy – Final words + exclusive coupon
As usual, I asked my manager if we could get a coupon code or discount for my readers and she was kind enough to prepare a 15% discount if you use my ref. link.
You just need to add the coupon "servando" during the checkout and you'll get your 15% discount as shown in the following image: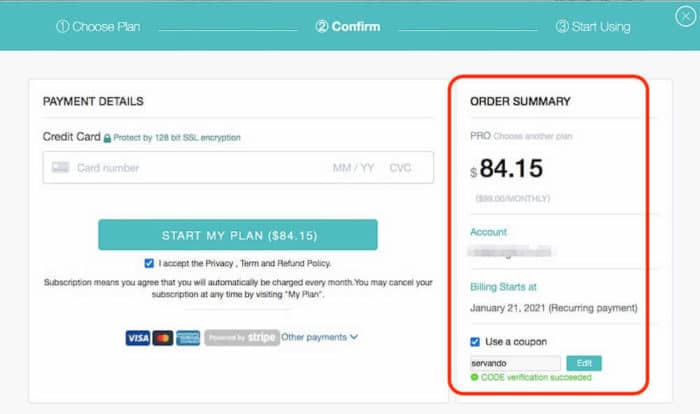 Down from $99 per month to $84 per month.
The coupon only works for the Pro and Elite plans though, as the Basic plan is quite cheap already and the free plan is… well… free…
Remember you can use BigSpy for any type of ads, no matter if you're an affiliate, an eCommerce store owner, B2B SaaS or anything in between!
If you've got any questions let me know below in the comments and I'll talk to you in the next one!