I've been using Voluum for 6 years as well as testing many other tracker solutions in the past few years, yet I never wrote a review in my blog.
I guess the main reason I didn't write an article about it was because Voluum was the first cloud-hosted tracker that got very popular for media buyers back in 2014-2015. Once they got out of beta and finally launched pretty much all of the blogs from other affiliates and friends covered Voluum and how to use it. So I thought there was no point in covering what everybody else had done already.
However, it's now 2020 and after 6 years of using Voluum and testing other competitors as well, I want to explain why I keep using Voluum in my day to day campaigns. Some of the competitors a lot of affiliates were talking about around 2017-2018 have almost disappeared and new ones emerged in the last couple of years with new features and pricing schemes.
I also want to cover all of the new features that have been launched in the last year or so that none of the other blogs covered as their articles are 3-5 years old.
For starters, this is a screenshot of how the tracker's dashboard looks when you sign in. Every year it changes a little and it has changed a lot after the first iteration presented 6 years ago.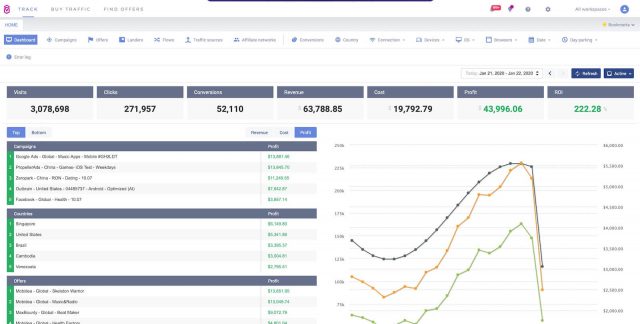 While that view gives you a general overview of what's working and the daily trend, If you want to go straight to your campaigns you can also set that page as your home in the settings menu as many other trackers do.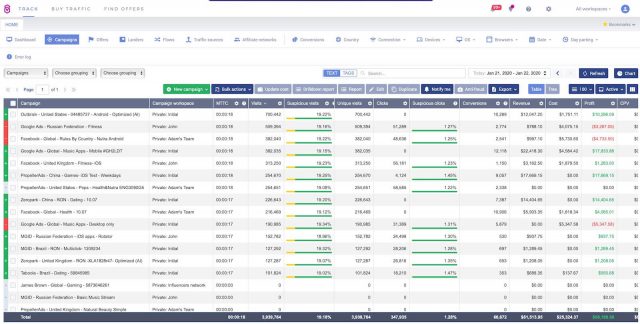 You might have tested Voluum in the past and if you have used any tracker you might feel a familiar approach as they all kind of present things in a similar way. However, if you look closely, Voluum now has a ton of extra columns with some interesting information.
Check out this closer screenshot with some of the columns of a campaign:

You can find columns like workspaces, Conversion cap, MTTC, Suspicious clicks and more besides the typical CR, EPC, Conversions, etc. that were not available before and they can be super useful for your campaigns if you know how to use them.
Those are the features we're going to explain today.
– Voluum Latest Features Explained
Markers
I'll get started with one of the latest features that was literally added last month and I had been asking their support to add this a few weeks before; MARKERS!
Voluum recently added the ability to add markers in the multiple variables you can track to help you visually identify segments that are performing really good or really bad.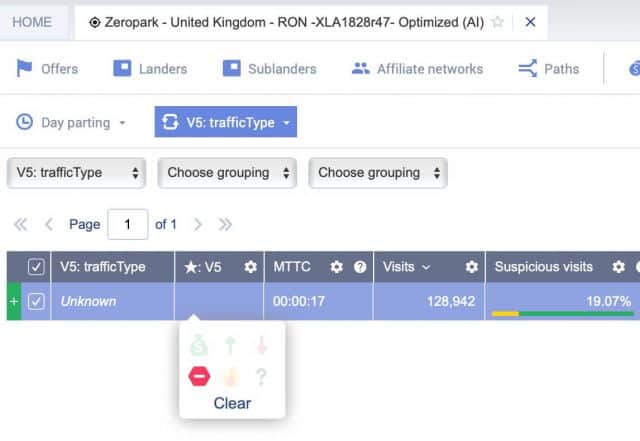 Markers help me organize my blacklists/whitelists as well since many times I prefer avoiding sending conversion data to my traffic sources. It also helps me quickly identify if a website has been added to a list in another campaign or if it's acting weird lately to keep an eye on it.
Markers have been available in other trackers and I was happy to hear back from Voluum that they added them a few weeks after I gave them that feedback.
MTTC
Another metric that was added last year is MTTC or mean time to convert. This metric is really useful as it can help you identify fake conversions in your campaigns.
Imagine you have a lead gen offer with a pre lander for native ads. On average you know a person should take at least 1-2 minutes to read the sales page, then click to the offer and maybe 2 minutes more to fill in their data (zip code, email, name, etc). So you can expect conversions 3-5 minutes after getting the click if not much more.
But what happens when you start your traffic and the first conversion happens 10 seconds after the click?
How is it possible that a person clicked the ad, read your sales funnel, clicked the CTA and then filled the forms in less than 15 seconds? Congrats, you've got fake conversions.
In Voluum you can set up your desired MTTC ranges according to the type of campaigns you're running. If you run app installs or toolbars, maybe your traffic only needs 30 seconds to convert.
But if you're running long funnels or eComm and you know the conversion requires at least 5 minutes to happen, you can increase your TTC as well.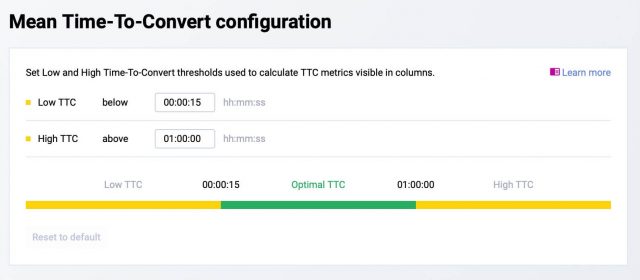 I don't have any preference for high TTCs. I have seen many campaigns where the traffic opened my lander but didn't convert and maybe they kept it in their browser without making a decision for days and then they convert 2 weeks later. This didn't happen much but always had a small (5% or less) percentage of conversions coming in after a few days.
Bot Detection Script and suspicious traffic
If you ever bought redirect, pop, native or push traffic you have already bought bot traffic in the past. You can also find bot traffic in other sources but it's not as common.
Voluum has implemented a honeypot script to help you detect the percentage of bots clicking through your links and screwing up your EPCs. Besides nobody likes paying for bots as they make optimization more difficult and time-consuming.
You just need to copy your script with the desired tracking domain and paste it in the body of your landing page and you're good to go.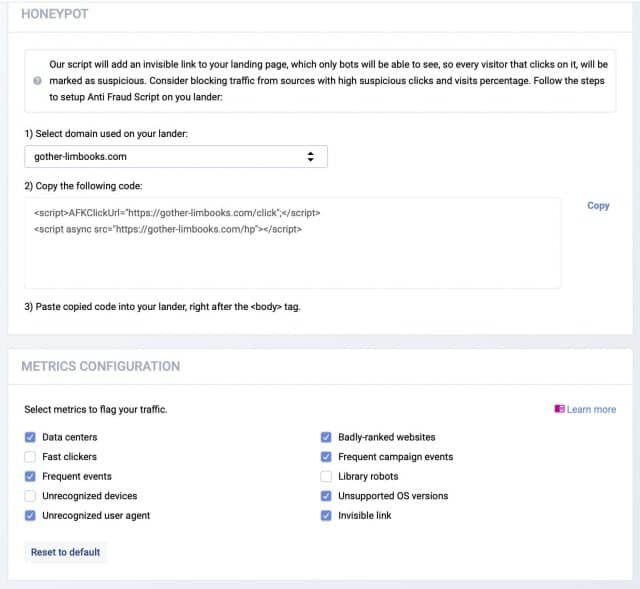 Besides bot traffic, you can also add some metrics that Voluum detects automatically at the landing page or offer level including:
Data Centers
Fast clickers (clicks that happen in 1 second that are just not possible for humans)
Frequent events
Unrecognized devices and user agents
Library robots
The honeypot script only works from landing page to offer so it can't be used when direct linking campaigns, but you the rest of the filters work at the campaign level so you will get that data even if you're direct linking and it has helped me save thousands of dollars in traffic I don't want to pay for.
Here's how MTTC and the bot detection columns look in the stats closely:

Get the bot detection feature for FREE in your Profit plan
Normally some of the features like bot detection are available in higher plans or as add ons for the lower tier plans. However, you can get the bot detection feature for free in the profit plan if you sign up through this link as a winter special:

Lander Protection Script
Moving on with the rest of the features we have the lander protection script. This script needs PHP to work so it can't be used in raw CDNs, however, the script will protect your landing page and make it inaccessible to other people unless they come through your campaign link and even then it will block access to the lander after 30 minutes.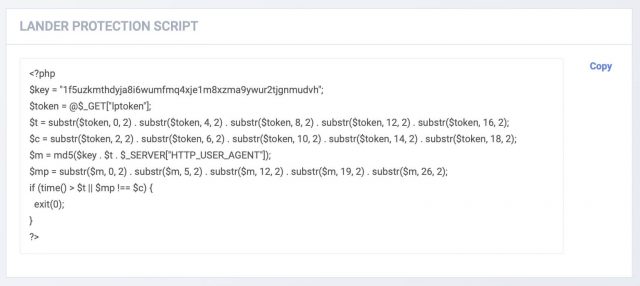 If you have a ton of sales or conversions happening after 30 minutes (check your MTTC) I suggest you avoid using this script. But if your landing page gets ripped all the time you should use it to make their life at least a bit more difficult.
Direct Tracking Pixel – Redirectless tracking
another feature that was implemented a while ago but hasn't been covered much in other articles is the direct tracking pixel.
I have been using it on and off for some of my campaigns and it works well.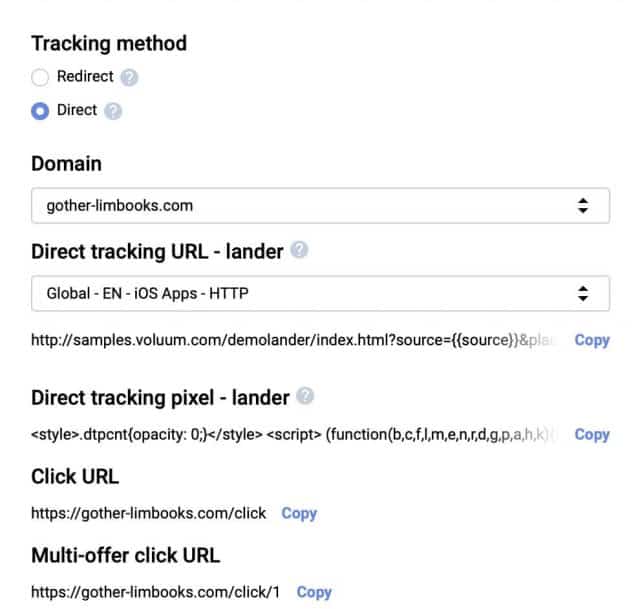 The idea came out a few years ago mostly for people running on FB and Google where we wanted to avoid redirects as they could be seen as black hat or cloaking.
However, you can also use direct tracking if you have a campaign where you want to eliminate the need for another redirect in the URL chain.
This only works for already optimized campaigns in my opinion and of course, keep in mind you won't be able to set rules and split test landers when using this method but it can help you increase your profits if you do it right from time to time.
It can also become useful in sources like Outbrain/Taboola which are very strict in their approval process.
Workspaces
This feature is more targeted to agencies or media buyers with teams. Workspaces allow you to create multiple spaces and assign people to each level so they can edit their campaigns, offers, and landers without having access to all of your data.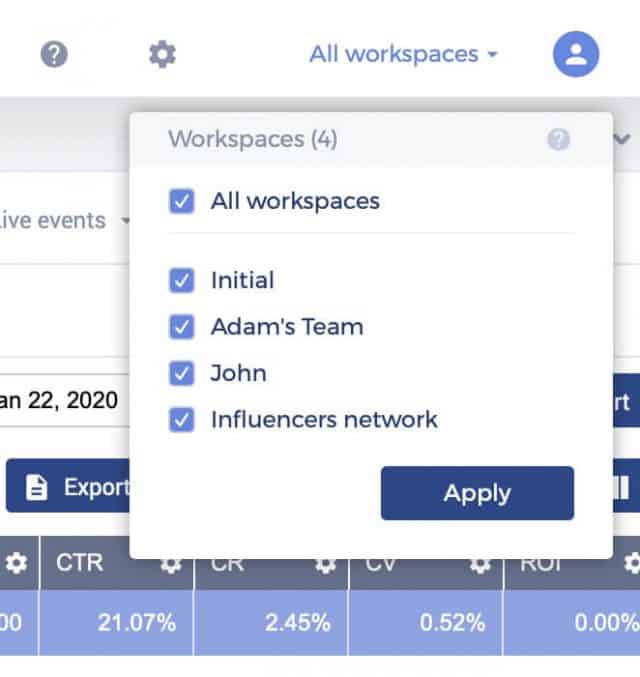 You can also create public spaces to share campaigns between your network.
And talking about campaigns, you can add tags and search them later if you want to do that. I like having a very specific format to name my campaigns so I don't have to search between a sea of different names but tags can become handy if you want to search for verticals or a specific type of offers.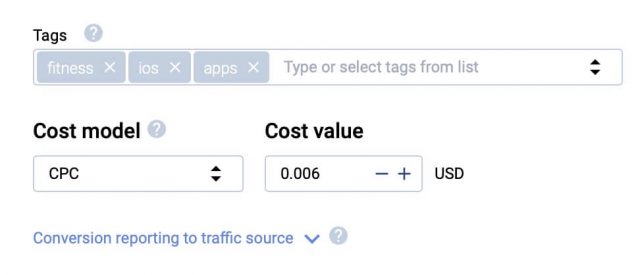 Notifications
One thing I like a lot about Voluum is they have apps for both Android and iOS available to check your stats without logging in a browser.
While you can't really do much to optimize your campaigns in the app, you can definitely set up some notifications in your dashboard that you will receive on your phone as well straight from the app.
Here are a few examples of notifications that can be useful for your campaigns: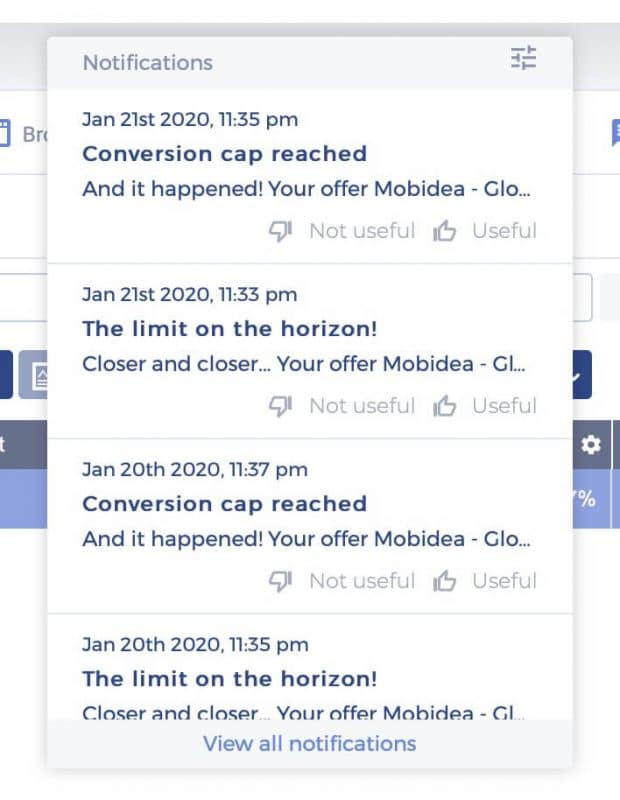 Besides letting you know about caps (you can set up a redirection after reaching a cap on your offers), you can track things like first conversions, events, and also things like sending you notifications when ROI goes below a certain percentage of if a campaign has a surge of traffic during the last hour.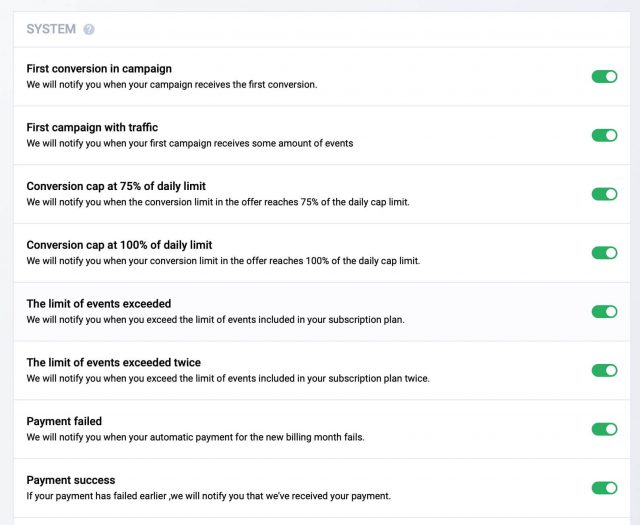 Other features
While the features mentioned above are the ones I have been using the most in the last couple of years, there are many other features that are worth checking in case you need them.
Some of them include:
Listicles
If you're running listicles (FB, native, etc) you know tracking them can be a problem as you have multiple offers with multiple buttons and sometimes deeper funnels in your campaigns.
Voluum now allows you to track multi-step funnels as well as creating listicles.
Auto campaign Optimization
This is a feature I have tested a lot in the past but currently don't use much. The auto campaign optimization feature allows you to quickly A/B test between different landers and offers and automatically send the traffic to the best converting offers according to the ROI and numbers.
The optimization seems to happen in cycles of every 24 hours so while it helps at the beginning I personally prefer doing it manually after getting some data.
Impression tracking
Useful if you're tracking banner impressions in a CPM basis
SSL
This is more like a must than a feature. You can request SSL in your domains which is how most websites work nowadays. Depending on the plan you will have access to a different number of domains and SSL certificates though. Some other (self-hosted) trackers to this for free unlimited.
Traffic Sources and Affiliate Networks Templates
The growing database of sources and networks allows you to kickstart your campaigns without having tracking issues when you're a newbie in this world.
Multi-currency
Useful if you get paid in Euros or other currencies besides USD.
Voluum DSP
besides being a tracker, Voluum also provides you with DSP to buy native traffic from dozens of networks and you can perform the optimization right from your tracker as I explained in my DSP review.
Voluum Pricing – How much is it?
The pricing scheme in Voluum has changed a bit lately and for good. I'm aware I wasn't the only affiliate surprised by the sudden change of prices that happened 2 years ago. However, this has been reverted and besides offering a ton more features the pricing structure makes sense if you're looking for a cloud-hosted tracker.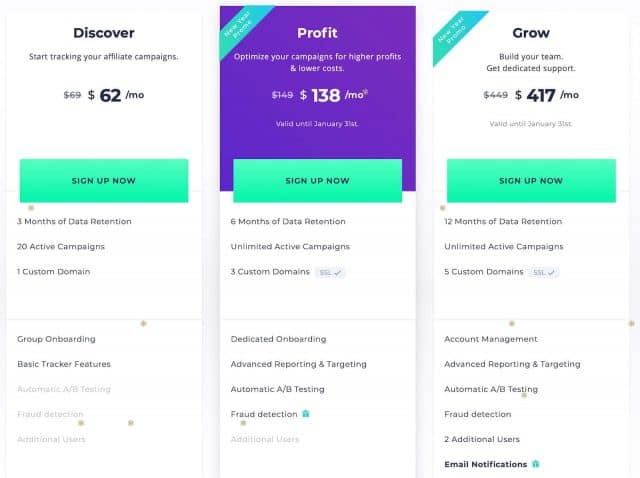 Voluum has a limited discover plan that wasn't available before with 3 months of data retention, 20 campaigns, and basic tracking capabilities. If you're new and you're just learning how to track this is where you should get started.
Also, check out this video that shows step by step how to create your first affiliate campaign with Voluum:
But if you already have some experience and you're willing to scale up your campaigns the Profit or Grow plans will be perfect for your needs.
If you get the profit plan through my link you will get access to the fraud detection feature which is normally available in the Grow plan for free.
And if you get the grow plan you will get email notifications for free as well in case your personal phone notifications aren't enough (think of a team or agency).
If you have been thinking of making the jump to Voluum the Profit plan at that price with the fraud detection feature is definitely a great choice.