EDIT: Robert Gryn (Voluum & Zeropark) just chimed in and it seems everything's back and working OK. Both domains are not flagged anymore by Avast or Norton.
A few affiliates told me last Friday that they were having problems with Voluum links being detected as virus when using Avast on their PCs. At first I thought it was a problem of the CPA network tracking link that could be triggering those false alarms, but I during the weekend I spotted several others on Forums like Stack That Money and Affiliate Fix mentioning the same thing.
I run mobile traffic and I use a Macbook pro without Avast, thus, my campaigns didn't seem to have any problems but after reading it on STM it was clear there was a problem and it hasn't been solved as of yet.
What's the problem?
Looks like the main problem is that Avast has flagged the whole Voluum domain as a virus so when somebody is watching your ads or landing pages and they click it, the Antivirus alert will go on and the user won't be able to see more or even load the page.
It affects everyone running desktop traffic for 2 reasons:
1. Avast is a big brand with a huge market share. Check this out: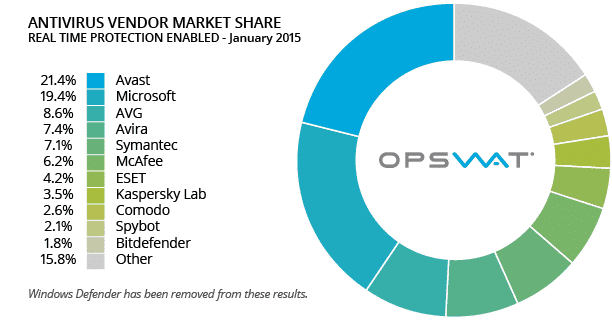 2. It doesn't matter if you're C-Naming your tracker, it still affects your campaigns.
What can you do?
At this point I recommend doing nothing unless you're doing huge volume of desktop traffic.
Voluum is already looking at this and many affiliates don't like where it's heading. A simple way to fix it would be changing the domain, but that doesn't mean it won't happen again. So from what I've heard, there's likely be some changed in Voluum to try to keep their domains safe from a few affiliates running very black hat stuff, and that's what I don't like.
Depends on how they solve it during the week, I might change to Thrive very soon or not.
This is not funny, and honestly, changing all the campaigns to a new tracker is a pain in the ass, but it all depends on how the finally solve it at the end.
If you're running thousands of desktop traffic per day then check your stats and see how much of an ROI difference do you see between this week and the last one. If there's something noticeable, then you should pause your campaigns or use Thrive meanwhile.
That's the best advice I can give. But if you can wait a bit, let's wait and see what Voluum has to say and how they solve it before taking action and move from one tracker to another.
I really like how codewise has been growing and they have a great product, so I won't change them if it's not necessary. But until then, I'll keep you updated before the end of the week with some updates.