Whether you're a new person the the affiliate industry or you've been working a while in this area you probably heard about the importance of landing pages and load speed.
That's why most people recommend to get started with a VPS and later move to a dedicated server or CDN+dedicated if you want to handle a lot of visits per day.
A huge problem though is that as an affiliate you need to learn a very wide range of skill sets going from coding, to servers, to offers and traffic and even networking and the importance of relationships. because of that, the servers are relegated to the bottom of our priorities and later we learn the importance of them.
How many times have you heard: Can I use my Hostgator/Bluehost shared account? I just want to get started and do some tests.
On top of that, they use WordPress for a simple landing page with a call to action, an image and a headline.
And the first thing we usually answer is: hell no, get out of that shared service and get a proper VPS or you'll lose money and conversions.
A good landing page that could be loaded in 50 mili seconds could take 5 seconds in a shared host without the proper optimization.
But at the same time, people who want to get started (or even if you're already making money but want to scale) have the problem of not wanting to pay hundreds of dollars for their servers. A managed VPS from a known company starts at $30 per month with the basic plan, and can easily go to $100 per month with an "advanced" plan with 4 cores and 8GB of RAM.
After that you find the dedicated servers that easily start at $100-200 and can go up to $500-1,000 according to the specs.
That's half of the monthly budget for campaigns for a lot of people (hence, they want to spend $5-10 with a shared service). It doesn't have to be like that.
You can get the performance of a dedicated server starting at $2.5 per month if you use an unmanaged service like Vultr or DigitalOcean and pay as you go (hourly rates) while having very good performance and multiple locations available around the world.
Managed vs. Unmanaged server
If you have no idea what's the difference between managed and unmanaged servers you're probably using a managed service.
Managed Servers
It's easy to recognize them because their plans have cPanel or WHM to handle all your websites and you can contact their support when something goes down or you want to do a migration and they will do it for you (sometimes at an extra price). Launching new websites is easy cause you just need to add a new account and select a software like WordPress and it will do the installation automatically. If you're totally new and have no idea how to upload a landing page or what's HTML then a managed service has its pros.
I used a managed VPS for the first months while learning paid traffic and I thought it was good, but when my campaigns started to go big I had to scale more and realized a managed service was not going to cut it unless I paid a lot.
Unless you're using a self hosted tracker, you're only slapping landing pages with PHP/HTML/CSS in your server and loading them as fast as possible. That's it. So a managed service doesn't really help much and you don't really use all the extra layers and services but you're still paying for them. A cPanel license costs $20 per month so if your VPS costs $30 you're actually paying just $10 for your VPS and $20 for the cPanel License.
The cons of using a managed service are:
Lower specs as you're paying for tech support, licenses, etc on top of the raw hardware
Pricing (VPS starting at $30 per month or higher)
Locations: available on the US for most companies or some places in Europe but you're limited to that location for all your sites.
Scaling and usage: if you want to scale, you need to hire a new, more expensive plan. If you use your server for 7 days out of a month, you will pay the whole month as you already paid upfront.
Overall you're paying for support and a pretty interface easy to handle with the hundreds of tutorials available around the web for WHM/cPanel. This can be good for huge websites using WordPress or other services but developers tend to prefer unmanaged services because they can do whatever they want with their hardware and pay as little as $2.5 per month with the performance of a $100 dedicated server.
Unmanaged Servers
If you choose to use an unmanaged service, you'll not have support. You're pretty much on your own.
If your site goes down, or the memory leaks, or the database crashes, you're on your own.
But for us (affiliates) who mostly want to upload landing pages and we have several domains, IPs, etc. an unmanaged service can be more efficient and at the same time you might be paying less than with the managed server. You can do whatever you want with your OS installation, apps, hardware, etc. and you can deploy a virtual machine in a couple minutes with great performance and no issues whatsoever.
Let's see how to do that.
Enter Vultr
Before you ask, I have been testing several cloud VPS services like Vultr, DigitalOcean, Linode, Amazon AWS and Rackspace for the last year.
A well optimized VPS in the right location can outperform a CDN or a dedicated server on most of the cases. This is something I have confirmed with a lot of my friends.
Don't think these are unknown companies you can't trust. In fact, DigitalOcean is the second largest server provider in the world just behind Amazon. So if you thought only the branded guys like GoDaddy, Bluehost, etc. were big, think again. they just target different audiences and that's why you see GoDaddy in the super bowl ads instead of hearing of Linode, for example.
In the last 14 months I have split tested the performance and pricing/features of all the mentioned above and so far my favorites are Linode and Vultr. They're always on top of DigitalOcean and Amazon Lightsail and Vultr has a very nice user interface similar to DigitalOcean. They also have more locations available than Linode and DO. Let's see how to deploy a Vultr VPS in 5 minutes for $5 a month.
First, you need to create a Vultr account: CLICK HERE TO GET A $50 SIGN UP BONUS.
Just fill up your email and password and validate it as you'd do with any other service.
After your account has been validated you'll see your Dashboard with servers and locations. You can see below that at the moment of writing this post (beginning of March) I had 8 servers running in different locations (1 or 2 per continent) and I am being charged for each of them in an hourly basis ($1-2 per each in the first 3 days of the month).
Your Dashboard will be empty, and you can start deploying a new server ASAP but before I recommend you to add your payment method (see image below). Vultr is very flexible and they take Credit Cards, Paypal and Bitcoins as well. Linode just accepts CC so that's another reason I prefer Vultr.
Now go back to your Dashboard and click the button to deploy a new instance. You can select a Vultr Cloud compute (VC2) instance, a Storage Instance (great for keeping files in the cloud like Dropbox) or a Dedicated Instance, which is similar to getting a dedicated server (not available in DigitalOcean and Linode). The VC2 instance should be selected by default. Select a location closer to where you're going to run your campaign and remember you can always delete this server and pay the hours it has been active and create a new one in a new location. This is great when you're testing offers in different Geos but you don't know if they're going to work or not.
If you're running in the USA a server in the "middle" of it like Atlanta or Chicago might perform better than a server near the east/west coast. You also have different locations for Europe and a couple of locations for Asia and Oceania. I wish they had a node for Africa and maybe another in India, but so far they have more than the competition. I think DigitalOcean has a node in India though.
Now you need to select your server OS or application. In this case you're going to use a LEMP application which consists of Linux Cent OS x64 with PHP, MySQL and NGINX installed by default. You can also see there are many other apps you can launch, including cPanel (extra price for License), WordPress and even a Minecraft server. Select the LEMP application and continue to the next step.
Now you need to select your server size. Vultr recently announced a new $2.5/month plan but it's not available in all locations and depends on the app you're deploying as well. If you're getting started, the $5/month plan will be enough. You can later upgrade or launch a new server if you need it. This plan has 25GB SSD (enough to host thousands of landing pages) and 1 CPU with 1 GB of memory.
Perhaps the most important thing here is the bandwidth, which starts at 1,000 GB or 1 TB per month. If you're running banner traffic this might not be much, but if you're running PPV/pops and redirects you might want to keep an eye on your usage (there's a dashboard where you can check this) to see if the server is handling things well and the bandwidth you've consumed through the month.
For example, a 200Kb landing page getting 30,000 visits per day on Facebook will consume around 6GB of data per day. That's 180GB per month which is still just 18% of the 1TB available.
But a 100Kb landing page getting 3 million visits per day from pop traffic will consume 300GB of data per day, or 9 TB per month, so you'll need a higher plan.
Anyways, just calculate what you need or select the $5 plan and check your stats through the days to see if you need to upgrade/downgrade your plan. Finally, just leave all the rest of the boxes in blank and just fill the Server Label (marked in a red box below) where you'll put the name of your server (i.e. the name of your domain for organizational purposes) and click the "Deploy Now" button.
Vultr will create your server, install the OS and the LEMP stack in a few minutes. You'll get an email like the one below when it's been done.
You will need the IP address from the email to setup a few things later but you have all the information for easy access in your Dashboard now. See image below for the important data you need to write down.
In your server's dashboard, you can go to the "Usage Graphs" menu and you'll see the CPU and bandwidth usage of your server. Right now you can see a small peak because we just launched the server but you'll get  more data later when you have your campaigns and traffic running.
If you ever wanted to upgrade the server just to to the "Settings" menu inside your server's dashboard and the "Change Plan" button on the left side. There you can choose a new plan and your server will be restarted (takes 1-2 minutes) to get the new hardware specs.
You can now access to your server by typing the IP in your browser, however you want to use a domain to host your landers instead of just an IP. So let's get into that.
Setting up DNS
Setting up the DNS is an easy process that takes 2 minutes. First, you need to go to your Domain provider (Godaddy, Namecheap, etc.) and setup custom DNS for your domain pointing to:
ns1.vultr.com
ns2.vultr.com
If you're using Namecheap this is how it looks: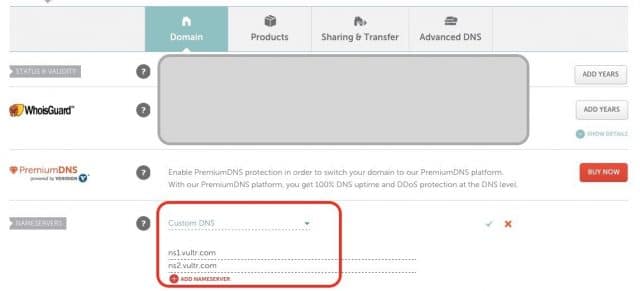 Now that your Domain provider is pointing to Vultr's servers, you need to link your server IP with your Domain. Keep in mind the domain propagation around the world can take up to 48 hours. If you see your domain is still pointing to a parked page or another server just wait some time.
Now go back to Vultr and in the "Servers" main menu click the "DNS" submenu and click the "Add Domain" button.
In the next step just fill out the new IP of your server (you can check it in your server's dashboard or the email you received after launching your server) and write down the domain you're pointing from GoDaddy/Namecheap. In my case I just wrote down "testserver.com" but I don't really own that domain and I already deleted the server for obvious reasons.
After you click the "Add" button from above, you'll see your A/CNAME/MX/NS records and you're good to go. You can modifiy the TTL settings to 120 seconds (2 minutes) from the 300 seconds default like I do. But it doesn't matter if you don't.
If the DNS settings have been propagated to your location you should now be able to type the domain in your browser and see an image like the one below. If this loads correctly, your setup is well done and now it's time to upload your landers to the VPS.
If you can't see the image below when going to your domain's homepage then you need to wait until the DNS has been propagated or you did something wrong. Go back and re-check every step to see what went wrong.
Uploading your landers through FTP/SSH
It's time to upload your landing pages and start sending traffic! Download Cyberduck or use any other FTP client if you have a personal preference and open a new connection like the image below: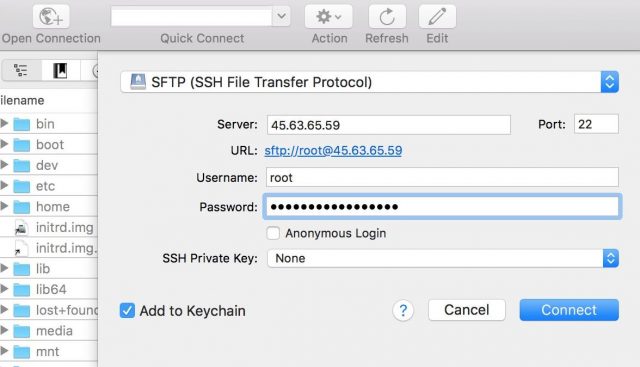 Make sure you setup an SSH connection (secure FTP) which will open the port 22 and write down the IP of your server in the server field. Also write the username and password (you can check them in your server's dashboard) and click connect.
The first time you connect to your server you could receive a message about adding a key to your profile. Click Accept and continue. Now you'll see your server's files as a root user. See image below:
If you don't see the files from above you might be inside an empty folder. Just open the folder selector and go back to the root of your files to see all the OS (CentOS) files.
Now go to the following address: usr/share/nginx/html
And you'll find just 2 files: index.php and logo.png like you see in the image below. You can delete them now.
Now it's time to upload your landing page. You can upload any file by dragging and dropping it from your computer to Cyberduck and name it as you please.
For example, I uploaded a simple lander named ipad.html but you can see I created a new folder named "offer" so I can organize my landing pages by offers, geos or whatever you like. This is a better practice than just putting 1 landing page in the homepage as index.html. You can host hundreds of landers in just 1 VPS if you use folders and organize them.
I can see my landing page already works by going to the URL
http://45.63.65.59/offer/ipad.html
Or if you setup the DNS correctly you could also type your domain:
http://testserver.com/offer/ipad.html
You won't be able to see the lander from the image above cause I already deleted the server but you get the idea. Now you're ready to upload your landing pages and add them to your tracker to buy some traffic!
Additionally, don't forget to keep an eye on your CPU usage and bandwidth stats. This will tell you if your server is capable of handling the volume of traffic you're sending in real time and you can also keep an eye on the bandwidth you're using to see if you'll need a higher plan.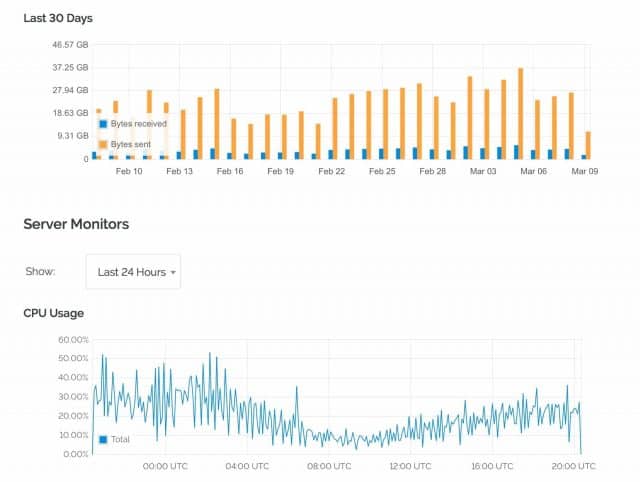 In the image above, you can see a $10 per month server receiving 1 million visits per day with a very light (20Kb) landing page. So far the CPU usage goes up to 40-60%, and the bandwidth consumed is around 600GB from 2,000GB (2TB) available, so it's running fine.
Of course I like to distribute my traffic between several servers in different locations and different plans according to the volume, but you can easily upgrade your plans like I explained at the beginning of the article.
This setup generally works better than using a CDN (depends on the geo) and definitely beats a dedicated server in the USA when you're running campaigns around the globe.
Now go and take some action and I'll talk to you in the next one 😉