Some of my best campaigns have been thanks to running offers in new traffic sources. Because there's less competition, you might reach a new audience not available somewhere else. Sometimes, you can take advantage of the media buying algorithms due to lower CPCs/CPMs, etc.
Push House is one of those networks I've heard mentioned in the forums a few times with good recommendations, yet I never tested them before.
There are too many push ad networks, and you can only focus on some before dividing your attention too much. However, you should give Push House a try if you're interested in push traffic and a few other new ad formats.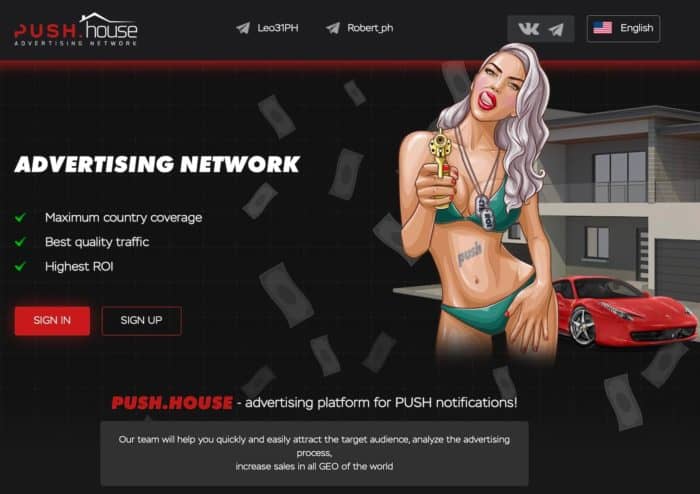 Push House was founded in 2018, so it's one of the networks that got into the push notifications game.
Covering 180 countries and with more than 700 million active subscribers, their main traffic sources are classic push notifications and In-Page Push.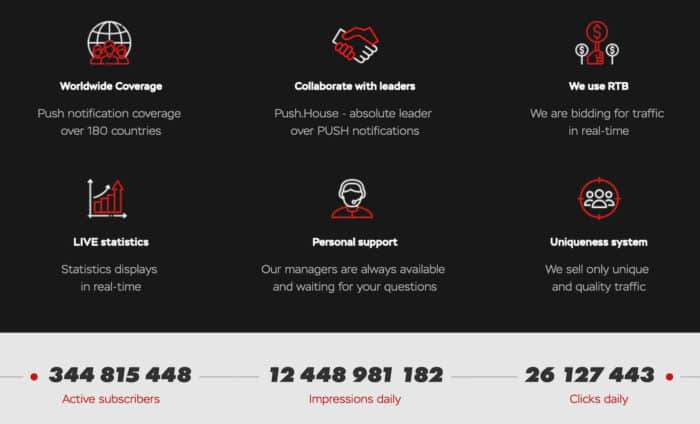 Some of their traffic comes from direct publishers, but you also get access to a database of dozens of external feeds in case you want to scale your campaigns all within one platform.
Push House – Payment methods
Push House accepts payments from various methods, including VISA, Mastercard, WebMoney, Bitcoin, Capitalist, and more. The only other payment method I wish they had is PayPal, and I'm sure many advertisers from other countries would love to have that option available.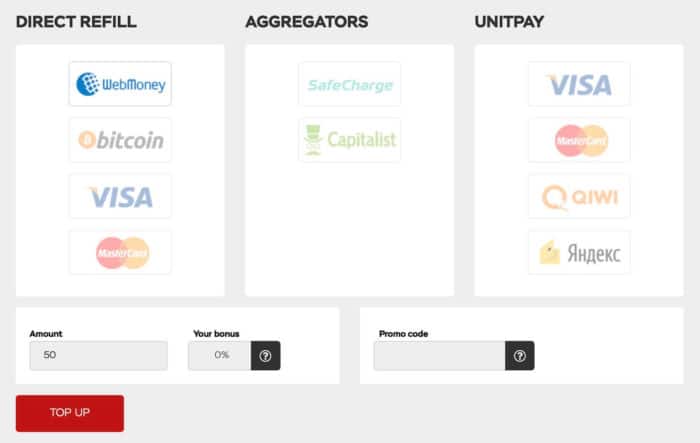 The minimum amount to top up is $50, but you can use the bonus code servandosilva to get a 10% bonus on your first deposit. Sign up here.
This promo coupon has no expiration date and no limits. You can deposit $50, $500, or $5,000, and you'll get your 10% 😉
Available volume and campaign creation
Before launching a campaign, you want to look at the available volumes to plan your budget. Push.House has two main ad formats, Push and In-Page Push notifications.
The ad formats where you can find good volume are PWA and push notifications (classic).
You can check the last 24 hours' stats from the dashboard and plan accordingly as the volumes are different on desktop and mobile. Mobile traffic always has more volume available with push notifications due to Android being the main OS that allows them.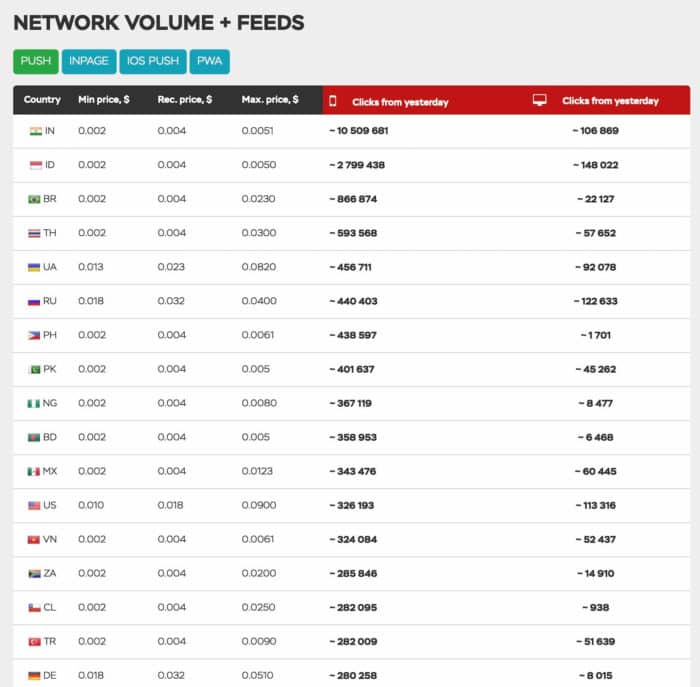 You'll be able to see the minimum, average, and maximum bids and sort them by price or volume in the device you want to run campaigns.
Let's go over the process to create a campaign on Push House.
Click the desired ad format in the left menu and then "create a campaign." You'll now see a menu where you need to input all the essential data of your campaign, including:
Title
Link = your campaign URL
Geo
CPC
City
Devices
Subscription age
OS
Language
Creatives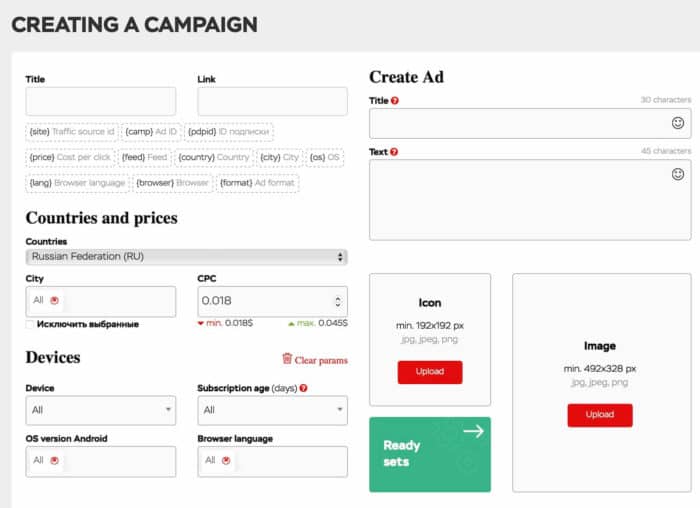 Since you're running push traffic, you'll need to submit a 192x192px icon and a 492×328 image. The icon and the title are the most critical factors of a push notification ad, but you still want to submit a picture in case the notifications are fully displayed on the user's phone.
Another thing you can play with is the subscription age filter. Some subscribers perform better when they've been receiving notifications for less than a week.
As for your campaign URL, you need to input your tracker's URL, including the dynamic tokens from Push House. Voluum already has a template for this traffic source, but you should add as many tokens as possible for each ad format no matter which tracker you use. Feel free to use the same template I'm using below: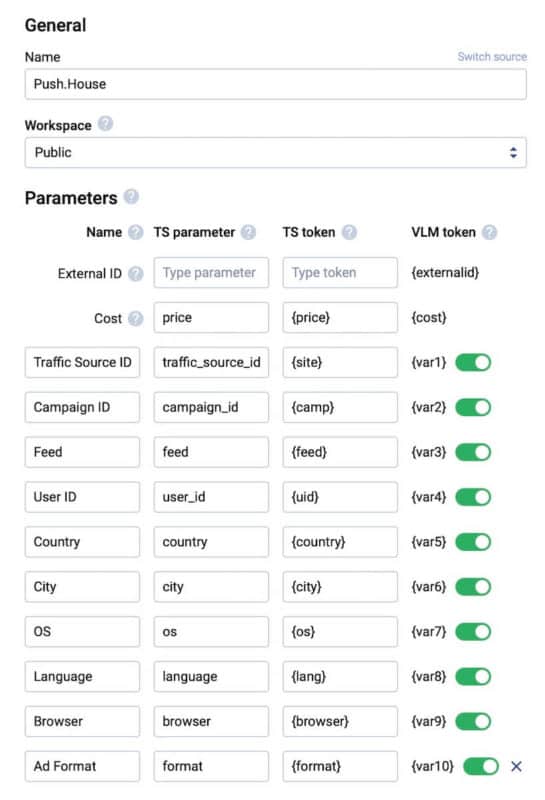 After that, Push-House'll show you a calendar to select the schedule of your campaign. This is useful if you want to daypart your campaign, but initially, I'd leave everything enabled. If your budget is very tight and your running notifications, you could perhaps disable the hours during the nighttime and run traffic from 8, or 9 am to 10 pm. Keep in mind that the timezone is UTC+2, and you need to adapt it to the geo you're going to run traffic from.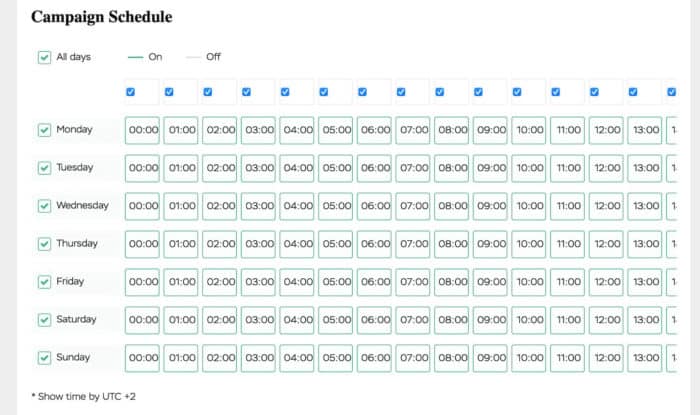 After that, you need to set your ad budgets and filters if you've got any.
It's very important to set a daily budget or daily clicks limit, but considering the nature of push notifications, don't be surprised if your campaign spends a bit more or less than what you set.
Also, you can type an audience or add a whitelist here (that label that is still being shown in Russian below). You can create lists and use them as blacklists or whitelists in the dashboard to reuse them in many campaigns simultaneously.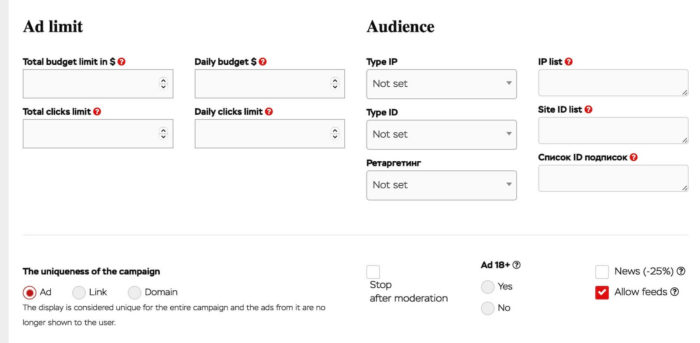 Finally, if you left the "allow feeds" option enabled in the last picture, you'll be able to select from dozens of feeds that will send you traffic outside of the direct publishers from Push House. To enable this option, you must have at least $70 left in your account, as it gives you access to a much bigger traffic volume.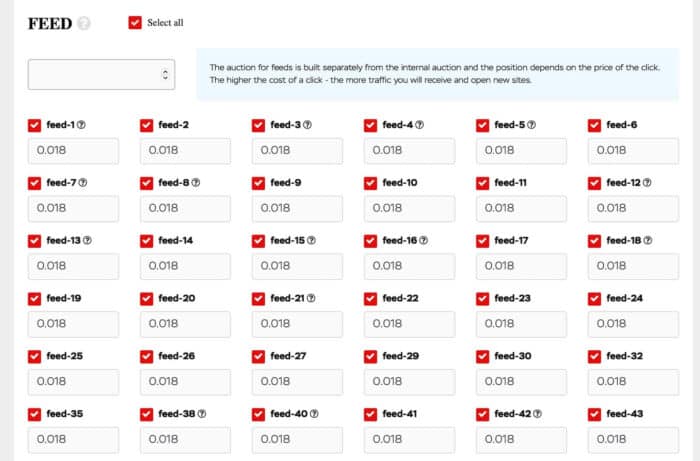 Keep in mind that each feed is a different subscription database, and it contains traffic from various websites and multiple countries. If you hover your mouse over any feed, you'll see a summary of the clicks received from that feed in the last 24 hours.
To track the performance of each feed, make sure you're using the feed token as shown in my Voluum screenshot from above. Otherwise, it will be a mess, and you won't be able to optimize your campaign correctly.
The most critical factor in optimizing initially in your push campaigns are sites. Still, if you notice a feed of websites performing poorly, you can block it altogether instead of waiting for each website to send you traffic.
After getting enough data, check out the browser version, language, and other filters to optimize your campaign.
That's basically how this traffic source works. You can, of course, create campaigns with other ad formats, and the process will be pretty similar, with different tracking macros and perhaps without creatives depending on what you're running.
Take advantage of the lower competition available in this traffic source. If you're interested in giving it a try, make sure you sign up here and use the coupon servandosilva during your first deposit to get your 10% bonus.
Talk to you in the following article!