MOBIPIUM has been one of the top-performing networks for mobile content (mVAS) offers for the last few years. I interviewed them a couple of years ago, but times fly and they have been expanding their verticals as well as improving their platform.
Recently, MOBIPIUM announced an interface update that should give their publishers access to some neat data and extra features to test campaigns. Many networks use widely available dashboards to host their affiliate offers and stats, but others, like MOBIPIUM, develop their own platform to add extra information, features and to make it more unique overall.
If you don't have an account with them yet you can sign up here and get started.
Let's have a look at the new interface.
Quick overview and comparison against past days plus hourly evolution analysis
First of all, we have a revamped Dashboard: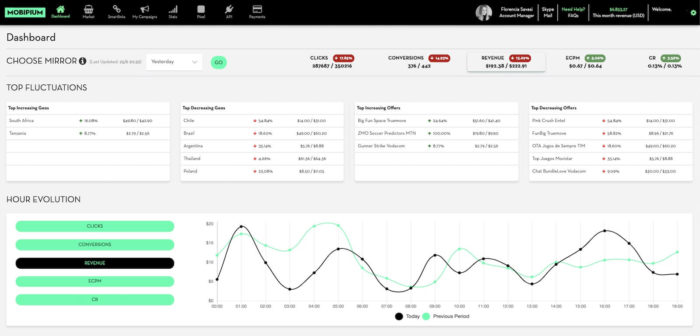 Inside the dashboard, we now have more data to understand what's happening with our campaigns and we can mirror today's results to previous periods (yesterday, 3 days, 7 days, same week) to identify any fluctuations on the geos or individual offers you're running.

Besides that, scrolling down the dashboard we now get an "hour evolution" chart where you can sort via clicks, conversions revenue, ECPM, and CR the data of your campaigns by the hour. and again, identify if there are any patterns worth noticing such as best performing time zones or if an offer went down in conversions or CPM for any reason:

You still have access to detailed stats if you want to check any particular data segment, offer, or geo as you would normally do though: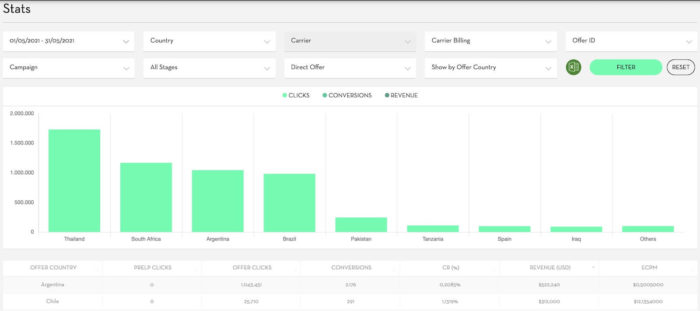 No more top lists needed from your manager
Another thing that was added a few months ago but it's worth noting if you're not familiar with MOBIPIUM is the way you can sort out the offers from the market via different filters. While most networks have this option available, my favorite filter on MOBIPIUM is "revenue".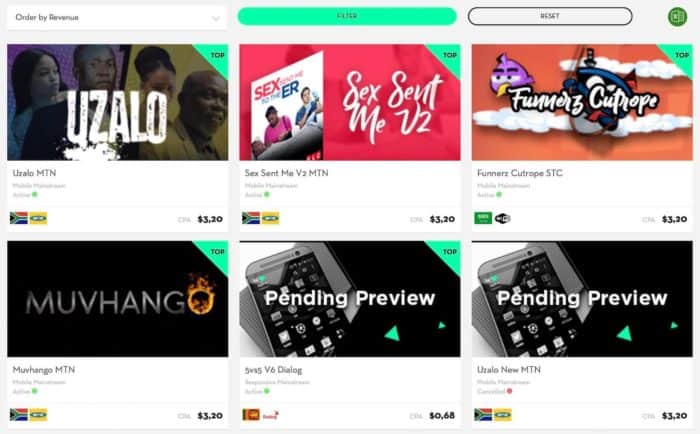 As you can see in the image above, by filtering by revenue, I can check in real-time the top offers in the network, and I can also filter them by vertical, conversion flow, country and others.
This is great as it decreases friction between the publishers and managers (a.k.a. you don't need to ask for top offer reports every week) and there's more transparency. I wish more networks had this way to filter offers.
Pre-landers available right on your dashboard
This is a neat feature just a few networks have available, especially if we talk about mobile content offers and similar verticals. If you're a new affiliate who knows little to no code this addition is for you. You can now select between multiple pre-landing pages and add them to any offer via quick filters.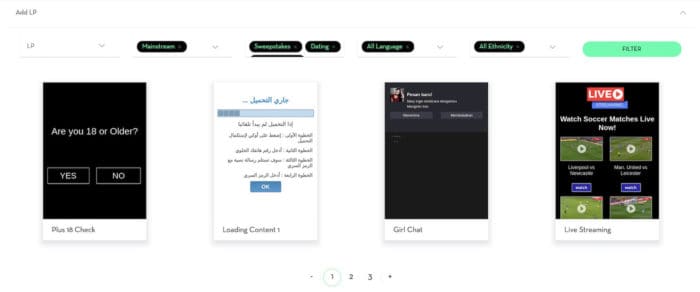 Obviously, I still suggest you learn the basics of HTML/CSS/JS and host your landers in the future, but for quick tests or for any person starting in the industry, the pre-landers can be a lifesaver as direct linking doesn't work most of the time unless your traffic is pre-qualified for the offer.
New Smartlink algorithm
MOBIPIUM is well known for its smartlinks and they keep upgrading its algorithm to achieve the best performance.
You can find anything from adult content, mainstream, entertainment, movies, and variations with or without push notifications (marked as PN) in the smartlinks available to monetize your remnant traffic or anything that doesn't fit your offer's rules.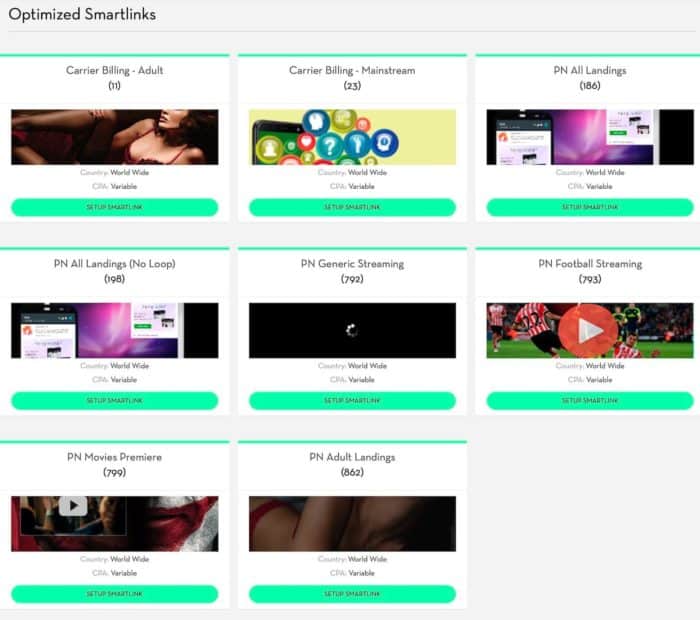 Overall, it might be just small changes but the attention to detail to make our lives easier as media buyers are much appreciated!
If you're looking for some good converting mobile content offers, you should definitely try MOBIPIUM. Sign up here and get started.