I've recently blogged about smartlinks and the importance of working with networks that specialize in some verticals (1 – 3 verticals), so you can get access to a larger pool of offers and better payouts and exclusive offers.
I also talked about the dating vertical, and that one is a vertical with tons of heavy competition (although evergreen) where you need the best offers to be able to compete. Today we're going to be talking about another great network for that vertical that goes even beyond and above by segmenting into different targeted niches. This network is called iMonetizeit.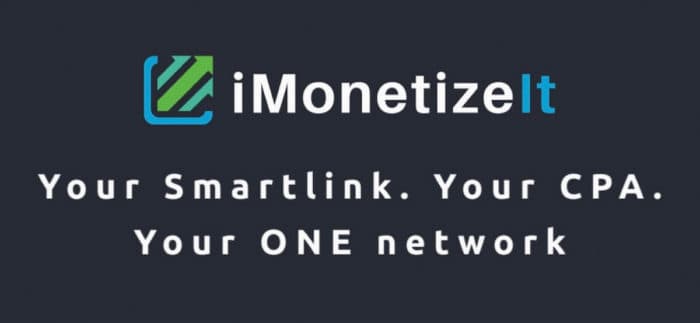 iMonetizeit focuses on dating offers, but besides the traditional dating vertical with email submit offers that appeal to everybody, iMonetizeit segments its offers into different categories, including:
Dating
Niche dating
Mainstream dating
Sweepstakes
x Games
Needless to say, Gambling and sweepstakes might not be from the same segment, but the rest are smaller niches inside the dating vertical that can make you a ton of money and cover other areas many networks don't work with.
All the verticals mentioned above are available in different conversion flows. This includes CPL, CPA, Mobile content, CPS, etc.
And that's exactly what networks that focus on 1 vertical can offer you.
While iMonetizeit is well known for its smartlinks performance in the dating vertical (great for organic traffic), you can also optimize your standalone offers for paid traffic.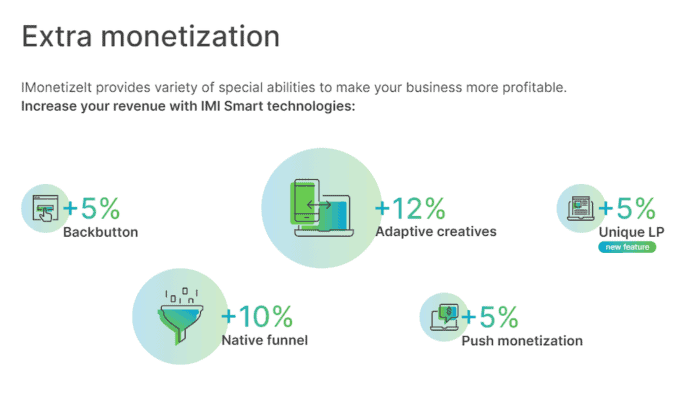 With more than 6,000 offers and 200+ countries available, you will find an offer for you at iMonetizeit.
Once you sign up (click here), you'll find a simple and functional dashboard to check your daily stats and revenue. You can filter them by timezone and dates, and you also have a menu to create smartlinks or promote standalone offers, as well as set up payments and domains on the left side.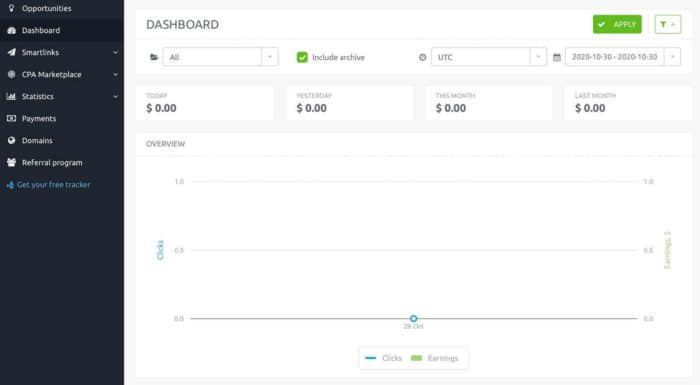 If you go to the offer section, you'll find a list of the top offers, and from there, you can filter them by vertical, geo, payouts, etc.

Once you select an offer, you'll find all the information about it, including conversion type, traffic restrictions, OS, devices, geos, carriers, and the specific payouts and caps for your account.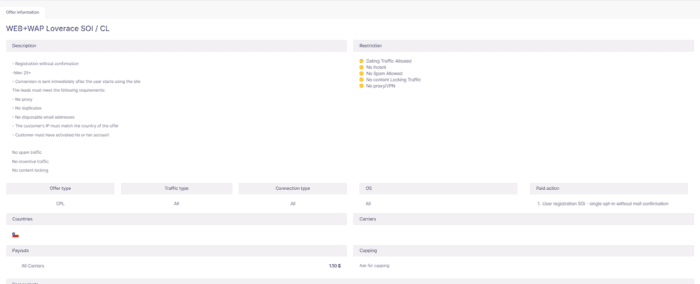 As I said at the beginning of the article, iMonetizeit is well known for smartlinks. You can go to the SmartLink menu and build your smartlink based on your needs. First, you must select a vertical, and then a sub-vertical is optional. Once you do that, you must choose a domain and add your respective tracking tokens (in case you're using a tracker).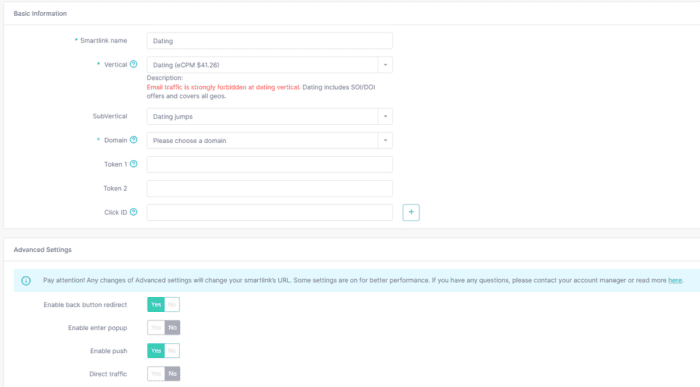 I like that they also have advanced settings to enable or disable different scripts in your smartlink, giving you the power to adapt it to each network's rules, including:
Back button redirects
Enter popups
Exit popups
Direct traffic (this option disables everything else as it assumes you're using your prelanders)
Since you need to choose a domain, first, you need to connect via CNAME, your own domain, to iMonetizeit. This is good practice as it means every smartlink has fewer risks of getting banned or flagged by improper use from one affiliate, affecting everybody else running with the same domain.
As for payments, iMonetizeit has pretty much everything you'd want, with a limit threshold of $80+ depending on which payment method you prefer. You can receive payments via:
Bank transfers (favorite option for mid-high volume. $1,000)
Payoneer (fantastic option for some geos)
Paxum
WebMoney
Capitalist
BTC
Qiwi

I wish PayPal were an option since it's the broadest available payment system worldwide, although we all know their commission/exchange rates suck.
Finally, while I recommend you always talk to your manager when selecting an offer to test, iMonetizeit sends weekly newsletters with top offers in different verticals. You'll get an account manager assigned to your ID, so feel free to ask them questions and get direct support from them.
Last week, for example, they sent an email about their IVR (Click to call) offers. IVR offers are not that common, and I know a few networks that have them or added them in 2020.
But not everything is dating-related. Sometimes you'll receive emails about their gambling offers or sweepstakes like the one below: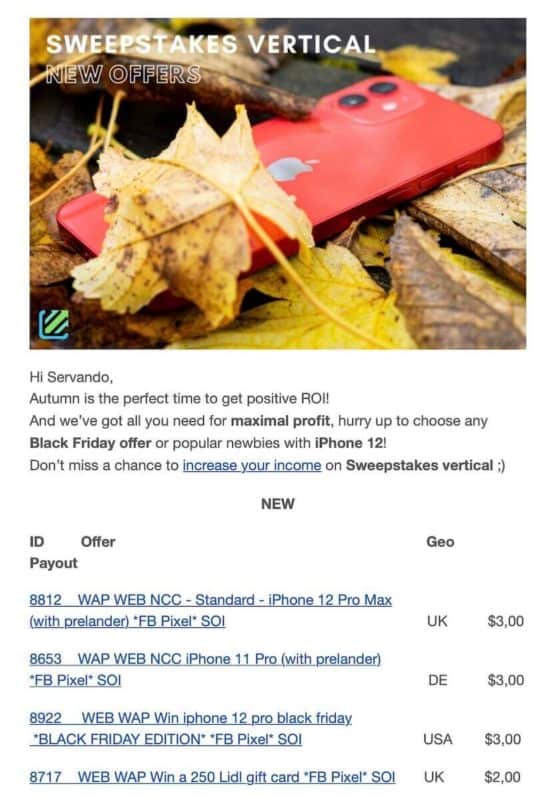 iMonetizeit also has a rewards program, but I haven't been able to put that to the test. I have received prizes from different networks in the past, though, but it's just something I don't focus much on. If you're interested, I asked my manager, and they have a sweepstakes bonus until Dec 20th. You can read the complete information for more details here.
Overall, iMonetizeit is an excellent network to dive into the dating market, and everything related; with a simple but easy-to-use platform and quick payment options, you'll find yourself at home if this vertical is for you.
Bonus: check out the exclusive interview I made with the iMonetizeit team inside the Afflift's forum: HERE.
Sign up here and test their offers. Talk to you in the following article!