I have mentioned a few times before in my blog that running offers from specialized networks that focus on just a few verticals is the best option to get started. You don't want to test offers from a network that's just promoting everything with any competitive advantages (and possibly being re-brokers).
The dating vertical is very competitive itself, and one of the best networks for dating offers that last for months or years with strong payouts and simple conversion flows is ClickDealer. Their dating offers were very strong back in 2014 when I started working with them, and it's one of their top 3 verticals 7 years later.
Today I'm going to show you the steps I use to launch a campaign with the potential to be profitable after a few days of optimization. Let's get started.
How to select top converting offers
First of all, you need to select a few offers from the network to test and promote. ClickDealer has thousands of offers so you don't want to go and pick some of them randomly. You also want to avoid the same error many rookies do, which is selecting offers based on the design and offer page they think converts well just "by the looks".
Sign up with ClickDealer (use this and tell them you come from this blog to get approved quicker) and hit your affiliate manager with the following information to get a detailed answer:
Your traffic source: tell them you're going to run push traffic. No need to mention the traffic source name
Your desired vertical: ask them for a list of top offers in the dating space. Many times you won't get a detailed list with EPC/CR, etc when you're a new publisher, but at least you'll get a 5-10 offers list on Skype.
If you can, mention the countries you want to test or the languages you can work with.
Ask if the offers have any cap or how many leads should you send per day initially while testing. This will help them understand that you know what offer quality is and you want to send them good traffic that converts into sales.
They might take up to 24 hours to come back with this data, and now it's time to launch a campaign.
ClickDealer provides you with a great variety of offers in the dashboard. You can filter them by vertical and country and see all the conversion flows and payouts to pick one: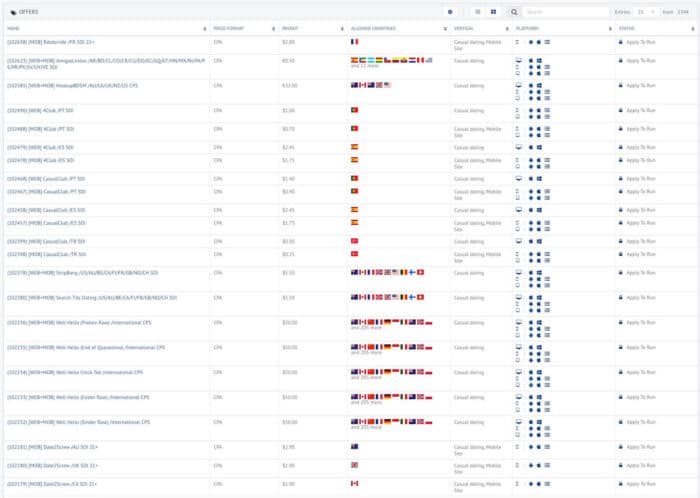 I choose this offer below as an example and I know it's a top offer on ClickDealer at the moment. Let's have a look at it.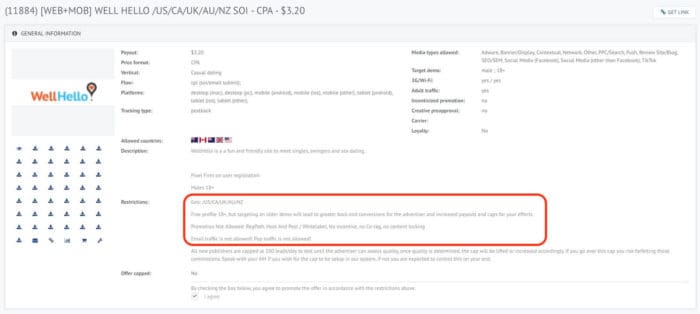 This dating offer accepts mobile and desktop traffic from tier 1 countries: CA, US, UK, AU, NZ, and converts with an SOI email submit.
Make sure you check the restrictions I marked in red. The offer doesn't allow pop/email traffic. The rest is game. Push notifications could work for this offer as long as we use landing pages.
Go grab your tracking link from the offer and make sure you select the media type (banner is fine if you're running in page push or web push). It's important that you specify a media type as close as the one you're using and being as transparent as possible because ClickdDealer loves getting high-quality traffic but they need to avoid fraud traffic or publishers.
By selecting the correct media type and talking to your manager they can help you get better results much faster and give you personal recommendations as well.
Add your click id as usual from your tracker. Use the s2 parameter for dynamic tokens like click IDs.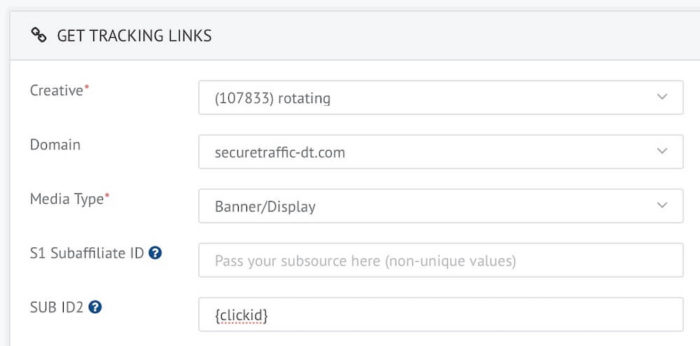 Now I'll set up my offer and campaign in my tracker as I explained in this guide. If you're new to tracking make sure you understand how everything works and follow that guide or any other guide/documentation depending on which tracker you're using to set up everything correctly.
An important note here: While most offers just have an offer page or 2, some offers have different offer pages (different designs or flows) to test. This is very common with dating offers and it's something you should split test as sometimes one page will convert much better than others.
This dating offer has a couple of dozen variations, which might be too much for your budget. I recommend you to pick up 3-5 offer pages and split test them in your tracker. Or even better, go ask your affiliate manager if any hot offer pages are converting right now. They might tell you the top 3 converting ones and you can use that as an initial metric, but ultimately it's good that you test the rest if you notice the campaign has the potential to be profitable.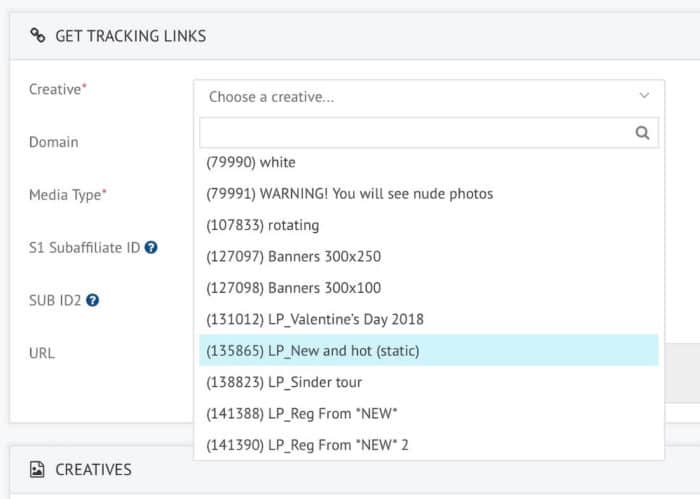 Now that you've set up your tracker, it's time to select a traffic source to promote your dating campaigns. We're going to use PropellerAds to buy traffic from push notifications.
The traffic source
If you don't have a PropellerAds account yet, sign up here and you'll get faster approval as well.
PropellerAds has 2 different types of push traffic. While they look very similar, they work and perform quite differently.
The first one is regular web push traffic, based on a database of push notification users directly from the browser. The user receives notifications even if he's not browsing any websites straight to his/her Android device.
The other ad format is in page push: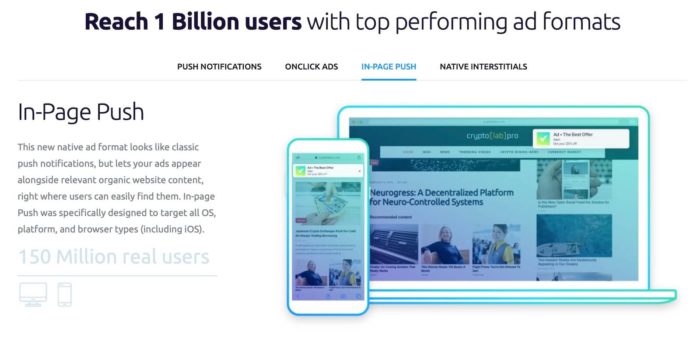 In-Page push is a mimic of push notifications but works like banner traffic. The look and feel are very similar, but this ad format doesn't rely on a database from the browser. Because of this, the user can only see your notification banners when they're browsing a website.
However, this ad format works on all devices, including desktop and iOS, which means you can get decent volumes and since the banners are only displayed when the user is surfing a website, you don't get as much churn as you do with web push notifications from users getting 10 messages per day for weeks or months.
Before launching a campaign I like to check out the volumes available per country. You can do this in the "traffic planner" inside your account's dashboard. This is important because you don't want to mess up with super small geos that only spend a few dollars per day, making it impossible to optimize or scale up your campaign later.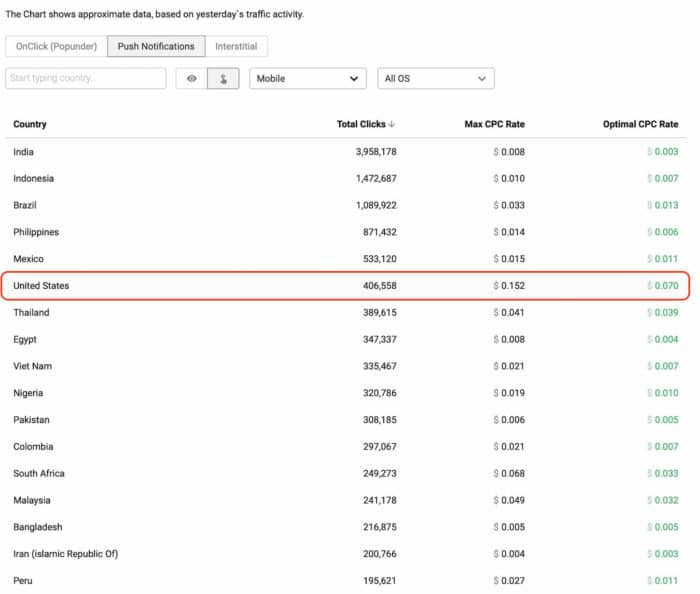 The USA is one of the top volume countries in most traffic networks though, but if you're running in a small tier 2 or tier 3 country you might find volume issues.
Just to give you an idea, if you multiply the number of clicks received yesterday in the USA (406,000) by the average CPC (0.07) you can easily know the traffic source is spending around $28,400 per day from push notifications in the USA alone. If you can get 10% of that traffic you're spending almost $3,000 per day. Even if you just buy 1% of that, you're spending $300 per day, which is fine to get started.
Some countries won't spend more than a few hundred dollars per day and if you buy 1% of that, well… you do the math…
OK, now that you've validated your market size and selected a few offers to test, my last step is to do some market research and analyze the landing pages and creatives people are using to promote these offers. Also, it helps to validate the market again just in case.
Market research and validation
To do market research on push traffic, I use Anstrex, the spy tool. Anstrex has a very reasonable price and it has, in my opinion, the best coverage for push notification traffic.
What I'd do is go to Anstrex and set the following filters:
Gravity (desc)
Country (the country you're aiming to run campaigns)
Ad network: PropellerAds or other if you want to test another source
Affiliate network: ClickDealer

The affiliate network filter at the end is optional for me because many networks might have dating offers as well. While you want to run the best offers from a strong network like ClickDealer, you want to see the creatives affiliates are using for any similar offer in the dating space.
Now you can either search b keyword or just scroll down and take a look at the creatives and landing pages people are using for dating offers. Here are a few examples that have performed well this year:

Keep in mind PropellerAds has creative restrictions to avoid people promoting adult content. As you can see from the creative examples, you can show pictures from women, but you can't show nudity or anything like that.
Check out how some of the creatives attack different angles:
(3) Messages sent from Patricia
Top niche dating sites (listicle)
Jenny from Queens wants to meet
Carol says you're cute, is it weird?
I won't tell your wife…
The photos also look amateurish and not like photos from supermodels. Make it look like a real person with their phone took a selfie.
Now let's have a look at the landing pages people are using: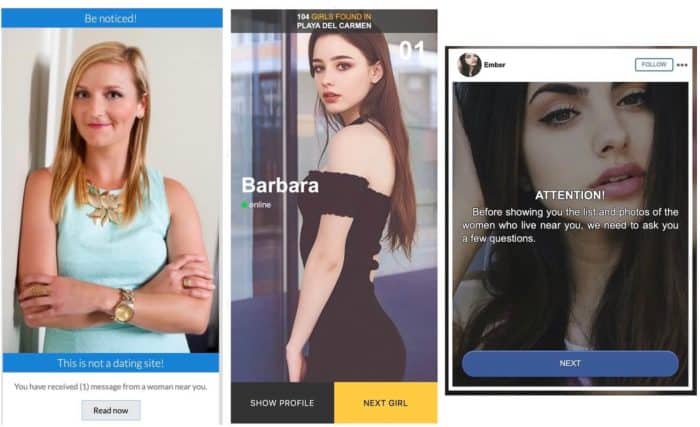 The landing pages always have a few questions or surveys to filter the traffic and interests. If people are interested enough to go through 4-5 questions, they might have a better chance of signing up and being quality leads.
Again, even if those are dating offers, there's no nudity or too much skin being shown. If you want to run more aggressive creatives move to another traffic source like Zeropark, EVADAV, or Exoclick. Propeller only works with mainstream traffic.
Download a few landing pages and add them to your tracker and you're good to go. I'd recommend testing 3-5 landing pages as well as 3-5 offer pages at the beginning. Also, try to save some of the creatives (icons and texts) from above as you'll need them for push notifications.
It's time to launch your campaign in the traffic source!
Campaign Optimization – What to look for?
When launching a new campaign you need to understand the budgets you set are based on the offer payouts and the number of factors and variables you're testing.
With push notifications traffic, I like spending 5-10x the offer payout minimum while running tests. If the offer we saw above pays $3 per conversion, I'd ideally spend at least $15 to $30 in 1 day to test it.
If the offer starts converting, keep in mind you're also testing 3-5 offer pages, 3-5 landing pages, and 3-5 creatives initially, thus your budget can be easily 10-30 times higher and that's fine as long as you're getting conversions.
If you don't get any conversions initially after 10x spend, I'd probably pause the campaign and test a new one.
However, if you're getting some conversions, let the campaign run for a few days and start blocking everything that doesn't convert or converts at higher prices.
Zones: pause every Zone ID that spends more than 1x the offer payout ($3) and doesn't convert
Creatives: pause every creative that doesn't convert after 5x the offer payout, or faster if other creatives are getting a ton of conversions
Landing pages: same filters as creatives
Offer pages: same filters as creatives
In the end, you might end up with just 1 or 2 offer pages, creatives, and landing pages that are bringing the most of your conversions, and your ROI should go up considerably after a few days.
In terms of ROI, if you're testing a ton of variables like in this example, you might start with something like -80% or -70% ROI and work your way up once you choose the best performing variables.
If you're just testing a couple of landers and creatives though, you want to see somewhere around -50% ROI initially and optimize your campaign by blocking zones and testing more landers/offers/creatives later. If your ROI is too low and you don't have many variables to test, your campaign will be very hard to optimize to profits.
If none of these conditions are met, or if you're not getting any conversion, it's time to drop that offer and test a new one. Don't fall in love with your campaigns until you go broke. Move fast and test new things.
That's it.
This is how I test campaigns pretty much in any vertical and traffic source, except for a few variations, of course. Now go and launch your first campaign and please leave a comment if you have any questions below!