Hint: It's not by filling CPA offers with your ZIP code 😉
Happy new year everybody. I've been busy working and traveling the last month, but here's a small perk of being a paid traffic affiliate. If you're doing SEO or just getting paid based on free traffic this tip won't work, but if you're using paid traffic get ready to get some free stuff like I did.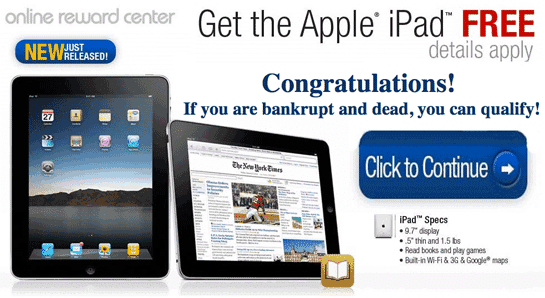 OK, so it's not about filling the CPA offers by yourself and participate for a free iPad. I want to make that clear.
One advantage paid traffic affiliates have is that they have to buy traffic. How's that an advantage? Well, basically you're investing a lot of your money on marketing to get visitors to your offers and make them convert.
How do you pay that traffic? It can be via wire transfers, paypal, paxum, credit card, etc.
How many of you pay with credit cards or Paypal-> credit card gateway? I'm sure a lot of you guys do. So why not put that money to work the same way the Bank does?
If you're running at least 2-3 figures per day on credit card the sum quickly adds up every few months. So make sure to call your bank and see what kind of rewards and points programs they have in place. If their rewards program is shitty fire up Google and research which are the best credit cards for rewards and points in your country and get one.
Especially in Christmas time or other especial days many banks double or triple the points they give you and you can hit it hard.
In my case, there are a couple of recommended banks and I'm using one where they have a whole year rewards system but they triple the points from November-January so they can get you to spend more money with them. I used their credit card hard while buying 4 figures per day traffic and got a lot of free stuff just because of the points:
1 iPad Air 2 64GB Silver
1 iPad Mini 3 16GB Gold
1 iPad Mini 3 16GB Silver
1 free flight up to $500 to take my girlfriend to some nice vacations
1 iPad Air 2 128GB Silver
$500 gift card for Walmart
Just in time for Christmas 🙂
Even if you're spending 2-3 figures per day you could get a free iPad at least. Can't complain about free stuff, right?
The overall value of  the rewards I got is around $3,000. So what I did is to give away a couple things to my family for Christmas and sold the rest through eBay as I can't imagine myself using an iPad (even less 4 iPads!). I prefer using my iPhone + Macbook combo for work instead.
So remember, if you're going to pay a lot of things, make sure you put your money to work and get the best out of it. Consider the rewards systems to be an added ROI in your campaigns 🙂 no matter if you're on positive or negative ROI.
You can also do the same with your earnings in your bank account. Instead of letting them sit there and get devalued year after year (Mexican currency lost 35% of it's value against the USD this year and many other countries are in the same position) invest that money so you can make something out of it even when you're not "using it".
That's all folks.
P.S. I didn't write my Affiliate World Asia experience but now that I've got a backup of all the photos I'll write about it next week. Sorry about that…