Galaksion is one of the traffic networks I've been waiting to test after reading some great comments and follow-alongs at the afflift forum. But for some reason, I never got to it due to my hectic schedule.
Galaksion has been operating since 2014, and they have high-quality traffic without intermediaries, something we affiliates love to see in this industry where there are a lot of brokers. They operate as an SSP (Self-service platform) where you can create your campaigns and optimize them using different tools to achieve profits. Let's have a deeper look.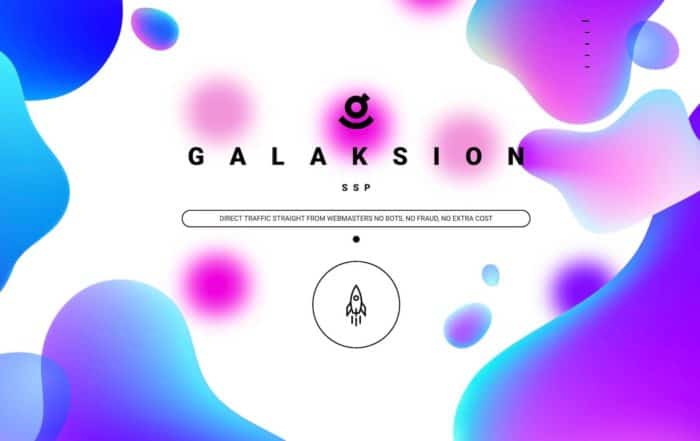 First, you need to sign up and create an account. The signup page is straightforward, and the process only takes a minute or two. After that, you'll need to confirm your email, and your account will be ready to go.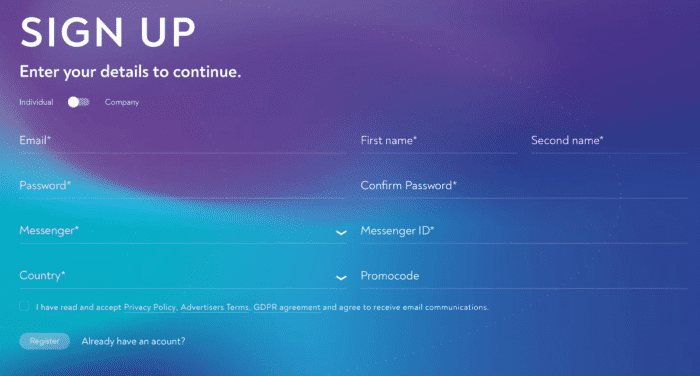 Make sure you add the Promo code SERVANDO15 to get an extra 15% on your first deposit.
Once you have an active account, you can log in, and there you'll find an easy-to-understand dashboard with all the menus and data you'd expect to see from a traffic source.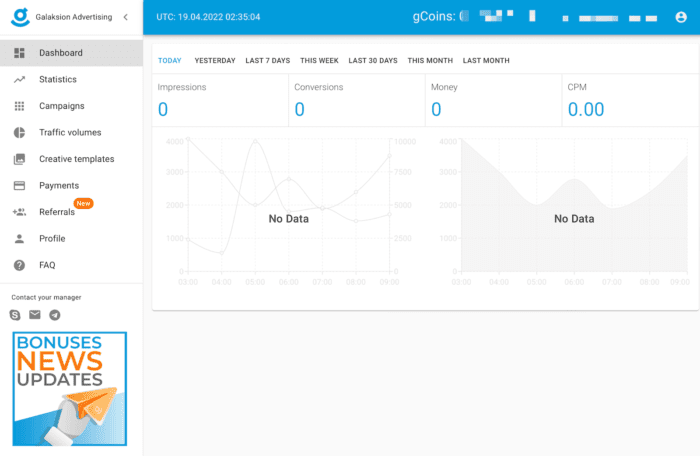 Payment methods
Before launching a campaign, you'll need to top up your account. Galaksion supports multiple payment methods, including:
Webmoney
VISA
Paxum
Wire transfers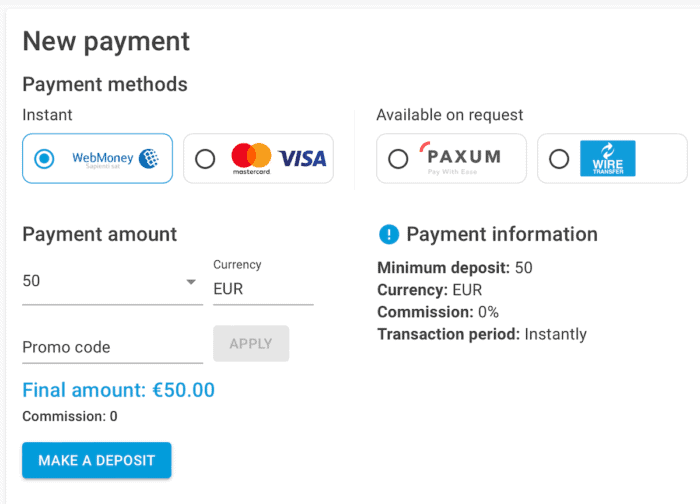 The minimum deposit amount is 50 euros, which is excellent for people who want to give it a test but don't have $200-500 to get started. The only payment method I'd like to see in the future is PayPal.
As for the promo code, you don't need to enter it here again, as you already used it on the signup page.
Traffic estimator and creatives database (Galaksion)
Once you've topped up your account, it's worth looking at the traffic volume available for each ad format and geo. Go to the "traffic volumes" menu, and there you can filter the stats by country, OS, and the desired ad format. You will also be able to check the recommended CPM.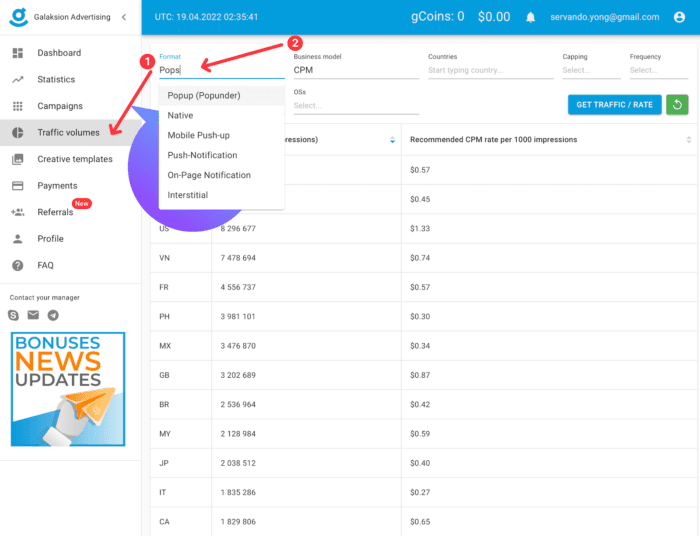 Galaksion has traffic available in about 160 geos. Here are the main locations:
Asia: ID, IN, MY, PH, TH, VN, SG
Arabic geos: AE, SA, KW, EG, PK
Tier-1: US, GB, CA, AU
Europe: IT, FR, ES, DE
LATAM: BR, MX, AR, PE, CO
Africa: ZA, NG, EG, DZ
CIS: RU, UA, KZ, BY, UZ
Another thing I wanted to mention is the database of creative templates since this is something I've never seen in a traffic source before.
Here, you can find multiple creatives that have already been tested for push notifications, native, and on-page push notifications. You can also search by keyword, select a category, and filter by country and platform.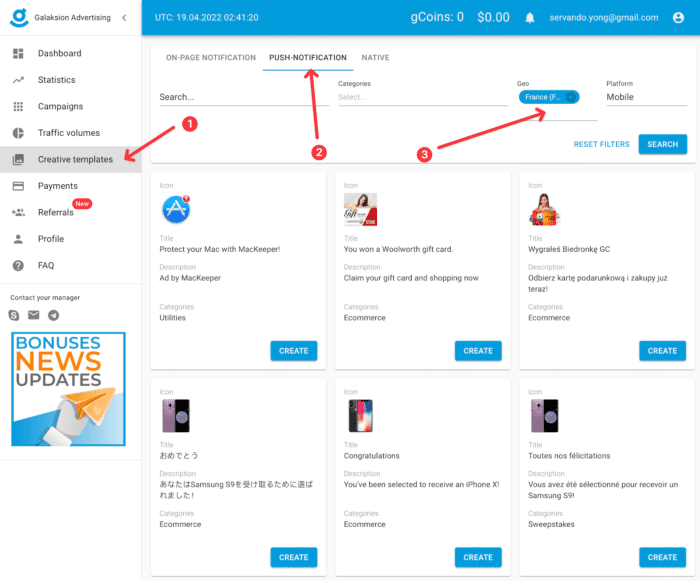 While this database won't be as extensive or detailed as a spy tool, it's worth looking for people with tight budgets to give you an initial idea of the creatives used in each geo. And it's completely free!
What can we promote with Galaksion?
Galaksion has a set of multiple ad formats available to buy traffic from. Here's the complete list:
Popup (Popunder)
Push-Notification
On-Page Notification
Native
Mobile Push-up
Interstitial (new 2021)
Unlike many other sources with pop-under or push notifications, you'll find a few extra options to test or scale your campaigns with Galaksion.
Some of the best offer categories and ad formats combinations lately are:
Push: e-commerce, utilities, nutra, apps, browser extensions, sweepstakes, dating, finance
Native: e-commerce, nutra, games, dating
Popunder: e-commerce, utilities, browser extensions, apps, VPN, sweepstakes, games, online cinemas, and music apps, push subscriptions
On-page: utilities, nutra, apps, browser extensions, sweepstakes, dating, finance
As you can see, multiple combinations work for you as an affiliate. Grab your offer link and a few landing pages, and create a campaign!
Creating your first campaign on Galaksion
Creating a campaign is pretty simple here. The UI is fast, and you have to fill out a few forms to send for approval.
First, you'll see this menu where you'll have to enter the basic data of your campaign.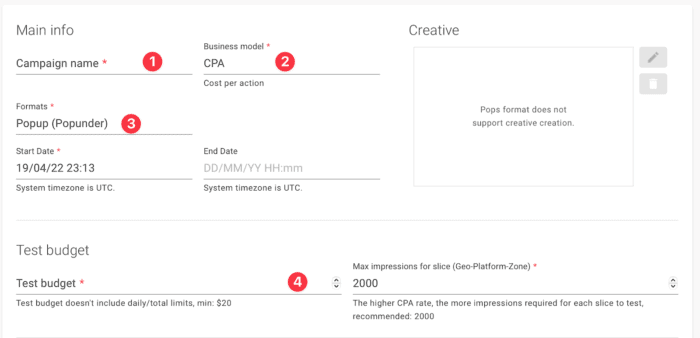 Campaign name. Keep it clean and organized.
Business model, which I call the bidding model. Here, you can choose different bidding methods such as CPM, CPA, and CPC in some cases.
Then you have to choose the ad format you want to use to promote your offer.
Finally, if you're running a CPA campaign you have to set a test budget.
There's an additional option to add creatives if you run push, interstitial and native campaigns.
A quick word on the CPA pricing model:
CPA bidding is available for Push and On-Page Notifications along with Popunder and Interstitial. With CPA bidding, you only pay for conversions if you find a well-performing campaign.
How does it work?
You will be asked to define a test budget when creating a campaign. The testing budget is used to cover the cost of the test or simply to cover traffic costs. After the test finishes, Galaksion will charge money from your regular balance as the campaign generates conversions.
Galaksion blocks the test budget on balance until the end of the test (the minimum amount of the test budget is $20 for Popup/Popunder campaigns and $10 for On-Page Notification or Push-Notification campaigns). If the test is successful, a part or all of the budget will be returned to the balance. The success is determined by the presence of conversions at a competitive price, which depends on the specified targeting settings.
In my opinion, CPA bidding is excellent for testing campaigns that are already working on other traffic sources or moving proven campaigns from CPM to CPA bidding. CPA bidding puts the algorithm to work for you, but the test budget is there to protect the publishers and get a sample of your conversion rates before spending more money.
Now that we have gone over the bidding details, let's move down to continue our campaign creation. Now you'll have to select different filtering options, as shown in the following image: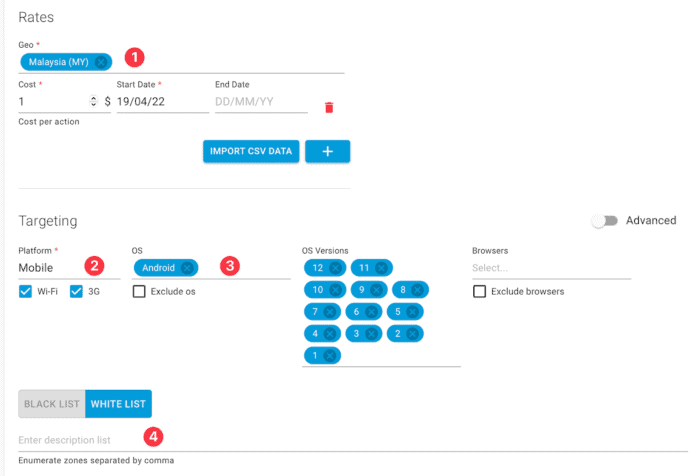 Geo or country. 1 per campaign is recommended.
Platform (mobile or desktop, Wifi or 3G)
OS (Android, iOS, Windows, Mac, etc.) and browsers.
Whitelisting or blacklisting zones (websites)
I usually ignore the start and end dates as I want to run my campaigns forever as long as they're profitable. And for the zones, you can leave them blank until you gather enough data to start optimizing your campaign.
If you click the "advanced" switch, you will have a few extra targeting options, such as:
Region
City
Time targeting
Frequency cap
Mobile Operator
Finally, let's scroll down to the last part of the campaign creation menu. Here you will need to set budgets and your tracking link.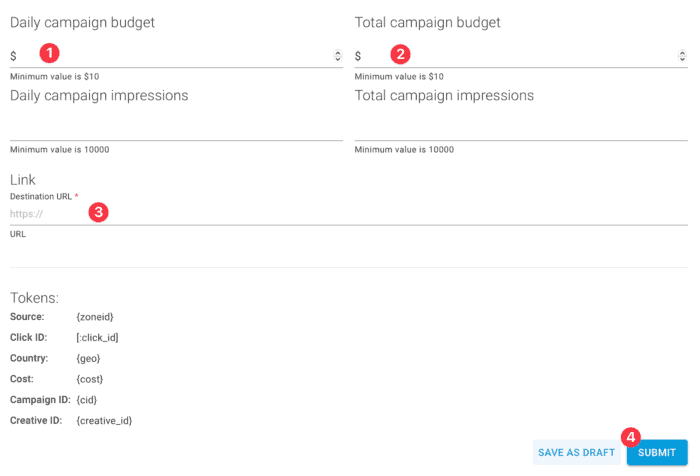 Daily budget (very important if you don't want to drain your account)
Total budget (I usually set a very high number like $10,000 to make the test. You can control your daily budget anyways)
Link URL: Here goes your tracking link
As you can see, I don't set an impressions cap, but you can do that or just set a huge number and let the budget cap the traffic.
Before submitting your campaign, you'll see the tracking tokens available to optimize it. Add them to your tracker's template or create a new traffic source just like I did here in Voluum: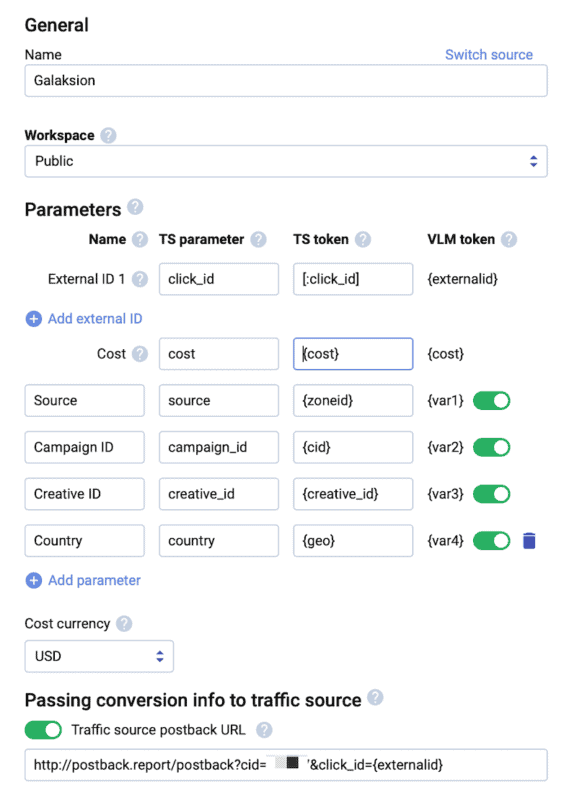 Galaksion allows you to track sources, countries, creatives, and campaign IDs. Most of your optimization will be done on the sources side and maybe OS/browser, but you can track that without additional tokens.
Don't forget to add the cost, click ID tokens to track everything correctly in your tracker, and pass conversions back to the traffic source if you're running CPA bidding campaigns.
Other than that, if you're running push/interstitial/native campaigns, you can also optimize your campaign by creatives. Galaksion allows you to upload up to 10 creatives to A/B Test. You can manually block the worst-performing ones or let the system do it with auto-optimization by identifying the creatives with the highest conversion rate and CTR.
That's pretty much it! The approval process usually takes less than 1 hour on weekdays, and you can track your moderation status in the "campaigns" menu.
Galaksion Bonus programs
Before closing this review, I want to mention that Galaksion also has some bonus programs for its advertisers. The referral program gets you 3% of the ad spend for every advertiser you send, and this bonus is credited to your monthly balance every month.
Your referral will also receive a 10% bonus if he replenishes the advertising account within 24 hours of registering.
Another program is the Galaksion Advertiser League. Every month, Galaksion launches a new "mission" on the platform, and advertisers are welcome to accept the challenge and fulfill the conditions. You get rewarded in gCoins (Galaksion coins) that can be saved or spent in the gift shop for rewards, such as a smartphone.
And there it is. Now that you know how Galaksion works, give it a chance and scale up your best campaigns using multiple ad formats. Make sure you add the Promo code SERVANDO15 during the signup process to get an extra 15% on your first deposit.
Talk to you later!