Hello guys. I have worked with several mobile and not 100% mobile networks and Mobicow has been a network I've heard around a lot, so I decided to contact them, test their traffic platform and write this little article for you.
If you haven't heard about Mobicow, they're a 100% mobile ad network with a reach of 100+ million visits per month. For mobile ads it's a great traffic source to get started.
Mobicow Ads
I first heard about Mobicow while browsing the AffiliateFix forum and after a few months I decided to give them a test as I know many affiliates use them as a testing ground to try new campaigns.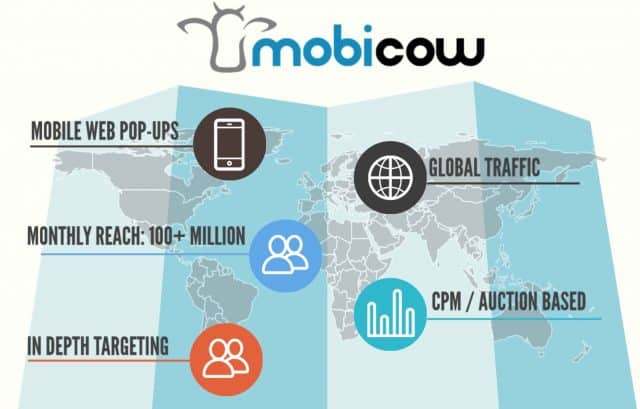 Mobicow has global traffic and they work on a CPM auction based format. That means you set a bid (e.g. $3 USD) for every 1,000 impressions.
Do you need banners for those impressions? NO!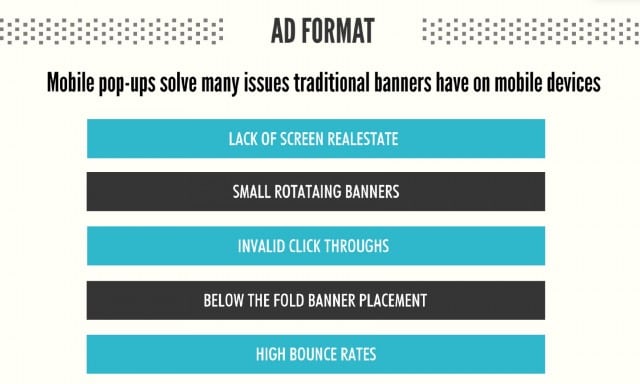 As you can see, Mobicow focuses on an ad format that's widely popular: pop ups. Pop Ups might be less targeted than banner ads as people don't click banners to get to the lander, but it solves other issues like lack of real state (especially in small devices) as you get full visibility while promoting your offers.
Also, you don't get to mess up with banners when you're running pop traffic, which means 1 less variable to take in count when launching and optimizing campaigns.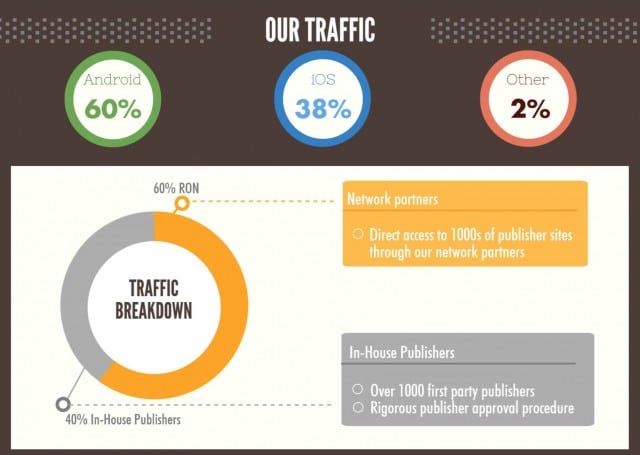 Mobicow's traffic is mostly composed by Android and iOS users, taking up 98% of their traffic. They have in-house publishers (publishers that signed up for a Mobicow account) but also access to several thousands of publishers through other networks.
I recommend running RON traffic with both sources and just filter the sites that don't work for your campaign.
How do you filter sites?
Mobicow provides 5 dynamic tokens so you can track your campaigns. They also have a postback URL in case you want to pass back conversion data. All this info can be found after creating your first campaign in their dashboard.
Here's how I setup Mobicow with Voluum: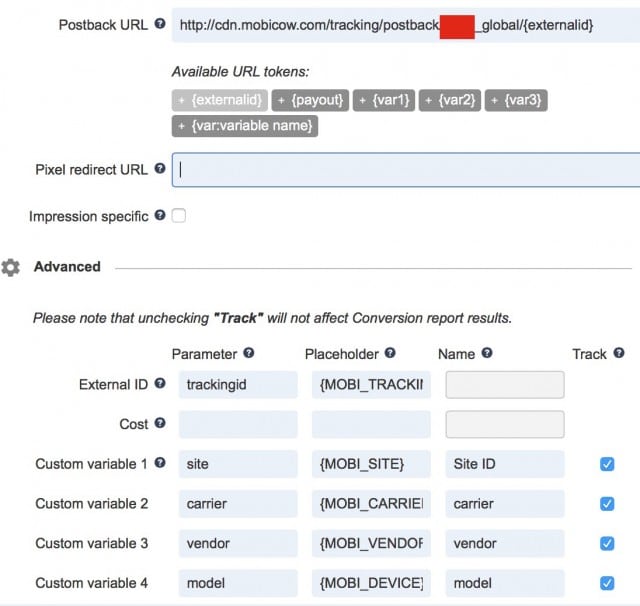 Create a campaign in Mobicow (Step by Step)
After signing up (click here) you can log into the advertisers dashboard which has got a very simple UI as seen below. Here you can check the number of campaigns, your funds and even the number of conversions in case you're using their postback conversion tracking.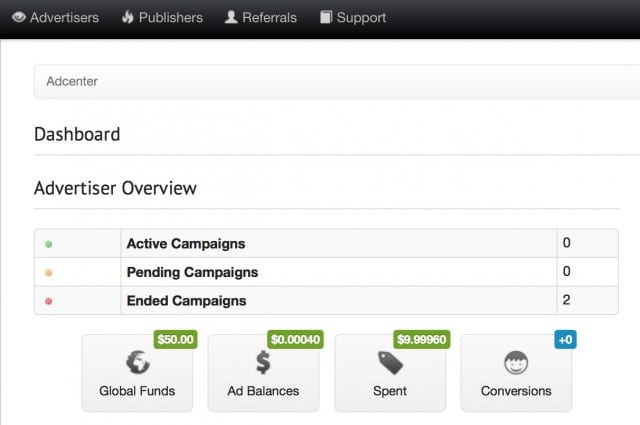 In the left menu you'll find your way to create campaigns which is just as simple as giving the campaign a name (for your own reference) and the URL (Pop traffic doesn't require banners) with all the tracking tokens included.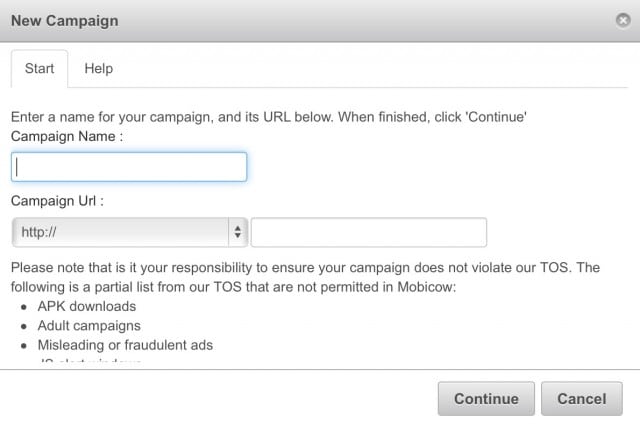 Once you've created your campaign you need to fill in some more details including the desired bid (Mobicow recommends you an optimum bid to get traffic) and your daily budgets. They send a weekly newsletter every Tuesday where you can see the top countries and the average bid for both Android and iOS.
Mobicow also has "frequency cap" and "Carrier traffic only" options which can be very handy depending on your campaigns.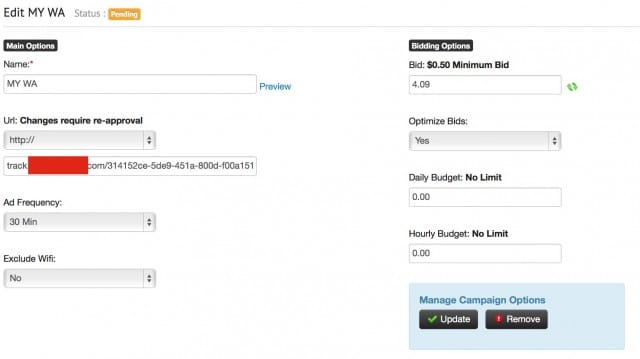 Scrolling a bit down you'll be able to select your desired country, city, devices, vendors, OS and Carriers. Also, you'll see they have a site targeting option which will become crucial once you start optimizing your campaign.
I can't really think of anything else I'd like to see here except for OS versions and maybe categories for their publishers.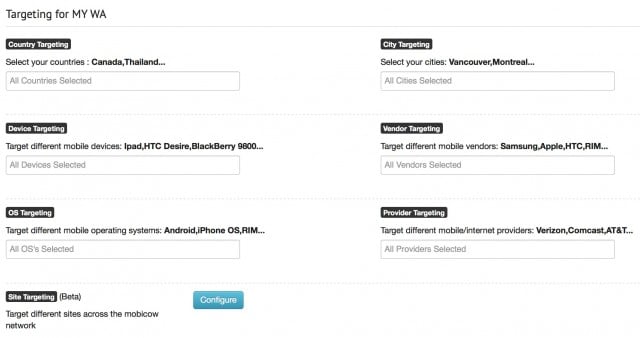 Interviewing Mobicow's head of Development
Now of course, what we all want to know is if you can make profitable campaigns with Mobicow as mobile affiliates, don't we?
I went ahead and asked several questions to Dominic Desjardins, co-founder and head of business development at Mobicow. I asked questions we all as affiliates would like to know before launching a campaign, and here's what I got back (thanks Dominic for your time!):
1. Do you have a table of the daily/weekly or monthly available traffic in your network?
That's always good to get started. For registered Mobicow advertisers, we provide with a real-time traffic report from the ad center. It's not displaying all the traffic we have access to (only the up-the-minute impressions that has been delivered throughout the day). As for example, we have access to 5 to 8 times the traffic shown on this report.
2. Aside from the Tuesday top 5 countries, do you have another table with estimated Bids (CPM) for the countries on average?
This can also be found in the real-time traffic report. eCPM (suggested bid) with breakdown per Country, city, device model, OS, carrier.
3. Most of your traffic comes from Android and iOS but many countries have traffic from feature phones, BB, WP, etc. Why is that?
We offer publishers (website owners) the ability to monetize all OS (iOS, Android, BB, WP) and we do have some traffic from these OS as well but the demand is not there, at least not as much as iOS / Android. This results in not seeing much imps from the other OS.
4. What kind of offers could work well on your network? What kind of niches have you seen working better? 
App downloads (games, utilities, others), PIN submit, lead gen, sweepstakes.
5. Do you have any specific rules on which offers not to promote? (anti-virus, WhatsApp, sweepstakes, etc.) 
No misleading ads (such as anti-virus that tells user they might or have a virus), no adult, no "auto-download" APK, no JavaScript alert windows, no tech support type of ads.
6. Do you allow app installs, pin submits, email leads and other types of offers in your network? 
Yes, we allow all these. App downloads are allowed through landers OR app store redirect.
7. How much per day could I spend in any of the top 5 countries if I was buying almost all the traffic available? Could a $500 per day campaign (spent) work on your traffic, or perhaps even more? 
More, I'd say anywhere between 2000$ to 4000$ but this is a hard question since we are RTB structured. The highest paying advertisers get majority if not all the traffic. The advertiser that wants to buy ALL traffic will need to bid high and adjust his bids according to the fluctuation. We've seen a lot of advertisers wanting to spend a lot more but their bids set at 0.50$ for US when the eCPM is at 3$ (this is an example). Also, we provide in-depth targeting features such as carriers, exclude Wi-Fi, device models, etc. so the narrower the targeting, the less volume an advertiser should expect, however, lower volume well optimized will bring great CR/ROI.
8. Since you use pop traffic, we don't need banners, correct?
Correct, no banners to upload. We use the tracking URL from performance networks (CPA), the website URL, the landing page URL OR if the app is promoted directly from the app developer, we have market links.
9. Do you have more traffic from in-app, or is all from mobile websites? 
No app traffic. Just 100% mobile-web
10- What's the minimum deposit to get started? 
$5 and the payment can be done via PayPal, credit card, wire and check.
Thanks a lot for your answers again, Dominic. This should clear out almost any questions other affiliates/advertisers have before starting as I did.
Conclusions
So, as you can see, as long as you don't promote shady stuff like tech support, adult, anti viruses or use JavaScript pop ups everything else is fine. I'd recommend you to get started in countries like USA or Malaysia as you'll find good volumes of traffic.
PIN submits and sweepstakes are alright, so that's what I would chose to get started on Mobicow.
Alright folks. This is all I can say this moment about Mobicow. If you want to get started and take action fast, sign up as an advertiser here and I'll talk to you in the next one.
Cheers.