In the last few months, I've been trying to test a lot of push traffic networks as it's part of our focus in 2019.
The scenery has changed a lot because with the popularity of push ads a ton of new networks have emerged and some of them have great quality and super low competition.
This happens especially with networks that aren't just an old well-known network that has added push ads to their inventory. Instead, with push, we have a lot of new networks that focus solely on this new trend and therefore can be very interesting to test.
One network I've been testing lately with good results is EVADAV: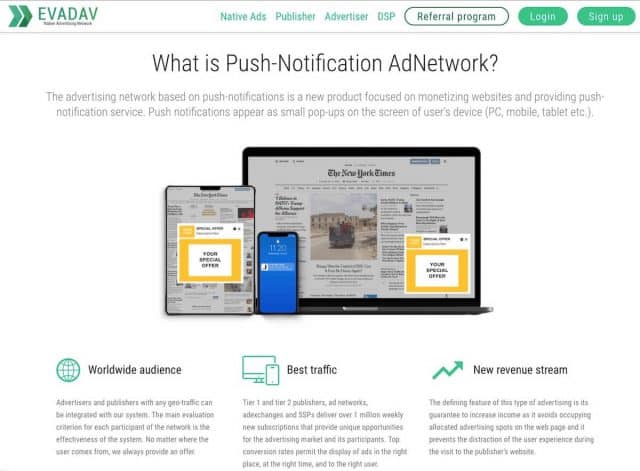 I was contacted by EVADAV several months ago but honestly, I didn't have time to test them back then. However once Megapu.sh started being more transparent on which networks they were selling traffic from, I quickly noticed EVADAV was one of the networks where I got conversions in many campaigns.
Because of that, I signed up and found a simple, yet, quite an effective platform to launch and test push campaigns and with managers that are always willing to help me or push me in the right direction.
EVADAV focuses on native push ads, and you can make money with them both as a publisher or as an advertiser. We're going to focus on being advertisers here as we focus on buying traffic.
Once you create your account and log in you'll see a Dashboard like this: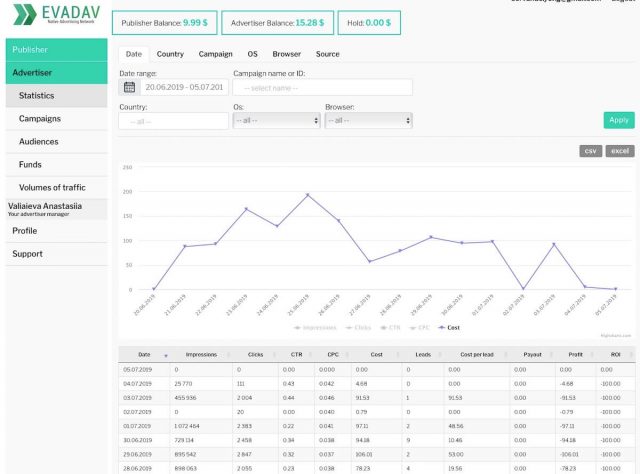 There you can see your daily stats and filter them by geo, OS, browser, etc.
On the left hand, you have a menu to create campaigns, add funds, create audiences and also analyze the traffic available from each geo.
EVADAV Payment methods
As for payment options, EVADAV accepts pretty much everything we're used to:

I normally pay via CC or Paypal, but you can do wire transfers, Paxum, Skrill, WebMoney, and other methods.
Their minimum deposit amount is $100, which is quite affordable for new people and enough to start gathering data as long as you have the right offers for your budget.
Note: If you sign up to EVADAV with this link and mention the coupon "SERVANDOSILVA" to your manager you will get a $30 bonus on your first deposit. You get a manager once you get accepted into the platform.
That means if you deposit $100 you'll end up with $130 to test campaigns. Sounds good? Sign up here and start testing their push traffic!
The traffic volume tab was recently added while I was testing the platform (before I had to ask my manager over Skype) and so far it only shows the geo and available daily clicks based on yesterday's stats: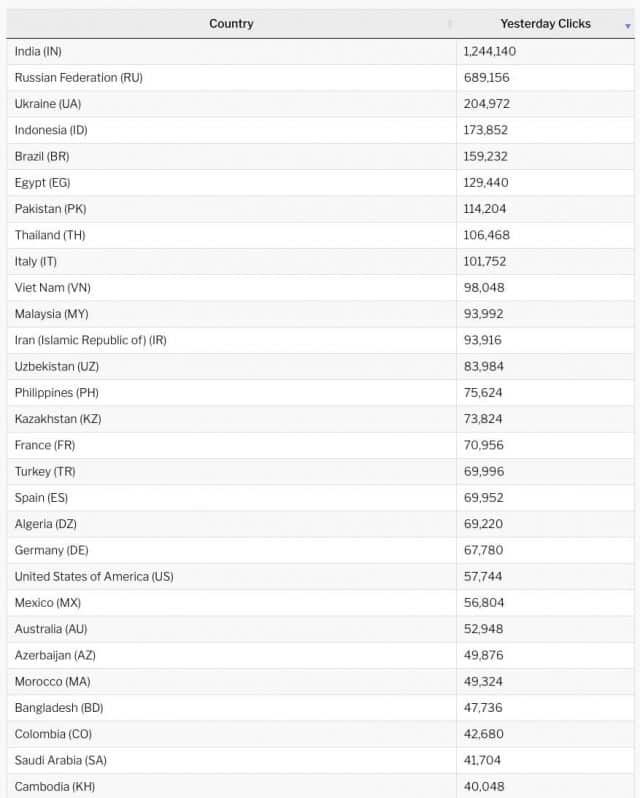 Eventually, I guess we'll have more access to data like devices, OS and bids. EVADAV has been doing a lot of tweaks and small changes to their platform in the weeks I've been testing them so I'm sure they'll have that eventually.
You can check the average bids when creating a campaign though, which is fine.
Campaign Creation with EVADAV
Launching a campaign with EVADAV is gotta be one of the easiest things you can do in your life. If you compare them with other networks where you need to fill a ton of forms, click to advance to other pages and all that stuff, I'd say EVADAV has the easiest platforms of them all.
At least when talking about push notification traffic sources.
First, you need to click the "create campaign" button and you'll see this: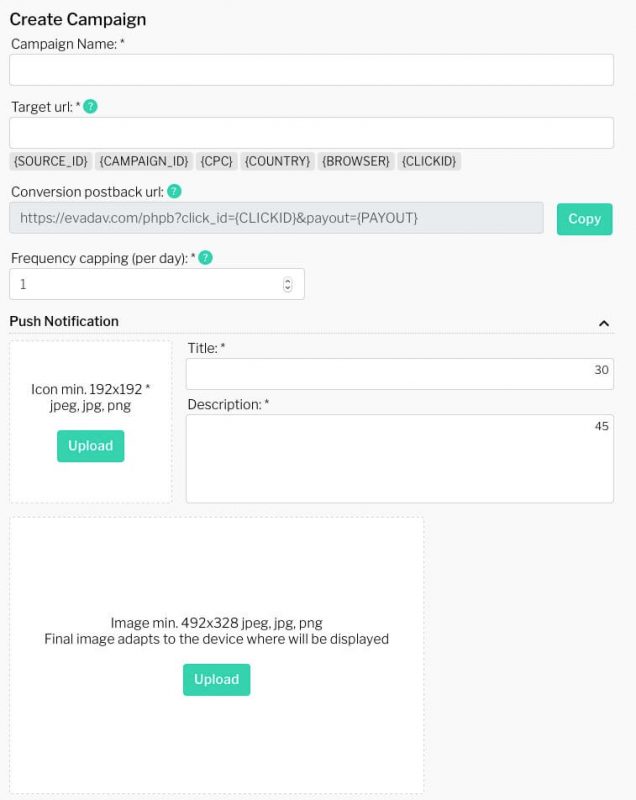 Now you have to write a campaign name, paste your campaign URL with the 6 tokens EVADAV provides (more in this later) and upload your push notification creatives.
If there's something I miss here though is the ability to add multiple creatives for each campaign. With push traffic, this is super important and I've mentioned it before for other networks as well.
My manager told me they were working on this so hopefully, we'll see that option soon.
As for the tokens, this is how I set them up in my tracker (Voluum) and everything works right.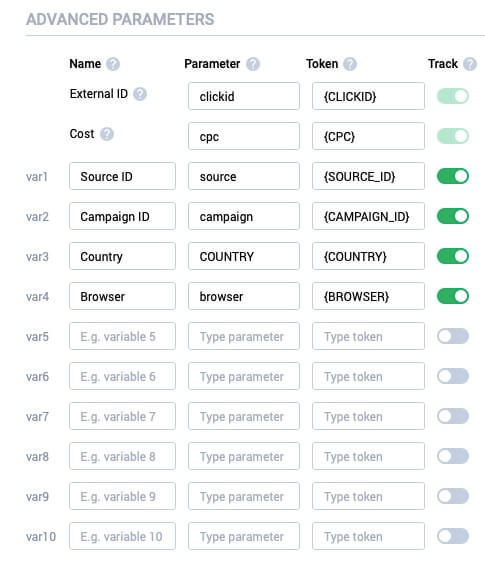 EVADAV allows you to track costs and also define a post back in case you want to do that. The rest of the tokens are just for geo, browser, and sources (this is the most important token for optimization down the road).
Now you've got to fill the rest of the filters for your campaign. Select a country and device and you'll get a recommended average CPC automatically.
EVADAV recently added a "subscription period" option that allows you to target people based on how long they've been subscribed to a push notification service. Make sure you split test this in your campaigns as different users have different CTRs and conversion rates.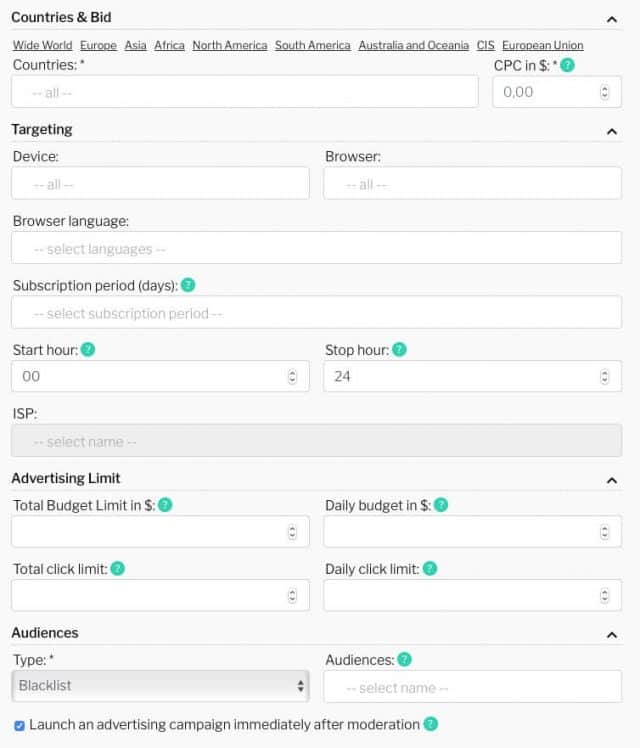 Now you only need to fill out the device, Browser, language, and ISP (for carrier billing offers) and you're almost done.
Finally, you need to define a budget or click limit. I prefer setting up a daily budget limit but that's up to you. You can do one or another.
After that, you can send your campaign for approval. You won't need to select any audiences yet as you need data to analyze before that.
Note: I gotta say EVADAV has the fastest campaign approval service I've seen in my whole life besides auto-approval.
Usually, it takes them 5 to 15 minutes to get my campaigns approved, and if for some reason the campaign is denied they send me an email with more information so I can fix it quickly.
Your mileage may vary and it could take up to 24 hours to get your campaigns approved, but I've been fairly surprised at how fast they tend to approve my campaigns (it's not instant approval and they also have rejected some of my campaigns, so I know somebody is screening them).
EVADAV – Campaign Optimization
Just to show a quick example of how to optimize campaigns with EVADAV here's a screenshot of one of my campaigns: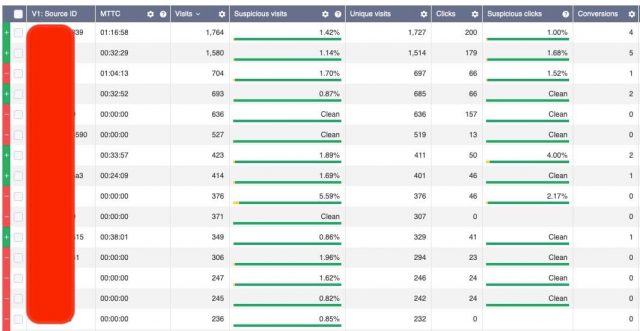 EVADAV doesn't have a lot of tokens to track but Source ID is the most important as it allows you to block websites completely or even groups of websites if you feel they don't perform well.
The rest of the optimization can be done with your favorite tracker. You'll need to check out stats from device types, operating systems, browsers and that's pretty much it.
If you run mobile traffic most of it will come from Android. I recommend you to focus on mobile as push notifications are growing much faster there than with Desktop traffic.
Finally, once you gather some data you can create a whitelist or blacklist in the Audiences menu and add it to your campaigns:

As I said before, EVADAV allows you to Block sources and groups of sources. For example, if you want to block a source it could be shown in your tracker as:
Where 110 is the group and 5678 is the specific source. You can blacklist or whitelist it anytime you want.
However, if after a while you notice all of the sources starting with s110 are performing bad, you can add s110 to the blacklist and you won't need to worry about all of the websites included in that group anymore.
One more thing I'd like to add here is so far I haven't seen any noticeable overspend of my budget in EVADAV's campaigns.
EVADAV reserves $10-20 USD just in case you go over your budget so you don't end up with a negative balance, but at the moment all of my campaigns spend exactly what I set as my daily budget or maybe a couple of dollars more.
I know this is a concern between many users as the nature of the traffic always means you can get clicks a few hours or days later and some networks haven't been controlling it properly.
Test EVADAV with this Coupon
If you sign up to EVADAV with this link and mention the coupon "SERVANDOSILVA" to your manager you will get a $30 bonus on your first deposit. You get a manager once you get accepted into the platform.
That means if you deposit $100 you'll end up with $130 to test campaigns. Sounds good? Sign up here and start testing their push traffic!