Getting bot traffic mixed in our stats is something we as affiliates have learned to live with as long as it doesn't screw up everything and we're still profitable.
Yes, this means we have come to accept that there will be a small amount of bot traffic we can't detect or block in our campaigns and we have to live with it and focus on being profitable and improving other metrics. This is true especially for people running PPV, Push and even Native ads.
We have bots from datacenters or libraries, but we also have bots that are very obvious from unsupported or unrecognized devices, browsers, and OSes.
Some bots complete our funnels and create fake conversions like app installs, email submits and downloads, and then we get kicked from offers or asked to pause a source that isn't backing out. Or even worse, payments are delayed as the advertiser claims your traffic is fraudulent…
Today I'll show you how I reduced a campaign's bot traffic percentage from a max of 12% down to less than 1% using Voluum's Anti Fraud Kit.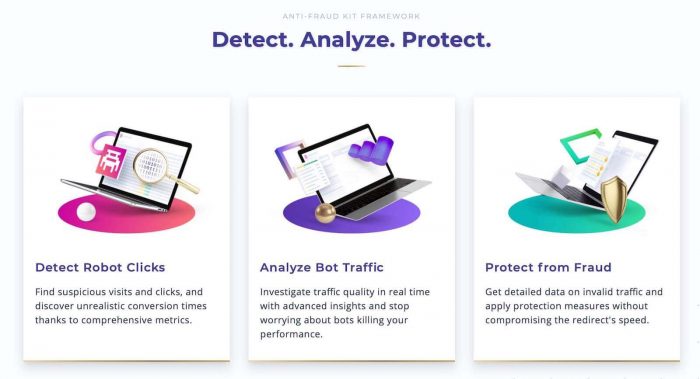 Every campaign is unique and has different settings. You won't find the same amount of bots in 2 different campaigns.
Just to give you an idea, I have had profitable campaigns that started getting 40% of bot clicks at the beginning and also campaigns that start with less than 10% bot traffic, which is always nice to see.
For example, a pops campaign running mobile Android traffic in a tier 2 country could have 25% bot traffic at the beginning, while another campaign from push traffic on desktop devices for a tier 2 country could have just 5% bot traffic.
I have heard in the past some people were afraid of buying traffic because they received some bots and they don't want to pay for them. Nobody wants to pay for fake traffic, of course, but it doesn't mean you should completely stop your business just because of that.
From my experience, in terms of bot traffic:
Pops > Redirect/Push > Native > Social/Search

Percentage of bot traffic
And bots are not just annoying because you're paying for that traffic. Some other factors bot traffic can do to your campaigns that are annoying are:
Screw your CTR stats from landing page to offer
Increase your ad spend / Decrease your ROI
Make you think you have click loss as some networks don't count bot traffic
Click loss stats from traffic source to tracker
Generate fake conversions and decrease your quality
Increase bandwidth/hosting costs
Voluum's Anti Fraud Kit has a feature that automatically detects suspicious traffic from data centers, libraries, badly ranked websites, unrecognized user agents, etc.
However, they have a honeypot script that you can implement in your landing page's code to help you identify more parameters like fast clickers, frequent events, invisible link clicks and more.
To test this feature, I launched a pop traffic campaign from PopCash, which is a network that consistently performs well for me in terms of quality but at the same time, I usually have to block dozens of sites with weird CTRs and bots to make it profitable.
Here are the stats after 6 days running the campaign:

We started the campaign with an average bid and were getting between 5% to 12% bot clicks from our lander to offer. Most of them were detected as invisible link clicks, which means the bot hit the hidden link (honeypot) on the landing page. That link can't be clicked by real humans.
Some of the clicks were also identified as fast clickers, which means my CTA button was clicked in less than 1 second after the page is leaded. Again, that's something a human can't possibly do.
Since we're running a high payout offer with pop traffic it's way easier to optimize your campaign using a landing page to analyze the CTR of each placement and also block websites with fraud traffic instead of waiting to spend the payout of the offer to take decisions.
Implementing the Ati Fraud Kit in Voluum is quite simple. You just need to go to your settings and click the "Anti-Fraud kit" tab: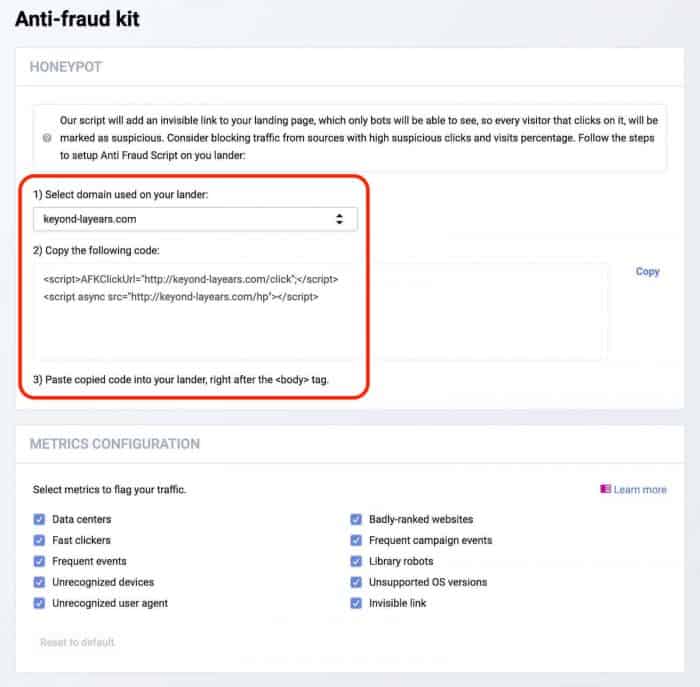 From there, you need to select the tracking domain you're using for your campaigns and copy the generated code (2 lines) on your landing page just after the <body> tag and you're done.
If you've done everything correctly you will be able to check the stats from suspicious clicks in your reports and block every website or any other parameter from your traffic source that's sending you fake traffic.
In the case of PopCash, we went ahead and blocked all of the website IDs that were sending invisible link clicks and fast clicks to our offer. The initial list had around 30-40 websites but since we kept running that campaign we had to add 5-10 more websites each day for a week or more until we finally noticed a decrease in fraud traffic.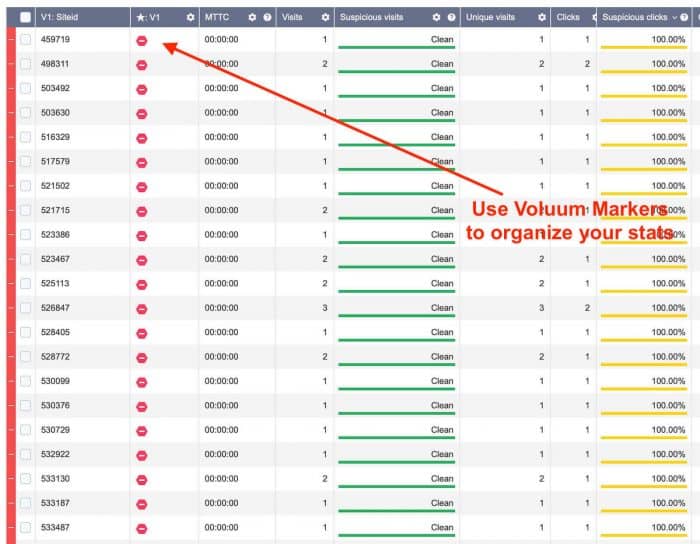 As a tip, you can use Voluum's markers like I did above to select all the websites with fake clicks like I did above and then export that list to quickly paste it in your traffic source blacklist settings.
After 2 weeks of running the campaign we have blocked almost 100 websites and our suspicious clicks have been reduced drastically.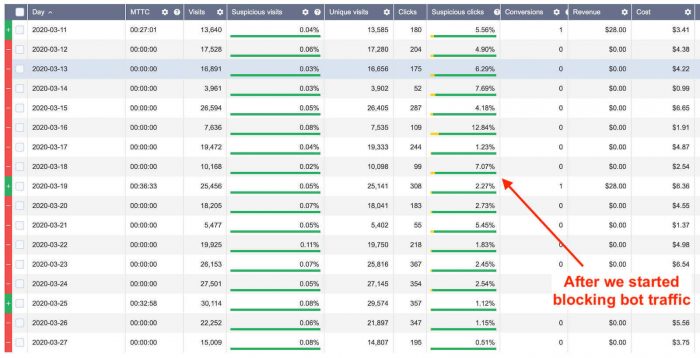 From getting a max of 12% fake clicks per day, to 1% in the last days. Nice 🙂
We also noticed a reduction of click loss from landing page to offers (many networks count unique real clicks only) and also a reduction of spy tools sniffing in our lander 😉
Again, every campaign is different. Last year at Afflift I posted a case study about reducing mobile pop traffic bots from 20% to less than 10% and many times we have reduced redirect bots from 10% to less than 1% as well.
The key here is being consistent and even after you block all of the suspicious sites you should keep filtering them at least once per week or more depending on your volume to keep the traffic as clean as possible. The biggest sources keep approving and receiving new publishers every day, so it's easy to find new publishers performing badly in the next 24 hours.
Leave a comment if you liked this quick case study and don't forget you can get started with Voluum using this exclusive coupon.
Update: Voluum's marketing team found this case study quite interesting we decided to do a video about it and publish it on YT.
You can check it right here:
I go over how we use the AFK to optimize campaigns with bot traffic in the video and it might be easier to understand visually if you're not familiar with Voluum's user interface yet.
I hope you guys enjoy the video!