Update (2020): this review has been updated to mention all my favorite features and tips about Binom Tracker with the latest updates. Binom added a list of almost 40+ extra functions in the last 6 months. You can see the whole changelog here, but that's boring so let me explain to you my favorite ones in this review!
If you've been in the affiliate marketing industry you should know the tracker is one of the main tools for affiliates running CPA campaigns. Pretty much that's how you keep track of all of your revenue, costs, conversions and optimize your media buys so it becomes the center area of your stats and business.
I've been using Voluum since I started CPA marketing back in 2014 when it was still free in BETA mode and every year or two I tested other trackers (the competitors) to see what was going on and to get a feeling of the features and user interface of each one along with the pricing scheme just to go back to Voluum after a few days. I tested Thrive, Funneflux (in one of their first releases) and Adsbridge (check out the full review) and while all of them do the job I just kept going back to Voluum mostly because of the GUI.
However, if you do constant market research (A.K.A. Spying) you should have noticed that nowadays there are many other trackers as well. I can think of 10 or more right now but I'm sure there are many more. Trackers are popping everywhere and some of them are good, some of them are less expensive and some of them already disappeared.
One tracker you should notice by now is Binom though. If you do a quick search in Adplexity and order the results by tracker you will see Binom is the second listed just after Voluum and you'll typically see Adsbridge, Thrive and Funnelflux over there too.
This and a few posts in the STM forum caught my attention and so I decided 2 months ago to start testing trackers again for the sake of knowing what's out there. Also, this was the moment when Voluum announced their new plan structure going from $99, $399 and $999 going to $299, $599 and $1,499. So it was a perfect time for testing as for a lot of new affiliates $299 is too much to handle when they're just learning the ropes. Update: Voluum has updated its plan structure and they now offer memberships at $69, $149, $449 and $999. It's much more affordable nowadays and with a ton of new features as well.
I grabbed a copy of Binom, FunnelFlux and Thrive and did some tests against my Voluum account and to make a long story short I decided to stay with Binom after 1 month.
I think Voluum still has probably the best UI although I didn't enjoy their latest update, but based on price+features+speed+reporting I just liked Binom more than all the rest.
In this article, I'll explain what I liked the most about Binom that most other trackers don't really have. Obviously, all do the basic job (and most important) which is tracking campaigns so you can optimize and make more money, so I won't go over each of their features or this could be a 2 hours long post.
Instead, here's a simple table of the main advantages Binom has listed on their website: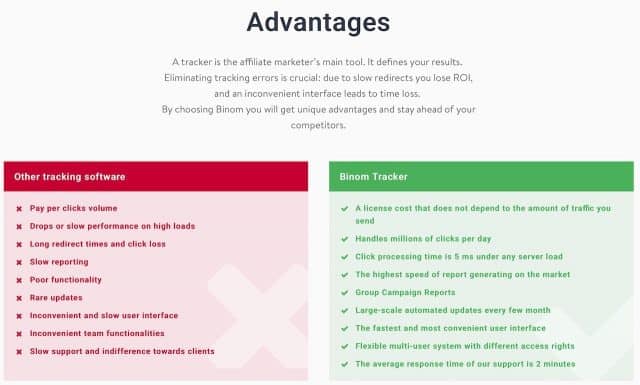 From experience, I know at least some of them are quite true and important. For example, some trackers have slow redirects and charge per events and barely update and develop their features at all. Also, I know some self-hosted trackers can be quite slow when pulling reports from several days or weeks (some of them can take minutes just to load a report…).
Binom Tracker Installation
My main fear with Binom was it's only self-hosted and so far most of the trackers I had tested were cloud-hosted. But the actual installation was super easy thanks to their support and you really don't have to do anything besides contacting them and giving them access to your server the first time for the installation.
If you have no idea which server you should use or what to do when scaling just grab a Vultr server as I did: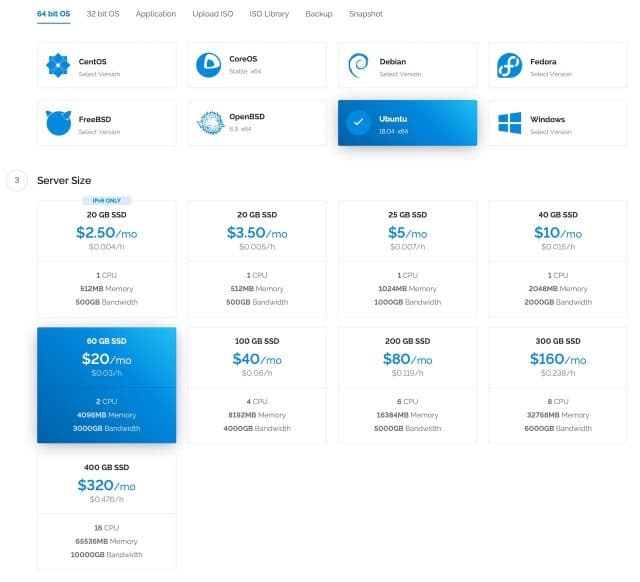 You can spin up a VPS instance with Vultr in 2 minutes and the OS and plan should be at least the one I'm showing you in the picture above to get decent performance. This is a 2 CPU/4GB Intel Skylake server that can be scaled up whenever you want with 2 clicks so I prefer using Vultr or DigitalOcean than getting a managed server.
Binom only requires you to have a 1CPU/2GB of RAM to get your server setup with a clean install of Ubuntu 18.04 or Debian 9.x installed. Forget about installing any stack or cPanel as Binom support will handle everything and they don't recommend anything more than a clean OS install.
Other than that, Binom support will ask you for your domain to be pointed at your server and the root user and pass so they can go and install the server for you. This process takes 15 minutes max. It's quite easy and you literally don't have to do anything else besides waiting for their email so you can set up your user and pass for the first time once everything is installed.
Once your tracker is installed you can access it and there's a monitor tab where you can see your server and license details.
Here you'll be able to check your server load under traffic with a graph that updates every minute and the size of your database with the storage left: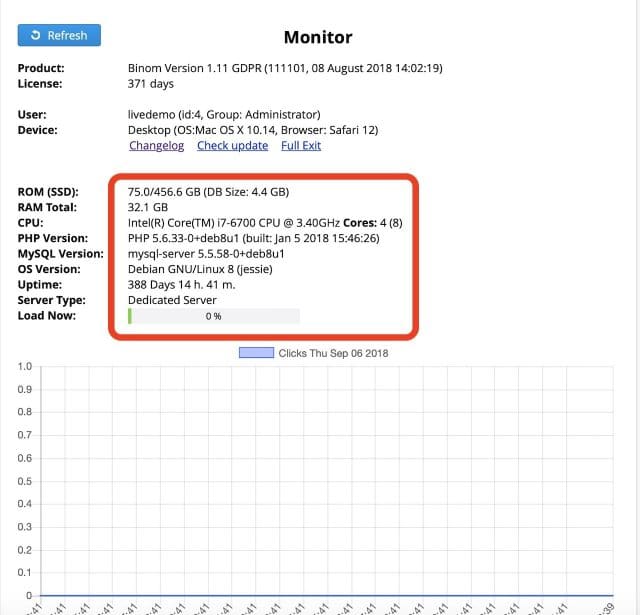 In this monitor tab, you can also check if there are any software updates for your tracker and install them with 1 click. From what I've seen Binom releases new versions every 2-3 months and it's better to update it while your traffic is low although the update usually takes just a few seconds.
Binom seems to be very similar to Voluum albeit with a simpler user interface. One thing I liked a lot about Voluum was the graphs and Binom has something similar called trends where you can see your results per day as well.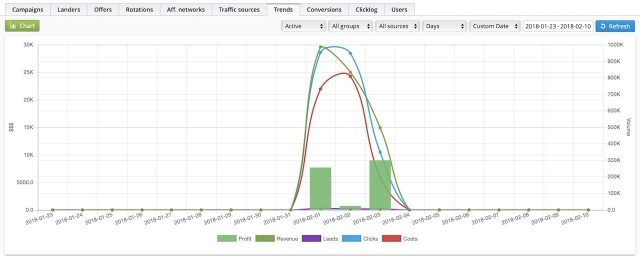 Binom Tracker Domains and SSL
One thing a lot of affiliates are speaking of thanks to Google is secured/encrypted certificates. While some trackers allow you to have a number of domains available to track (1-5) and usually they charge more for every domain, Binom allows you to have UNLIMITED tracking domains plus unlimited SSL certificates at no cost.
You can ask the support team to add any domain and as long as you point it to the server they will add it and you can easily enable or disable the SSL right there in your settings with a switch. If you have problems running high volume campaigns and domains getting flagged this is great and other trackers don't allow you to do this without paying extra.
A lot of people are wondering if SSL certificates can be free with Let'sEncrypt and you're already paying for the domain why should trackers charge you more for the additional domains and certificates? Well, Binom thinks you don't need to pay more.

Additionally, there's a check ban button right there where they can detect when your domains have been flagged using Google's API. While this only works for the whole domain at the moment it seems like they're going to release a new update in the future.
Quick UI changes added in 2019
As I mentioned at the beginning of the article, Binom added some recent changes in the last months. Some of them are new features, some just design changes or fixed errors. Here are a few ones I've noticed while using Binom lately.
Mobile Responsive
Binom's interface wasn't mobile responsive and while I normally use my phone just to check stats it was nice to see their interface is compatible with my phone: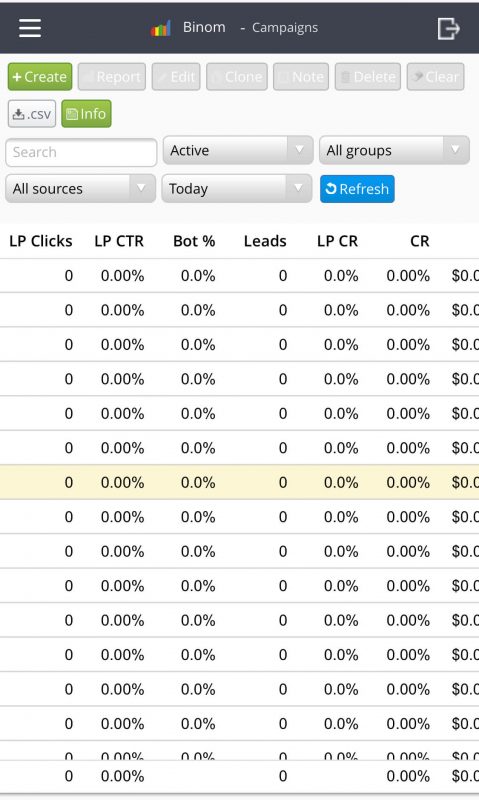 Before being mobile responsive the interface was usable but you had to scroll to the right a lot to read the data or find the buttons of each menu.
Preview menu
Another thing they recently added is a preview option in the secondary menu. This way you can preview offers, landers or campaigns without having to copy and paste the link in your browser. I also use this a lot with Voluum and I was definitely missing it.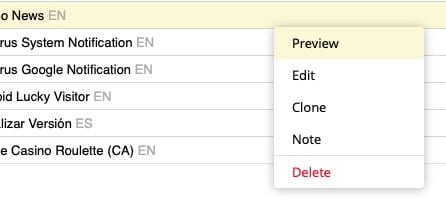 Black hat Cloaker integration
Binom has also worked closely with MagicChecker to provide full compatibility in case you want to change your hat and become black 😉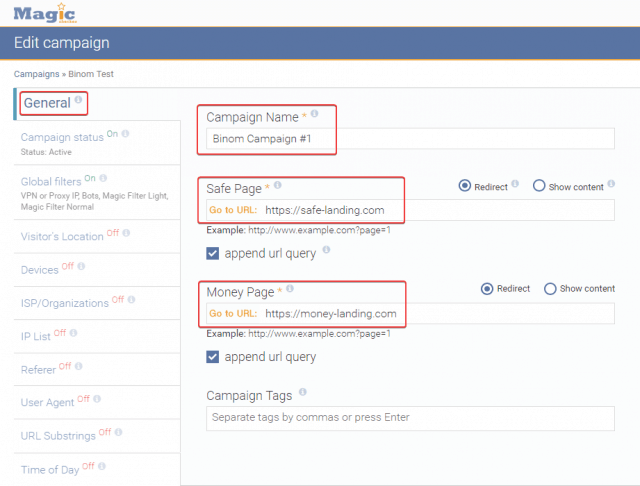 Now that we have quickly talked about Binom's quick UI/design changes let's move on to the real features!
Binom Tracker Favorite Features
Once you have your domains and tracker installed you can now start launching campaigns as you would do with any other tracker. However, I'd like to point out my favorite features as I'm using them actively and they have made my life easier while not being available in many other trackers as of June 2019.
Multi Offer/lander/campaign editing
Have you ever wanted to quickly change or edit multiple campaigns at the same time? Maybe you wanted to change their domains, or country or category but you have to go one by one with some trackers.
It's easy if you're running 5 campaigns but if you've got dozens of campaigns it can be messy. Well, Binom allows you to edit multiple offers, landings or campaigns at the same time: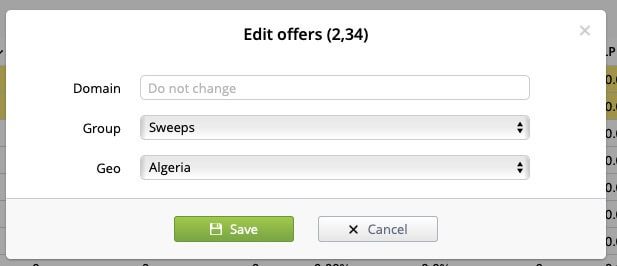 Campaign colors
This might be a UI/design change but it's something I haven't seen anywhere else and it really helps me with the organization.
There's a new button to select the color you want your campaign to appear within the stats. Currently, there are 12 colors available but that should be enough for most people.

Once you select a color the campaign text will have that color in your reporting stats, which is fantastic when you're running multiple campaigns. Instead of having to read the text of each campaign or use the search function to filter by traffic sources or geos you can now have a quick glance at your campaigns just by colors.

This opens unlimited opportunities as you could organize them by vertical, geo, source, etc. It's stupid simple yet it works (unless you have achromatopsia of course).
Copy/Paste Rules
Instead of cloning campaigns or creating flows for each campaign you can simply copy and paste all of the rules to a new campaign (and then edit them). This might not be a killer feature but for some people, it will be more comfortable this way. Just click that copy symbol next to the Rules text and you're good to go!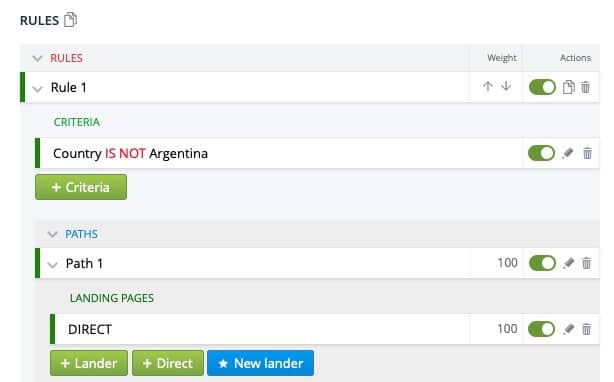 Notifications and Triggers
Binom has created a notifications system that allows you to create your own triggers and also sent you an alert in case something happens with your tracker.
You can set up the notifications via email, SMS, Telegram bot or webhooks. Whatever you use, you'll be able to receive them on your mobile phone instantly. Now you can kiss goodnight your dreams and wake up at 3 am in the morning if your server goes down!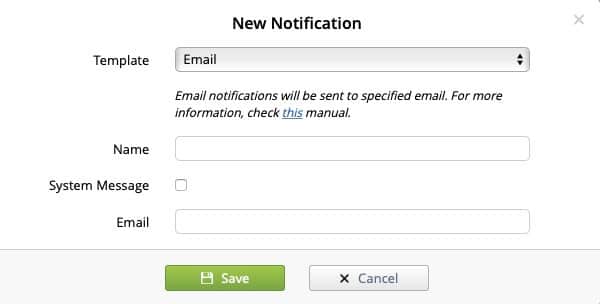 Besides letting you know about problems with the tracker, the notification system can work with triggers that you set up for each campaign, lander, and offer.
So for example, you want to know when an offer has an ROI below -50%? Setup a trigger.
Want to know when your lander CTR is below 20%? Setup another trigger.
Want to know when a campaign has over 100% ROI? Setup another trigger?
The interface is simple and easy to navigate: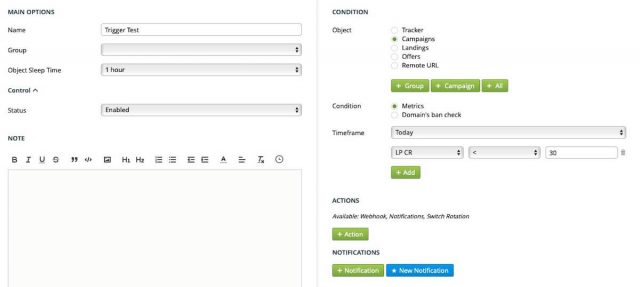 Pausing offers/landers from the stats
This is a simple feature, but again, a lot of trackers don't have it. Whenever you want to pause a lander or offer you normally need to go to the campaign, open the settings and delete them from there.
However, in Binom you can do this straight from your stats, as you would do when pausing a website in a traffic source:

It sounds like a very simple feature but it makes our job easier.
Postback/Payout adjustments
Now, this last one is a tricky feature they've implemented.
If you have ever run campaigns in CPA mode (not CPM/CPC) you know you need to report your conversions back to the traffic source in order to optimize your campaigns.
With Binom now you can report only a percentage of your conversions or your payout in order to make more money.
For example:
Report 80% of the conversions (80 out of 100)
Report 70% of the original payout (an offer that pays you $5 will appear as $3.5 in the traffic source)
You can find that option in the Traffic source template: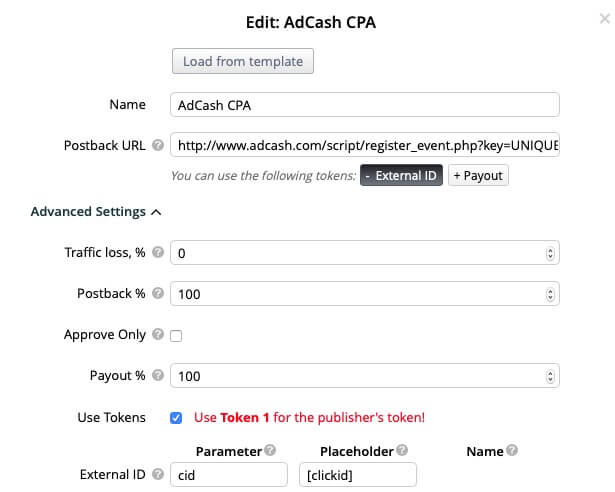 This is definitely a sneaky feature and I'd use it with care. If you check your stats at the traffic source level it will be a complete mess and you can't use that for optimization anymore.
Also, keep in mind this is similar to what some networks do (shaving) in order to make more money, but at the end of the day, everybody loses if you don't send enough info to optimize your campaign and it stops running.
If you're not running in CPA mode the feature makes less sense because you can always decide not to report your conversions or simply modify your tokens and report different values if needed.
Note: now comes the original features I love the most about Binom. Originally written in 2018.
LP Protect
This is a simple yet powerful feature that blocks direct access to your landing page without having a LP token from your campaign URL. This means if someone wants to copy and share your campaign with somebody else or just open it in another browser but they don't have the campaign URL they won't be able to see it.
You might have seen that in work if you spy manually in pop/native campaigns. While this might not prevent completely from being it ripped with spy tools it's just another barrier you can add to make their life more difficult.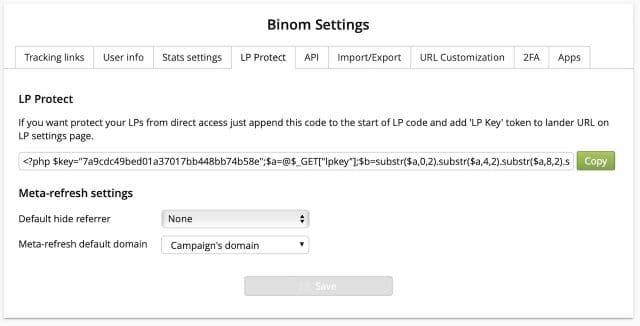 Smart Rotation
This is a simple yet powerful feature that works great when you're testing several offers or landing pages. Instead of just sending random people to your funnels this type of distribution detects the user and sends them to different paths if they open the campaign link several times.
This means the visitor can see different paths of your campaign and possibly convert even if they didn't convert the first time with the original path. Once you optimize your campaign and have the best lander and offer running though it might not be very useful although another case could be for a back button redirect of course.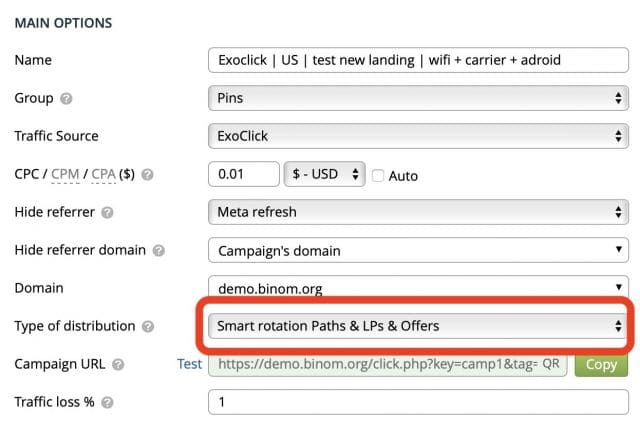 Traffic Loss and Leads Approval
If you are running COD offers you know your approval rate can change from 40 to maybe 70% just to say an example. In the advanced settings you can put your estimated approval rate to measure this and also a percentage of traffic loss in case you know it's happening (very common for mobile pops).
They also have a LP pixel and an integrated lander function (most trackers have this now) so you can run campaigns on traffic sources like FB or Google Ads without redirections which can get you banned.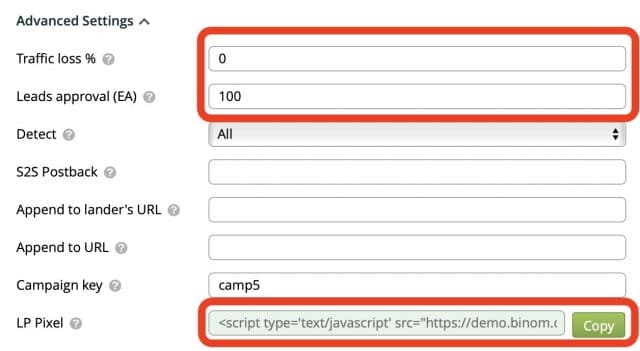 Adding Notes per Campaign
One of my favorite but most simple feature is Notes.
Every campaign has its notes area where you can write whatever you want and keep a journal like this: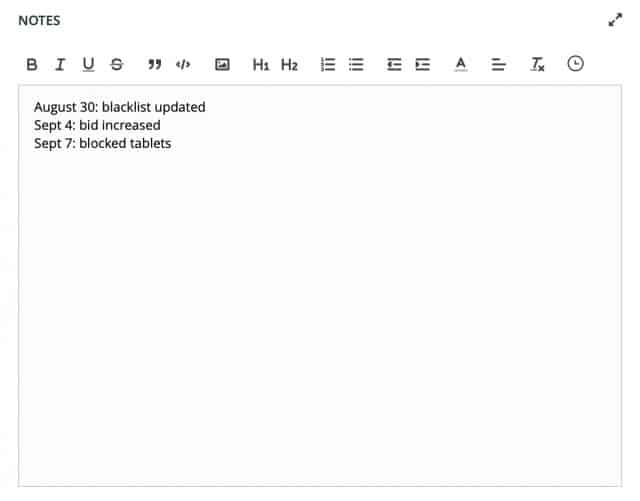 This sounds very simple but it helps me keep everything organized and remember what was the last thing we did in the campaign to keep a journal on it or write reminders from specific cases based on my data.
Custom Events
Binom allows you to add up to 10 custom events in your landing page which can pass back information to measure different things like scroll percentage, screen resolution, bot percentage and more and all of this can be displayed in the reporting columns like any other variable from the tracker.
This is particularly useful if you want to track actions and it helps you optimize your campaigns without creating several campaigns for each event or implementing weird methods as long as you can measure them with events.
For example, you could measure how many visitors spent more than 20 seconds in your lander (ideal for native articles) or how many are leaving trough your back button redirect right in your data, but the opportunities here are endless as long as you're creative and code-savvy.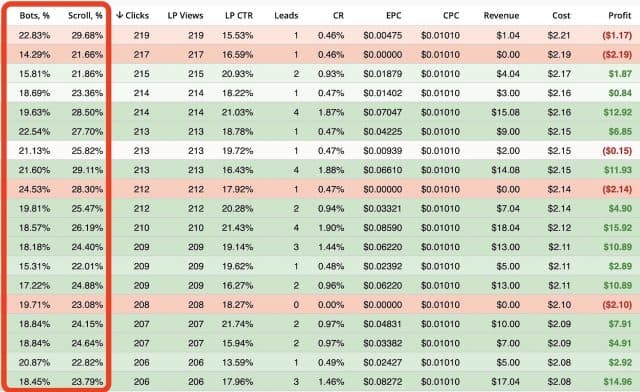 Marks in the reporting system
Finally, one feature I use a lot in Binom is the marking system. This allows you to assign 7 different marks to any variables in your reporting and I find it particularly useful for blacklists and whitelists which are a must in many traffic sources.
For example, I could use the X mark to identify all of them siteIDs that I have blacklisted in a RON campaign and the + mark to identify all the websiteIDs that have been moved to a new whitelist campaign.
Also, this helps you optimize your campaigns better because you can analyze traffic from several days or weeks before and you know what categories, tokens, devices, OS, etc. you've already blocked without checking in the traffic source or pulling a huge excel list. This is probably the function I use the most.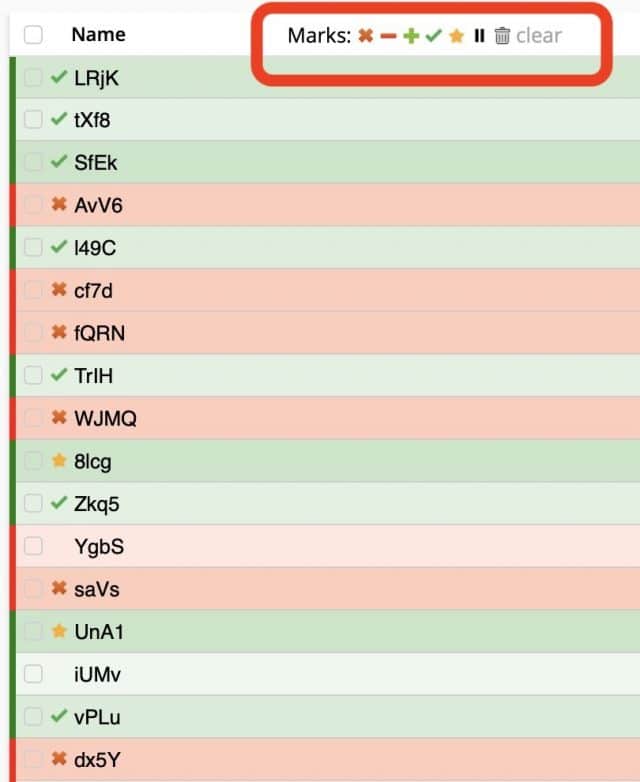 Integrated Landers
This isn't really a feature I use but it's interesting. Integrated landers allow you to select a file and upload it to the tracker so you don't have to use any redirects (good or FB/Google) although everything is integrated into the same domain. I prefer using the LP Pixel function as this keeps everything separated but I know why some people might find this useful.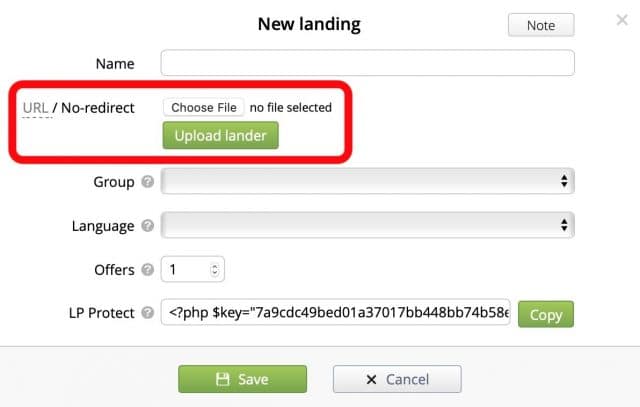 Import from Voluum
Finally, if you're an old Voluum user and have too many campaigns, landers and offers to import, there's an import/export area where you can do this with a few clicks. I personally have been switching my stuff slowly from one tracker to many others while testing so I can clean everything that isn't needed anymore but I know for some people this would be a very demanding task and they just want to import everything with a few clicks. Make sure you disable 2FA so this works properly.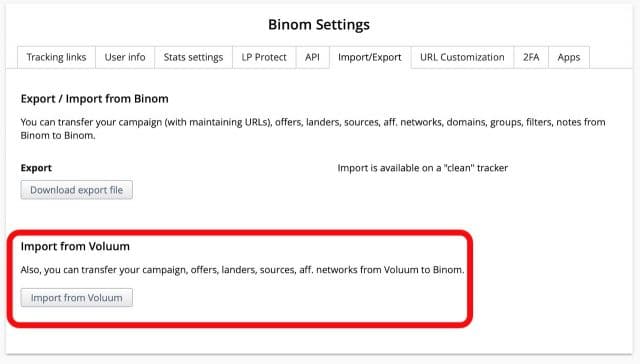 Get your free trial and a sweet deal
Now that I've mentioned my favorite features and how to do an easy install of Binom in your server you're probably expecting the coupon code and here it is!
Usually, Binom has a 14-day trial and after that, it costs $99 per month plus $49 per month for additional licenses (in case you want to have many servers around the world).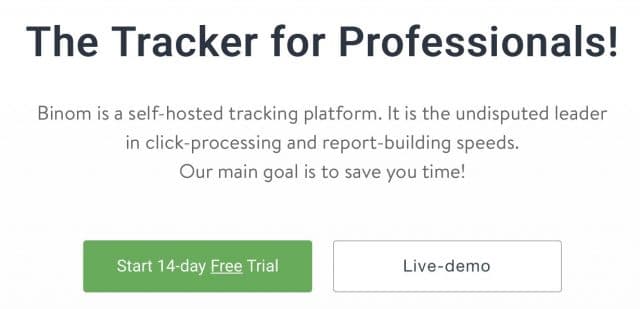 However, if you get Binom with my coupon code "servandobinom" you will get a 30 days trial plus a 40% discount in your first paid month. Or you can just click here to get the coupon added automatically.
So your first month will cost $0 and your second month will cost $59 only. The support levels are also the same for everybody so you don't have better or worse support according to your plan.
You'll also need a VPS, but you can get started with Vultr for $20 per month ($25 coupon included in that link) and that server can easily handle around 300,000 visits per day or around 9 million visits per month. $119 for 9 million visits per month sounds pretty sweet when you would have to pay $299-$599 for that in other solutions.
If you need 300-500k visits per day, the $40 Vultr VPS will handle it and for 1 Million visits per day, you'll need the $80/m VPS. So again you end up paying less than $200 per month ($99 + $80) for 30 million visits while you'd pay more than $1,000 with cloud solutions.
The only thing I miss from Voluum is their database which is far more accurate (Digital Element) however this is most important when running campaigns for specific ISPs or cities like pin submits or some city/state-specific offers. I can't complain though as I know due to the price of the database it can only be included in SaaS like Voluum or Cloud hosted Funnelflux and none of the self-hosted solutions have it available for that specific reason.
But other than that, I love Binom and will continue to use it looking forward to some great feature updates in the near future!
FAQ
Do I need my own server to host Binom Tracker?
Yes, you need a decent VPS to host your tracker. We give you a few recommendations in the article.
Is there a free trial available?
Yes, you can get a 14 days trial plus 30 extra days if you use our exclusive coupon.
Is Binom good for Push Ads?
Binom works with push, redirect, native, search, PPV and other types of traffic without issues.
What's their pricing?
Binom has a single plan and starts at $99 per month, but you can get a sweet deal if you read this review.