It's pretty clear that this industry is quite "small" public wise and finding information to learn the ropes or getting started tends to happen on just a few websites.
Some of them are blogs, and some are forums, but it's a constant problem because you could pretty much count them with your fingers. Information is good, but sometimes you have questions or you're looking for some help cause you don't understand a marketing concept or a tech-related problem while setting up your campaigns. Forums work better for this vs. blogs because the community can help you without relying completely on the owner of the forum.
In my case, I have huge respect for forums because back in 2005 that's how I got started learning how to build my first computer and eventually learned that I could grow and learn from any industry if I knew how to use Google Search properly.
My first project was a forum in 2006 and I still check a lot of forums besides social media groups to learn what I want to learn about any niche.
However, coming back to an Affiliate Marketing point and specifically about buying traffic or monetizing offers it's much more difficult to find information vs. just looking for info on how to blog, how to do SEO, or any general internet marketing related stuff.
With this in mind, I want to share with you the forums and places where I constantly learn and grab information from. Especially because I know a few of these ones aren't well known and they could help you.
This is a 3 years old forum and it's my favorite go-to forum lately. The most active forum in the CPA Marketing industry by far now, founded by Luke Kling, a famous manager from Peerfly's network (now closed).
The pricing here is way lower than the competitors as you can see below: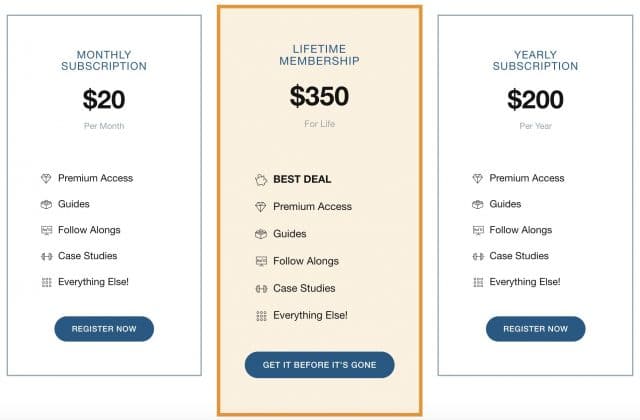 While this was a new forum back in 2018, it's got thousands of members already and it's super active. Most of the questions are from new people which reminds me a bit of AffiliateFix and the design is pretty neat as well. I'm also a community leader at AffLift so if you want to read my posts you can find me there 🙂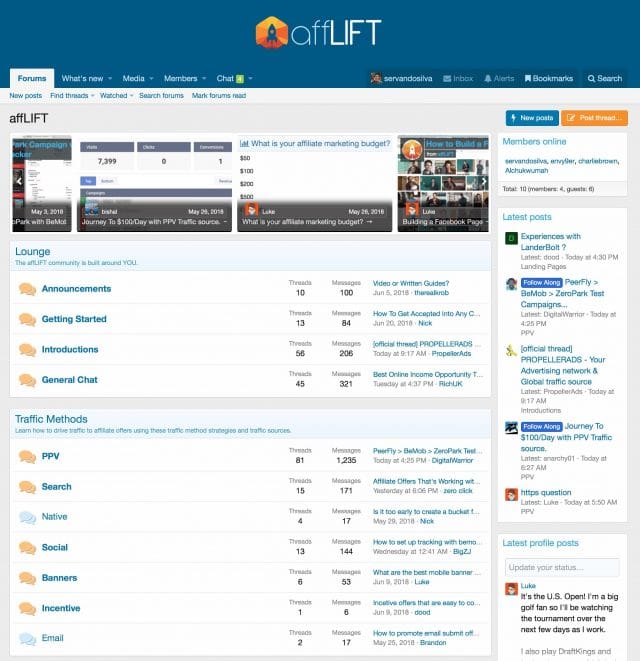 From my experience, the most active subforums here are in the PPV, push, and the tracking section. This makes sense because PPV is the easiest way to get started to learn the ropes and a big difference here is Luke has done tutorials to setup campaigns, links, and trackers that aren't available in other forums.
If you're a newbie and you're looking to set up a less expensive tracker like Bemob or Voluum you're going to find a lot of info inside Afflift. Luke does mostly PPV and his campaigns are direct linked most of the time, so if you also struggle with landers it could be a good fit for you definitely.
As you can see, the forum has got some nice traction already: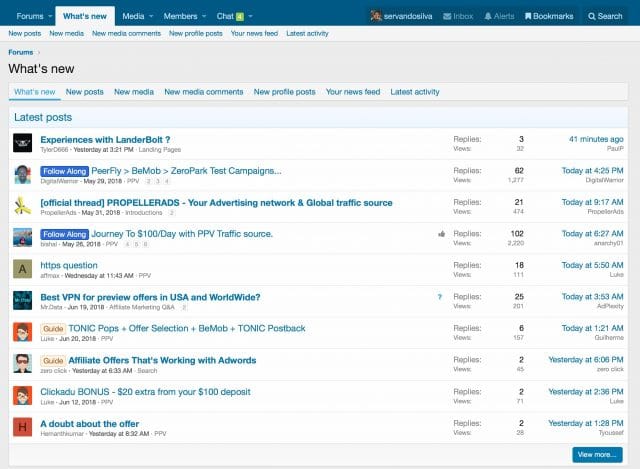 And something I haven't seen in other forums is a live chat. This helps when you've got simple questions or just want somebody to link you to what you're looking for.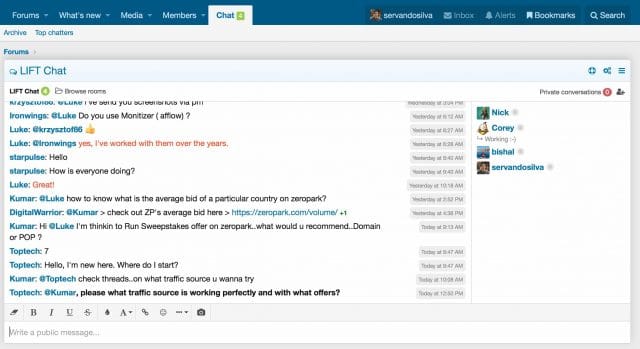 At $20 per month, the value is totally worth it. I think Afflift is super newbie-friendly and newbies struggle a lot with technical things like tracking, so if that's your case it might be worth a check. Become an Afflift member here.
This is pretty much the OG forum related to media buying, CPA marketing, and related. I became aware of this forum back in August 2013 and finally decided to subscribe at the end of that same year when I had problems with organic traffic on FB Fanpages (Facebook being Facebook as always). I quickly realized this industry had many more options than I thought and eventually learned the ropes to use a tracker, set up a decent server, launch and optimize campaigns, etc. from the guides and posts here on this forum.
It's been almost 7 years since I became a member of STM and at the cost of $99 per month, I think it's well worth it. Their team also organizes the Affiliate World Conferences and other projects related which have a huge impact on the affiliate industry.
I won't really say much because I'm almost sure you already know or have heard about this forum so I won't even show you screenshots or anything, however, if you're still not a member or never heard of it you can become a member here and start your journey.
AffiliateFix was my second home and a way to make a lot of connections. This forum, previously owned by my good friend Oliver Kenyon, was recently acquired a few months ago.
This forum is pretty active and you can learn a lot of the basics here. AffiliateFix is completely free so if you're on a tight budget and have no idea how to get started this is going to be your first choice obviously.
The fix forum has a lot of networks and advertisers looking for affiliates/publishers to get into their networks, and there are a lot of threads and follow alongs about different traffic sources, but there's also a lot of information about free traffic, SEO, and other organic methods if that's your thing. Go register at AffiliateFix if you're getting started and your budget is super limited.
This forum is much smaller and owned by Malan Darras. To be honest, I've been there for maybe 3 months max at different times because of the lack of activity, however, the content it's got is good especially for people running (or wanting to) native traffic. The main topic is Native and that's where the gems are being dropped from time to time.
I know some people who are really good at native and they all have good things to say about Mad Society. The price ranges from $75 to $100 depending on when you subscribe, so if you're still thinking of it maybe wait until a good discount drops and get inside to learn some good native stuff.
Special mentions
Forums aren't the only means of communication nowadays. They're in fact quite old and social media kind of replaced them although for this niche they seem to work well.
However, I want to mention a couple of FB groups that are great to get information and pretty active without being spammy or full of offers from advertisers.
Most groups whether on slack, FB, skype, or discord die after some time due to inactivity or SPAM, however, these 2 are full of questions with decent answers and a lot of people sharing knowledge for free.
This group owned by Tim Burd is the best around FB Ads and definitely worth a mention. Overall it's probably one of my favorite groups and I know people are happy with it (both helping others and asking questions). Join the group here.
This group was created by the Tan Brothers and its main focus as the name says is eCommerce. However many tactics are shared there around eComm, Media buying in different sources (but mainly FB), and overall great tips around online businesses. Check them out here.
That's all folks
I'm sure there might be another forum or group around that I'm forgetting to mention but those are the main ones I visit at this moment.
I have seen a lot of forums come and go in the last 5 years. Some were bad, some were super inactive or some FB groups are full of SPAM and ad network representatives so I won't mention them anymore.
Is there any other forum or group you're enjoying at the moment? Let me know in the comments so I can add it later!