I've been testing new push traffic sources pretty much every month of this year in order to find profitable campaigns to scale. Sometimes I test huge networks that just added push traffic to their inventory and sometimes I like to test new networks that are focused solely on push traffic. Today, we're talking about AdOperator, a native push traffic network.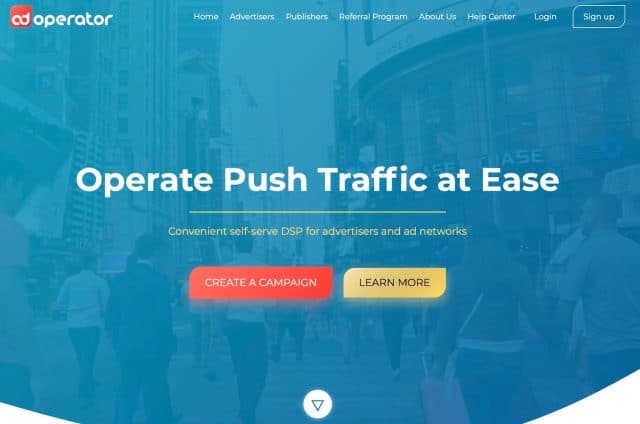 If you're new to this blog or haven't heard about push notifications don't worry. I'm sure you have seen them several times unless you don't have a smartphone. Push notifications are like messages sent straight to your computer or phone without having to be present on a website as it happens with other traditional ad types.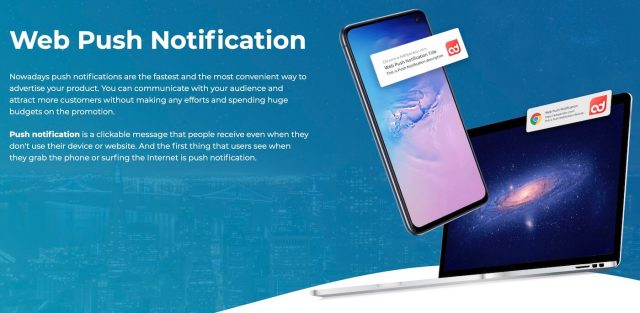 Therefore, push notification traffic tends to be a bit untargeted and generic, however, you can filter it by creating different headlines and testing different creatives to increase your conversion rate and Revenue.
AdOperator was founded in Cyprus in 2018, so it's certainly a "new" network in this industry. However, I've tested some other new push networks in the past with great results so it's always good to have more options available in this always competitive market.
AdOperator has traffic from all around the world, and you can have a quick peek at the CPCs and volumes available in different countries below:

CPCs are on par with many other networks I've used in the past and the volumes available change a bit from country to country but it makes sense to have more volume in countries with more people, especially the ones using Android more than iOS devices.
Once you create your AdOperator account you'll get a very clean and easy to use Dashboard to create your campaigns. There you can see your stats, expenses, news and budget available for campaigns:
AdOperator has several payment methods to add funds, including credit card, PayPal, Paxum, ePayments, and Bank Transfer. I usually pay with PayPal or CC, so they've got you covered.
I spoke to my manager and asked if we could get a discount for my readers, so here it is:
If you contact their support via email (support@adoperator.com) and you tell them you have the promo code SERVANDO they will give you a 20% bonus on your first deposit (e.g. deposit $500 and get $100 extra). That's a 20% extra ROI in your pocket 😉
This applies to any amount no matter if you deposit $100 or $1,000.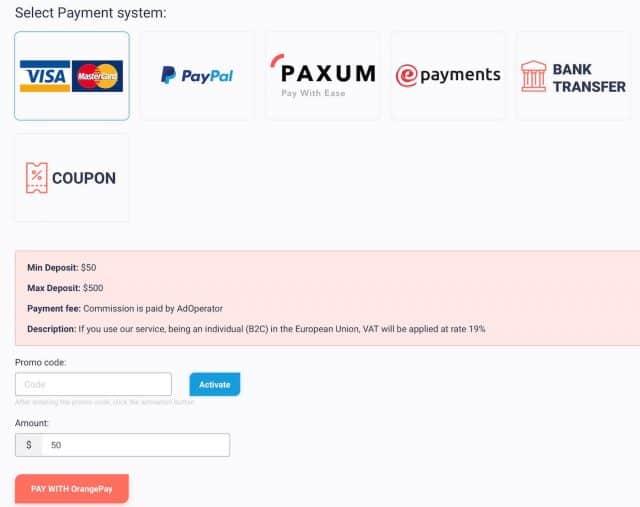 Creating a Push campaign is an easy task at AdOperator. Their UI is quite straightforward and there aren't as many options to select. Let's go over the process and I'll give you my insights and recommendations.
The first step is to give your campaign a name and put your tracking URL. This URL should include their dynamic tokens for optimization and you can also track conversions if you want. We'll see how we set up this in Voluum later. You'll also need to write your title and description limited to 45 characters. Then you'll have to upload your creatives: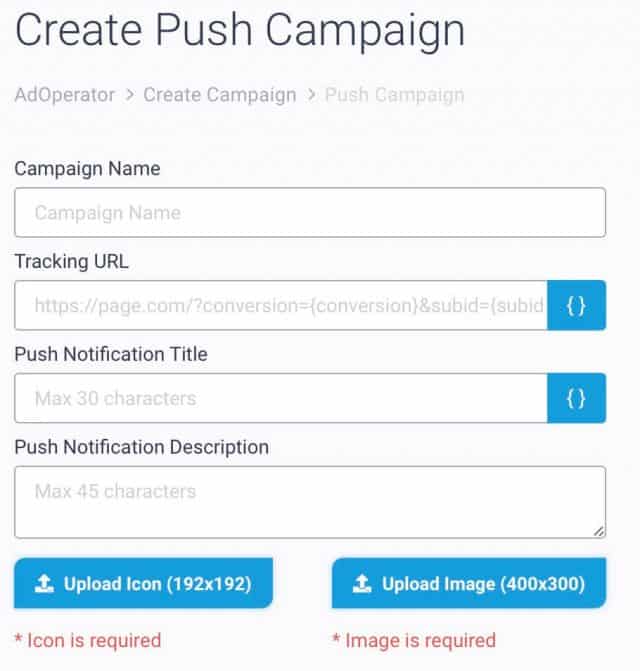 One thing I'd love to have at AdOperator is the ability to upload images and resize/cut them after uploading. So far you always need to upload icons that are 192×192 pixels and the same applies to the images. If you try to upload any image with a different size it won't work.
Also, I've mentioned this before but I feel like the ability to test several creatives 5-10 at the same time per each campaign and track them with a dynamic token makes our lives easier and helps gather data faster. Hopefully, they'll add this in the future.
After you've uploaded your creatives you will be able to see a preview of your push notification as it looks on Windows and Android. You also need to set up your budgets here as well. I like to define a super high total budget and control my ad spend by setting a daily budget only.
Also, I prefer changing my clicks per IP to 1 or 2 and I recommend leaving your budget type as "during the day" if you want to spread the traffic instead of spending it everything in a few minutes (if there's enough volume in that geo).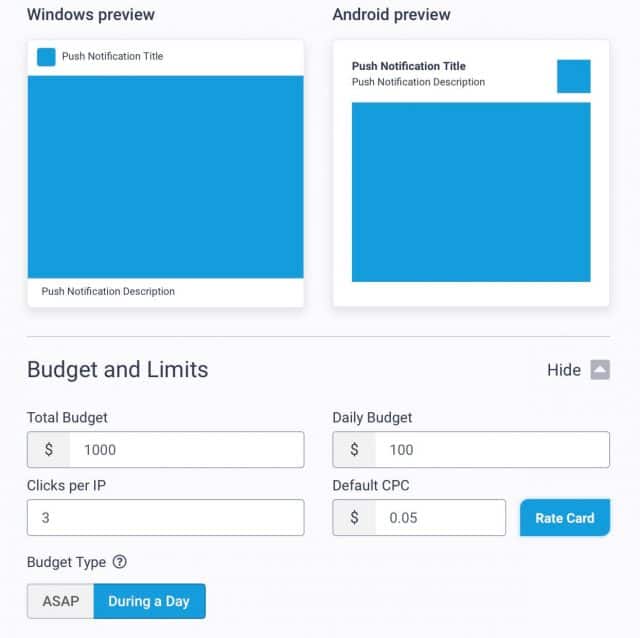 Now comes the targeting section. Here, you'll need to select your country, OS and Browser. I recommend you to create different campaigns for each operating system to avoid mixing your bids between different devices. Also try not to mix several countries in the same campaign for the same reason.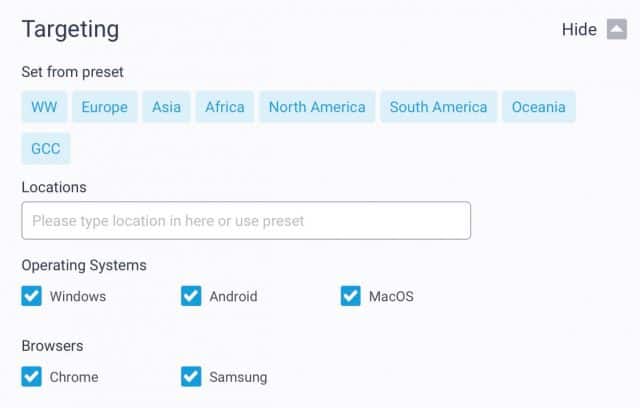 The Advanced targeting option allows you to target carriers in each country, cities, and languages as well (useful to validate some traffic). You can also daypart your campaign and run it only at selected hours or days of the week.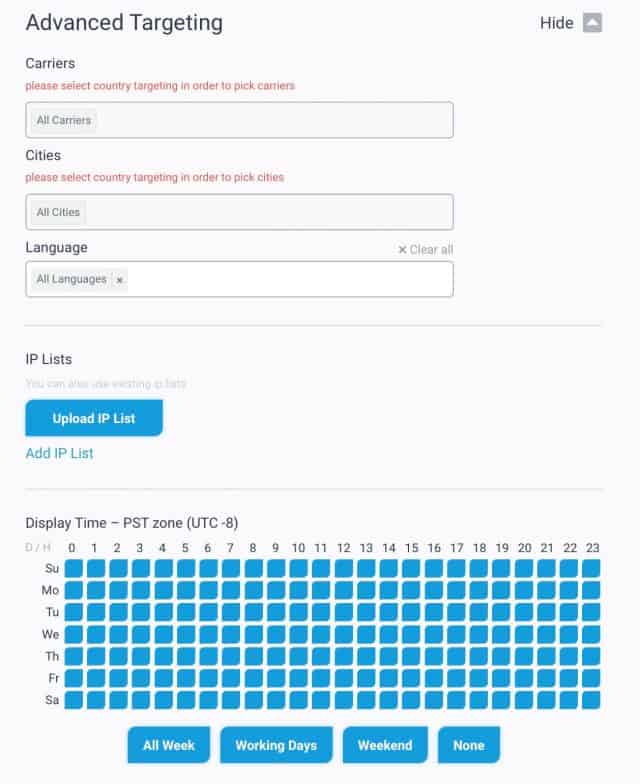 Finally, we've got conversion tracking. Here you can copy and set up your postback in your favorite tracker and optimize your campaign by subids creating blacklists or whitelists.
AdOperator is already working on a smart bidding feature that will optimize your campaign using conversion data, but this feature isn't available at the moment of writing this article.
Now you can click the "create campaign" button and your campaign will be sent to moderation. My campaigns were usually approved in 2-4 hours (if possible) without problems.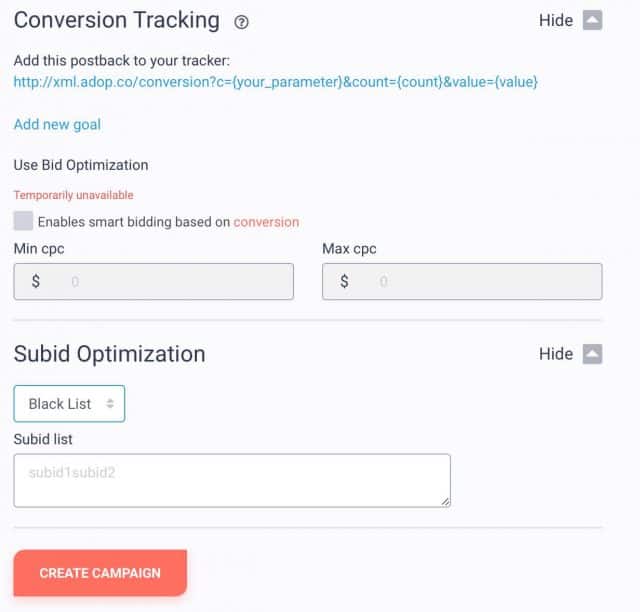 To properly track your data and optimize your campaigns you need to add AdOperator's dynamic tokens to your tracker. Here's how I do it including the costs and conversions in case you want to measure everything.
The most important tokens besides those to optimize your campaigns are the SubID (to create whitelists or blacklists), and the rest are more or less option as you can also track them with your tracker, but I recommend you to add them as the optimization is done in the traffic source filters and not your tracker.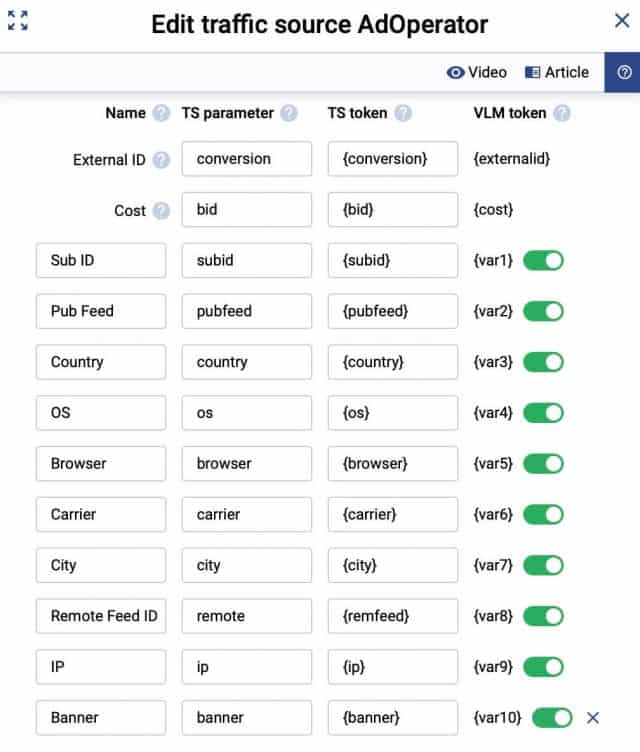 Once you start buying traffic you will see clicks and hopefully conversions. Each click will be shown as attributed from a different subid and you can use this data to blacklist the sites that aren't converting or creating a new whitelist campaign that only contains the sites that are performing well. I quickly received my first conversions at AdOperator when porting a few campaigns that I knew were working at other sources (I recommend you to use a spy tool). It's always great to get conversions fast without spending a ton of money!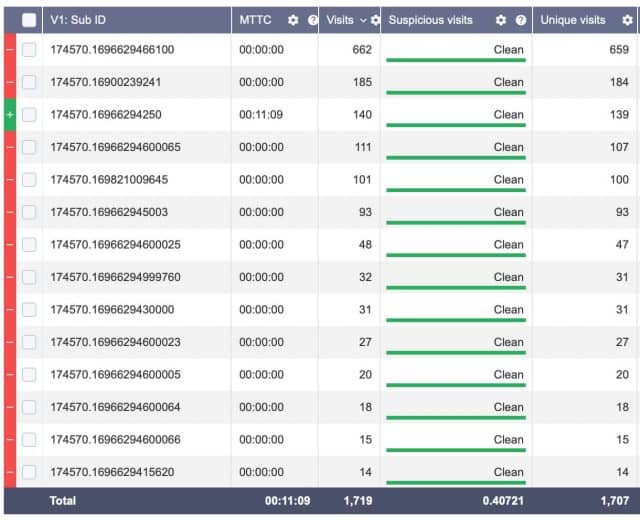 In the picture above, I was filtering the subids by publisher feeds (174570) but in reality, you just need the subid data as that's the only option you can optimize so far at AdOperator. Some networks offer the ability to optimize by feeds though, so this is something I'd love to see in the future added.
Remember you can try AdOperator's traffic and get a 20% bonus on your first deposit by telling the support team via email (support@adoperator.com) you have the promo code SERVANDO. The code is available for any amount you deposit, so make sure you use it wisely 🙂
I'll keep testing push traffic networks and report my findings here at the blog, so make sure you subscribe to my list to be notified when a new post is published.