This is going to be a quick one. I've received a so many emails and questions via Skype that I decided to write this small compilation of mistakes every new affiliate does.
Some of them are repeated even when you're an intermediate or super affiliate. I can't really stop it from happening, but when it does, you'll remember me and come back to my blog for a quick laugh 🙂
After all, the best thing you can do is learn from your mistakes. As long as you rise again it's just part of the game.
1. Not having enough budget to get started
I'm going to start with this because it's one of the most asked questions lately. How much do you need to gets started with paid traffic?
This is no SEO game (looking for free traffic)and definitely not a 3 step system to get rich quickly overnight. If you want to master paid traffic you need money to buy it. How much? Well, it depends on several things but most people would recommend at least $1,000.
I think $2,000 to get started and then $1,000 extra per month (for at least 3 months) is ideal. You don't know if you're going to find a campaign after your first $500 or after $3,000. Also, keep in mind you need a few things like servers, domains and trackers.
Several people have approached me with $100-200 (e.g. please sir, how can I make $100 by spending $5 on FB Ads?) and I have to tell them the truth. Some people feel ofended when I honestly answer them with the required budget and they get mad at me. I'm not the one who makes the rules!
Which brings me to number 2…
2. Dont want to use a tracker or a VPS
Want to send all your traffic to a cheap $3 per month shared host? Up to you. But then don't ask why is your CTR so low or why nobody is visiting your offers.
As for the tracker, when you buy traffic and get a few conversions (which is great), but you don't know which websites, OSes, etc. are the ones converting you'll have to run that traffic again. Voluum doesn't have a free trial like before, but Adsbridge has  a decent solution for 30% of the price.
3. Select high payout offers
We've all been there. Why promote a $1 email submit offer when I can get $100 per conversion if they sign up and pay with their credit card for a dating subscription? If only I could made 1 conversion I would recover all my money… but that conversion never happens…
4. Not spending enough budget to buy data
Remember that $20 per pin submit offer you tried to promote on Facebook with a $3 daily budget? It didn't convert and you paused it after 30 clicks and $6 ad spend…
Select low payout offers $1.5 or less to gather data fast, especially if you're buying RON traffic or traffic from different websites/locations/banners/etc.
5. Same for clicks
Some people buy 1,000 clicks from pop traffic (1,000 isn't a bad number for banners) and with a CTR of 0.5% they send 5 clicks fro their landing page to the offer. Didn't convert? the offer is shit and doesn't work anymore…
Or…
Maybe you need to send more clicks and gather data. 5 clicks is like doing a country-level survey to your mom, your brother, your friend and your dog. NOT ENOUGH DATA.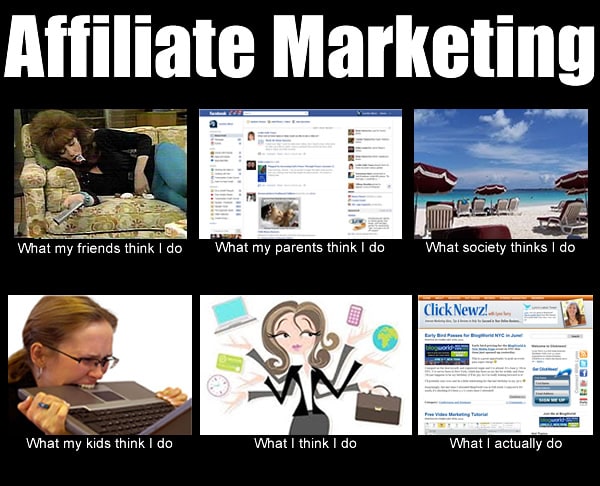 6. Jumping from one vertical to another every week
Or jumping from traffic source to another… or even worse, jumping from paid traffic to SEO to MLM to Email Marketing to bankruptcy to 9-5 office again.
Want to master something, stick to it and don't move until you feel like you're comfortable with it.
7. Not checking the offer link and tracker setup
This is something I've done and I know many friends who have done it before. Give me a re-tweet if you have done of the following:
Pick up an offer, setup tracker, create campaign in traffic source, launch and realize after $50 spend that the offer link didn't work or the offer was paused already.
Pick up an offer (link works this time), setup tracker, create campaign in traffic source and go to bed just to realize next morning you've lost $200 and sent all the traffic from another country/OS/whatever
NOTE: this happens to super affiliates too 🙂
8. Randomly selecting an offer you thought was cool
Some offers look cool and have great landing pages. You think you're going to bank hard with them but most offers are pretty much shit. Ask your manager for a few recommendations (or a top list by volume) instead.
9. Get depressed and out of the game after a few weeks
Tons of affiliates get out of the game after a few days or weeks. I'd say at least 70-80% leave the game without really trying. Some people tell me this industry doesn't work and when I ask them how many campaigns they've launched their response is:
1 or 2 campaigns
Spent less than $50 testing less than 5 campaigns
Come on…
10. Reading too much
After reading this article you'll go to another blog, and then the forum, and then another article until it's lunch time and you realize you haven't launched anything yet.
Don't get me wrong. Learning is great and affiliate marketers are always learning, but you've to to put that info aside and make some tests. Otherwise why are you learning?
If you're a newbie and you want to get started start taking action right now!