The year of the push notifications era keeps growing and every month I see new networks popping up. However, in this article, we're going to review one of the first (and biggest) push notifications networks with tons of volume, a great UI and a ton of options to segment and target your traffic. We're going to talk about RichPush.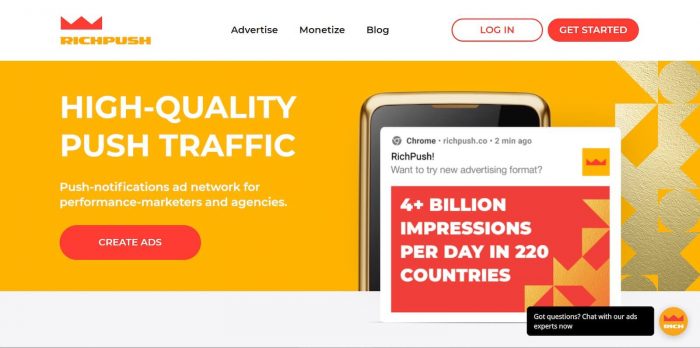 If you've been following my blog for a while you'll notice how I've been reviewing a ton of networks lately. A lot of them were new, some are old and just added push ads to their inventory, and some of them like RichPush are 100% focused on push traffic but they've been in the industry for a while. In terms of our industry, a few years is like a decade in other industries and it gives them an advantage over many smaller networks.
RichPush has a reach of 400 Million subscribers worldwide, with CPCs going from 0.003 and above.
If you're new here you might not be familiar with push notifications. They look like your typical mobile phone notifications but they can be triggered both on smart devices (phones and tablets) or desktop devices as shown in the image below: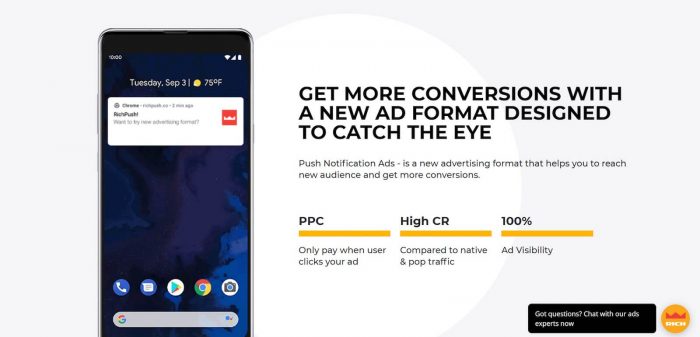 A lot of people keep asking me what types of verticals work on push traffic. While we focus on 3 verticals mostly, the advantage of working with push is it allows a wide variety of offers if you've got the right angle. Some of the most common verticals I've seen on push are gambling, dating, apps, sweepstakes, and crypto. RichPush agrees with me and they mentioned a few more on their website.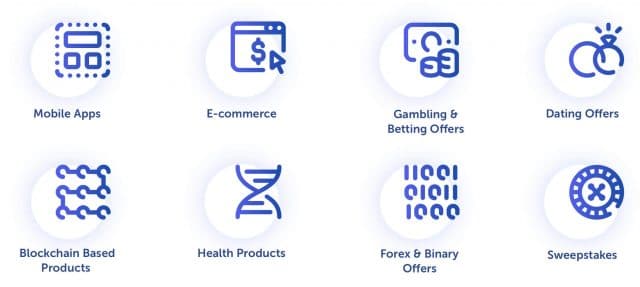 The volume available on each geo changes from network to network, but in general, bigger countries have more volume than others, especially in tier 3 countries where a ton of people use Android phones as their main computing devices like India, Brazil, and Mexico.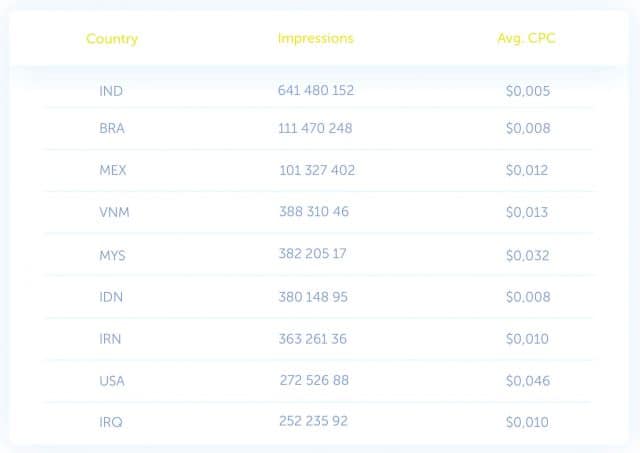 To get started you can sign up here and add your first funds to start buying traffic with them.
Now you can go to the "Add funds" tab and select a payment method. RichPush allows you to add money from $50 to $50,000 and there are several payment methods including credit/debit card, WebMoney, Wires, Epayments, and Paxum. I wish they had PayPal available as well though.
After you've added funds in your account now you've got to create a campaign. Working with RichPush's interface was a breeze as the campaign manager works well, has a ton of targeting options and you can split test up to 10 creatives easily.
Additionally, every account at RichPush gets its own personal manager, which is something many networks don't do unless you add a minimum $500-1000 budget.
Creating a campaign with RichPush
First, you need to give your campaign a name and add your tracker's URL to the destination URL field.
You can track a lot of factors with RichPush's tokens, and as always, I'll show you how to set them up down below, so keep reading…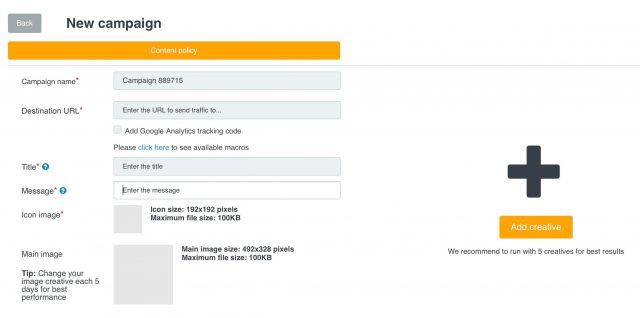 After that, you can add up to 10 different creatives with their own URL, title, message, and images. I recommend always to start with at least 4-6 different creatives if your budget allows it. Each creative has different CTR and conversion rates, so the faster you find out the winners the faster you'll end up making money.
After that comes the postback setup. This is just a code you need to add in your tracker (I use Voluum) and it can be customized in case you want to define an action for the conversions.
You also need to select a country here and I always recommend setting 1 country per campaign.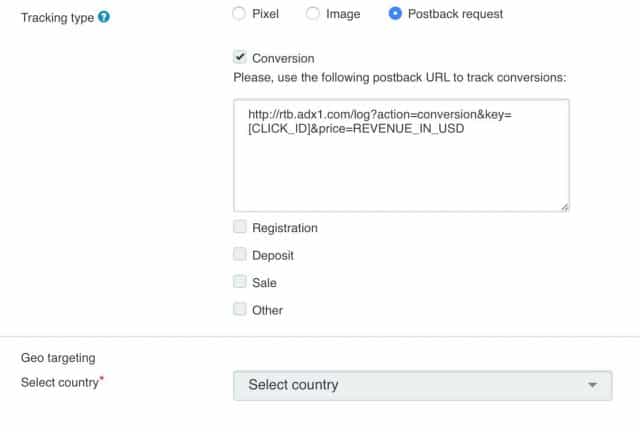 After that comes the targeting, where you can select the OS, device, browser and connection type of your traffic.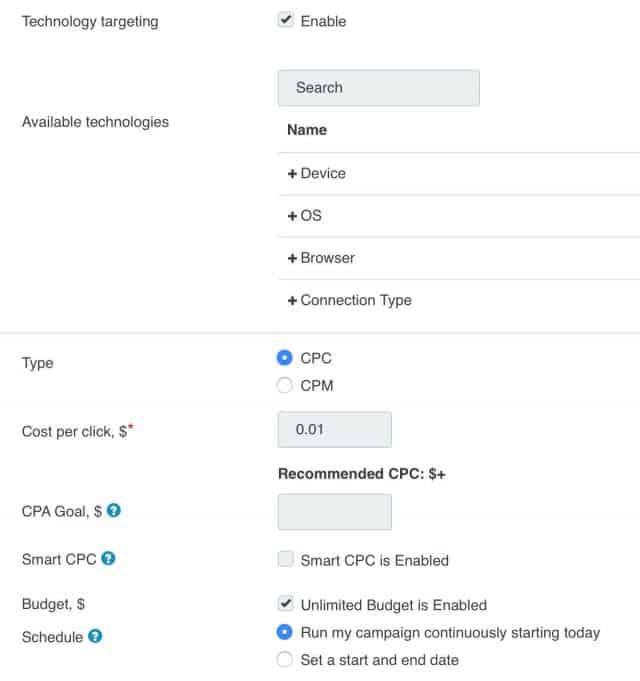 You will also need to select if you want to pay on a CPC (most common) or CPM basis. I like to test my campaigns on CPC and according to my CTR adjust them and maybe try CPM.
Also, RichPush has a couple of useful features where you can setup a desired CPA goal and they will start optimizing your campaign towards that CPA after 10 conversions (the more data, the better).
They also have Smart CPC, which can adjust the CPC of your campaign to get more volume and conversions according to the bids. I recommend you to split test this feature in different campaigns to see what works better for you.
After that, you'll need to select a few more targeting options that come very handy: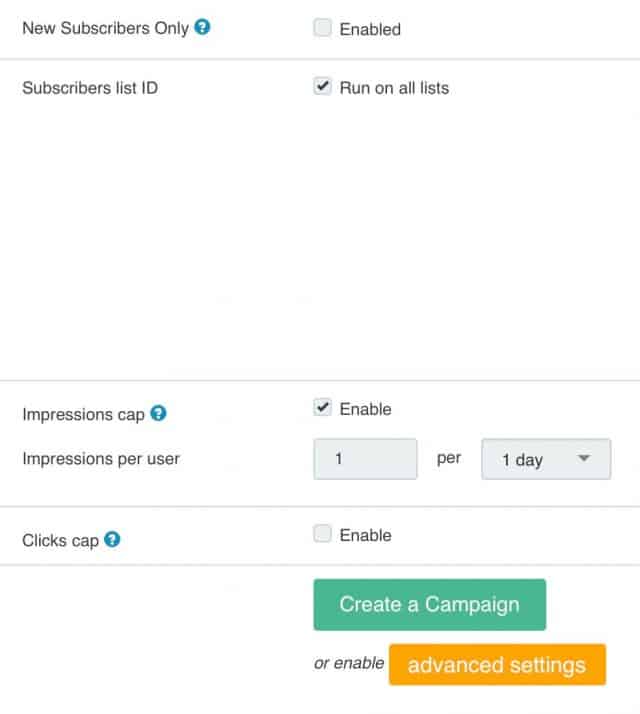 First, you've got the option to target new subscribers only where you can target people who have been subscribed to push notifications for a maximum time of 7 days (1 week). The CTR and CR of those users will be much higher than people who have been subscribed for weeks or months.
Selecting this option requires you to double your CPC on average, but it's worth it in a ton of cases. As always, do some split testing and see what works for your campaigns 🙂
After that, you can select subscriber lists to whitelist or blacklist them in case they're not performing well for your offers. RichPush has marked the lists with a (start) or (scale) note so you know which lists are better when testing your campaign and which ones are better when scaling your volume.
Feel free to ask your manager for a few recommended lists for your geo and vertical to get started with an unfair advantage 😉
Finally, you'll have to select the impression/clicks cap. Here I like to keep it at 1 impression every 24 hours. You're good to go now. Click that "create campaign" button and wait until your campaign is approved by a moderator (it takes a few hours).
RichPush tracker setup
As I mentioned above, it's important to track your conversions with a tracker and measure every possible factor to optimize your campaigns. Besides pasting the postback in your tracker you should also add the dynamic tokens as I did with my tracker: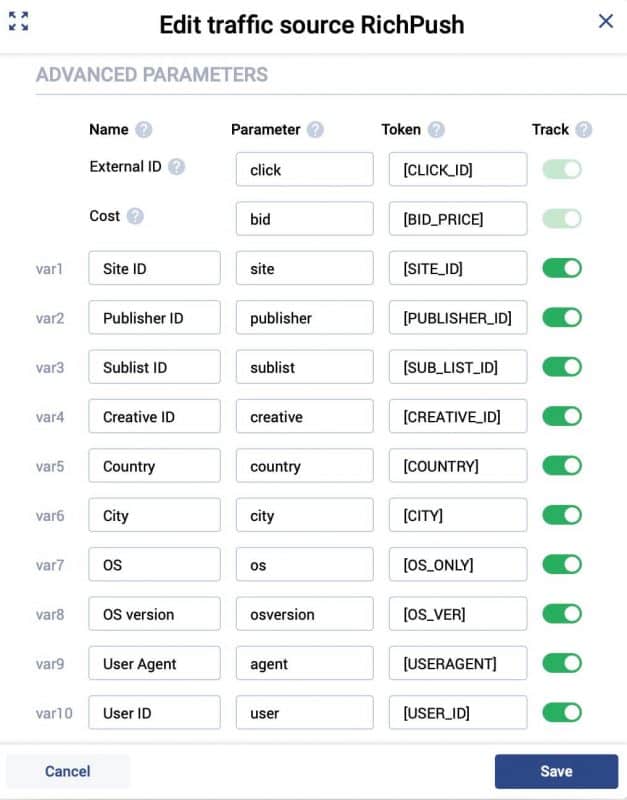 The first 4 variables are the ones I use more to optimize my campaigns.
RichPush has 3 segmentation options for your traffic:
Site IDs
Publisher IDs
Sublist IDs
Each filter goes further down the line in order to optimize your traffic and block the websites that aren't performing for your campaign. I recommend you to look first at the Site ID level, then at the publisher (owner of many sites) level and finally at the sublists level if you find a ton of publishers from that sublist not performing well for your campaign.
If you start blocking sublists at the beginning you'll potentially cut out a lot of converting traffic.
The other token I use a lot is the creative ID token, which allows me to track which banner/title is getting more conversions in the same campaign without having to create different campaign links for each creative. Keep an eye on that one too once you start getting conversions.
Quick Case Study 1 – CPL campaign on tier 3 geo
I've been buying traffic from RichPush for a couple of months and I wanted to share a couple of case studies I did just for the sake of explaining how RichPush works and how we optimize campaigns there. Both campaigns started unprofitably but one had a lot of potential. You'll see why in a few minutes.
The first campaign was a CPL email submit offer for a tier 3 geo. I started with this because it's been a top offer for a while and it's a country with enough volume to optimize the campaign down the road.
After our first couple of days running traffic, we got around 12 conversions and it looked like this: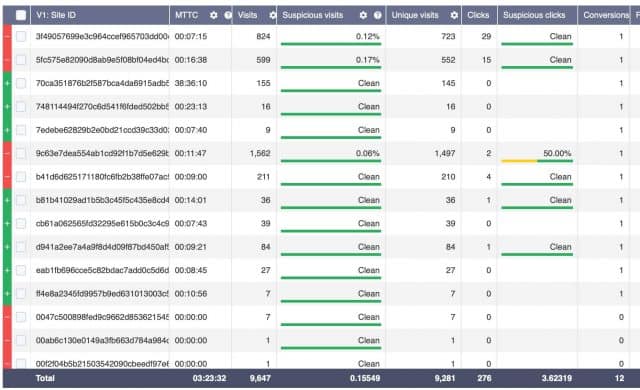 As I mentioned before, I recommend checking the data and optimizing by site IDs before moving to publisher IDs or sublists. You can see I had some websites that converted but weren't profitable but a ton of them were profitable from the first couple of days.
I started blocking every site that had spent 2x my offer payout and had no conversions at all.
When looking at the sublist level the campaign didn't look much different: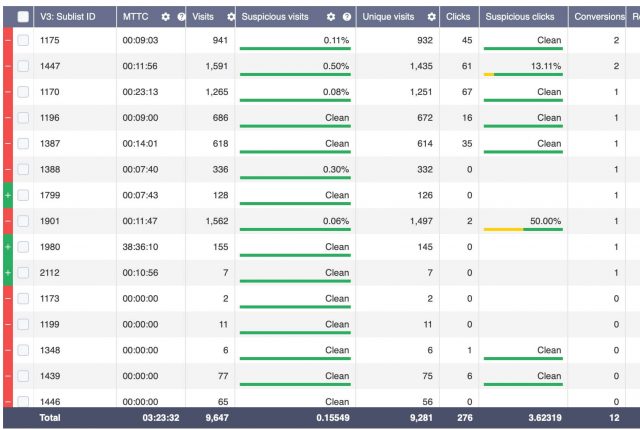 There are much fewer sublists than site IDs available to optimize, but at most, I had 2 conversions per sublist and inside of those lists I had profitable site IDs, so I decided to wait to gather more data. Blocking sublists at that point would have been a rushed decision.
Looking at the creatives, none of them was profitable right from the start, however, I could see some creatives had 0 conversions while others had 2 or 3 conversions already, which was great to start optimizing after 3-5 days.
As you can see, I started with 8 different creatives: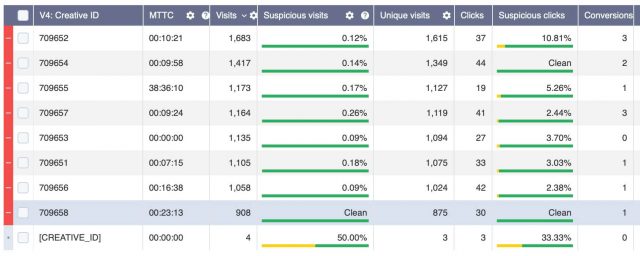 Since I had 12 conversions the CPA goal feature started getting data, but the campaign had a -70% ROI so even after optimizing it for a few days it was far from green. Normally, I would have continued spending money and gathering data before giving up, but I forgot about this campaign as I got into the next one and it had a much better start.
Quick Case Study 2 – CC submit campaign on tier 2 geo
Pretty much at the same time, I started testing a CC submit campaign in a tier 2 geo and decided to focus on it. If you're aware of this type of offers, you know payouts can easily be in the $10-30 USD range per conversion, which is much higher than a CPL that pays a couple of dollars.
In the initial phase, we got 5 conversions and an initial ROI of -35%. I don't know about you but when I see this type of results in the first tests I know I can take this campaign to profit with enough data unless it gets paused or something crazy happens.
Here's how it looked at the site ID level: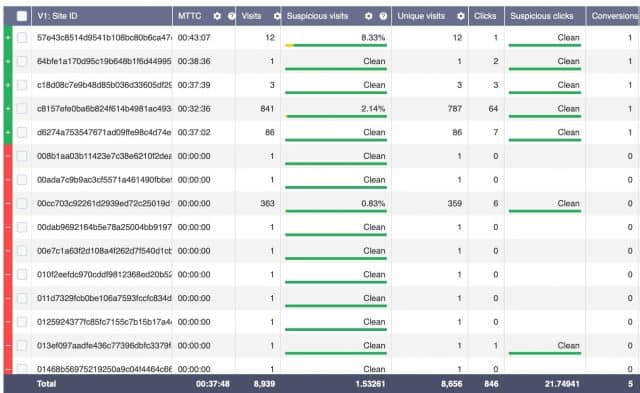 Pretty much all of the sites that had a conversion were profitable at this point, including some sites with hundreds or dozens of clicks. I care more about those as the sites that only have 1-10 clicks can be low volume sites and the CR is less stable there.
And here is how it looked at the sublist level: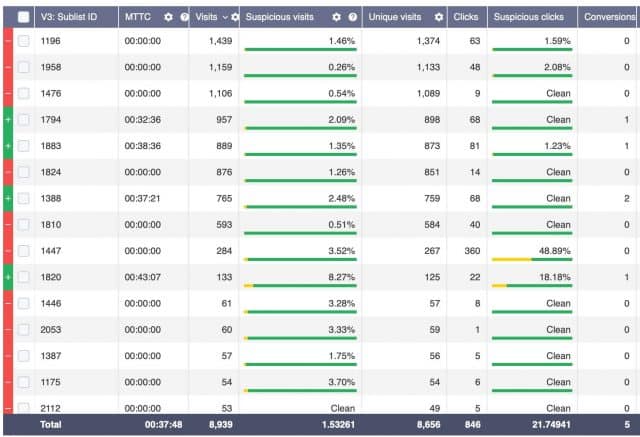 With all of the sublists being profitable as well. We just needed to buy a lot more data and start optimizing 🙂
Here's a quick look at the creatives. However, with just 5 conversions so far (and 6 creatives to be tested) it's just a matter of time and a lot of ad spend to get enough data and take decisions.

If you have had a -30% campaign right off the bat you know the chances to get to green pastures are really high, so I'll just be patient and keep gathering data to optimize this.
My RichPush Conclusions
After testing RichPush for a few weeks, I can say it's a good network to get scale and test your campaigns. I like the features they have to test with fresh users and the smart CPA goal that optimizes your campaign for you once you get enough data.
Besides that, something I always ask for in any push network is the ability to split test multiple creatives (at least 5 or more) to gather data fast, and RichPush delivers in that front too.
I haven't seen any crazy overspent issues as it happens with a couple of famous networks in the industry. I just wish they had PayPal as a funding option but other than that it's a network I can recommend if you want to get started with push traffic or if you want to scale your profitable campaigns as well.
If you've got any questions please let me know in the comments below. Talk to you in the next one!